Reese's Stuffed Sweet Rolls… Why not have Reese's peanut butter cups for breakfast? Peanut butter cream and Reese's are stuffed inside this homemade bread. Such a sweet way to start your day!
Reese's Stuffed Sweet Rolls
Warning: This recipe calls for an overloaded amount of peanut butter that only certain people can handle. Liking this recipe requires a true passion for peanut butter and chocolate ooey-gooeyness.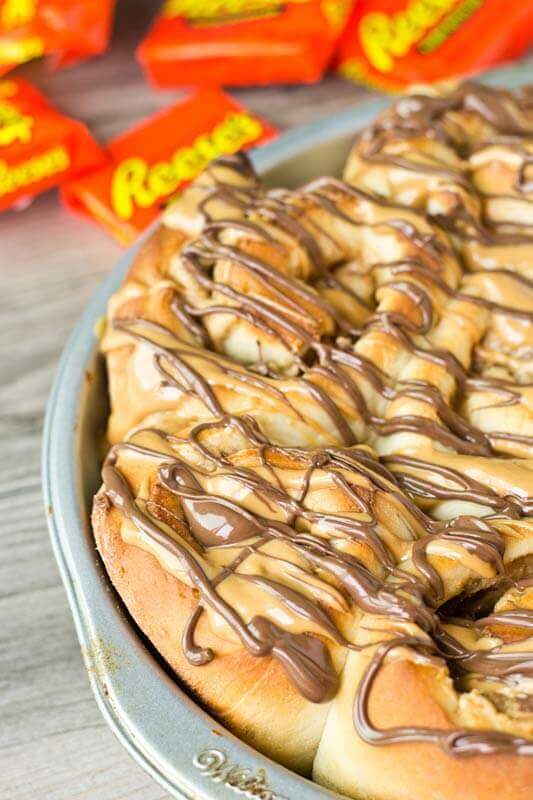 I was only half kidding in that disclaimer statement above. Some of you might not like peanut butter, but I know a majority of you do. When you make these Reese's Stuffed Sweet Rolls, you will be in peanut butter heaven. I've been in peanut butter heaven before, but this much sugar for breakfast? Awesome. If there was a limit on how much sugar can be added to a baked good, this recipe would be illegal.
How did we come up with this amazing treat? Well, one, we've had this idea for at least 6 months, but never got it just right. A lady gave us the idea of a peanut butter sweet roll last year when we were running our garage sale. We tried several different versions over the past year.  All very edibly delicious, but just not yet perfected. We eventually got it just right- peanut butter cream and Reese's peanut butter cups inside. Mmmm. Let me tell you, just eating the filling is amazing. But it's really good with the roll holding it together.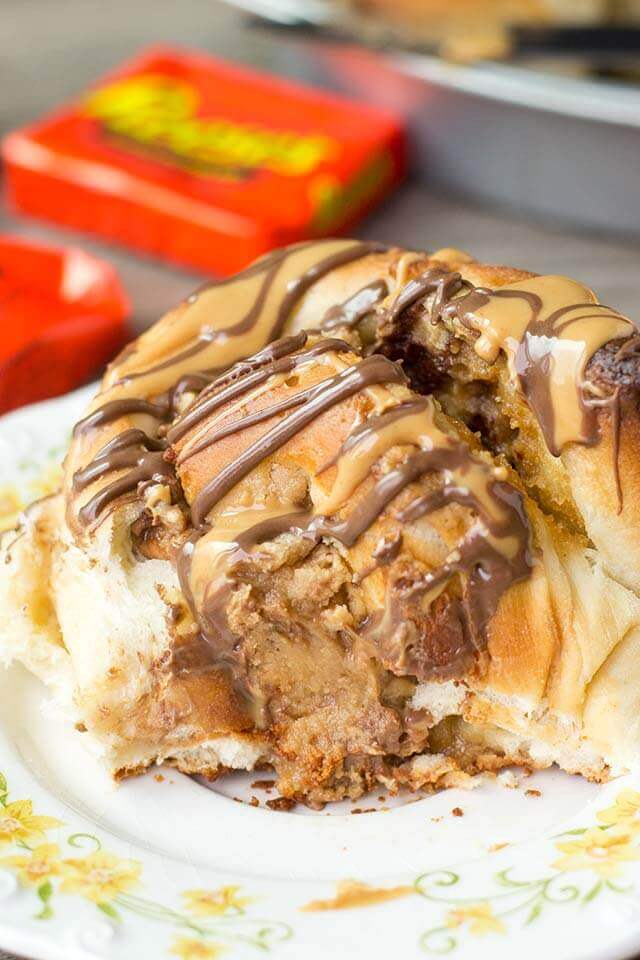 I don't know if I've told you before, but in our family, when we eat sweet rolls, the rule is you eat the middle last because it's the gooiest. When mom makes sweet rolls, she puts the smallest roll in the middle. Then, you see, we have the choice to make of whether to go for the biggest roll, or the most desired middle roll.
When I'm in the driver's seat, I put the biggest one in the middle and make sure I get to it first when it is time to dig in.
Big sweet roll + baked in the middle of the pan + gooey inside = Super gooey sweet roll.
(Reese's Stuffed Sweet Rolls on my plate = a happy me!)
How to Make Cinnamon Roll Dough
There are options to making the sweet roll dough. If you have a stand mixer, I would recommend using that to knead your dough. If you have a bread machine, that works good too, since you can use the dough setting and be hands off while it does it's thing. If you have neither, you can make it by hand, but you'll need to knead the dough for a good 5 to 7 minutes.
So join me in peanut butter heaven and make these sweet rolls right now! You can't say no to that ooey gooey goodness, can you?
What you need to make sweet rolls:
Stand Mixer: Ok, you don't 100% need this, but it does make life easier.
Red Star Yeast: My favorite yeast! It's so forgiving and I have perfect baked goods, every time.
Pastry Mat: This makes clean-up a breeze.
Dough Cutter: I JUST got one of these. What have I done without it all these years? Works as a scraper too, to get stuck-on dough off surfaces.
Baking Pan 9×13 or 10×15, depending on what you need.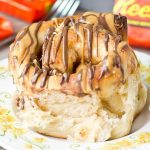 Reese's Stuffed Sweet Rolls
Why not have Reese's peanut butter cups for breakfast? Peanut butter cream and Reese's are stuffed inside this sweet bread.
Ingredients
1/2

cup

milk

1

large

egg

room temperature

3

tablespoons

butter

melted

2 1/4

cup

all-purpose flour

1/2

teaspoon

salt

1/4

cup

granulated sugar

1 1/4

teaspoons

yeast
Peanut Butter Cream:
1/4

cup

butter

softened

1/2

cup

creamy peanut butter

1 1/2

tablespoon

milk

1

cup

powdered sugar

10

Reese's peanut butter cups

chopped

1/3

cup

peanut butter

1/3

cup

milk chocolate chips
Instructions
Add the warm milk and the yeast to a stand mixer bowl. Let it sit for about 5 minutes until yeast is activated. Add the egg, butter, salt, sugar and flour. With with dough hook, beat on low for 2 minutes until the dough is combined and forms a ball. Then let the dough hook knead the dough on medium speed for about 6-7 minutes. Cover the dough and let it rise in a warm place until doubled in size, about 20-30 minutes.

While the dough is rising, make the peanut butter cream. In a bowl, blend together peanut butter, powdered sugar, butter, and milk using an electric mixer for 3-4 minutes or until light and fluffy.

Roll out the dough into about an 8x16 rectangle. Spread the peanut butter cream to cover the dough. Sprinkle the chopped Reese's cups on top, then roll it up like a jelly roll. Cut it into 7 slices and place them into a round baking pan that has been sprayed with cooking spray.

Set the pan of sweet rolls in a warm place to rise for 20 minutes. After they are done rising, bake them at 400 degrees for 12-14 minutes until lightly browned.

In a microwave safe bowl, warm the 1/3 cup peanut butter in the microwave for 20-30 seconds and stir. Drizzle the warmed peanut butter over the sweet rolls.

In a microwave safe bowl, melt the chocolate chips in the microwave for 20-30 seconds. Stir the chips and warm for additional 10-second intervals, stirring in between, just until the chips are melted. Drizzle the melted chocolate over the rolls.

Makes 7-9 rolls, depending on how many rolls you cut. You can also bake these in a square pan.
Nutrition Facts
Reese's Stuffed Sweet Rolls
Amount Per Serving
Calories 773
Calories from Fat 378
% Daily Value*
Total Fat 42g 65%
Cholesterol 33mg 11%
Sodium 340mg 14%
Potassium 376mg 11%
Total Carbohydrates 89g 30%
Protein 15g 30%
* Percent Daily Values are based on a 2000 calorie diet.