Tastes of Lizzy T participates in affiliate advertising programs. We may earn a commission when you make a purchase through links on our site.
Fresh peaches bake up so sweet in this easy peach crisp recipe with brown sugar oatmeal topping. Scoop vanilla ice cream on top for a delicious summer dessert.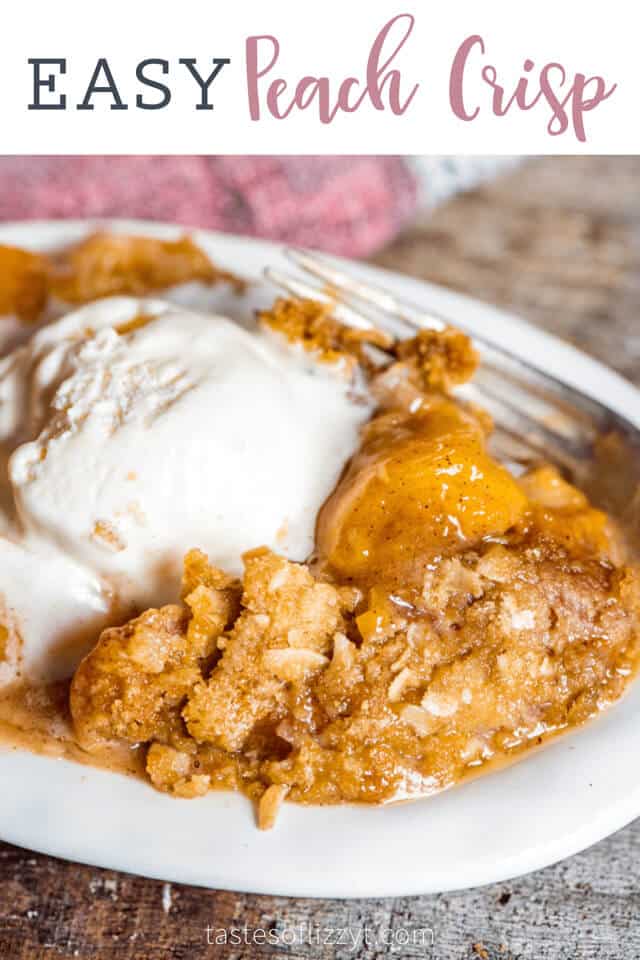 Easy Peach Crisp Recipe
Peach crisp is one of the easiest desserts to make. Anytime I have fresh fruit on hand, a crisp is always one of the first things that comes to my mind to make. Mix up the filling, mix up the topping (you can do this in the same bowl) and you're ready to bake!
Peach Crisp with Fresh Peaches
Fresh peaches are the best when it comes to peach desserts. They can often be tricky to work with because they are so, so juicy, but when you are talking peach crisp, it's ok to have a little extra peach juice to spoon over your ice cream!
We recommend peeling the peaches first so that you don't have that weird peel texture in your peach crips. Core & Slice, and you're to go.
Peach Crisp with Frozen Peaches
If you happen to have frozen peaches in the freezer, be sure to thaw them completely and drain them before making your crisp. Frozen peaches are even more juicy than fresh peaches, so in order to not have a dessert that is too runny, thaw & drain the peaches.
Peach Crisp with Canned Peaches
If canned peaches are all you have on hand, simply drain the peaches before continuing with the recipe. Fresh or frozen are best, but peach crisp is always a good idea, even if it means using canned peaches.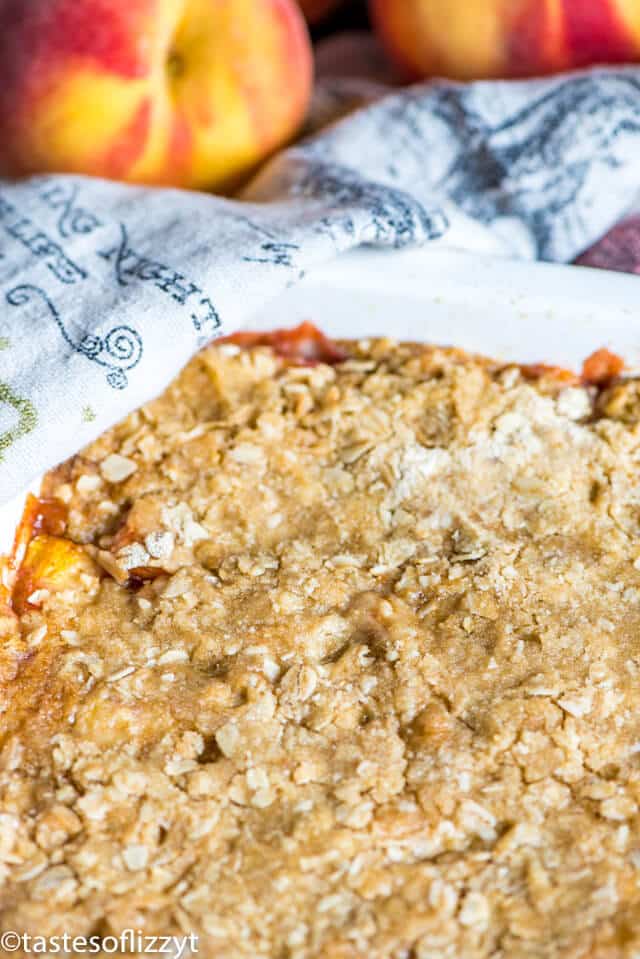 How to Peel Peaches
The first step to making any fruit dessert is to peel the peaches. How do you easily peel peaches? You blanch them. What does blanching mean? Here's how you do it. You put a large pot of water on to boil. Once the water is boiling, drop the fresh peaches into the water and allow them to sit for 10-20 seconds. This is enough time for the peach skin to soften slightly and pull away from the peach. Some people use a knife to mark a small "x" on the bottom of the peach before placing them in the pot of water. This can help it peel a little easier, but I usually don't bother with this step.
After you've boiled the peaches for 10-20 seconds, place them in a bowl of ice cold water. This will stop the cooking process and allow you to handle the peaches easily to remove the skin.
Use a small knife to peel away the skin. It's that easy!
How to Make Peach Crisp
I like to consider this a "1-Bowl" recipe. We mix up our peach filling, then put it in an 8×8 baking dish. Then in that same bowl we mix up the flour topping. If your peaches were extra juicy you may want to consider using a clean bowl or just wiping out the peach bowl, but really, you can use the same bowl which makes for an easy cleanup!
Be sure to use cold butter when making your oatmeal streusel topping. You'll want to use a pastry cutter to cut the butter into the dry ingredients. It's ok if there are still chunks of butter. They'll bake into the peach crisp making it rich and delicious.
We like to serve our peach crisp warm with ice cream or top with a healthy peach ice cream.
Other Peach Recipes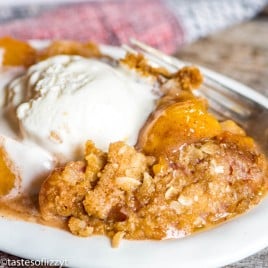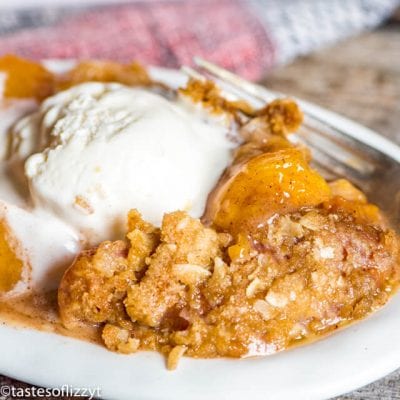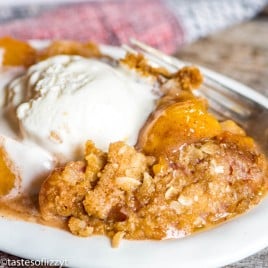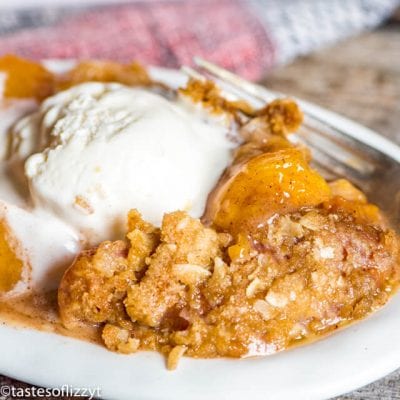 Easy Peach Crisp
Fresh peaches bake up so sweet in this easy peach crisp recipe with brown sugar oatmeal topping. Scoop vanilla ice cream on top for a delicious summer dessert.
---
Ingredients
4

cups

freshly sliced peaches

(peeled, cored and sliced)

1/2

cup

granulated sugar

2

tablespoons

all-purpose flour

1/4

teaspoon

salt

1

teaspoon

cinnamon

1/2

cup

old-fashioned oats

1/2

cup

brown sugar

1/2

cup

all-purpose flour

1/4

teaspoon

baking soda

1/4

teaspoon

baking powder

1/4

cup

cold butter
Instructions
Preheat the oven to 350 degrees.

Place the peeled and sliced peaches in a medium-size bowl.

Sprinkle the sugar, flour, salt and cinnamon over the peaches and mix.

Spray an 8x8 pan with cooking spray.

Pour the peach filling into the prepared pan.

Using the same bowl that you mixed the peaches in, combine the oatmeal, brown sugar, flour, soda and baking powder.

Using a pastry blender, cut in the butter until the mixture is crumbly.

Sprinkle the oatmeal streusel on top of the peach mixture and pat it down firmly.

Bake at 350 degrees for 35 minutes or until it is golden brown.

Serve with milk or ice cream.
Nutrition
Calories:
210
kcal
|
Carbohydrates:
39
g
|
Protein:
2
g
|
Fat:
5
g
|
Saturated Fat:
3
g
|
Cholesterol:
13
mg
|
Sodium:
144
mg
|
Potassium:
181
mg
|
Fiber:
1
g
|
Sugar:
28
g
|
Vitamin A:
380
IU
|
Vitamin C:
4.5
mg
|
Calcium:
25
mg
|
Iron:
0.8
mg