Tastes of Lizzy T participates in affiliate advertising programs. We may earn a commission when you make a purchase through links on our site.
This homemade Swedish meatballs recipe will give Ikea Swedish meatballs a run for their money! The from-scratch pan gravy has a delicious creamy flavor. These are the best meatballs for a classic comfort food dinner recipe.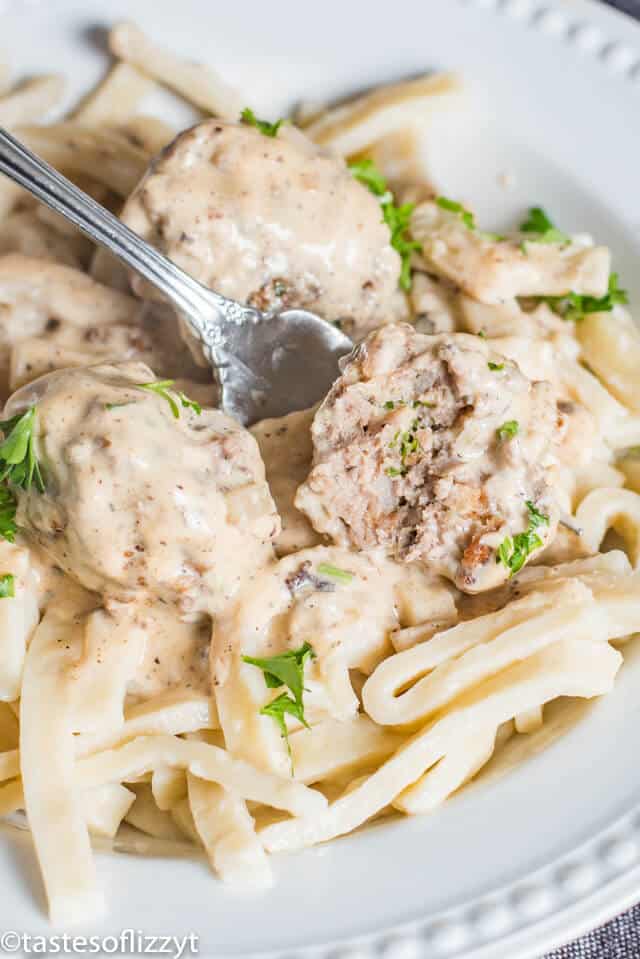 Best Swedish Meatballs Recipe
I'll be honest. The first time I ever tried Swedish meatballs was in Ikea. And it was not that long ago. Although this was not a recipe I remember eating when I was a kid, I knew I wanted to try a homemade version of those famous Ikea meatballs. Meatballs from scratch and a homemade pan gravy sauce… Mmm…creamy and delicious. A friend from church was kind enough to share her recipe!
How to Make Swedish Meatballs
These meatballs are flavored with onion, fresh parsley, and a touch of nutmeg…that spice that gives Swedish meatballs their unique flavor. Here are some hints when making the meatballs:
Ground Beef. We like to use at least 85% lean ground beef for this recipe. This will help there to not be too much grease when it is time to make the pan gravy.
Soft Bread Crumbs. I simply take slices of fresh bread and crumble them into small pieces for the bread crumbs. This works better than dried bread crumbs for this recipe because the bread absorbs the cream well.
Creamer. We use half and half creamer because it is thicker and richer than milk. If you choose to use milk, I would use a scant ¼ cup since it is thinner than cream.
Onion. My kids prefer the onion to be very finely chopped. No chunks, ya know?
Freshly Snipped Parsley. We prefer freshly snipped parsley. Can you use dried parsley? If you'd like to, but be sure to only add about 1- to 1 1/2  teaspoons of dried parsley.
Nutmeg and Pepper. Don't forget the nutmeg. It's just a little amount, but it is a must in Swedish meatballs!
We normally cook meatballs in the oven, but this recipe calls for the meatballs to be cooked on the stovetop. You'll want to be sure your skillet is hot and you have butter (or oil) heated in the skillet before adding the meatballs so they don't stick. Turn the meatballs often to brown them on all sides.
Swedish Meatballs Sauce
Swedish meatball sauce is easier to make than you may think. It's basically a homemade pan gravy using the drippings from cooking the meatballs in the skillet.
You start the sauce by using two tablespoons of the drippings from cooking the meatballs. If you use lean ground beef and don't have two tablespoons of drippings to work with, add enough butter to make two tablespoons. Add the flour, bouillon granules and pepper to the drippings and whisk it together. At this point it will be thick and slightly clumpy, but that is normal. Slowly drizzle in the cream (the skillet should be on medium heat) and whisk constantly while drizzling in the cream. The clumps will break up as the sauce heats. Once you've poured all of the cream in, allow the mixture to heat and thicken. This will take about 5-8 minutes. Since this is a milk-based sauce, stir it constantly so it doesn't burn on the bottom.
**Note…we use half and half creamer so that the sauce is rich and creamy. You can use a lower fat milk which will lower the calorie and fat content, but the sauce also won't be quite as creamy. It is really a matter of taste so feel free to experiment with different milks.
What do you serve with Swedish Meatballs?
If you make homemade noodles, they would be amazing with this Swedish meatballs recipe. Or take an easier route and by Reames frozen noodles. They taste amazing! You can also serve this with mashed potatoes or rice. A side salad or steamed veggies completes the meal.
Oh…and don't forget about buttery rolls!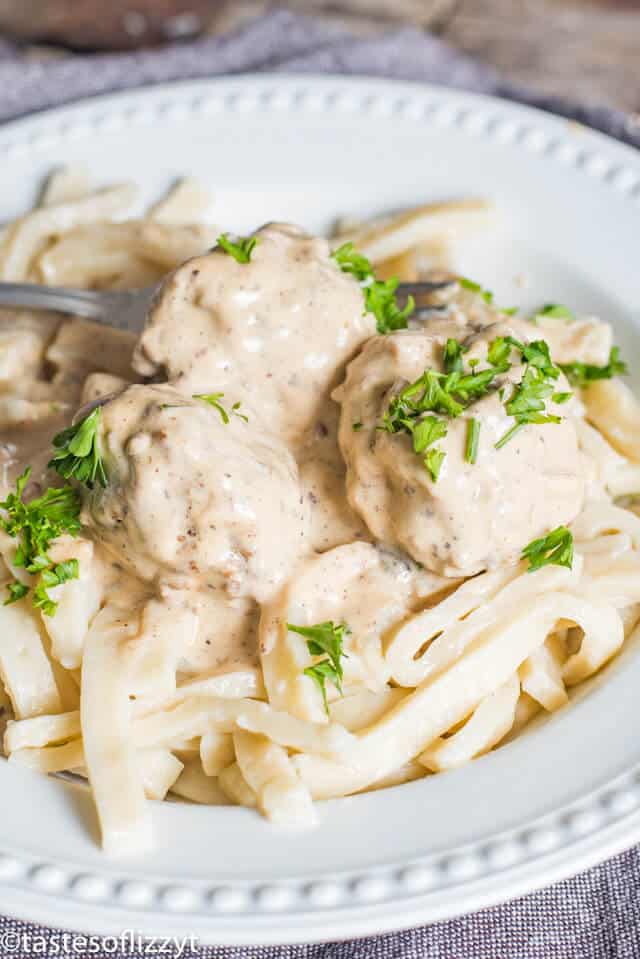 Love Meatball Recipes? Try These!
Tools to Make Meatballs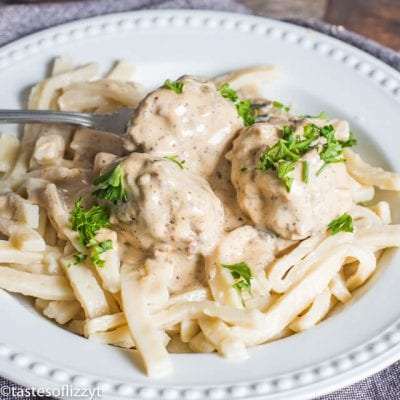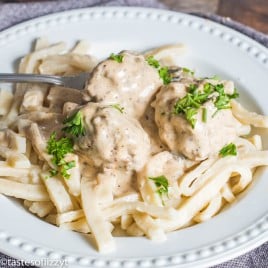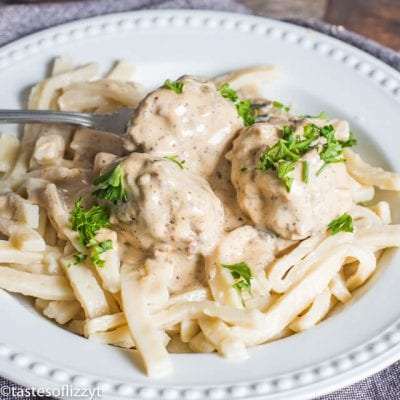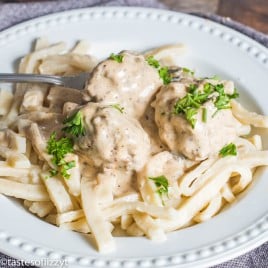 Swedish Meatballs Recipe
Meatballs are a classic and comforting dinner recipe. Serve up this homemade Swedish meatballs recipe with noodles, mashed potatoes or rice. The from-scratch pan gravy has a delicious creamy flavor.
---
Ingredients
For the Meatballs
1 1/2

pounds

lean ground beef

1

large

egg

(beaten)

1/4

cup

half and half creamer

3/4

cup

soft bread crumbs

1/2

cup

finely chopped onion

1/4

cup

freshly snipped parsley

1/4

teaspoon

black pepper

1/8

teaspoon

ground nutmeg

2

tablespoons

olive oil or butter

(for frying meatballs)
For the Sauce
2

tablespoons

all-purpose flour

2

teaspoons

instant beef bouillon granules

1/8

teaspoon

black pepper

2

cups

half and half creamer
Instructions
Make the Meatballs
Place the ground beef in a large bowl.

Add the egg, creamer, bread crumbs, onion, parsley, pepper, and nutmeg.

Mix well, then form 15-20 meatballs (depending on the size meatballs you would like).

Melt the olive oil or butter in a skillet over medium heat.

Once the skillet is hot, add the meatballs. Cook the meatballs until they are no longer pink, turning them often to brown on all sides. It will take about 10-15 minutes to cook the meatballs, depending on how big you rolled them.

Once the meatballs are cooked, remove them from the pan and place them on a plate lined with paper towels (to absorb any grease). Set aside.
Make the Sauce
Reserve two tablespoons of the pan drippings from cooking the meatballs. Discard any extra grease.

To a warm skillet, add the two tablespoons of pan drippings*, flour, beef bouillon granules and pepper. Use a whisk to combine.

Slowly drizzle the cream into the flour mixture (with skillet over medium heat), whisking constantly to create a smooth sauce.

Cook and stir the sauce until thickened and bubbly. This will take about 5-8 minutes.

Return the meatballs to the skillet and heat through.

Serve over noodles, potatatoes or rice.
Notes
The calories shown are based on the recipe making about 18 meatballs, with 1 serving being 3 meatballs. Calories shown also include gravy. Since different brands of ingredients have different nutritional information, the calories shown are just an estimate.