If you're looking for healthy, high protein dinner, try this easy Grilled Lemon Salmon. Fresh herbs, lemon and garlic give this salmon an amazing flavor.
I've not been the best about sharing salmon recipes (or any seafood for that matter). We've got a brown butter salmon, salmon quesadillas and tilapia…and we love all 3 of those. But I've lately fallen in love with salmon.
Today we're talking Grilled Lemon Salmon…a recipe I think you'll fall in love with too!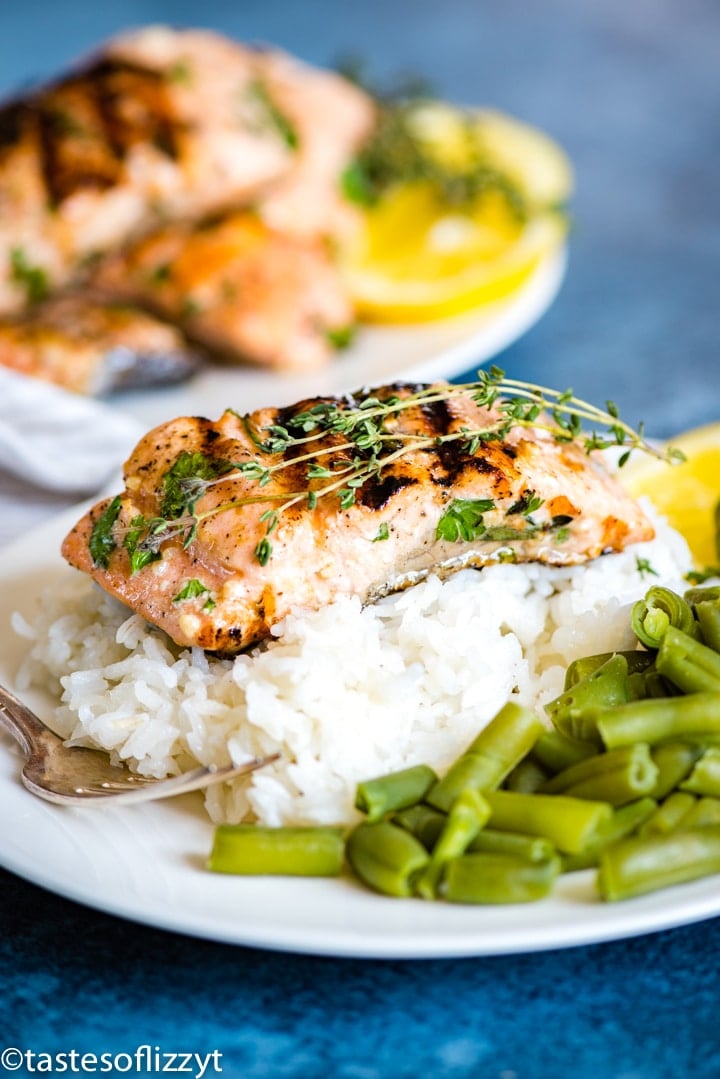 A special thank you to WOLL for sponsoring this post. As always, all opinions are my own.
For most of my life, the only time I'd touch fish is if it was deep fried. (Ya'll love our Whole30 battered fish by the way 😃). I've grown up a little bit and now really enjoy a simple pan-fried or grilled fish. Today we're talking about how to get the perfect salmon fillet on a grill pan.
Easy Salmon Marinade
Have you ever wondered how to season salmon simply, yet deliciously? This herbed lemon marinade is so easy…but gives the salmon such a fantastic flavor.
You'll start with fresh herbs. Snip some thyme, basil and parsley. Yes, use fresh! Dried will NOT be the same.
Then add some lemon slices and garlic. A little drizzle of olive oil helps the salmon stay tender. Mix this all up in a bowl along with the salmon and let it rest for about 15-30 minutes.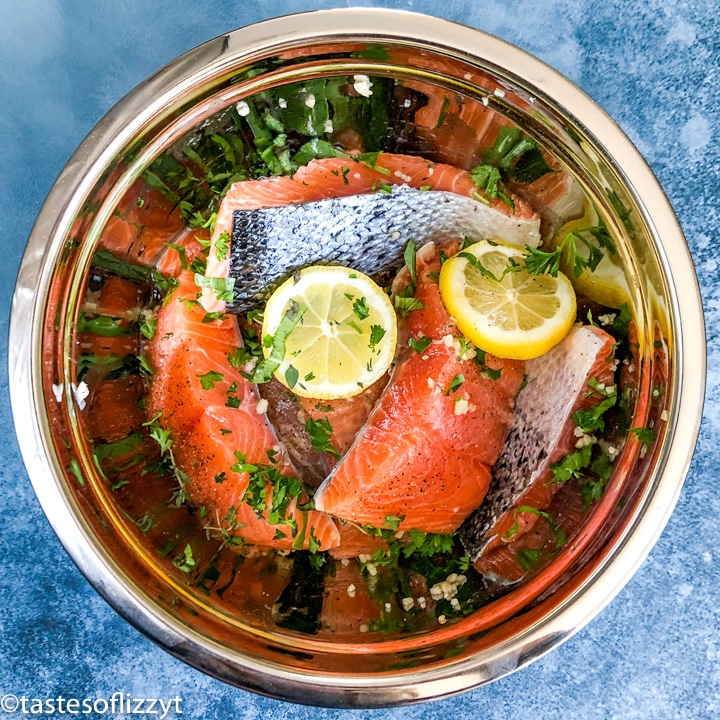 What is a grill pan?
Although it is outdoor grilling season, it's often easier to just cook inside. That's where a grill pan comes in handy! A grill pan is flat like a frying pan, but has parallel ridges on it to give that classic grilled look. Use it right on your stovetop.
We had the opportunity to test out this square WOLL Diamond Lite Pro grill pan. This is a non-stick coated, cast aluminum pan. It retains heat well and cooked this salmon evenly and beautifully! It is oven safe up to 500º Fahrenheit and is dishwasher safe (although it was REALLY easy just to wipe clean).
What can you cook in a grill pan?
Because of its even heating, grill pans are excellent for seafood such as this salmon or even tuna steaks. But you can really cook just about any meat in it including steaks, burgers, pork chops and chicken.
Because this WOLL Diamond Lite Pro grill pan is oven safe, you can cook your favorite oven baked meats in the grill pan also!
Do you oil a grill pan?
We have brushed this grill pan with oil and used it without oil. The non-stick coating of the Diamond Lite Pro grill pan keeps food from sticking. This means you can save a few calories by not using as much oil.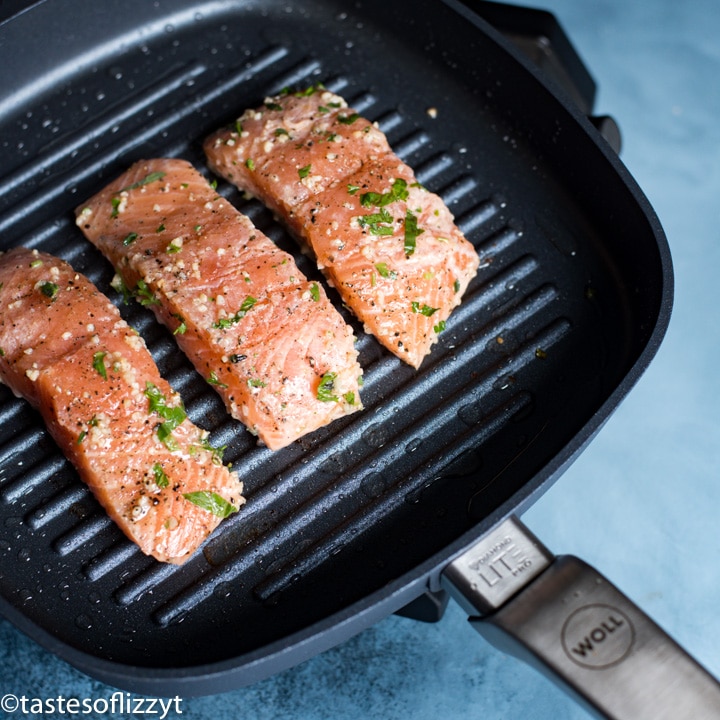 Do you grill salmon skin up or skin down?
We start with grilling the salmon skin side down. This helps protect the salmon and keeps it from cooking too quickly. Place the salmon skin side down, then turn it skin side up to finish cooking.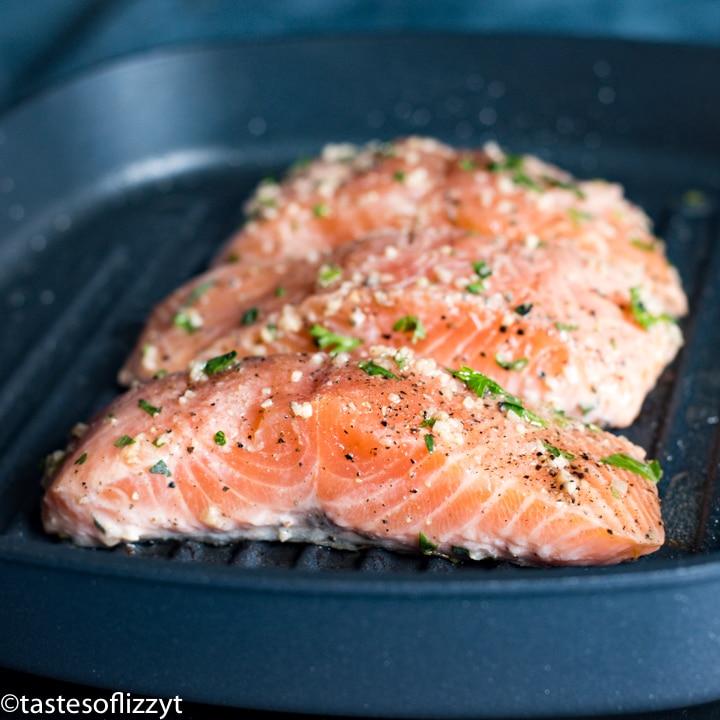 How do you know when salmon is done grilling?
Salmon will change from a reddish "raw" looking color to a pink color when it is cooking. Use a sharp knife to peek into the thickest part of the salmon. The fish should be "flaky". Just remember…it should NOT look raw.
According to the USDA, the minimum "safe" internal temperature for fish is 145º Fahrenheit.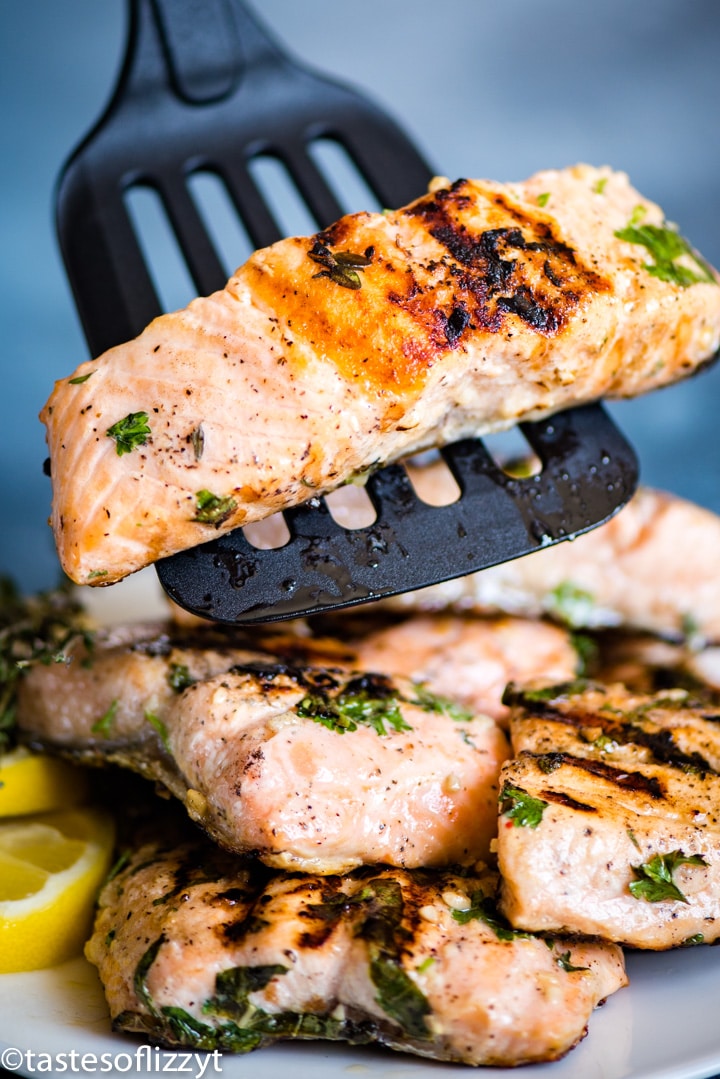 Can I eat salmon skin?
Salmon skin is generally considered safe to eat as long as your fish comes from a safe source. The skin contains more of the fatty acids and minerals that the salmon meat has.
It's really a matter of preference. I prefer skin off, but my daughter loves the crispy skin on.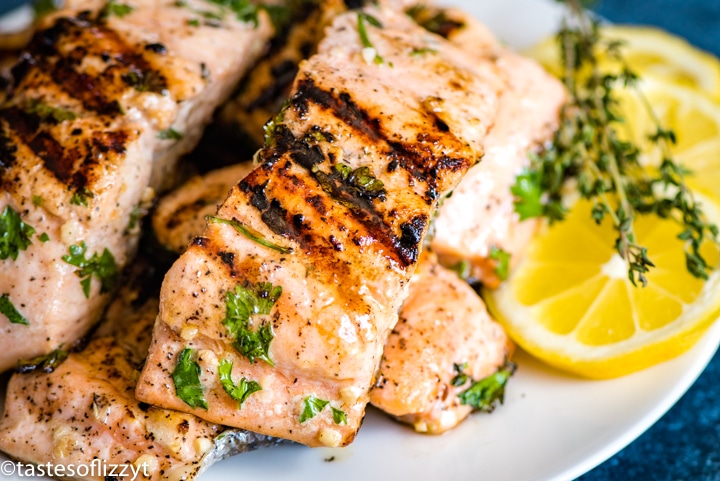 What should I make with salmon?
We like serving this grilled lemon salmon with simple buttered rice and a side of steamed green beans. It keeps the meal very fresh! You could also serve it with roasted potatoes, a side salad or Italian green beans.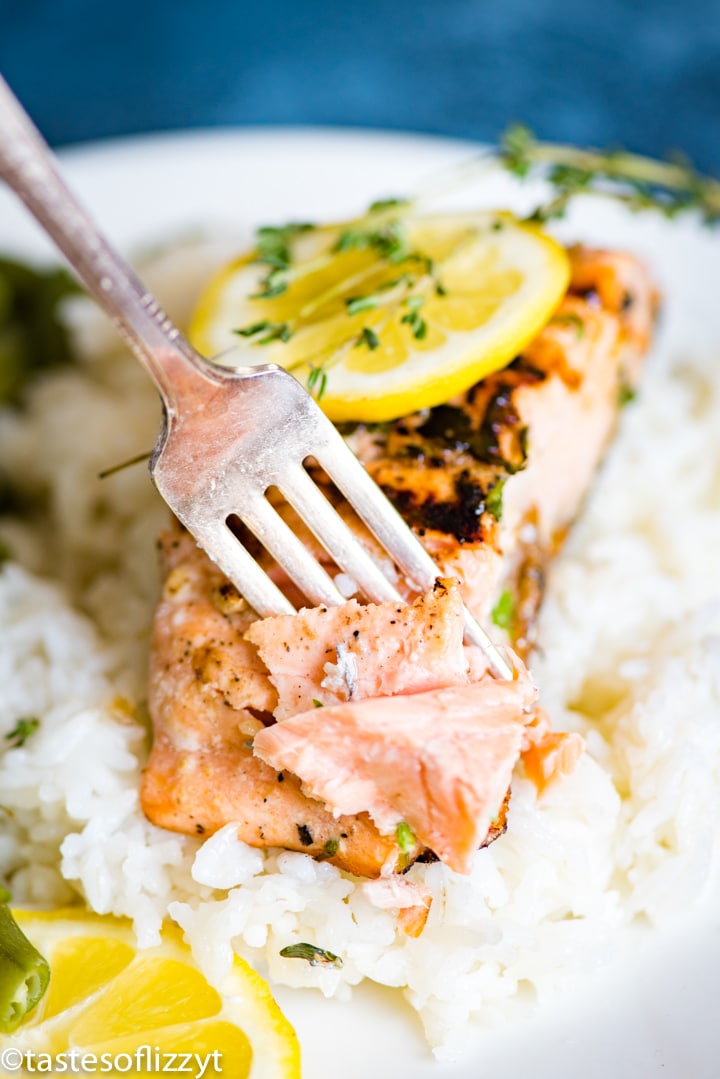 How many times a week should you eat salmon?
Government dietary guidelines recommend that you eat should eat fish twice a week. Is eating fish more often bad for you? Maybe not, but it doesn't necessarily provide extra benefits to your heart and brain if you eat it more than twice a week.
Other Grill Pan Recipes
Follow Frieling on Instagram, Facebook, Twitter and Pinterest.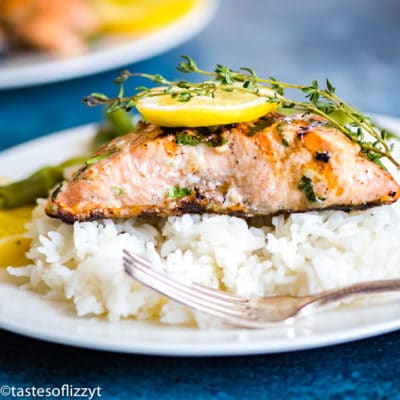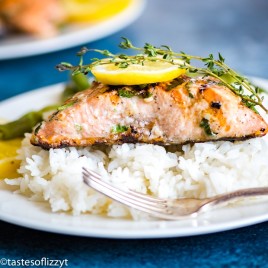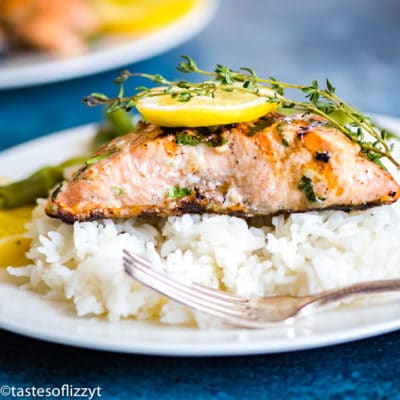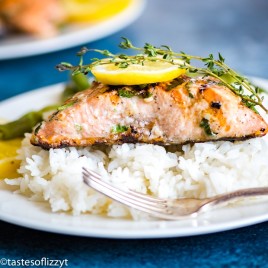 Grilled Lemon Salmon
If you're looking for healthy, high protein dinner, try this easy Grilled Lemon Salmon. Fresh herbs, lemon and garlic give this salmon an amazing flavor.
---
Ingredients
3

fresh salmon fillets

2

teaspoons

salt

1

teaspoon

black pepper

1

lemon

(sliced)

2

tablespoons

olive oil

2

sprigs of thyme

(chopped)

2

sprigs of basil

(chopped)

2

sprigs of parsley

(chopped)

2

cloves

garlic

(minced)
Instructions
Dry salmon on all sides with paper towels, season with salt and pepper, set to the side.

In a bowl, add remaining ingredients and mix slightly.

Add the salmon to the bowl and gently toss around to coat. Let salmon sit in this herb infusion for 15-30 minutes before grilling.

Preheat grilling pan over medium high heat.

Place the salmon on the heated grill pan, skin side down. Cook for 4-5 minutes (depending on thickness), then flip and cook an addition 3-4 minutes or until the salmon is cooked through.

Move salmon to a plate and serve immediately with rice and vegetables.
Notes
The calories shown are based on the serving 3, with 1 serving being 1 salmon fillet. Since different brands of ingredients have different nutritional information, the calories shown are just an estimate. **We are not dietitians and recommend you seek a nutritionist for exact nutritional information.**
Nutrition
Calories:
339
kcal
|
Carbohydrates:
4
g
|
Protein:
34
g
|
Fat:
20
g
|
Saturated Fat:
3
g
|
Cholesterol:
94
mg
|
Sodium:
1627
mg
|
Potassium:
883
mg
|
Fiber:
1
g
|
Sugar:
1
g
|
Vitamin A:
70
IU
|
Vitamin C:
19.7
mg
|
Calcium:
33
mg
|
Iron:
1.6
mg