Tastes of Lizzy T participates in affiliate advertising programs. We may earn a commission when you make a purchase through links on our site.
Add kick to your grilled steak! This simple, spicy 6 ingredient marinade makes the jalapeno steak tender and full of flavor. Top with fresh pineapple salsa.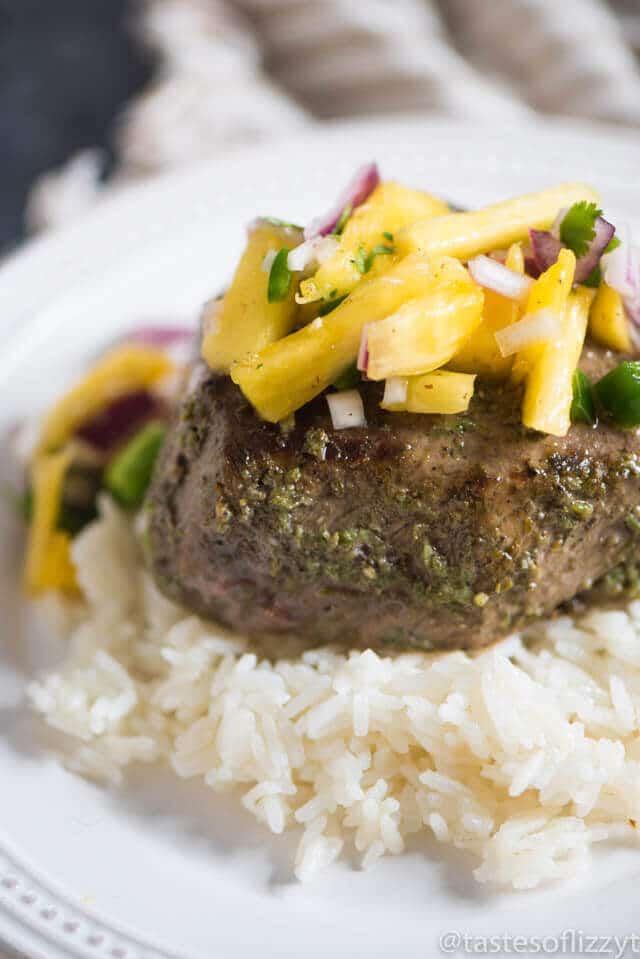 Valentine's Day is coming!
It seems like we were just celebrating Christmas and Valentine's Day is just around the corner. Are you ready yet?
I'm not into all of the flowers and cards that seem to define this holiday for lovers. But a delicious candlelight meal with the love of my life in our own little dining room? You can bet I'm all over that. You can take your crowded restaurants. I'm happy with a quiet dinner for two.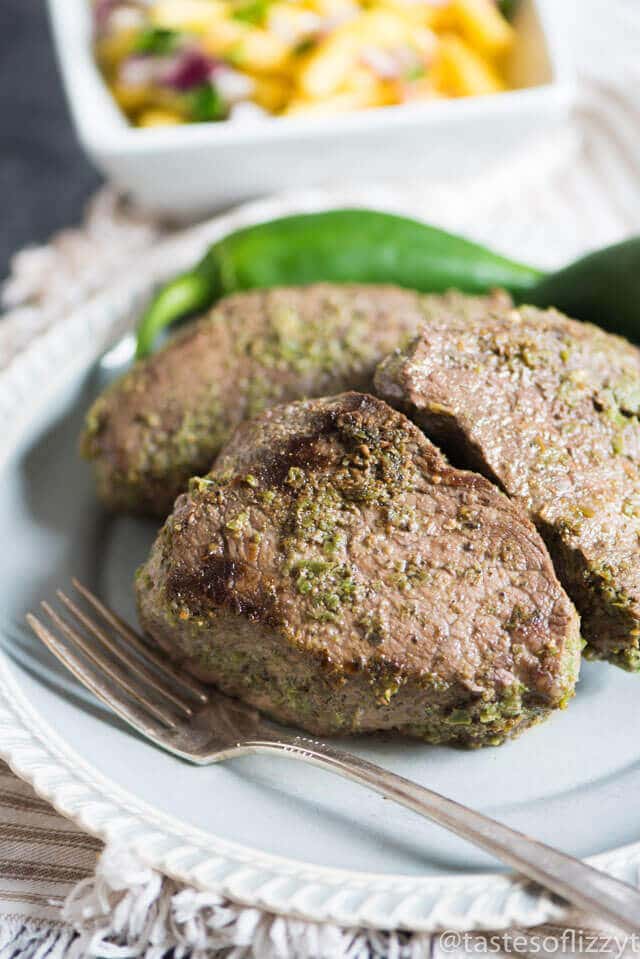 Comfort food is the key to my husband's heart. And he especially loves steak. He'll take any way he can get a juicy cut of beef. According to studies, Americans choose a ribeye or T-bone steak 50% more than chicken, fish or pork when it comes time to celebrate. And what do Americans say is the cut of beef most associated with candlelight romance? Filet Mignon. Ooo-la-la. If you're looking for a more economical choice, sirloin steaks are the perfect option.
This Jalapeno Steak with Fresh Pineapple Salsa is a double love for Matt because it's beef, but it's spicy beef. He's the kind of guy who takes a little spice with his spice.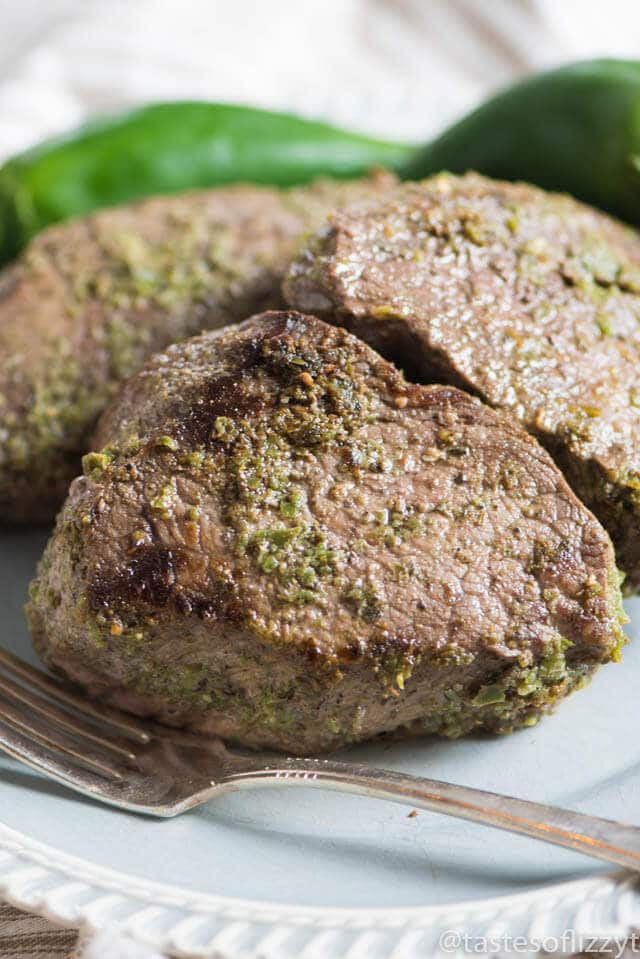 Looking for a lovely dinner to serve to your Valentine?
Here's some hints on getting the perfectly juicy jalapeno steak.
Marinate the steak for at least 4 hours. Prep ahead. You'll end up with a juicy, tenderized steak.
 Cook the steak in a skillet over medium heat. This browns the outside of the steak and deepens the flavor.
Use a spatula to turn the steak. Don't poke it with a fork. The juices will escape them and you want them to stay in every single bite.
Cook to the temperature you like best, whether it is medium rare (145 degrees), medium (160 degrees), or well done (175 degrees).
Once your steak is cooked, place it on a plate and cover it with foil. Allow it to rest for 3 minutes, which seals in the juices.

Serve this jalapeno steak over a bed of rice and top with fresh pineapple salsa. You'll love the sweet & spicy flavor!
*A 3-ounce serving of beef provides 25 grams of protein and 10 essential nutrients. Beef packs a lot into a small package!*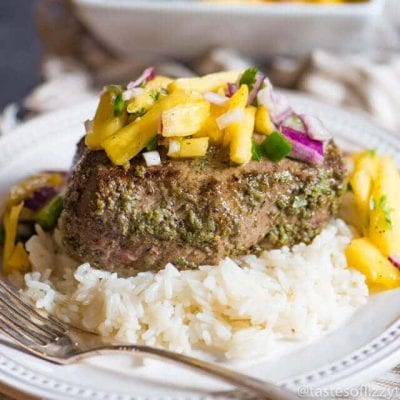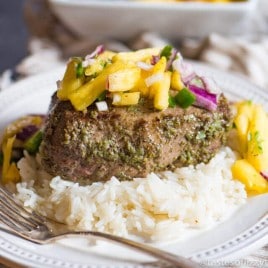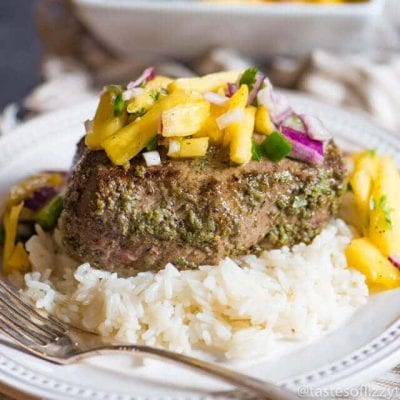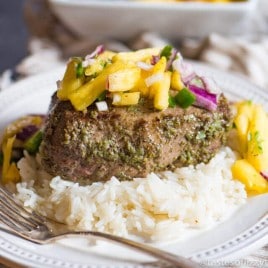 Jalapeno Steak
Give a spicy kick to your grilled steak! This simple, spicy 6 ingredient marinade makes the steak tender and full of flavor. Top with fresh pineapple salsa.
---
Ingredients
For the Steak:
4

jalapeno peppers

seeded and stemmed

2

teaspoons

minced garlic

1 1/2

teaspoons

black pepper

1

tablespoon

salt

1/4

cup

lime juice

1

tablespoon

dried oregano

1 1/2

pounds

sirloin steak

(4 pieces)

2

tablespoons

olive oil
Instructions
For the Steak:
In a blender, combine the peppers, garlic, pepper, salt, lime juice and oregano. Blend until smooth.

Pour the marinade in a gallon-size zippered bag.

Seal the bag and refrigerate up to 24 hours, but for at least 4 hours.

Heat a skillet with the olive oil over medium heat.

Add the steaks to the skillet. Cook for 5-6 minutes, then, using a spatula, turn the steaks and cook for an additional 5-6 minutes, or until the steaks are at the desired doneness. Medium Rare: 145 degrees; Medium: 160 degrees; Well Done: 170 degrees.

Remove steaks from the skillet, place them on a plate, and cover them with foil. Allow the steaks to rest for 3 minutes before serving.

When the steaks are done, top each steak with a large spoonful of pineapple salsa.
Nutrition
Serving:
304
g
|
Calories:
299
kcal
|
Carbohydrates:
2
g
|
Protein:
37
g
|
Fat:
14
g
|
Saturated Fat:
3
g
|
Cholesterol:
103
mg
|
Sodium:
2713
mg
|
Potassium:
634
mg
|
Vitamin A:
150
IU
|
Vitamin C:
21.1
mg
|
Calcium:
48
mg
|
Iron:
2.8
mg
Are you prepping a romantic Valentine's Day feast? Find a wine that's the perfect fit with this handy guide from the Ohio Beef Council. In a hurry? Cabernet Sauvignon pairs best with all cuts of beef.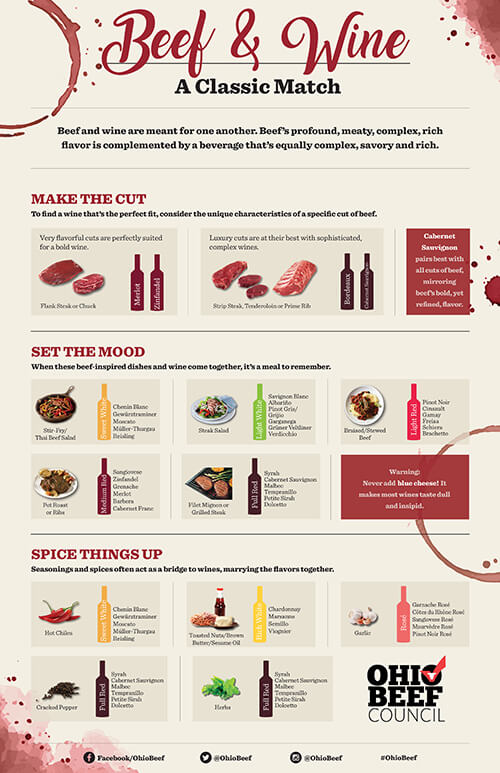 Since this is a spicy steak recipe, you may ask how seasonings and spices influence your wine choice?
According to Ohio Beef, seasonings and spices often act as a bridge to wines.
Sprinkling beef with some cracked black pepper helps the dish marry well with Syrah/Shiraz, which has a black pepper–like flavor.

Herbs in a beef dish can underscore the hint of herbal flavor in many Cabernet Sauvignons and Bordeaux.

The seasonings to be careful with are hot chilies, which can make a wine taste hollow. Chiles need a cushion of sweetness to land on, so fiery-hot beef dishes often do best with a white wine that has a bit of residual sugar.

Wines with a lot of oak flavor often need a bridge to connect them to beef. Toasted nuts, brown butter and sesame oil are all excellent bridges to oaky chardonnay.
What's the biggest "no-no" in beef and wine pairing?
The biggest mistake in pairing beef and wine is adding blue cheese to the dish. Blue cheese is one of the most powerfully pungent, salty, and microbial foods. It makes most wines—red and white—taste dull and insipid. Save the blue cheese for dessert and serve it with a sweet fortified wine such as port!
Enjoy cuddling up with this special dinner this Valentine's Day!