Honey Oregano Pork Chops are made with an easy pork marinade packed with fresh garlic, honey and oregano. These Honey Oregano Pork Chops can be grilled or pan fried. This is one of the best pork chop recipes for a quick weeknight dinner!

Thanks to the Ohio Pork Council for sponsoring this post and allowing us to share this Honey Oregano Pork Chops Recipe.
Last week Kinslee and I were invited by the Ohio Pork Council to visit with pork farmers John and Connie Surber and Neil "Uncle Squeals" Rhonemus. I always find talking with farmers fascinating. Farming is not a life I know well, but I do know it is hard work and often a thankless job. I'm always impressed by the joy and passion the farmers have for their family work and the love they give each one of their animals.
Food safety and health of the pigs is always of the highest priority for farmers. In the past, Trichinosis worm was a problem with pork, causing people to have to cook their pork to 160 degrees in order to be safe to eat. By bringing pigs indoors, pigs no longer have to roll around in the mud to keep cool, which is what was causing this problem. The Surbers and Uncle Squeals have shower in/shower out facilities on their farms to ensure the health of the pigs and prevent the spreading of diseases.
Can Pork be Pink?
What does this mean for you? Because pork farmers have worked so hard to keep their pigs healthy and happy, we can now enjoy pork now more than ever. Are you guilty as I am of overcooking pork? Pork is safe to eat after it has cooked to an internal temperature of 145 degrees. That means that it's ok to have a blush of pink in the center of your pork chops. Since I've learned this fact from the Ohio Pork Council, I've eaten more grilled pork chops than ever because they are juicy, tender and have amazing flavor. No more dry, tough pork!

How to Prepare Pork for Cooking
During our visit at the beautiful Surber home, Chef Rachel from The Glendalia in Cincinnati shared with us some key points to making deliciously easy pork dinners, including the Honey Oregano Pork Chops.
Bring the pork to room temperature before cooking or grilling. If you place a cold pork chop (or tenderloin) in a hot pan, the muscle will seize up and cause the pork to be tough. The muscle will be more relaxed if you bring it to room temperature prior to cooking.
For pork chops, choose chops that are at least ½ an inch thick so that the pork doesn't cook to quickly on the grill.
Marinate your pork. Chef Rachel taught us that a good marinade will have three key aspects: aromatics (fresh herbs), acid (such as vinegar) and oil. And what I love about this recipe is that she also added honey, which caramelizes as you cook the pork. Seriously…these pork chops melt in your mouth!
As I mentioned earlier, pork is safe to eat at an internal temperature of 145 degrees F. Meat, however, can continue to rise in temperature after you take it off heat. Chef Rachel recommends taking pork off the grill or out of the pan at 140 degrees F and allow it to come to 145 degrees as it rests on a plate. This will make for the juiciest pork.
Pork today is very lean and shouldn't be over cooked. That is my biggest takeaway from this visit and I highly encourage you to give this honey oregano pork chops recipe a try. Don't worry that they'll have a blush of pink inside. It's completely safe to eat and you'll pork will become a regular rotation on your weekly meal planning. Also learn how to make easy baked pork chops.

Oh…and last but not least. We had such a delicious dinner at the farm. Connie Surber is an amazing cook and I came away with several of her kitchen secrets. We finished off dinner with delicious cobblers made by Casey from Batter Up Bakery. The recipe itself was from Heather who blogs at The Food Hussy. Trust me…you're going to want to print that recipe. The peach cobbler was delicious, but the mixed berry? I could've eaten about 5 servings. This dessert is the perfect finishing to a family dinner. And if you're looking for 100% from scratch baked goods, visit Casey at the Batter Up Bakery. Doughnuts, cakes…even gluten free and egg free treats made to order. She's super talented and you won't be disappointed!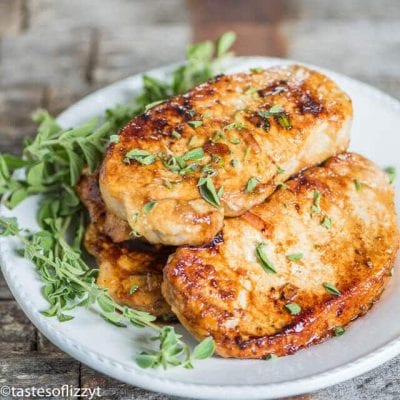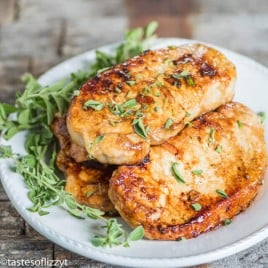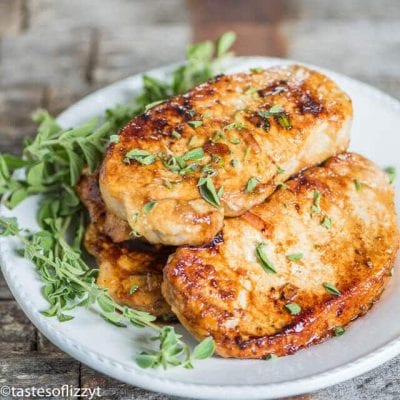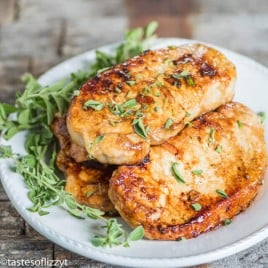 Honey Oregano Pork Chops
An easy pork marinade with fresh garlic, honey and oregano flavor. These Honey Oregano Pork Chops can be grilled or pan fried for a quick dinner.
---
Ingredients
6

boneless, skinless pork chops

2

shallots

minced

2

teaspoons

minced garlic

1/4

cup

rice vinegar

1

lemon

zested and juiced

1/2

cup

olive oil

1/4

cup

honey

1

tablespoon

fresh oregano

1

tablespoon

olive oil

salt and pepper

to taste
Instructions
Place the pork chops in a gallon-size ziploc bag.

Add the shallots, garlic, vinegar, lemon, ½ cup oil, honey and oregano.

Zip the bag closed, then shake the bag and use your hands to be sure the marinade is mixed and coats all of the pork chops.

In a large, heavy bottomed skillet over medium heat, heat olive oil.

Sear pork chops for 4-6 minutes on each side until the internal temperature reaches 145 degrees Fahrenheit. (Discard remaining marinade)

Remove the pork chops from the pan and allow them to rest for 3 minutes before slicing.
Nutrition
Calories:
445
kcal
|
Carbohydrates:
15
g
|
Protein:
29
g
|
Fat:
29
g
|
Saturated Fat:
6
g
|
Cholesterol:
89
mg
|
Sodium:
67
mg
|
Potassium:
559
mg
|
Sugar:
12
g
|
Vitamin C:
10.6
mg
|
Calcium:
19
mg
|
Iron:
1
mg