Pork chop recipes can be found in various cookbooks, cooking and recipe websites, and even in your grandmother's recipe box. Finding the best pork chop recipes isn't quite as easy of a task, though.
If you've ever asked "why do my pork chops always come out dry and tough?", you've come to the right place for an answer! I'm going to give you some tips for selecting pork chops and how to cook them to perfection. PLUS, I'll share my best pork chop recipes for pork chops on the stove, breaded baked pork chops, slow cooker pork chops and potatoes, bbq grilled pork chops, and my healthy pork chop recipes!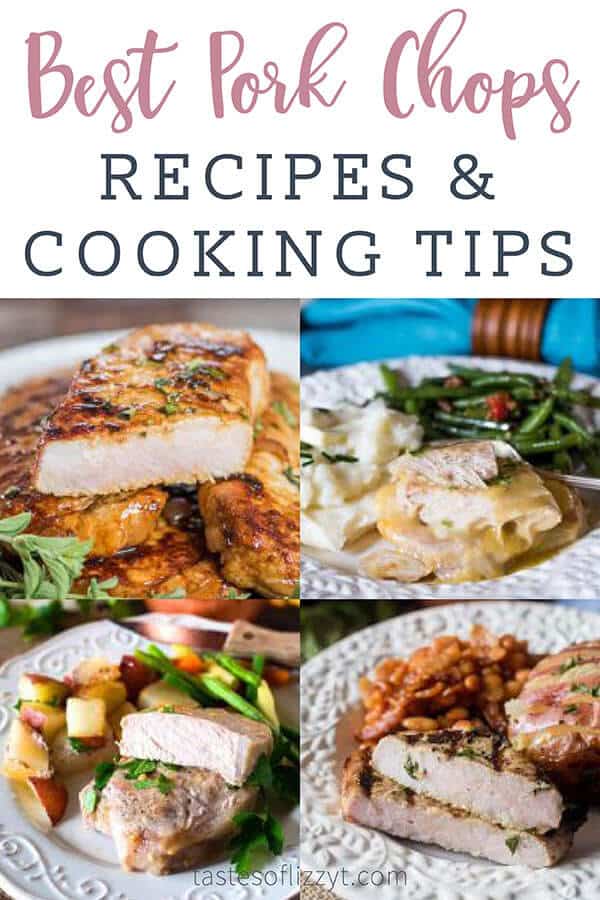 Why Pork Chop Recipes Sometimes Fail
Raise your hand if you've ever stared at a plate of dry, tough pork chops with texture similar to shoe leather. Let's face it, sometimes pork can be difficult to cook. That isn't always the fault of the person cooking the chops, though. There are different cuts of pork chops and each have their own preferred cooking method to become moist and flavorful. The best type of pork chop for slow cooking won't necessarily be the same as the one you should use to make stove top pork chops.
Types of Pork Chops
According to the U.S. Pork Council, you may find several types of pork chops when you visit your local butcher or grocery store meat counter, but all pork chops come from the tenderloin of the pig. The tenderloin runs from the pig's hip to the shoulder. The most common types of pork chops at a grocery store are from the rib and loin. As you'll see, there is definitely a difference between bone in vs. boneless pork chops.
Porterhouse Pork Chops are from the lower back (just behind the rib chop) and have a characteristic T-bone shape. These chops include a lot of meat as well as a bit of tenderloin meat.
Ribeye Pork Chops originate in the center of the loin in the rib area and include some back and rib bone. Bone-in pork chops are the best for grilling.
Sirloin Pork Chops come from the area around the hip and often include part of the hip bone.
New York Pork Chops (sometimes called Center Cut Chops) are boneless and located above the loin chops, toward the head. The 1¼ inch-thick top loin chop is also called an "America's Cut". Boneless pork chops cook quickly, so are great for stir fries and pan frying on a stove.
Blade Chops are cut from the beginning of the loin, in the shoulder area. They may contain some blade bone as well as back-rib bone. Blade chops are usually thicker and more marbled. They often are butterflied and sold as pork loin country-style ribs. (Learn how to make easy, fork tender ribs)
How to Prevent Dry and Tough Pork Chops
Here are some basic steps that you can take to avoid dry and tough pork chops:
Know what type or cut of pork chop you are cooking with. If you're unsure of what type to use for a certain recipe, ask your butcher for a recommendation.
Allow the meat to come to room temperature before cooking it. If you place cold pork chops right from the fridge into a hot pan or oven, they tend to cook unevenly. The outside will be dry, tough, and overcooked while the inside may still be a bit under cooked.
Generously season or brine pork chops before cooking. On its own, pork is pretty bland. Adding a dry rub or soaking pork in a brine before cooking will help add flavor.
Use a cooking thermometer to cook pork chops to perfection. Pork chops become dry and tough when they're over cooked, and eating under cooked pork puts you at risk for food poisoning. The USDA says the ideal and safe temperature for cooked pork is 145 degrees F.
Best Pork Chop Recipes
Now that you have some tips on buying and cooking pork, you can use these pork chop recipes to create any of these flavorful, delicious, easy pork chop recipes!
GRILLED PORK CHOP RECIPES
Basil Lemon Grilled Pork Chops – An easy, 4-ingredient marinade makes these chops perfectly tender. A Paleo, Whole30, gluten free pork chop recipe for the family.
Honey Oregano Pork Chops – An easy pork marinade with fresh garlic, honey and oregano flavor. The pork chops can be grilled or pan fried for a quick dinner.
Onion Thyme Pork Chops – These pork chops get amazing flavor from the onion thyme dry rub that is just a few simple ingredients that you likely have in your pantry. It only takes about 5 minutes to mix it up and prep the chops for grilling. 
BAKED PORK CHOPS
Cream Corn Pork Chops – Taste the comforts of home with pork chops casserole recipe. Pork chops cooked to juicy perfection, topped with creamy corn and buttery bread cubes.
Pork Chop Potato Bake – A simple garlic mustard sauce makes this baked pork chop recipe a simple Whole30 dinner idea for the whole family.
PORK CHOP SLOW COOKER RECIPES
Grandma's Pork Chops and Gravy – Pork chops are cooked to fork-tender perfection. Smothered with a simple gravy, these slow cooker pork chops are one of my grandma's best pork chop recipes.
Paleo Slow Cooker Pork Chops – Creamy, full-flavor Paleo slow cooker pork chops. Let the pork simmer in your slow cooker all day for a healthy, delicious, comforting meal served with a side of potatoes and veggies.
This page will be updated with more of my best pork chop recipes as I make them, so keep checking back! If you have a pork chop recipe you would like to make, please contact me and I'll see if I can help.