Slow Cooker Pork Chops and Gravy
Slow cooker pork chops and gravy are cooked to fork-tender perfection. Smothered with a simple gravy, these slow cooker pork chops are one of my grandma's best pork chop recipes.
If you've ever been worried about dry pork chops, the slow cooker will be your best friend. Whether it is pork loin or pork carnitas, the slow cooker can make any cut of pork into fork tender deliciousness.

Slow Cooker Pork Chops and Gravy
I am beyond blessed to have two grandmas (Maddie's great-grandmas) that I still get to spend time with regularly. One of my favorite memories from both are sitting around the dinner table together, enjoying a good meal. Their love of food, cooking and family has played a huge role in what has been passed on to me, and then on to Maddie.
I'm giving to you today and sharing with you a "Grandma" recipe. One I remember eating for the first time at her house. Made with love in her kitchen. It's a simple recipe, really, but one that we instantly fell in love with and have made countless times since then.
Grandma's Pork Chops and Gravy. Comfort food, for sure.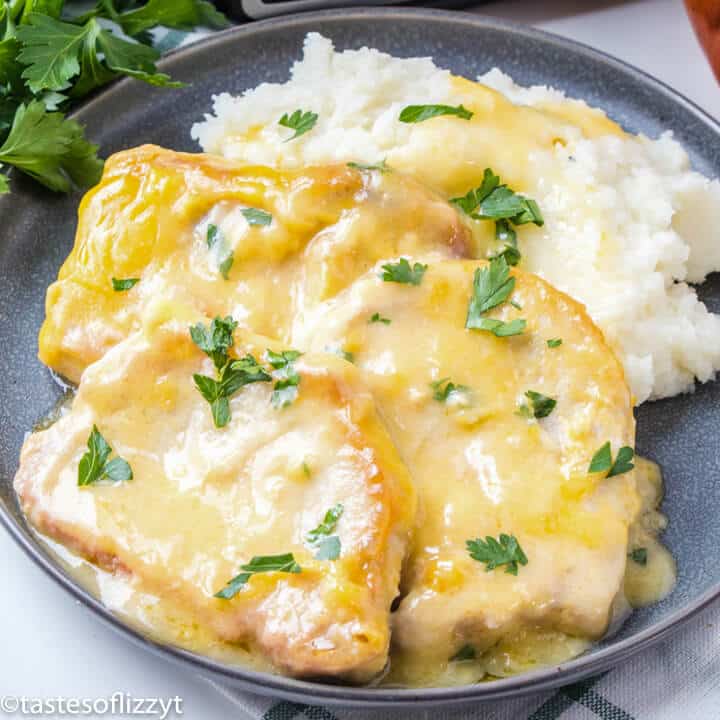 What is a center cut pork chop?
In this recipe we use boneless center cut pork chops. When you pick these up at the store, they are generally from the rib section of the loin. These chops have a mild flavor and are very tender since there is a little more fat on them. They are a great all purpose pork chop that are easy to find. They are even great baked in the oven.
To read about every kind of pork chop and what to use them for, see this article.
Can I use bone-in pork chops?
Yes! This recipe works with just about any type of pork chop. Since you are slow cooking the pork, it may fall off the bone a little bit. Whether you choose bone in or boneless, it will be delicious.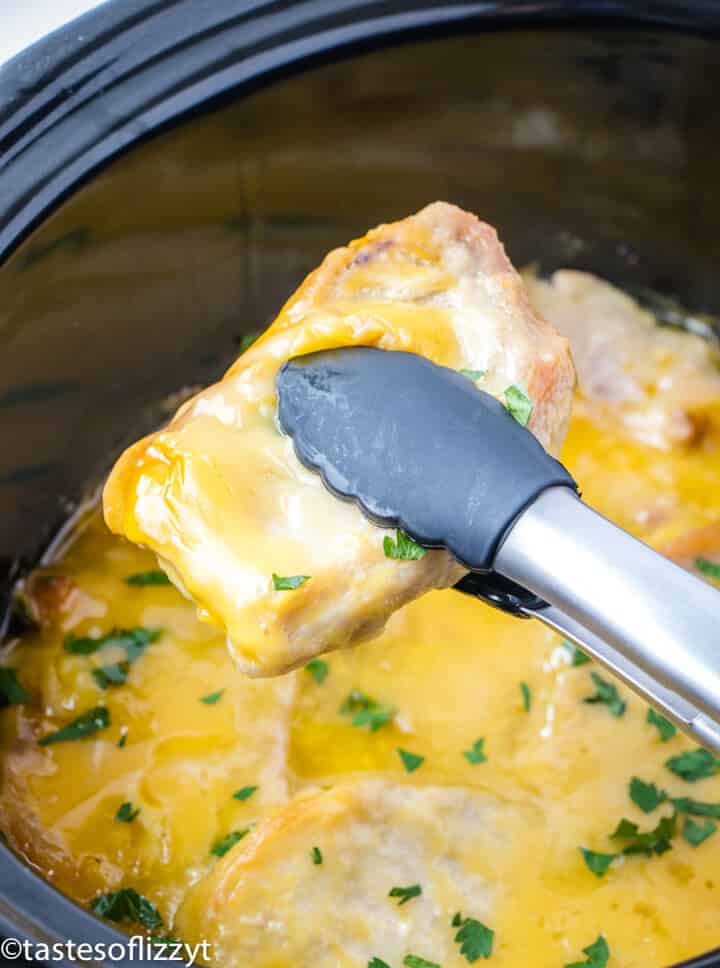 Easy Slow Cooker Pork Chops
This is a "quick" slow cooker meal. This sounds slightly like an oxymoron, doesn't it? Let me explain how to make quick slow cooker pork chops.
When choosing fresh pork, choose boneless, center cut pork chops that are about 1″ thick.
Make a mixture of ½ cup flour, 1 teaspoon salt, 1 ½ teaspoons dry mustard, and ½ teaspoon garlic powder.
Dredge the pork chops in the 4-ingredient blend and brown them in a hot, oiled skillet. Just 2-3 minutes on each side will be enough to give them a beautiful, golden brown color. Don't skip this step. It deepens the flavor and makes the chops melt in your mouth. This step takes just under 15 minutes.
**Pro Tip: You can do these steps the night before to make morning prep time even shorter. Just place the browned chops in the slow cooker liner and cover. Refrigerate overnight and pull out to cook in the morning.**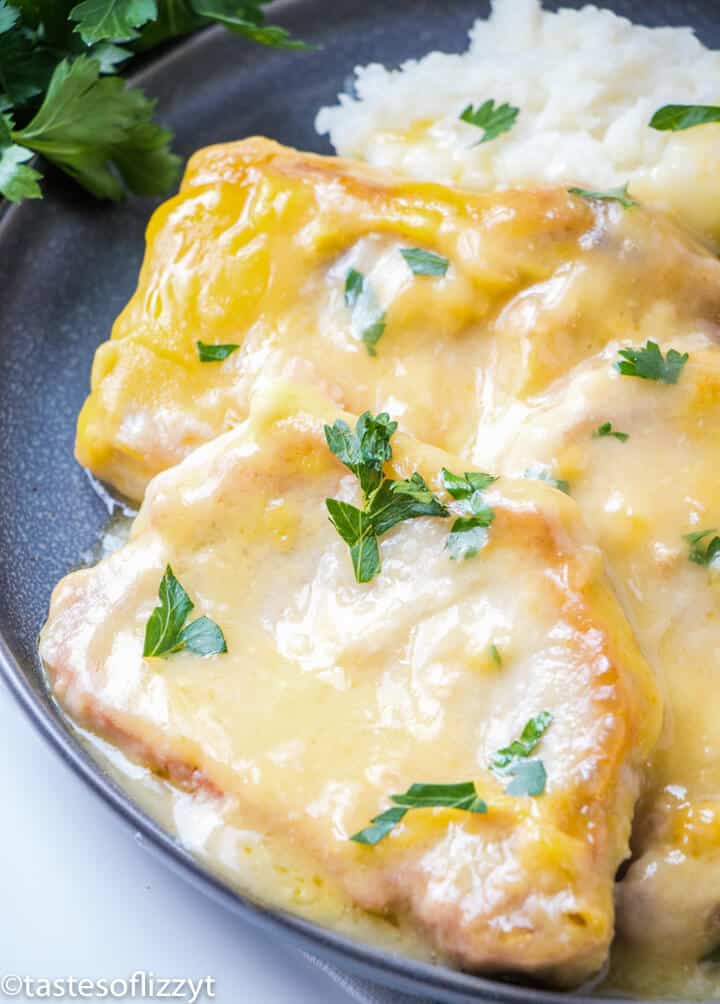 Pork Chop Gravy
After the pork chops are browned, simply place them in a slow cooker, cover them with 2 cans of cream of chicken soup, which makes the best pork chop sauce ever. Thick, rich gravy! Cover the cooker and let them simmer away for about 3 hours on high or 5 hours on low. The temperature of the chops should be 160°F. They'll be fork tender, easy for people of all ages to eat and love.
What to Serve with Pork Chops
The gravy is perfect over a side of mashed potatoes. Serve with a vegetable for a side dish and dinner rolls.
I'm pretty sure this will become one of your new family favorites.
Other Pork Chop Recipes
Looking for a healthier version of this recipe? Try our Paleo Pork Chops!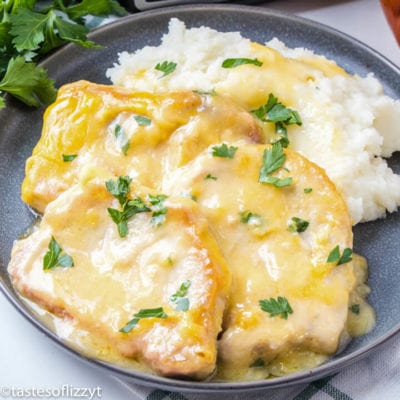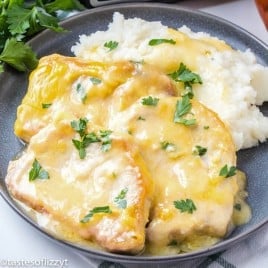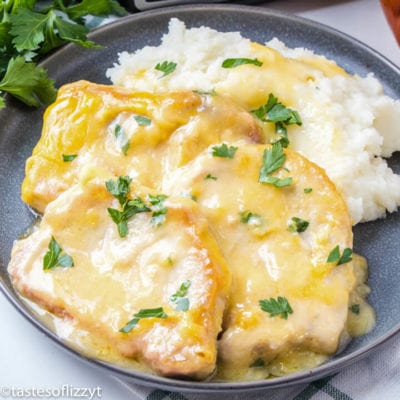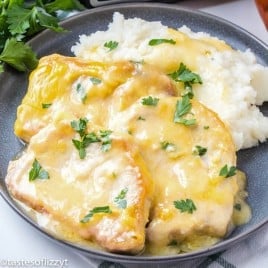 Pork Chops and Gravy
Grandma's pork chops are cooked to fork-tender perfection. Smothered with a simple gravy, these slow cooker pork chops are one of my grandma's best recipes.
Total Time
5

hours
15

minutes
---
Ingredients
2 1/2

pounds

boneless center cut pork chops

(about 8)

3

tablespoons

olive oil

1/2

cup

all-purpose flour

1

teaspoon

salt

1 1/2

teaspoons

dry mustard

1/2

teaspoon

garlic powder

21

ounces

cream of chicken soup

(2 cans)
Instructions
Heat olive oil in a skillet over medium heat.

In a bowl, combine the flour, salt, dry mustard and garlic powder. Mix well.

Dredge the pork chops in the flour mixture and place them in the hot skillet.

Allow them to brown for 2-3 minutes, then flip the pork chops to brown them on the other side for an additional 2-3 minutes.

Place the browned pork chops in a slow cooker.

Pour two cans of cream of chicken soup over the pork chops.

Cover the slow cooker and cook on high for 3-4 hours or on low for 4-5 hours, until the temperature of the pork reaches between 145 degrees F. (medium rare) and 160 degrees F. (medium), on a meat thermometer.

Serve immediately.
Notes
The calories shown are based on the 1 serving, which is 1 pork chops with ⅙ of the gravy. Since different brands of ingredients have different nutritional information, the calories shown are just an estimate. **We are not dietitians and recommend you seek a nutritionist for exact nutritional information.**
Nutrition
Calories:
362
kcal
|
Carbohydrates:
11
g
|
Protein:
33
g
|
Fat:
19
g
|
Saturated Fat:
5
g
|
Cholesterol:
100
mg
|
Sodium:
881
mg
|
Potassium:
573
mg
|
Vitamin A:
135
IU
|
Calcium:
20
mg
|
Iron:
1.9
mg