Tastes of Lizzy T participates in affiliate advertising programs. We may earn a commission when you make a purchase through links on our site.
Learn how to make traditional savory stuffed pork chops. This easy dinner makes a beautiful presentation for an alternative holiday dinner. Love pork chops? Try our best pork chop recipes!
Have you tried my grandma's slow cooker pork chops yet? They are one of the best! These oven-baked pork chops also use one of my grandma's best recipes….her stuffing.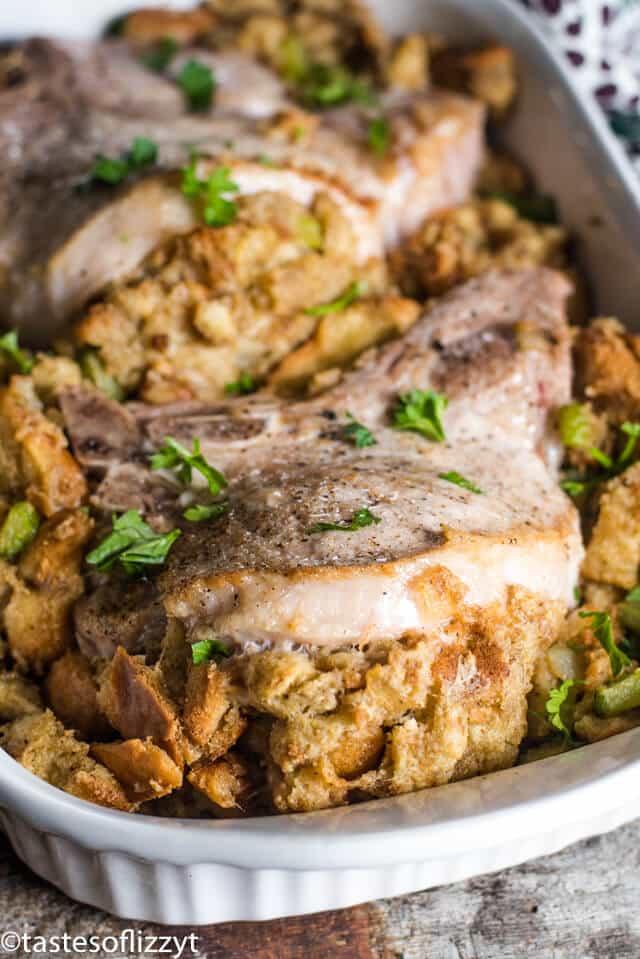 Baked Stuffed Pork Chops Recipe
Thanks to the Ohio Pork Council for sponsoring this post and allowing us to share this Honey Oregano Pork Chops Recipe.
I don't know why it took me so long to make stuffed pork chops, but I'm so glad I did. They were worth the wait.
One of our most popular recipes is my grandma's Thanksgiving stuffing. I took her savory bread stuffing and packed it inside two thick-cut pork chops.
Oh my goodness…it is like Thanksgiving dinner without all the work! Let's break this down and see how easy it is to make these flavorful pork chops.
Bone In vs Boneless Pork Chops
When I was first testing this recipe, I went to our local butcher to purchase thick cut pork loin chops. I had in my mind boneless pork chops because that is normally what I buy. She started pulling out the bone-in chops when I told her I was making stuffed chops. She said you could use either, so I decided to purchase both bone-in and boneless thick cut chops.
And guess what? I preferred the bone in chops better. They seemed to be juicier and have more flavor.
I recommend bone-in pork chops that are about 1 1/2″ thick. The butcher can cut a pocket in them for you so that is one less step you have to do at home. Your local butcher will love serving you. Don't be afraid of that meat counter!
How do you cook stuffed pork chops?
There are 4 basic steps to preparing the pork chops.
Salt and pepper the chops, then brown them lightly in oil in a skillet. This enhances the flavor and gives them a pretty golden brown look.
Make the stuffing. Our stuffing is really easy to make and smells AMAZING while the butter, onion and celery are simmering on the stove.
Stuff the chops (this is the easiest part!).
Bake the chops.
Some tips to remember:
Cut up the bread cubes a day or two in advance so they can dry out. This will help the stuffing not be too moist.
Simmer the butter, onion and celery together until the vegetables are as tender as you'd like. They will not cook much more once in the oven, so make sure they aren't crunchy if you don't want crunchy veggies. We sauté the celery and onions in the butter for about 10 minutes.
Don't cook the pork chops too long in the skillet when you are browning them. Just sear them quickly. This will allow the chops to heat through in the oven without them becoming overly dry.
This recipe makes enough stuffing to stuff about 4 large chops. We normally make 2 stuffed chops and then arrange the remaining stuffing around the chops in the baking dish.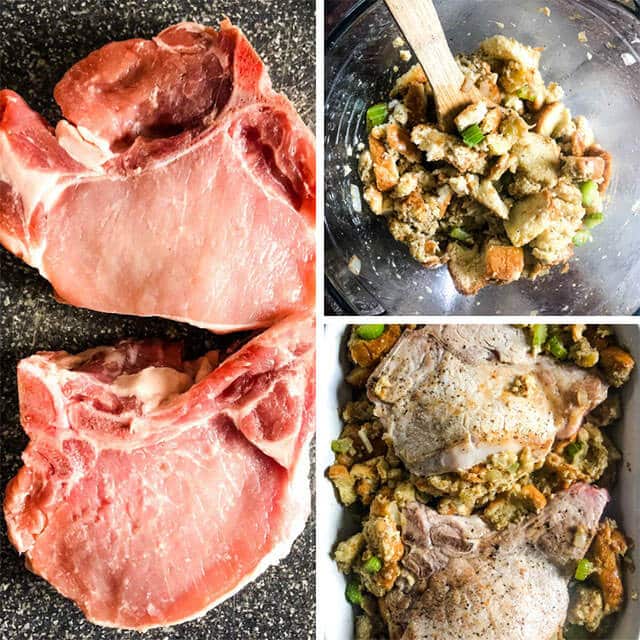 Do you cover stuffed pork chops when baking?
We do not cover the pork chops with aluminum foil when they are in the oven. I like the stuffing to get a little crispy and browned. This won't happen if you cover the pork chops.
How long to cook pork chops in oven?
The exact timing will depend on how thick the pork chops are and how much you browned them in the skillet beforehand. We've found that between 20-25 minutes in a 350 degree oven is sufficient.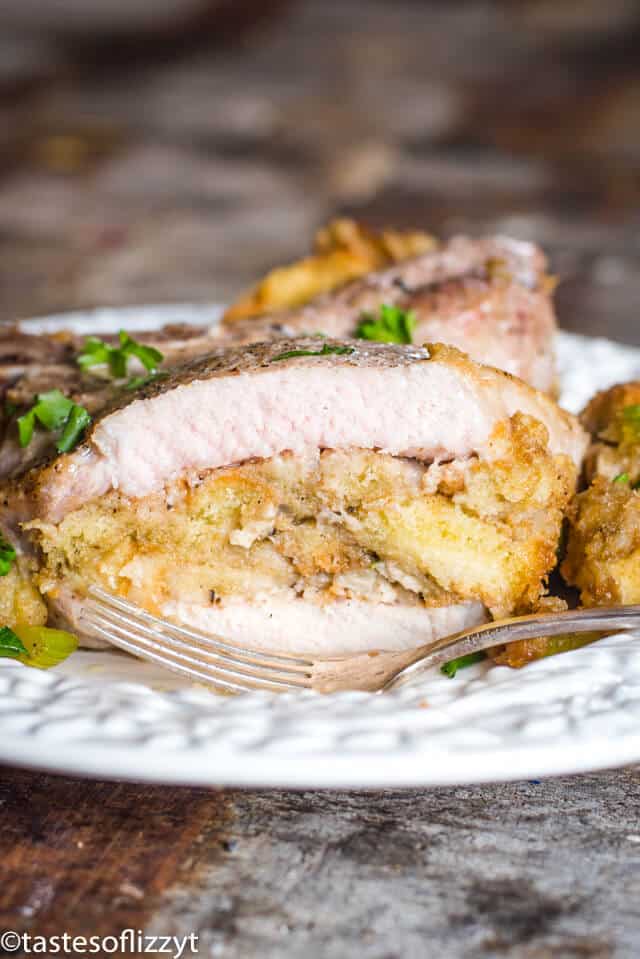 What temperature should pork be baked to?
The key thing to remember when cooking pork chops is to not over bake them. Pork is safe to eat when the internal temperature reaches 145 degrees Fahrenheit. Use an instant read thermometer in the pork and cook until the temperature reads done.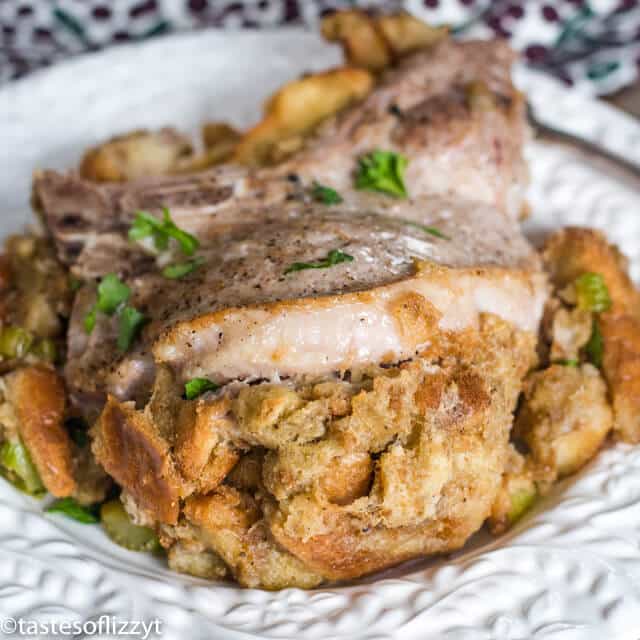 What are good side dishes for pork chops?
This recipe has both a meat and a side dish built into each other, so a simple side salad or veggie such as broccoli is all we add. This would be excellent with our Christmas green beans, slow cooker cream corn, or sweet potato casserole.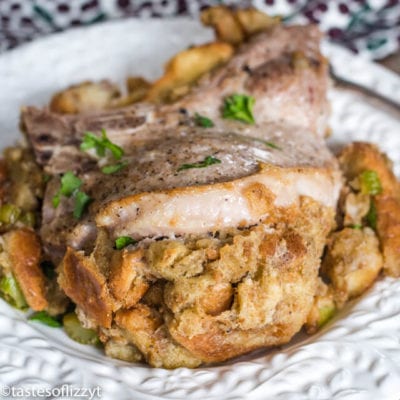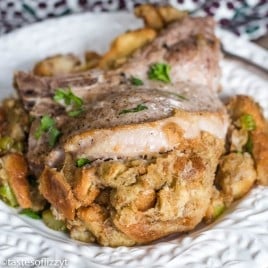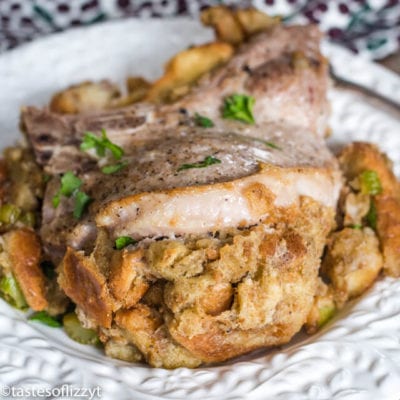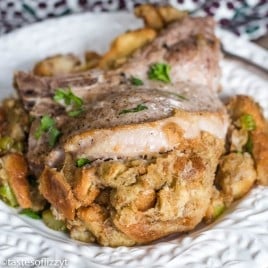 Stuffed Pork Chops
Learn how to make traditional savory stuffed pork chops. This easy dinner makes a beautiful presentation for an alternative holiday dinner.
---
Ingredients
For the pork chops:
2

bone-in thick cut pork chops

(about 1 1/2″ thick)

salt and pepper

(to taste)

1

tablespoon

olive oil

(for browning the chops)
For the stuffing:
3/4

cup

butter

1/2

cup

chopped celery

1/2

cup

diced onion

7 

cups 

dry bread cubes*

1

teaspoon

teaspoon salt

1/2

teaspoon

ground black pepper

3/4

tablespoon

poultry seasoning

3/4

cup

chicken stock
Instructions
Prepare the pork chops:
If the pork chops do not already have a pocket cut in them, slice the meaty side of the pork chop in half almost to the bone so that it creates a pocket.

On both sides, sprinkle the pork chops with salt and pepper.

Heat the oil in a skillet over medium heat. Once the oil is hot, sear the pork chop on both sides just until golden brown.

Remove the pork chops to a plate.
Prepare the stuffing:
Preheat the oven to 350 degrees Fahrenheit.

In a skillet, melt the butter. Add the celery and onion. Saute the celery and onion until tender, about 10 minutes.

In a large bowl, combine the bread cubes, butter mixture and the remaining stuffing ingredients. Mix well.

Stuff about ½ cup to ¾ cup stuffing in each pork chop so that it fills the pork chops and also sticks out a little bit. This will give the pork chop a pretty look!

Spray a cast iron skillet or baking pan, either 9×13" or a bit smaller, with cooking spray. Place the chops in the prepared pan.

Arrange the remaining stuffing around the pork chops.

Bake the pork chops for about 20-25 minutes or until the internal temperature of the pork reaches 145 degrees Fahrenheit. At this temperature there will be a blush of pink in the pork which means they will be nice and juicy!

Allow the chops to rest for 3-4 minutes, then serve. Top with fresh herbs such as fresh parsley.

Store any leftovers in an airtight container in the fridge for up to 3 days.
Notes
*I like to make my own dry bread cubes. Two days before preparing the stuffing, I cut bread into 1″ cubes, then allow them to dry in a big bowl for about 48 hours. Stir the bread cubes once or twice a day so they dry out evenly. They should be very dry so they soak up the liquid in the recipe.
Refer to the article above for more tips and tricks.
The calories shown are based on the recipe serving 4, but it makes extra stuffing, so the calorie count is skewed. Since different brands of ingredients have different nutritional information, the calories shown are just an estimate. **We are not dietitians and recommend you seek a nutritionist for exact nutritional information. The information in the nutrition box are calculated through a program and there is room for error. If you need an accurate count, I recommend running the ingredients through your favorite nutrition calculator.**
Nutrition
Calories:
1603
kcal
|
Carbohydrates:
201
g
|
Protein:
61
g
|
Fat:
62
g
|
Saturated Fat:
27
g
|
Polyunsaturated Fat:
9
g
|
Monounsaturated Fat:
16
g
|
Trans Fat:
2
g
|
Cholesterol:
138
mg
|
Sodium:
2921
mg
|
Potassium:
962
mg
|
Fiber:
17
g
|
Sugar:
26
g
|
Vitamin A:
1154
IU
|
Vitamin C:
3
mg
|
Calcium:
552
mg
|
Iron:
16
mg
Other Pork Recipes
Love pork as much as we do? Try one of these recipes: