Thanks to the National Pork Board for sponsoring this post. As always, all opinions are my own.
An easy, 4-ingredient marinade makes for the most tender Grilled Basil Lemon Pork Chops. Throw ingredients together in under 5 minutes, marinate, and grill! A Paleo, Whole30, gluten free recipe for the family.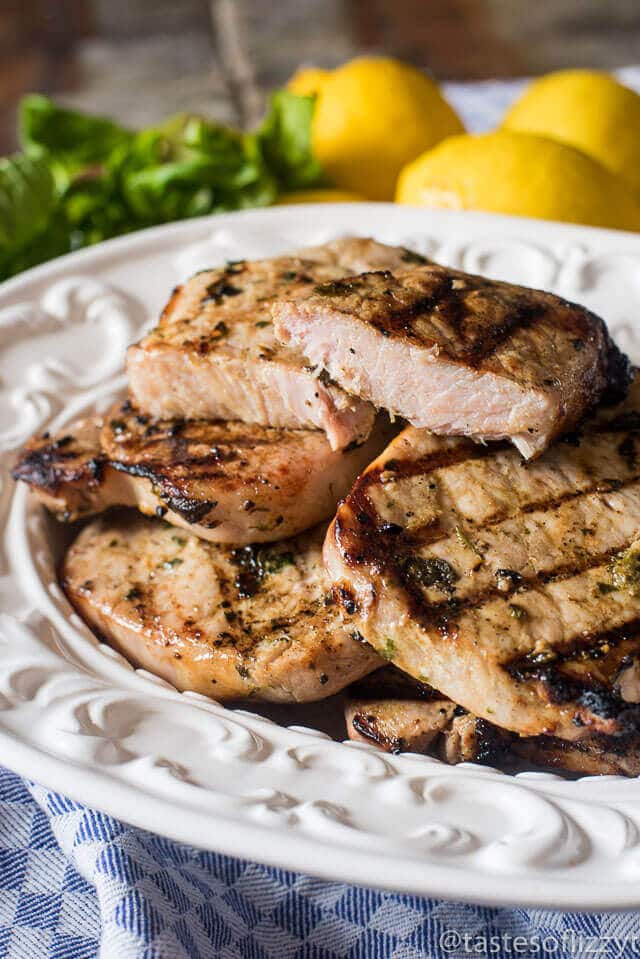 Have I got a treat for you today! And not even one treat, but two.
First of all, do you love simple marinades? The recipe I'm sharing today that you see on these juicy lemon pork chops is a quick 4-ingredient marinade.
What's in it? Fresh lemon juice, minced garlic, olive oil and fresh basil.
That's it.
Really.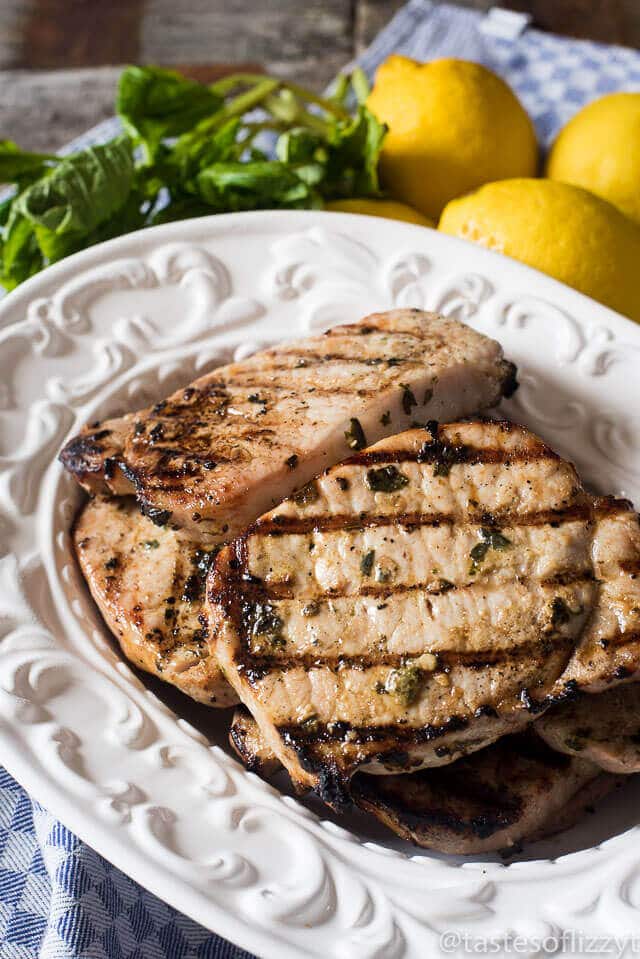 Put this all in a zippered plastic bag along with top loin chops (also known as New York pork chops), let it marinate in the refrigerator for at least 3 hours, then grill away!
My family went crazy for these simple basil lemon pork chops. The olive oil and lemon juice combination lends to the most tender grilled pork chops I've ever had. I'll be more than happy to make them for my pork lovin' family several times throughout the summer because they are so easy.
After all, the summer is for grillin'.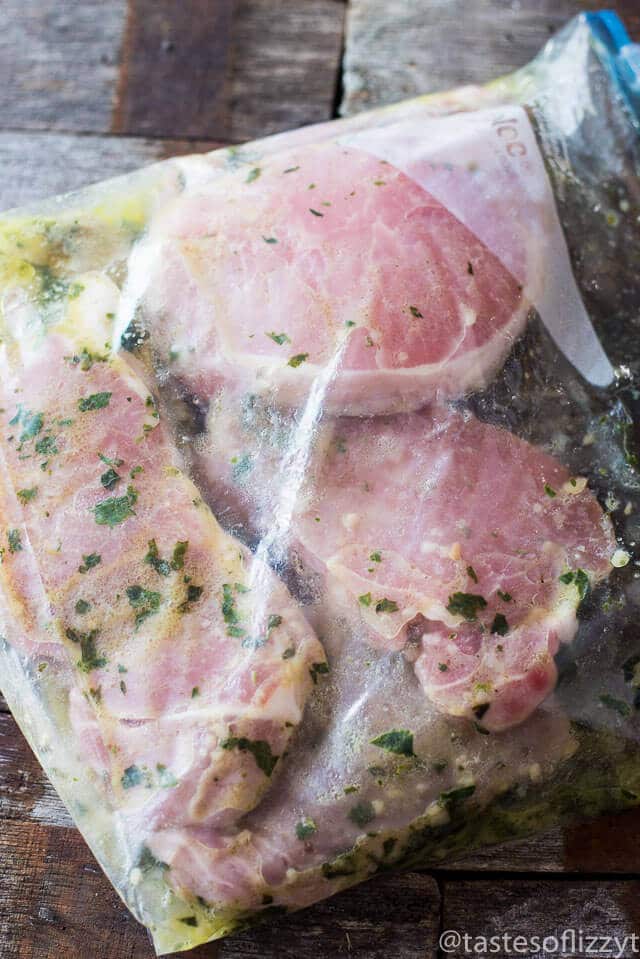 Which brings me to my second treat for you today.
Do you love your grill? The National Pork Board has given The Grill a personality this sumer. A sizzling personality.  There's a new guy in town and his name is The Grill. He's a great cook and loves to travel the country. Sounds like the ideal guy, huh?
You can meet The Grill at GrillForIt.com. You'll find his most grilliant recipes along with tips and hints for all of your summer barbecues. See the grilling season from The Grill's perspective this summer!
Guess what? I got the opportunity to interview The Grill. He's a funny guy, alright. Here's what he had to say!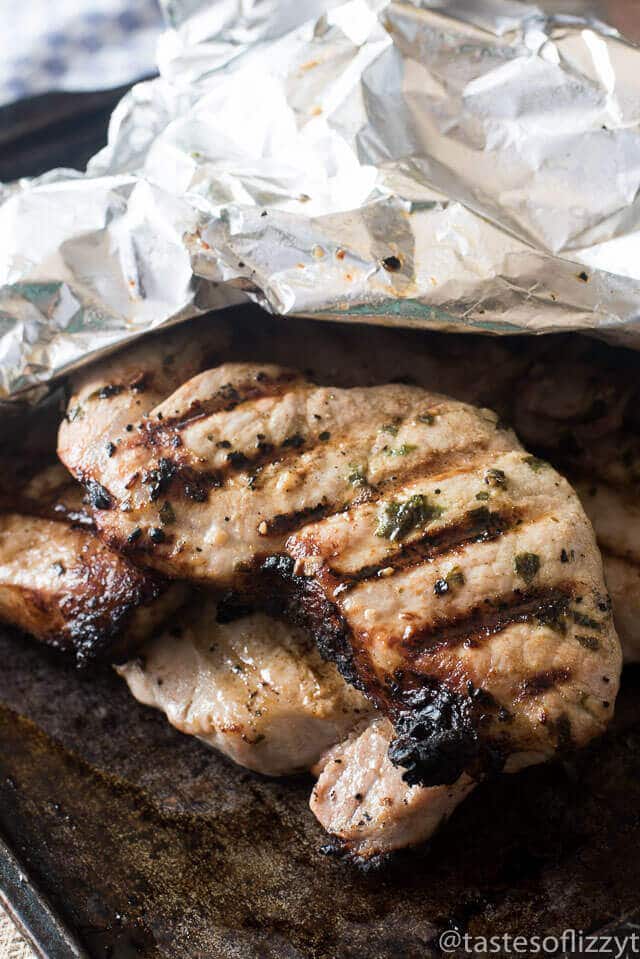 What heats you up? Gas or charcoal? And which makes food taste better?
"I'm old school, so charcoal is what gets me fired up, but I get down with food cooked on a gas grill. Some of my best friends are gas grills, and we both have our benefits: charcoal adds a nice, smoky flavor, and gas is very convenient to use. But the truth is you can't go wrong if you're grilling, especially if you're grilling mouthwatering, tender-licious pork!"
Do you prefer to cook with the lid up or down?
"Lid up is always nice. I love getting to feel the wind through my grates. That being said, sometimes the recipe calls for lid down, and at the end of the day, I do what's needed to make food taste great."
How do you give meat a smoky flavor?
"I give meat a smoky flavor by soaking wood chips and throwing them right on my coals, or I like giving it to my neighbor Gloria. She's a grill and a bona fide smoker who can give that distinct aroma to any dish. But if you don't have the fortune of owning or living next door to a sensational smoker, then I recommend using the following techniques: you can season your meats with smoky flavor spices such as smoked paprika or smoked pepper or you can add liquid smoke to a marinade. But be careful; a little bit goes a long way."
What grilling temperature is best for pork?
"One forty-five is where pork thrives! If you're looking to cook your pork chops, loin roasts and tenderloins medium rare, then you want an internal temperature between 145°F (medium rare) and 160°F (medium). Ground pork (like all ground meats) should be cooked to a 160°F. And although it's extremely difficult, you really need to fight the urge to stuff pork into your mouth right after it comes off the grill. It should really get a three-minute rest to let all the juices settle. Juicy things come to those who wait. Check out the National Pork Board's website for more info."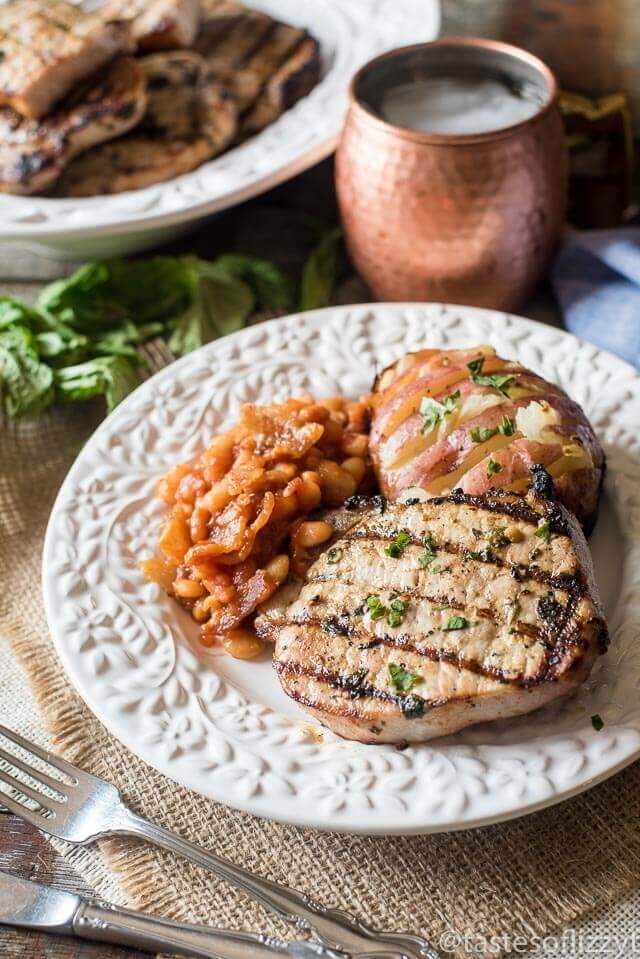 What are the best cuts of pork for grilling?
"All of them. I'm just joking around. In all seriousness, if I had to choose just one, I'd say all of them. Okay for real this time, the best cut of pork to grill is… all of them. Okay, you want an honest answer; I love to grill back ribs, bacon, pork belly, blade steaks, chops, country-style ribs, crown roast, ham, ground pork, loin roasts, sausages, pork shoulder, spareribs, including St. Louis-style ribs, back ribs and tenderloin. Oh wait; did I just name most of the cuts? Sorry about that! The truth is, when it comes to grilling pork, you can't go wrong. Go whole hog!"
How do you know when pork is cooked through?
"The most reliable and effective way is the classic – use a digital meat thermometer. Push it into the thickest part of the cut and if it reads 145°F, you're taste buds will soon be in pork-alicious bliss. The meat should be a blush pink color."
Do you have any hints for grilling pork tenderloin?
"You know a grill is never supposed to reveal his secrets… but I'll make an exception. Here's my tip, follow this stuffed pork tenderloin recipe.
What's your all-time favorite summertime grilling recipe? 
"Brats! Pork burgers! Chops! Oh man, how can I choose just one? But I think one of my all-time favorite recipes THIS summer is Double Smoky Ribs with Bacon-Bourbon BBQ Sauce. It even tastes good when you say it! You've got to grill for it!! Just make sure you've got some wet wipes ready because you won't be able to keep your hands off of these smoky ribs with bourbon barbecue sauce."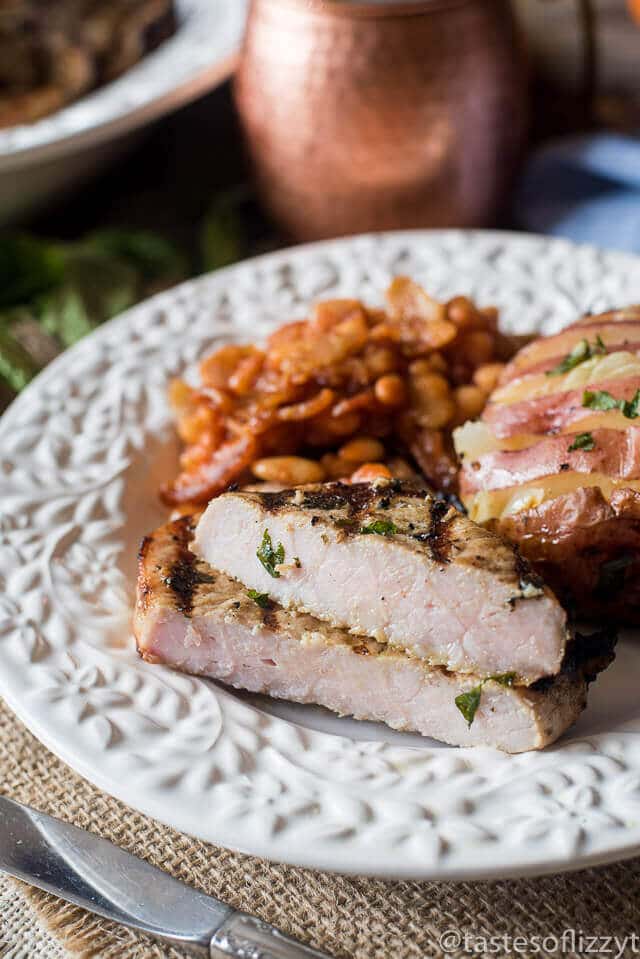 Are you lovin' hearing about grilling from The Grill's point of view? Be sure to follow The Grill's ongoing commentary on all things grilling on Twitter and Facebook.com.
Find many more delicious pork recipes at PorkBeinspired.com. Follow them for inspiration all year round on their Facebook, Pinterest, Instagram, and YouTube accounts.
Julie
Yields 6 servings
Grilled Basil Lemon Pork Chops
5 minPrep Time
12 minCook Time
17 minTotal Time
Ingredients
6 New York pork chops
Juice of 2 lemons
2 teaspoons minced garlic
1/4 cup olive oil
1/4 cup freshly chopped basil
Instructions
Place the pork chops in a gallon-sized zippered plastic bag. Add the juice, garlic, oil and basil. Zip the bag closed, then turn the bag several times to be sure the pork is all coated.
Place the bag in the refrigerator for at least 3 hours to marinate.
Heat a grill to 400 degrees.
Place the pork chops on the grill, close the lid and let pork chops cook for 5 minutes. Turn the pork chops once and allow them to cook for an additional 4-5 minutes or until the center of the pork chops reach a temperature of between 145 degrees (medium rare) and 160 degrees (medium).
Remove the pork from the grill and allow it to sit for 3 minutes.
Then serve and enjoy!
6.6.15
https://www.tastesoflizzyt.com/grilled-basil-lemon-pork-chops/
3 Ingredient Pork Rib Marinade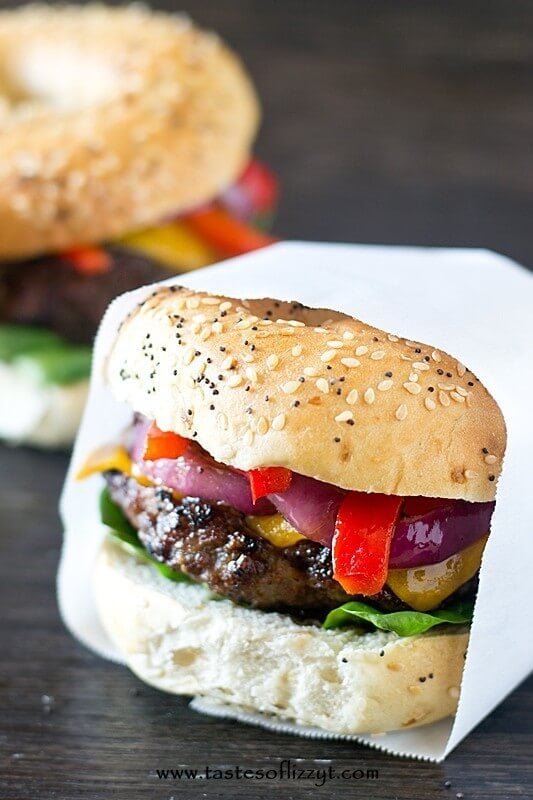 Thanks to the National Pork Board for sponsoring this post. As always, all opinions are my own.