Tastes of Lizzy T participates in affiliate advertising programs. We may earn a commission when you make a purchase through links on our site.
Cream Corn Pork Chops Casserole has boneless pork chops cooked to juicy perfection, topped with creamy corn and buttery bread cubes. This is one of the best pork chop recipes for an easy comfort food dinner!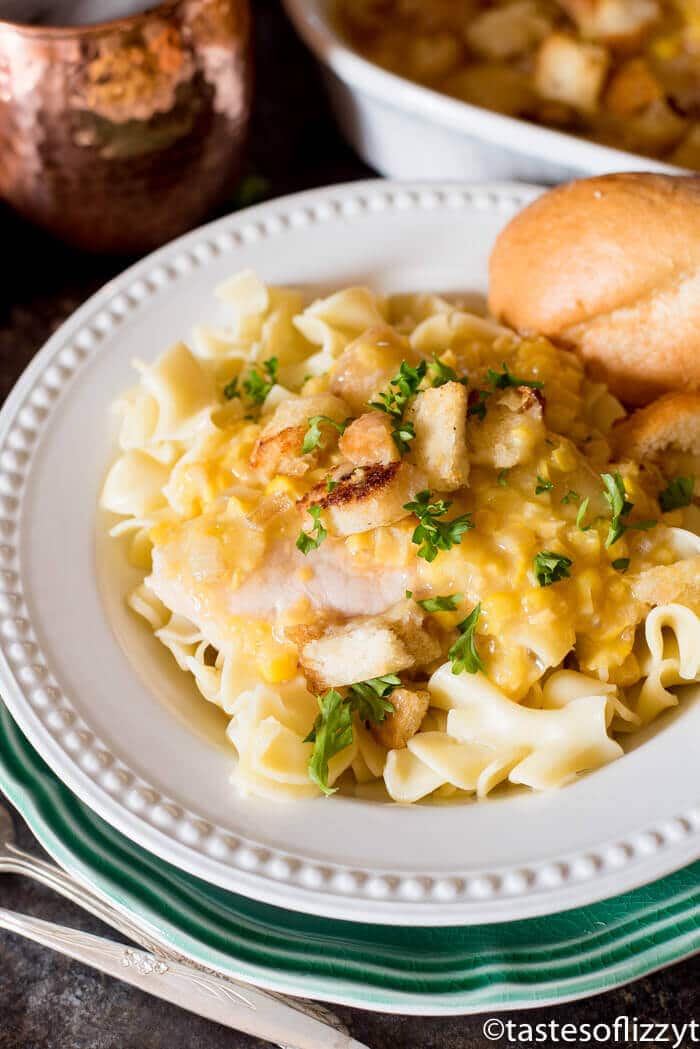 Cream Corn Pork Chops
Happy Monday morning, friends!
We're starting this week in our new house! We got every.last.little.bit. of our junk prized possessions transferred from the old house to the new house this past weekend. It didn't take long to move it thanks to so much help, but now I have a heap of stuff to sort through. Most days? I'll be OK with this because I like to organize. But after a long weekend of moving? It's slightly overwhelming. To you seasoned movers…tell me I can do this!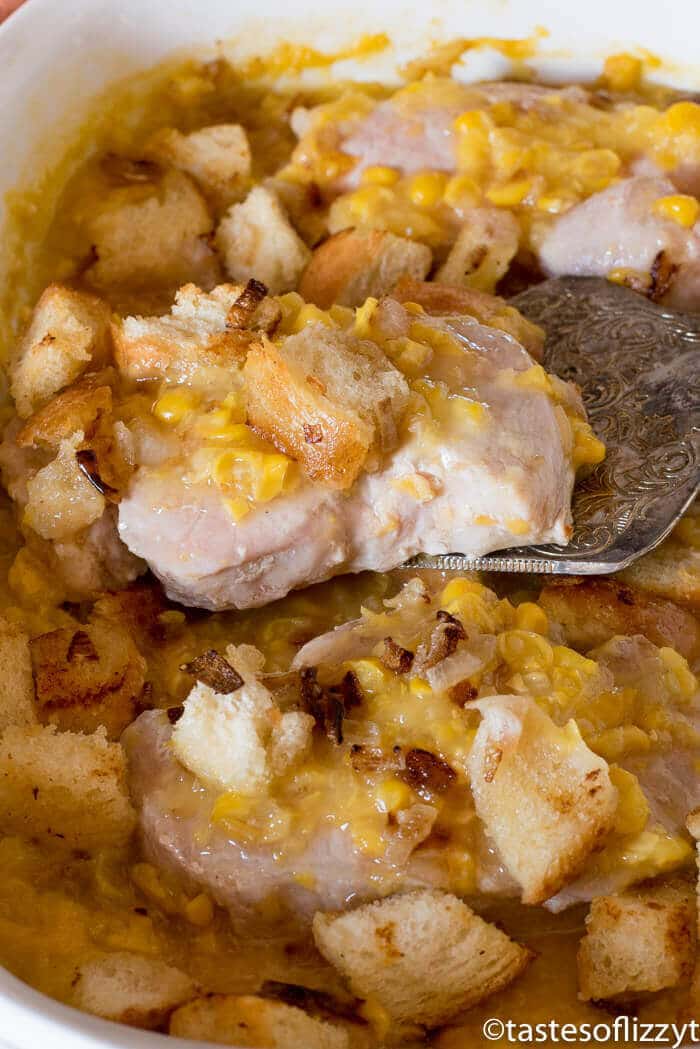 The local pizza shop has been on speed dial over the past two weeks and I'm anxious to break my ties with them. To eat real, home cooked meals that I prepare in my new kitchen.
And I may just start with this Cream Corn Pork Chops recipe. It's a classic. Pork chops browned in oil, then baked to a juicy perfection with cream corn poured overtop. But my favorite part? The sauteed onions and buttery bread crumbs that add a boost of flavor and a bit of crunch to the creamy corn casserole.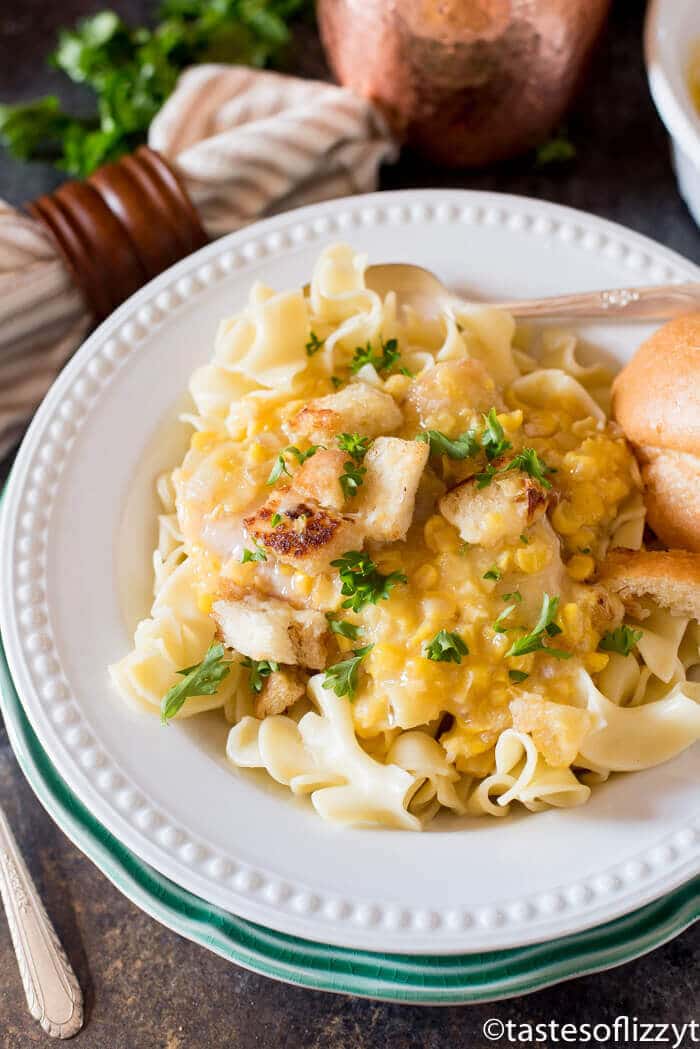 How to Cook the Pork for the Cream Corn Pork Chops Casserole
Just a few weeks ago I shared a pork loin recipe and told you about my new favorite kitchen tool, the oven-safe probe thermometer. The most important thing to remember when cooking pork is to not over cook it. I'm so guilty of doing this over the years. For so long the only way I liked pork was when I slow cooked it in the crockpot.  But you can have juicy pork right from the oven or the grill by testing the internal temperature of the meat. Cook the pork to an internal temperature of 145 degrees. There will be a blush of pink in the center of the pork. It's safe to eat, but so juicy and packed with flavor.
The tender pork and creamy corn pairs so well with the buttery bread cubes that sit on top of the casserole. I like to use day old Italian bread for this so the bread is thick and slightly chewy. You'll toast those bread cubes and chopped onion in the same skillet that you browned the pork chops in. Try not to pop those buttery bread crumbs in your mouth once they are all golden brown. They're slightly addicting but trust me…you'll want them on top of your casserole!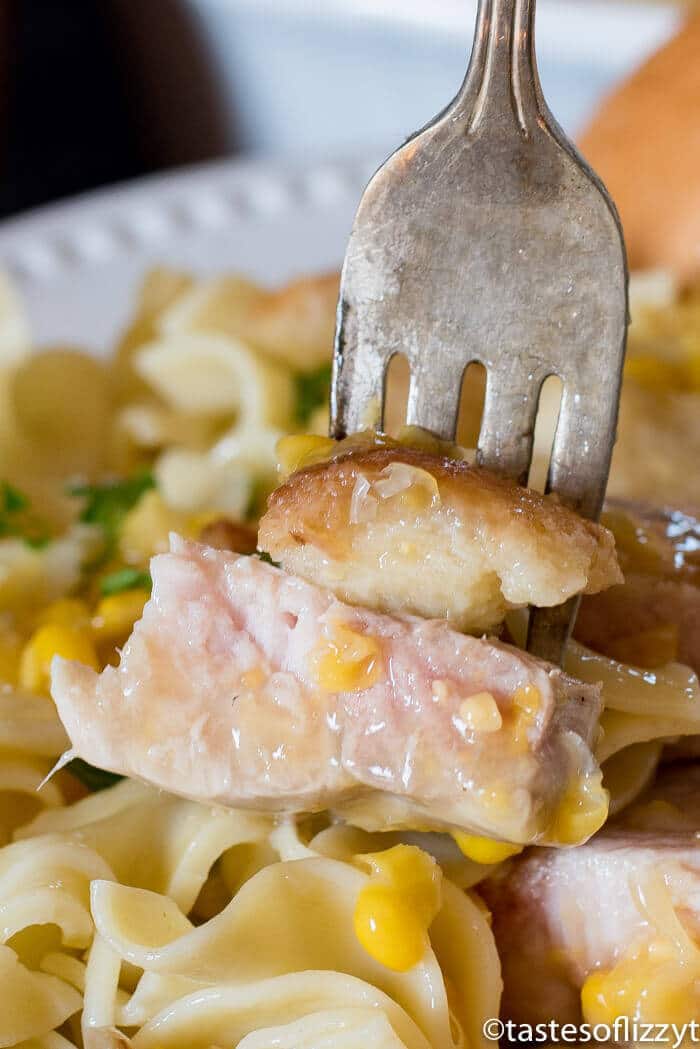 This is a quick casserole recipe. The cream corn pork chops bake just 20-25 minutes, but the exact time will depend on how thick the pork chops are, which is why the internal oven-safe probe thermometer is so important.
25 minutes….just about enough time to unpack 2-3 boxes. 🙂
Q: I found this cream corn pork chops recipe in an old cookbook…at least 40 years old. Have you ever had this casserole?
Love baked pork chops? Try our 30 minute oven pork chops.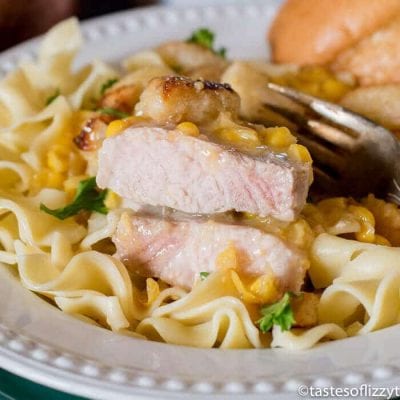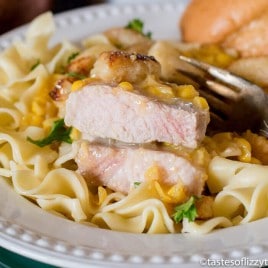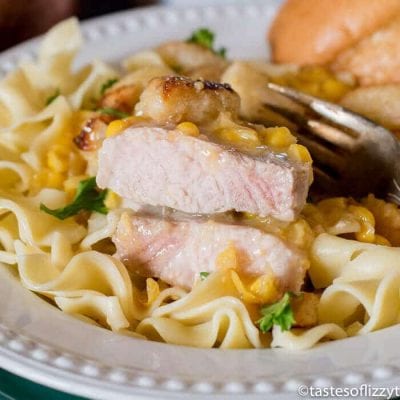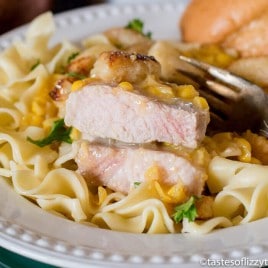 Cream Corn Pork Chops Casserole
Taste the comforts of home with Cream Corn Pork Chops casserole recipe. Pork chops cooked to juicy perfection, topped with creamy corn and buttery bread cubes.
---
Ingredients
2

tablespoons

coconut oil

(or olive oil)

4

boneless pork chops

(about 3/4" thick)

1/4

teaspoon

garlic salt

3

tablespoons

butter

1/4

cup

chopped onion

1 1/4

cup

Italian bread cubes

1

can

cream corn

(14.74 ounces)
Instructions
Preheat the oven to 350 degrees.

In a skillet over medium heat, melt the coconut oil.

Add the pork chops, cooking for 1-2 minutes, then flipping them to lightly brown on the other side for an additional 1-2 minutes.

Sprinkle the lightly browned pork chops with the garlic salt, then transfer the pork chops to an 11x7" baking pan.

Add the butter, onions and bread cubes to the skillet. Saute for 5-7 minutes until the breadcrumbs are toasted and the onions are tender.

Pour the cream corn overtop the pork chops.

Sprinkle breadcrumbs and onions over top the pork chops.

Insert an oven-safe probe thermometer into the side of the thickest part of a pork chop.

Bake until the internal temperature reads 145 degrees, or about 20-25 minutes, depending on the thickness of the pork chops.

Tent the casserole with foil to keep warm until servings.
Nutrition
Calories:
482
kcal
|
Carbohydrates:
27
g
|
Protein:
31
g
|
Fat:
28
g
|
Saturated Fat:
16
g
|
Cholesterol:
112
mg
|
Sodium:
660
mg
|
Potassium:
694
mg
|
Fiber:
1
g
|
Sugar:
7
g
|
Vitamin A:
350
IU
|
Vitamin C:
6.3
mg
|
Calcium:
16
mg
|
Iron:
1.3
mg