Thank you to the Ohio Pork.org for sponsoring this post. As always, all opinions are mine.
Just 4 ingredients make up this savory pork loin marinade featuring molasses and dijon mustard. Top with bacon and roast in the oven to juicy pork loin perfection!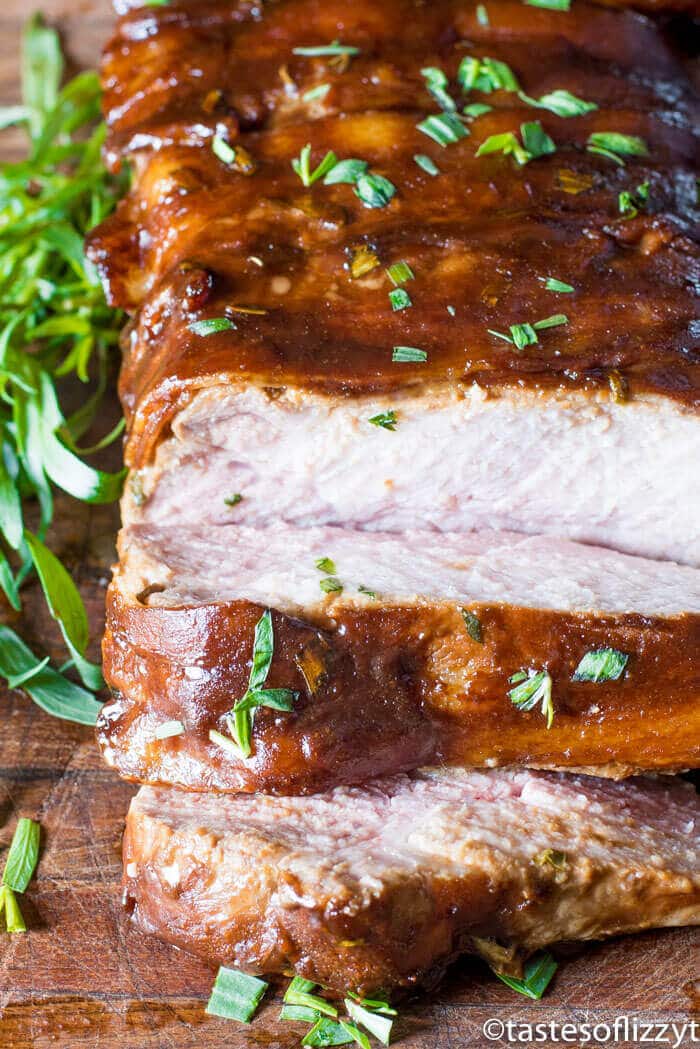 Pork Loin Marinade
I've never been great at cooking large cuts of meat in the oven. I'm generally a slow cooker kind of girl when it comes to roasts. Fork tender, fall-off-the-bone meat? Yes, please.
But I also enjoy learning new things. Especially when it comes to food.
While I was shopping last week, I saw that boneless pork loins were on sale. I knew I needed to put my big girl pants on and try to actually roast a cut of meat to juicy perfection in the oven.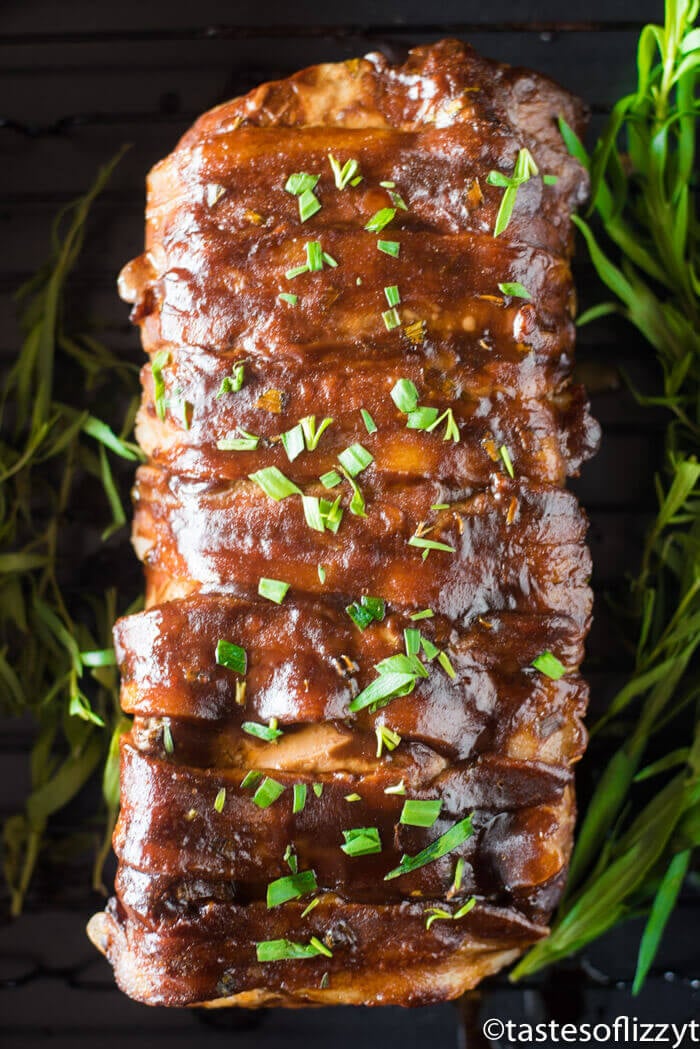 There were two things I needed to do this. A roasting pan (how did I not have one of these after 18 years of marriage?!) and a oven-safe probe cooking thermometer.
That thermometer? It's my new favorite kitchen toy. But more on that later.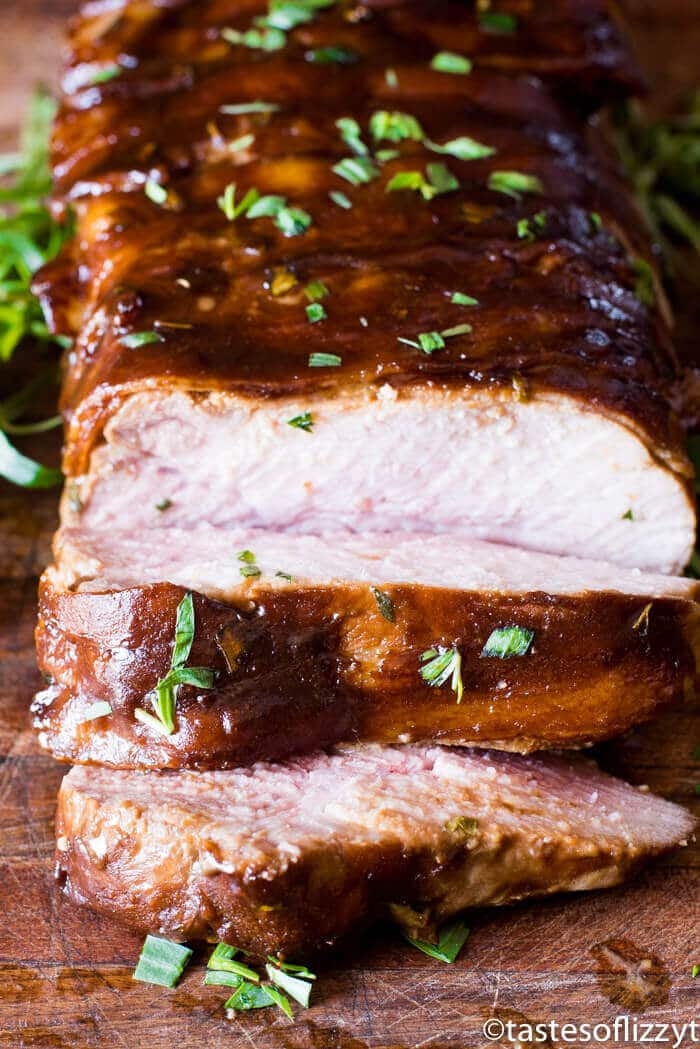 This pork loin marinade recipe is quick to throw together. It is simply molasses, dijon mustard, white wine vinegar and freshly snipped tarragon. You'll mix up this easy pork marinade and allow the pork to marinate for at least 3 hours, or even overnight. You want it to soak up all of that savory flavor!
When it is time to bake the pork loin, simply place it in a roasting pan and top the pork loin with slices of bacon. This adds flavor and juiciness. Two things I know you want!
Baste the top of the bacon with the molasses marinade.
Next, use a probe thermometer and insert it into the side of the pork roast. The thermometer I use is has a cord that comes out of it and attaches to the display so you can easily read the temperature without opening the oven. My probe thermometer sounds a signal when it reaches 145 degrees. Easy, right?
This pork loin bakes at 325 degrees for about 75-80 minutes. The exact time will depend on the size of your pork loin, which makes the thermometer so important.
Also, use the leftover marinade to baste the pork twice in the first 45 minutes of baking, then throw away the remaining marinade. You'll want to be sure not to baste the pork loin in the last 30 minutes of baking.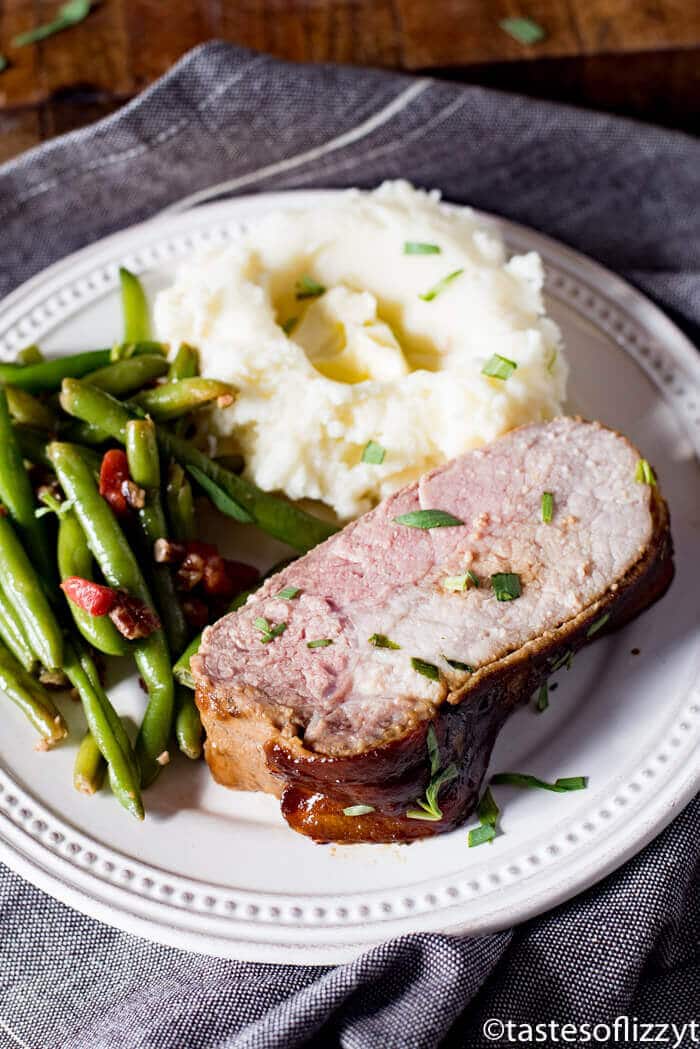 After baking, our pork loin roast turned out moist, tender and oh, so flavorful! It was like a slice of pork steak. My guys loved it and were happy to eat the leftovers for lunches the next few days.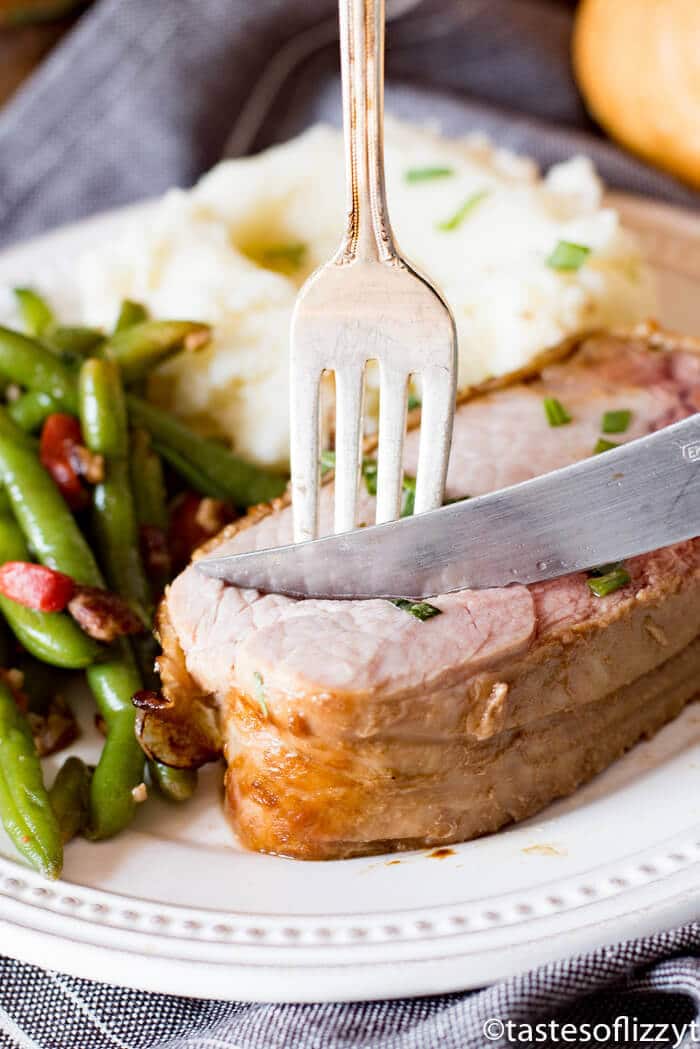 In the end, this pork loin marinade for baking recipe makes a beautiful presentation.
Serve with a side of Christmas green beans, mashed potatoes and buttery soft rolls.
Give this a try. You may be nervous to roast a pork loin as I was, but you've got this. And your family will be impressed!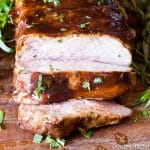 4 Ingredient Pork Loin Marinade
4 ingredients make this savory pork loin marinade featuring molasses and dijon mustard. Top with bacon and roast in the oven to juicy pork loin perfection!
Ingredients
1/2

cup

molassses

1/2

cup

Dijon mustard

1/4

cup

white wine vinegar

2

tablespoons

freshly snipped tarragon

3-4

pound

boneless pork loin

1/2

pound

bacon
Instructions
In a small bowl, combine the molasses, mustard, vinegar and tarragon. Mix well.

Place the pork loin in a baking dish and pour the marinade over the pork loin. Turn to coat.

Cover the pork loin with plastic wrap and allow it to marinate for 3-4 hours or overnight.

Preheat the oven to 325 degrees.

Move the pork loin to a roasting pan.

Place the slices of bacon on top of the pork.

Brush the marinade on top of the bacon.

Insert a probe thermometer into the side of the pork loin.

Place the roasting pan in the oven for 75-80 minutes, or until the internal temperature reads 145 degrees. Baste the pork loin with the marinade twice in the first 45 minutes of baking. Stop basting 30 minutes prior to the pork roast being cooked through.

When the internal temperature reads 145 degrees, remove the pork loin from the oven and tent aluminum foil over it. Allow it to sit this way for 3-5 minutes.
Recipe Notes
You can also cook this pork loin in the slow cooker on low for 8-10 hours or until fork tender.
More Pork Recipes You'll Love…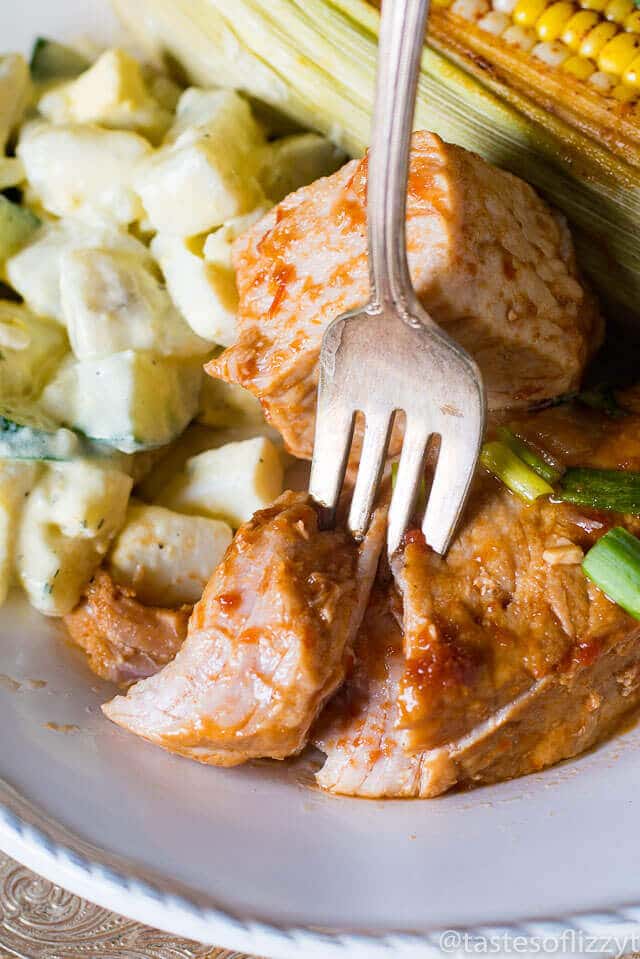 3 Ingredient Pork Rib Marinade
Grilled Basil Lemon Pork Chops