3 Ingredient Pork Rib Marinade
A simple 3 Ingredient Pork Rib Marinade to make your cookout quick and easy. Ready in under 30 minutes!
I've been trying to venture out from the standard cuts of meat that I always buy. Pork ribs were one of those foods that always looked amazing, but I never tackled. So today I share with you a simple 3 Ingredient Pork Rib Marinade. Just in time for your July 4th grilling. It will be ready for your summer picnic in just under 30 minutes.
Whether you're celebrating the Fourth of July with a backyard BBQ or grilling up some tasty pork ribs for a neighborhood cookout, pork has you covered. With so many cuts and preparation methods to try and endless flavor combinations to explore, pork is the must-have this grilling season.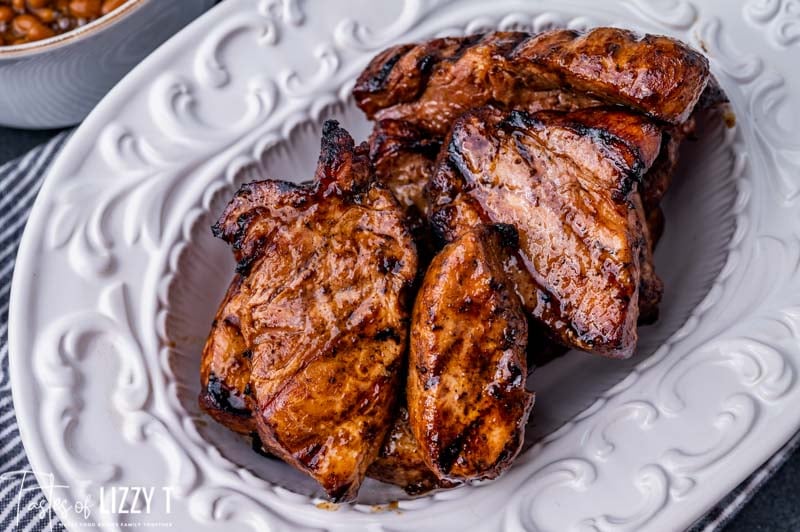 What are Country Style Ribs?
Country style ribs might seem strange. We traditionally think of ribs as long "rack" of ribs with rib bones. Although country style ribs look like ribs in that they are long strips, they don't have rib bones. And guess what? They actually don't come from the ribs.
They are a budget-friendly cut of pork from either the blade end of the shoulder or the shoulder itself. I've seen some ribs labeled as "Pork Shoulder Country Style Ribs", meaning they are cut from a shoulder steak.
You can use this marinade on spare ribs, baby back ribs or even boneless pork loin chops if you'd like.
How to Cook Country Style Ribs
Country style ribs are not only affordable but also very versatile. They have a great marbling which gives flavor and juiciness. They are excellent for braising or slow cooking, but can also be cooked quickly on high heat for a fast dinner option.
If you find country style ribs on sale, cut them up in slices or cubes and freeze for quick stir frys and stews.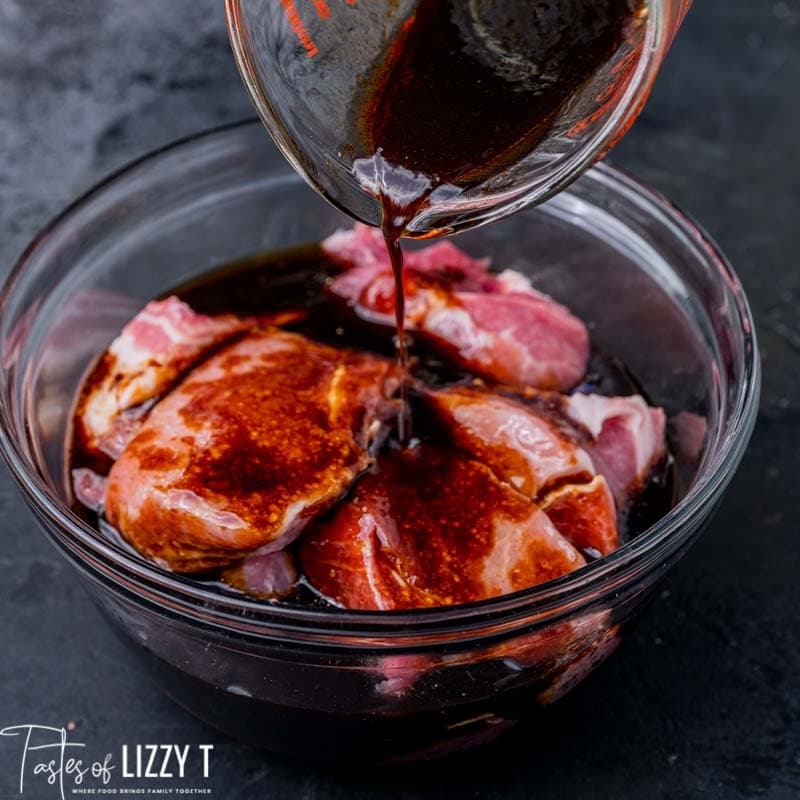 Easy Pork Rib Marinade
Should you marinate ribs? We think so!
What should you soak your ribs in? This recipe is special because it comes from my grandma's sister, my great aunt. I'm not sure how I ended up with her hand-written recipe, but at some point early in our marriage she shared it with us. This simple mixture of ketchup, soy sauce and oil was my go-to marinade for many years. Basic ingredients. Simple, but savory flavor. It's also good on chicken.
How long do you let ribs marinate? You can allow the pork ribs to marinate for several hours or even overnight if you'd like, but let them sit for at least 10 minutes.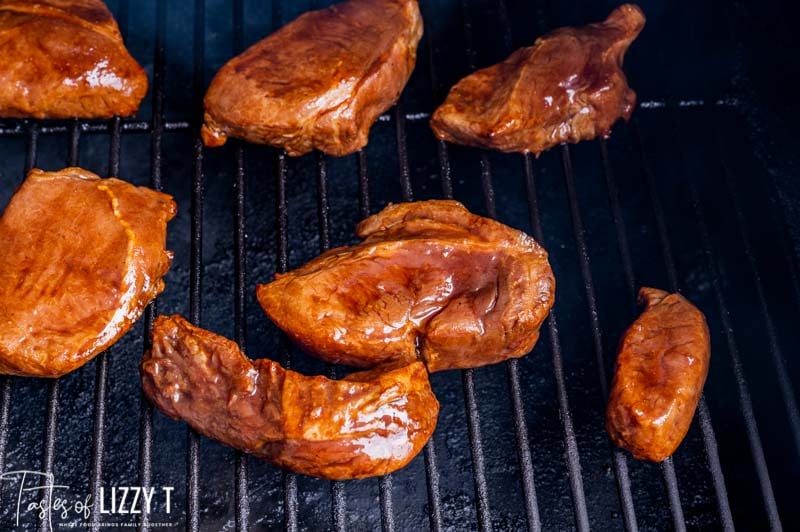 How to Make Grilled Pork Ribs
Pick up some boneless, country-style ribs at your local grocery store.
Mix up the three marinade ingredients in a small bowl and then pour it over your ribs. Let them marinate for the day if you'd like…or when you are in a bind and need an easy dinner, just marinate for 10 minutes or so while the grill is heating.
Pop these ribs onto a hot grill and let them cook on each side for 4-5 minutes. Internal pork temperature needs to be about 145º Fahrenheit. It's ok if there is a blush of pink inside.
Allow the pork ribs to rest for 3 minutes before serving.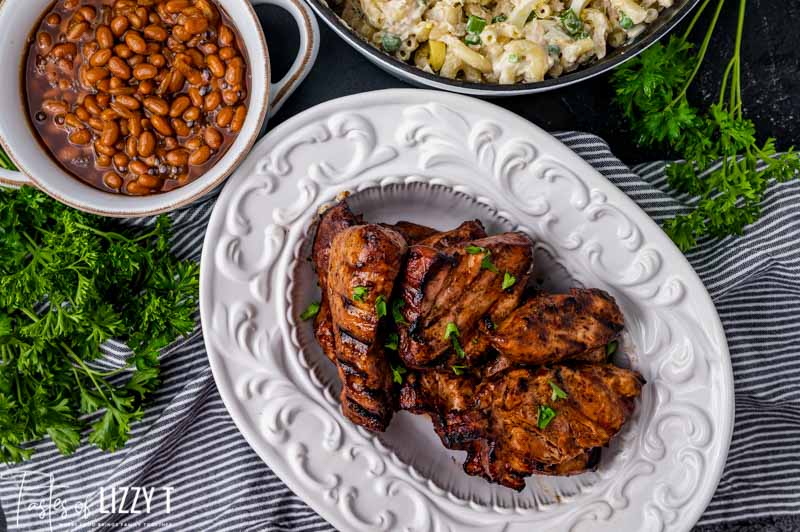 Oven Roasted Ribs Recipe
If you'd like, instead of grilling you can roast the boneless pork ribs in the oven. Use a dutch oven and add the pork ribs and marinade. Toss to coat. Then cover and roast on at 300ºF for about 3 hours until the ribs are fork tender.
If you love ribs, try our fork-tender spare ribs. We show you step by step how to make the juiciest ribs. Our bbq pork chops are popular, too!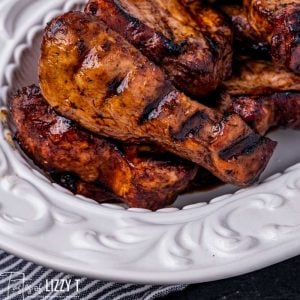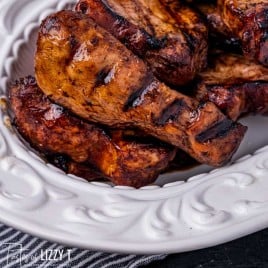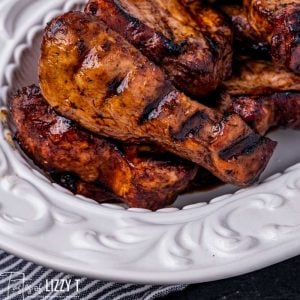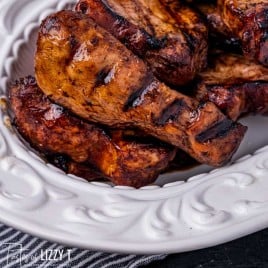 3 Ingredient Pork Rib Marinade
A simple 3 Ingredient Pork Rib Marinade to make your cookout quick and easy. Ready in under 30 minutes!
---
Ingredients
1/2

cup

olive oil

1/2

cup

soy sauce

1/4

cup

ketchup

black pepper

optional, to taste

3

pounds

boneless country-style pork ribs
Instructions
In a small bowl, combine the oil, soy sauce and ketchup. Add the black pepper, if desired. Mix well. Place the pork ribs in a pan. Pour the marinade over the ribs and allow them to sit for 10 minutes.

Heat the grill to 400 degrees Fahrenheit.

Place the ribs on the hot grill and allow them to cook for 5 minutes. Turn the ribs, being careful not to puncture the ribs, which would let the juice escape.

Grill the ribs for an additional 4-5 minutes, or until the internal temperature of the ribs reaches 145º Fahrenheit.

Allow the pork to rest for 3 minutes, then serve.
Notes
The calories shown are based on recipe serving 10, with 1 serving being 1/10 of the pork. Since different brands of ingredients have different nutritional information, the calories shown are just an estimate. **We are not dietitians and recommend you seek a nutritionist for exact nutritional information. The information in the nutrition box are calculated through a program and there is room for error. If you need an accurate count, I recommend running the ingredients through your favorite nutrition calculator.**
Nutrition
Calories:
270
kcal
|
Carbohydrates:
2
g
|
Protein:
27
g
|
Fat:
16
g
|
Saturated Fat:
3
g
|
Cholesterol:
100
mg
|
Sodium:
788
mg
|
Potassium:
476
mg
|
Sugar:
1
g
|
Vitamin A:
40
IU
|
Vitamin C:
0.2
mg
|
Calcium:
32
mg
|
Iron:
1.5
mg
What to Serve with Pork Ribs
This recipe is great with casserole dishes like hash brown casserole, but it also delicious with something simple like baked sweet potatoes or a roasted vegetables such as brussels sprouts.
For a picnic, try these side dishes: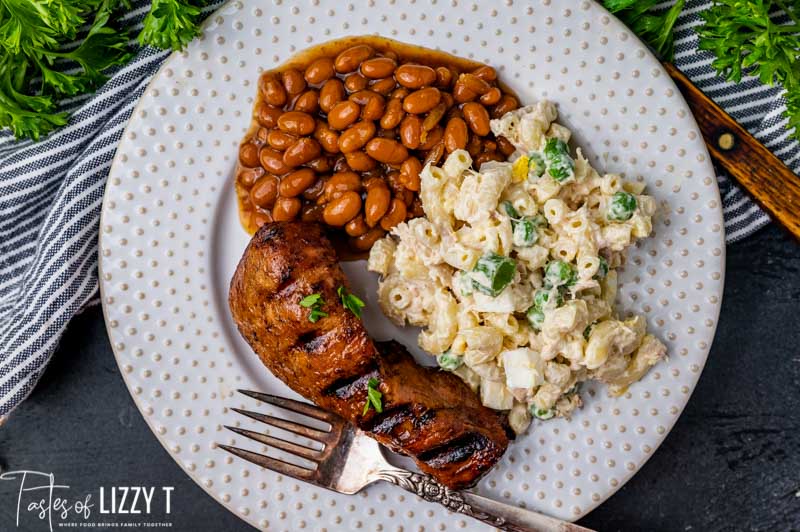 Other Pork Recipes
Love pork as much as we do? Try one of these recipes: