Grilled Baked Potatoes with Onions
Just 3 ingredients and less than 35 minutes for until these Hasselback Italian-style Grilled Baked Potatoes with onions are on your picnic table. 

Grilled Baked Potatoes with Onions
When I think of summer grilling, my mind often runs to meat. What type and cut of meat am I going to grill? Burgers? Barbecue sauce? Pork loin?
And while meat is often the centerpiece of summer picnics, simple side dishes like these grilled baked potatoes can also be made on the grill. After all, let's not forget the veggies, which is so easy to do.
There's just three ingredients in this quick picnic side dish: red potatoes, onions and an Italian vinaigrette.
Whenever potatoes are involved, my kids shout and cheer, but most importantly, they don't complain about eating food that is good for them. That is super important for this busy mama!
You can make grilled baked potatoes in about 35 minutes and grill them right alongside whatever meat you are serving. And if you don't want meat? Just fix a simple salad to go with these piping hot, savory potatoes.
How to make Grilled Hasselback Potatoes
Start by cooking your potatoes in the microwave. I've made these potatoes for years and have tried different techniques with roasting the potatoes for the entire cooking process on the grill. I've been happiest with the results when I microwave the potatoes and cook them about 80% of the way through. They'll be soft, but not fall out of their skin soft. Firm enough to make slices in them and stuff them with sweet onions.
Make 5 or 6 cuts in the potatoes, depending on how big your potatoes are. Stuff those cuts with slices of sweet Vidalia onions.
Place the potatoes on a piece of foil large enough to wrap the potato up.
Drizzle some roasted garlic vinaigrette over top the potato slices. 
Wrap up the potatoes and you're ready to grill! Place them on a grill that is about 400 degrees.
Allow them to bake for about 15-20 minutes. I find that our gas grill does not heat evenly so I move the potatoes around during grilling so that one doesn't end up burned and another not done enough. You can peek into the foil and check to be sure they are browning nicely.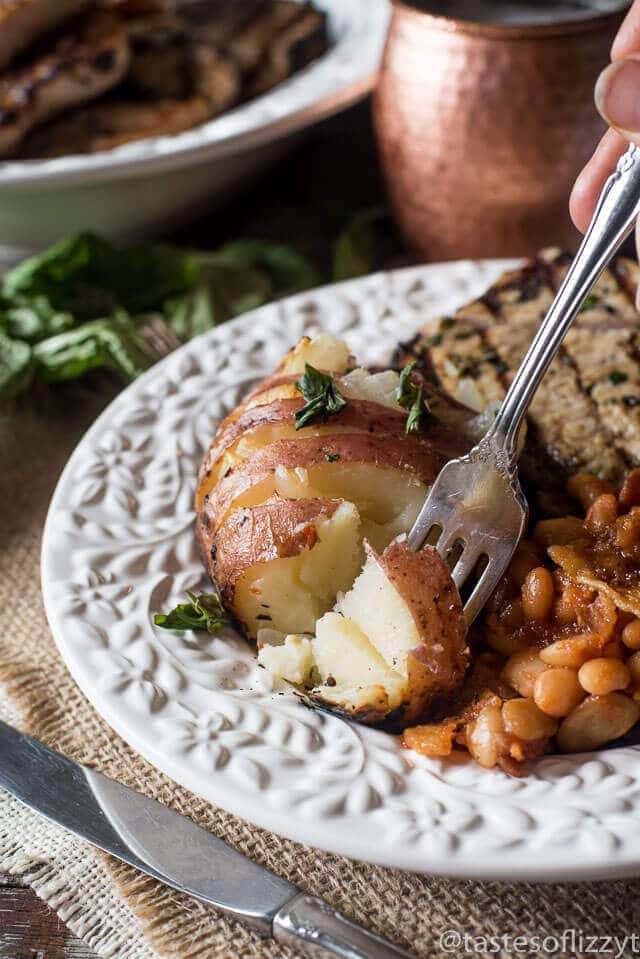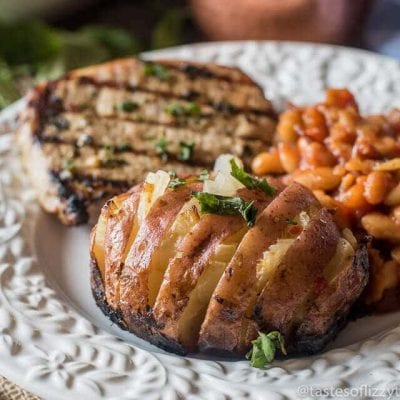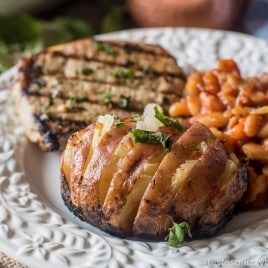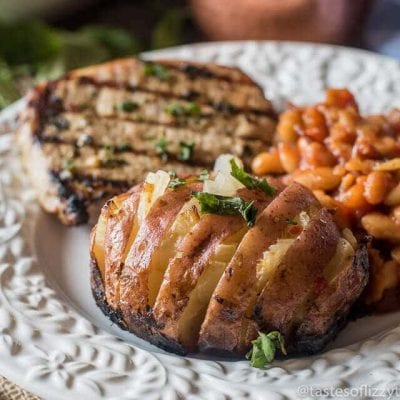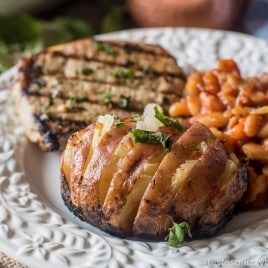 Grilled Potatoes with Onions
Just 3 ingredients and less than 30 minutes for until these Hasselback Italian-style Grilled Baked Potatoes with onions are on your picnic table.
---
Ingredients
5

Green Giant red potatoes

1

RealSweet vidalia onion

halved and sliced

3/4

cup

Marzetti Roasted Garlic Italian Vinaigrette dressing
Instructions
Wash and dry the potatoes.

Use a fork to prick a few holes in the potato.

Microwave the potatoes for 5-10 minutes (depending on your microwave strength) until they are soft, but not too soft. (About 80% baked.)

Allow the potatoes to cool slightly.

Using a sharp knife cut the potato (the short way) about 1/4-1/2", making sure to not cut all the way through to the bottom.

Place the potato on a piece of aluminum foil big enough to wrap the entire potato.

Stuff the slices carefully with slices of onion.

Drizzle several tablespoons of dressing over the potato.

Fold the aluminum foil around the potato tightly.

Repeat with the remaining potatoes.

Heat a grill to 400 degrees.

Place the potatoes on the grill and allow them to finish baking for 15-20 minutes. Because grills can vary in heating, move/adjust the potatoes to a different spot on the grill every 5 minutes so that they cook evenly.

The bottoms of the potato should get slightly crispy because of the oil in the dressing.

Unwrap the potatoes and serve warm.
Nutrition
Calories:
254
kcal
|
Carbohydrates:
43
g
|
Protein:
4
g
|
Fat:
7
g
|
Saturated Fat:
1
g
|
Sodium:
393
mg
|
Potassium:
1077
mg
|
Fiber:
4
g
|
Sugar:
9
g
|
Vitamin A:
30
IU
|
Vitamin C:
21.5
mg
|
Calcium:
39
mg
|
Iron:
1.8
mg