Tastes of Lizzy T participates in affiliate advertising programs. We may earn a commission when you make a purchase through links on our site.
Tips on easy grilled pork chops with a simple seasoning. This easy healthy dinner recipe is on the table in under 30 minutes! This fits into Paleo and Whole3o eating plans. You may also love our grilled chicken thighs.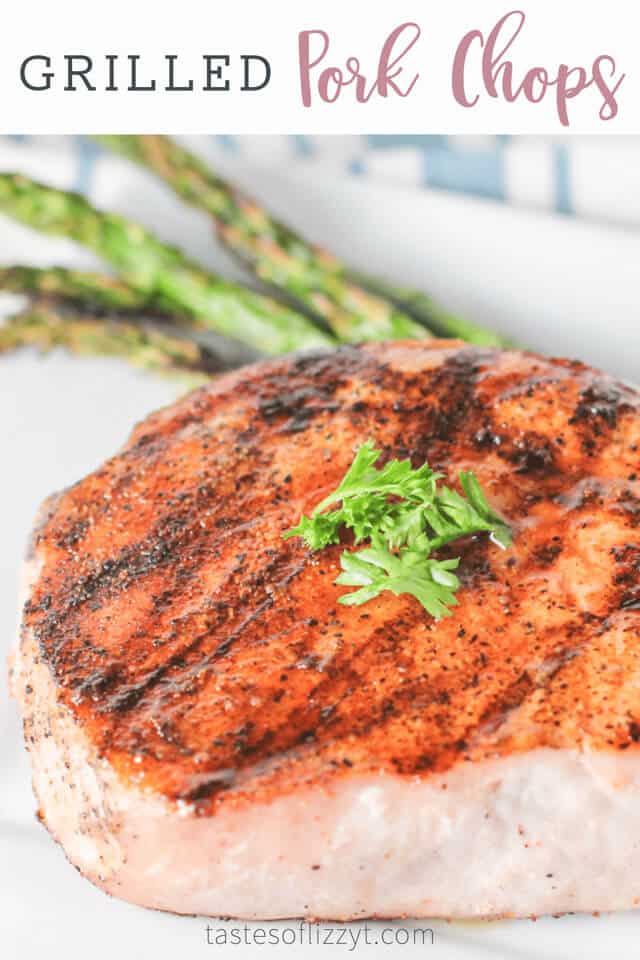 Easy Grilled Pork Chops
I've always loved baked pork chops, but pork has quickly become one of my favorite cuts of meat to grill. It's so versatile and you can often find it on sale in the store, making it a very economical choice for quick dinners. This is an easy dinner that you can have ready in about 30 minutes. Just enough time to make a few veggies to go along with your pork chops. I
Are grilled pork chops healthy?
Yes!  We love a simple grilled meat with a load of fresh asparagus or other veggies. It's a great healthy, low-carb dinner that lines up with paleo, keto and Whole30 meal plans.
What is the best pork chop cut for grilling?
Center Cut Loin Chops (bone in or boneless) are great for grilling because they cook well on fast, high heat. All these need are a little bit of seasoning and you're ready for a delicious dinner.
What is a good seasoning for pork chops?
We went on the spicy side with this recipe and used paprika, 3 types of pepper, garlic salt and onion powder. It's a simple dry rub spice mix and you can adjust the heat level to your liking by adding more or less cayenne pepper.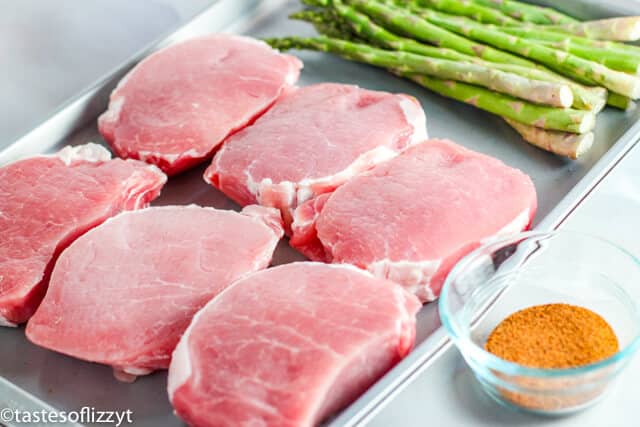 How do you grill pork chops?
To make the best grilled pork chops, start with thickly sliced chops. If you can't find them in the meat case, go to the meat counter and ask them to cut you some thick chops…or buy a pork loin and slice them yourself. This is often cheaper!
Bring the pork chops to room temperature before grilling. Taking them out of the fridge about 30 minutes before grilling should do the trick.
Brush the pork chops with olive oil on both sides before grilling. Or you can spray them with olive oil cooking spray.
Preheat the grill to 350 degrees before you place the chops on it.
What temperature do you cook pork chops on the grill?
We cooked ours at 350 degrees Fahrenheit but you can go to 400 degrees Fahrenheit if you'd like.
How long should you cook pork chops on the grill?
For tender, juicy pork chops you want to look at the temperature of the meat more than the time. Pork can be cooked to medium-rare, which is 145-150 degrees Fahrenheit. It's OK if there is a blush of pink in there! Medium is 150-155 degrees Fahrenheit. Medium-Well is 155-160 degrees Fahrenheit and I wouldn't recommend going over that. Pork chops cooked to 145-150 are AMAZING! You'll fall in love with pork all over again.
**We LOVE our Thermoworks ThermaPen to quickly test meat temperatures. This probe thermometer is AMAZING.  Get it here.**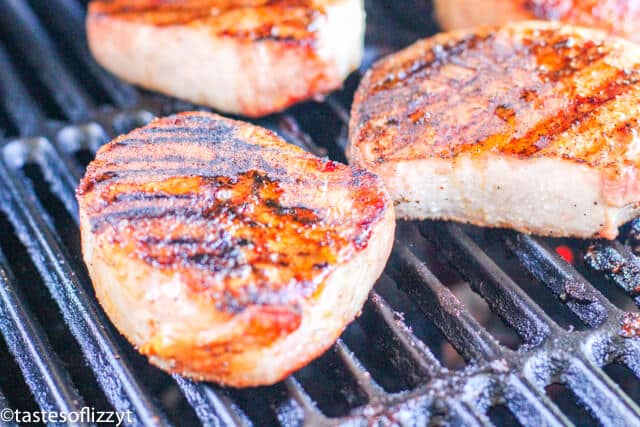 What is a good marinade for pork chops?
If you're looking for a good marinade for pork chops, try our honey oregano pork chops or our basil lemon chops. They both get rave reviews.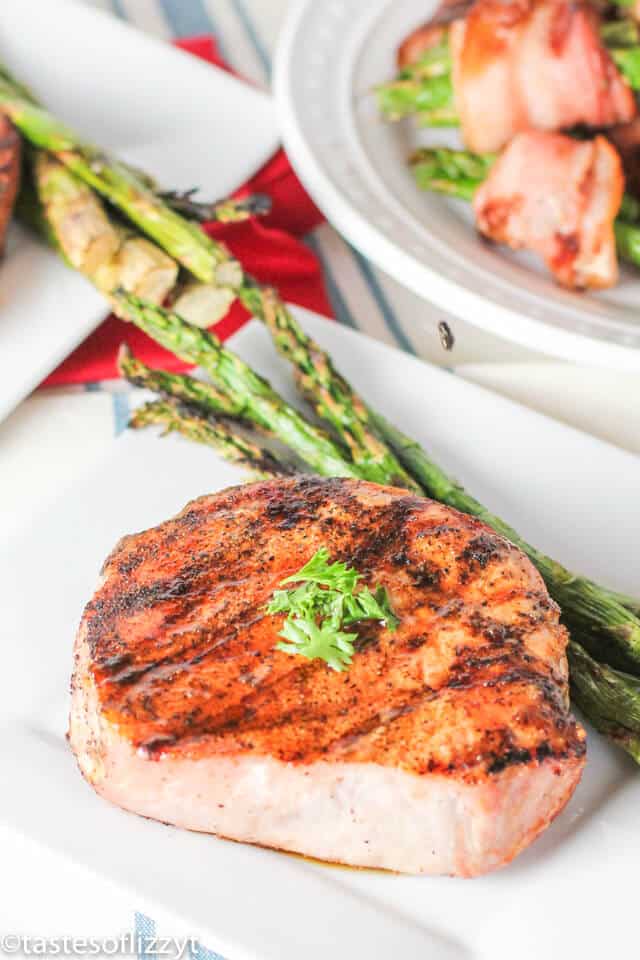 What to serve with pork chops?
These grilled pork chops are a classic. And because of that, you'll need some classic, picnic side dishes! Try our homemade potato salad, coleslaw, loaded baked beans or Instant Pot baked beans. You can also try a watermelon salad and some strawberry punch. Delicious!
OTHER PORK CHOP RECIPES
Love pork chops? Read our guide to pork chops here. You'll find all of our fantastic chops recipes!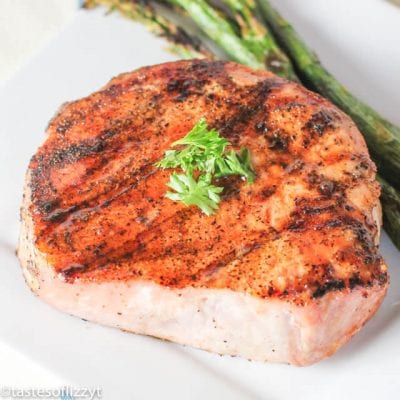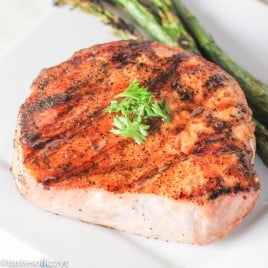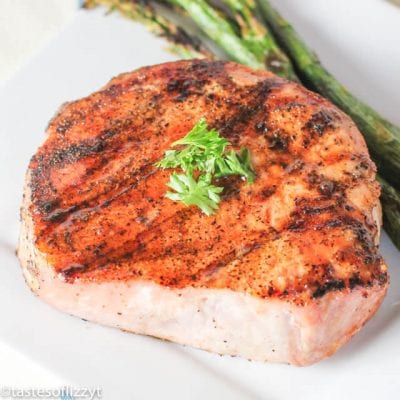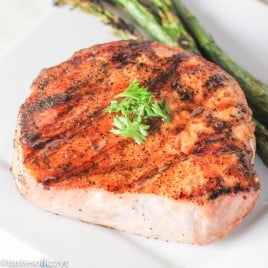 Grilled Pork Chops
Tips on easy grilled pork chops with a simple seasoning. This easy healthy dinner recipe is on the table in under 30 minutes!
---
Ingredients
4

thickly sliced pork chops

(boneless, 1 - 1 ½ inches thick)

olive oil cooking spray

(or a few tablespoons of olive oil to brush on)
Seasoning Mix:
1

tablespoon

paprika

1/2

teaspoon

white pepper

1/2

teaspoon

black pepper

1

teaspoon

onion powder

1

teaspoon

garlic salt

1/4

teaspoon

cayenne pepper
Instructions
Heat grill to 350 degrees Fahrenheit.

Wash and pat dry the pork chops. Take the olive oil based cooking spray and spray both sides of the pork. (This is a trick I like to use to keep the flavors and juices rocking with my grilled chicken and pork.)

In a small bowl, mix together the seasoning mix.

Take the seasoning mix and cover both sides of the pork chops.

Place chops on the center of the grill and allow to cook 2 minutes, flip, and cook 2 more minutes.

Move the pork chops a little further away from the center and cook for 8 minutes on one side with grill lid closed. Flip the pork chops, then cook 8 minutes on the other side with lid closed. The pork chops are done when the internal temperature reaches 145 degrees Fahrenheit. (There will be a blush of pink inside, but they will be tender and juicy!)

Remove pork chops from grill, place them on a plate and cover with foil for 5 minutes before serving. (Covering with foil continues the cooking process and really seals in the juices and flavors.)

Serve with your favorite side dishes.
Notes
The calories shown are for one seasoned pork chop. Since different brands of ingredients have different nutritional information, the calories shown are just an estimate. **We are not dietitians and recommend you seek a nutritionist for exact nutritional information.**
Nutrition
Calories:
216
kcal
|
Carbohydrates:
1
g
|
Protein:
29
g
|
Fat:
9
g
|
Saturated Fat:
3
g
|
Cholesterol:
89
mg
|
Sodium:
647
mg
|
Potassium:
539
mg
|
Vitamin A:
915
IU
|
Calcium:
13
mg
|
Iron:
1
mg