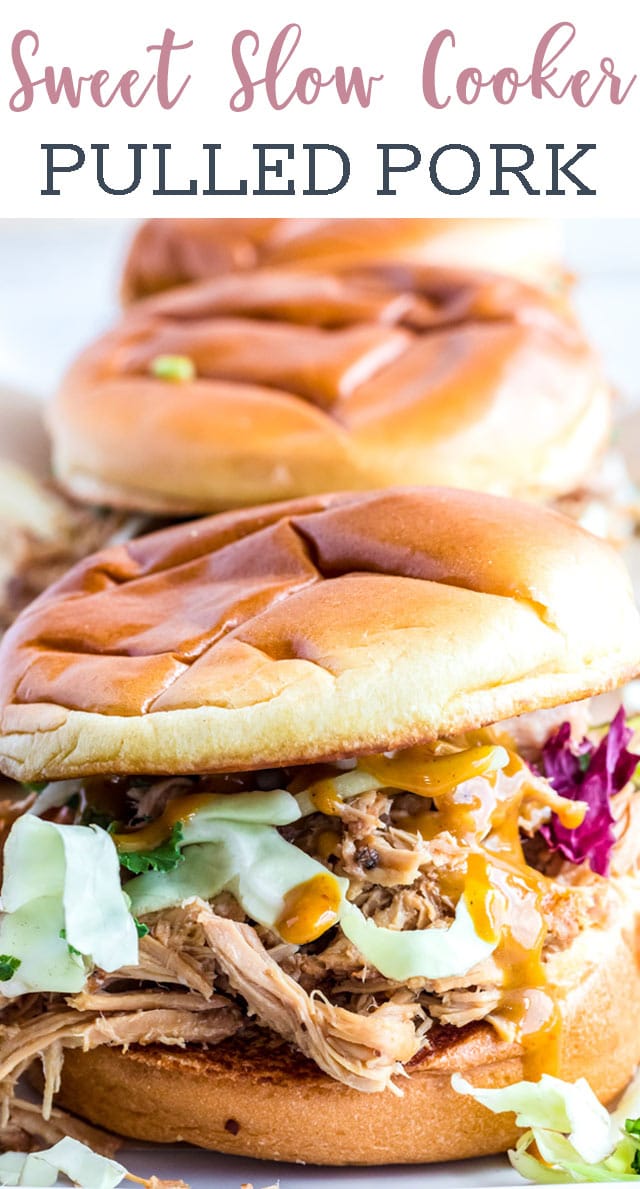 If you're looking for a new pulled pork sandwich recipe, try this summertime sweet slow cooker pulled pork. The mango juice mixed with spices give amazing flavor!
We love pulled pork sandwiches any way we can get them. We often use our smoked pork recipe, but sometimes the weather just doesn't cooperate, even in the summer! A few months ago we shared our favorite Instant Pot pulled pork…and today we're sharing slow cooker pulled pork!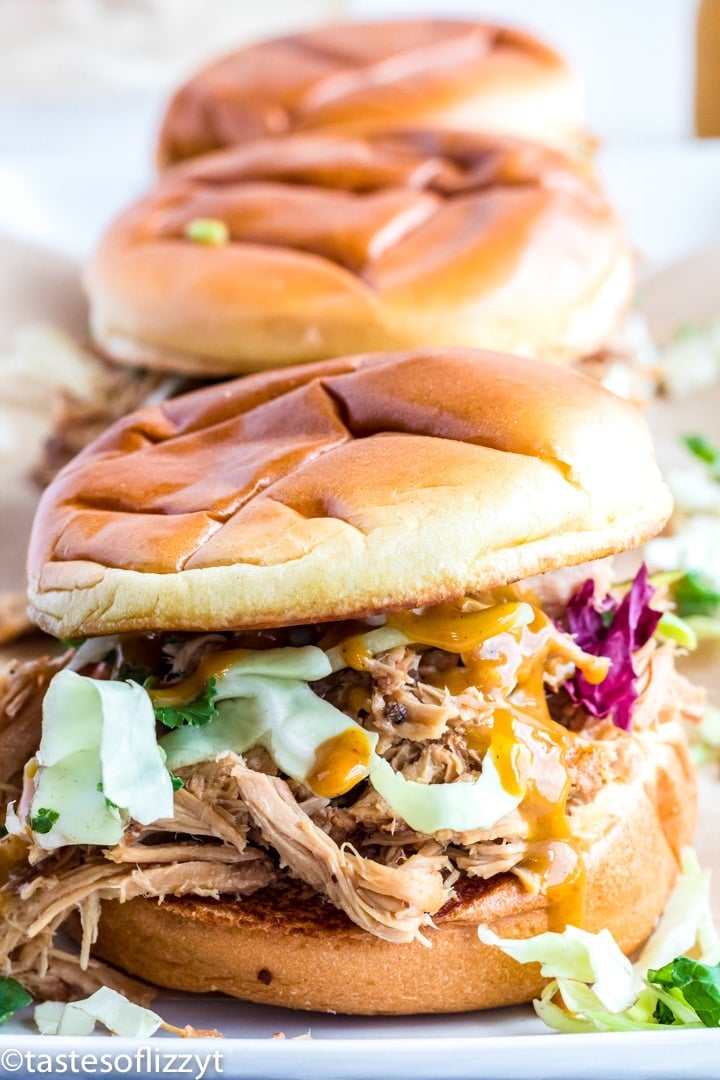 Thanks to the Ohio Pork Council for sponsoring this post and allowing us to share this Fried Pork Chops Recipe.
There's nothing like summertime for a picnic. Serve up sweet pulled pork sandwiches with a variety of sauces and everyone is pleased. Our summertime version of slow cooker pulled pork is full of spicy flavor, but also sweet due to the mango nectar we add in. Sound strange? It's easier than ever and gives amazing flavor!
What is the best cut of meat for pulled pork?
Pork butt (often called Boston Butt") is the best cut of meat for pulled pork. It is well marbled which allow for that fat to melt during cooking giving you fork-tender meat.
Can you use a pork loin for shredded pork?
Some people are turned off when they see the fat of a pork shoulder. Because most of that fat cooks away, you shouldn't be afraid of it. It gives amazing flavor to pork!
Because pork loin looks leaner than pork butt, many want to use this for shredded pork. You can use it, but it might not turn out exactly the same as pork butt. It won't have that same moist, silky texture that a pork shoulder has because it doesn't have the marbling.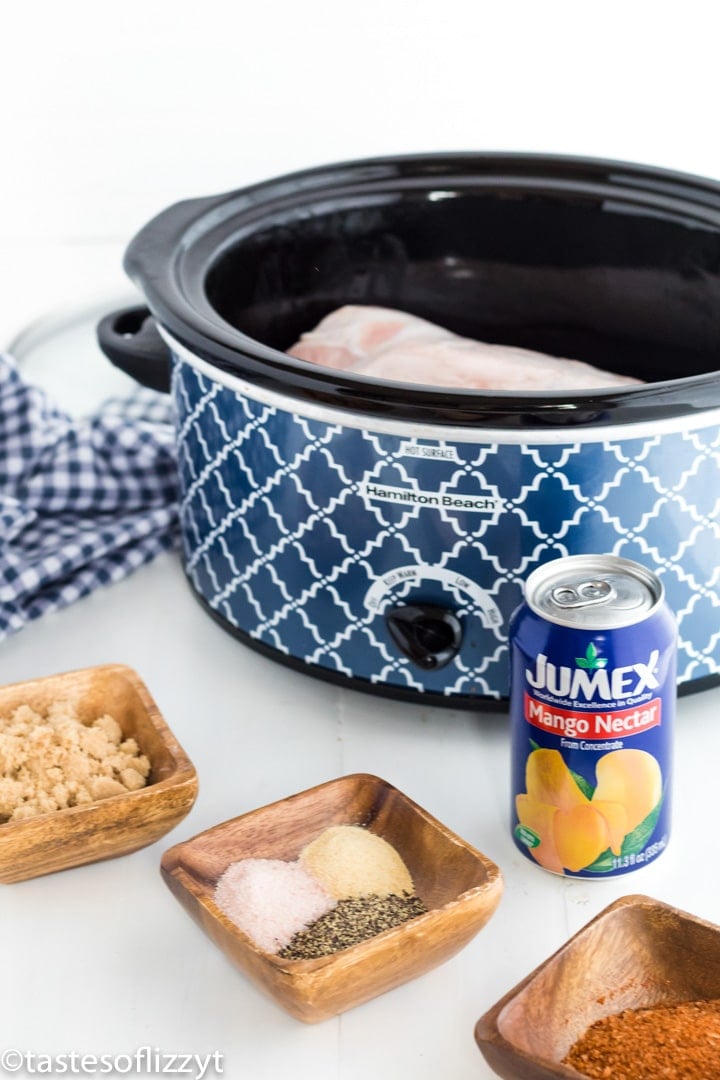 Can you put raw meat in a slow cooker?
Yes! The pork butt will be in the slow cooker for 8-10 hours, so there is no need to precook the meat.
How to Make Slow Cooker Shredded Pork
Place the pork butt in the slow cooker. We put the fattiest side up so that the fat runs down into the meat as it cooks.
Sprinkle on the spices: brown sugar, onion powder, garlic powder and pepper, then paprika, cayenne and salt.
Then pour the mango nectar around the pork.
Once you have the pork ready, simply cover the slow cooker and allow it to cook for 8-10 hours.
**Pro Tip: You want it to easily shred with a fork. Try not to open the slow cooker while the pork is cooking. This just adds cooking time.**
Do you put water in a slow cooker with pork?
We find that it is not necessary to add pork to a slow cooker with a roast. The slow cooker acts as a seal and keeps the moisture in the slow cooker, and therefore in the meat.
For flavor, we add 1 can of Jumex Mango Nectar. This adds such a unique sweetness to the pork. You can find this juice at Walmart or just about any local grocery store.
If for some reason you don't want to use mango juice, you can also use pineapple juice.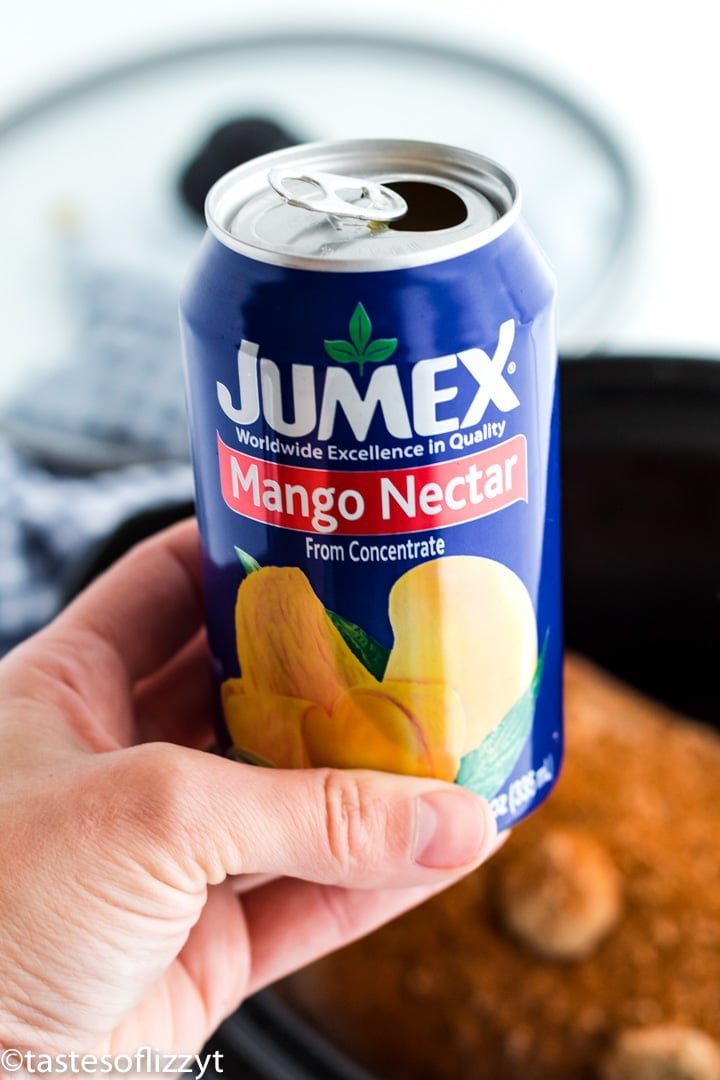 Can you overcook pulled pork in a slow cooker?
Because the slow cooker self-bastes, you shouldn't have any problem with your pork overcooking. Low and slow cooking should not affect your pork at all.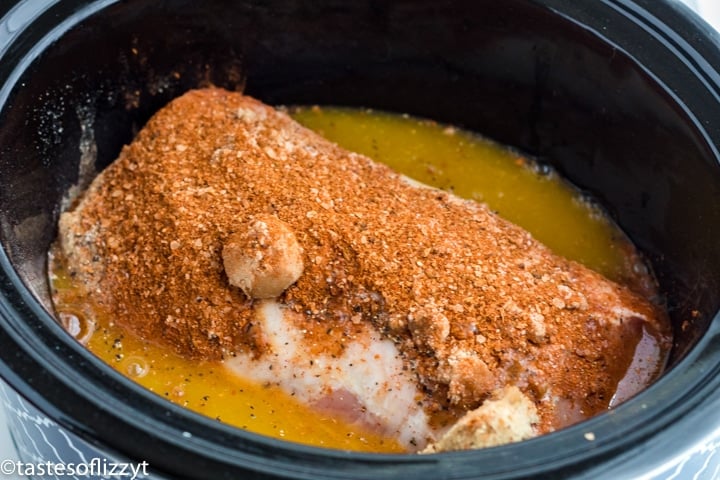 How long can you leave pulled pork in a slow cooker?
If you have a long time away from home and want to cook pork, it should be ok on low in the slow cooker for even up to 12 hours.
Once the meat is done cooking, you can lower the temperature to "keep warm". Try to open the lid the least possible in order for the pork to stay fresh and juicy.
Once the meat has cooled, you'll want to refrigerate any leftovers to prevent food poisoning.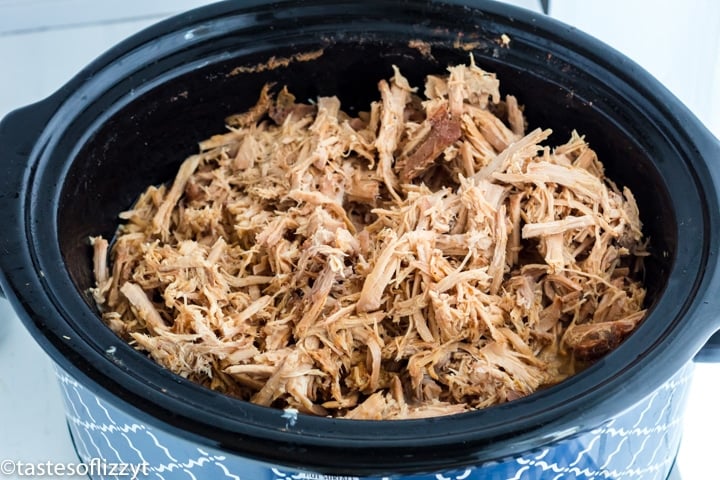 How long is leftover pulled pork good for?
If properly stored in an airtight container, you can store it in the refrigerator for 3-4 days as per the US Department of Agriculture's food safety guidelines.
Can you freeze leftover pulled pork?
Yes! Allow the pork to cool and transfer the meat (and some of the juice) to zippered bags or storage containers in the amounts you want. Zip (or cover) and freeze for 2-3 months.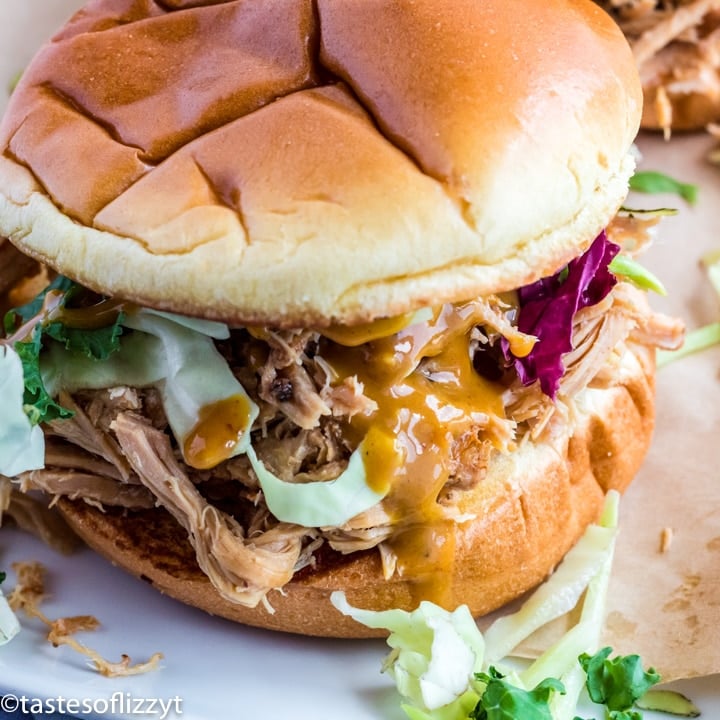 What should I serve with pulled pork?
Summer salads perfectly with a pulled pork sandwich. We love to top our pulled pork with an easy coleslaw, then serve broccoli salad, snickers apple salad, sugared walnut fruit salad and a baked potato on the side.
If you're looking for quick and easy, try serving with chips and a sliced watermelon. Delicious!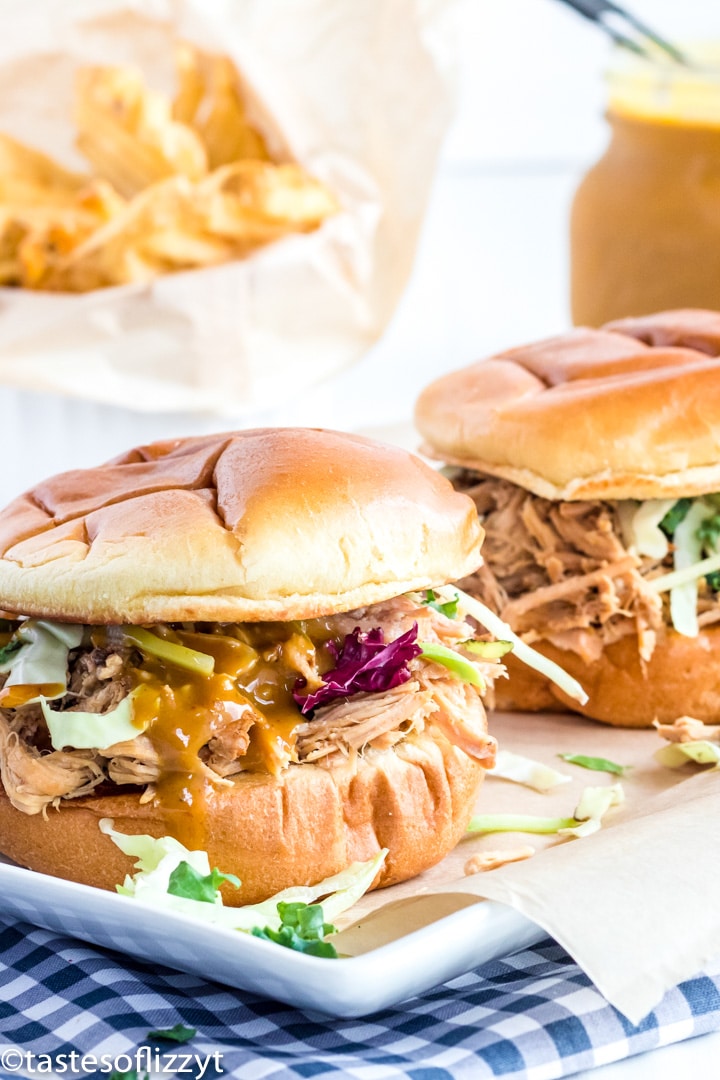 Barbecue Sauces for Pulled Pork
Other Pork Recipes
Sweet Slow Cooker Pulled Pork
If you're looking for a new pulled pork sandwich recipe, try this summertime sweet slow cooker pulled pork. The mango juice mixed with spices give amazing flavor!
Ingredients
4-5

pounds

pork butt or shoulder

1

tablespoon

Salt

tablespoon

Pepper

1

tablespoon

Garlic powder

2

tablespoon

Paprika

1

tablespoon

Onion powder

1

tablespoon

Cayenne pepper

1/2

cup

Brown Sugar

1

can

Jumex mango nectar

(11.3 ounces)
Instructions
Place pork loin in slow cooker. ***Place the pork in fatty side up to let the fat flavor drip into the meat.***

Cover pork loin with all dry ingredients.

Pour the Jumex mango nectar over pork loin.

Cover the slow cooker and cook on low for 8-10 hours or until the pork is shreddable.

Shred pork loin and serve with your favorite barbecue sauce on sandwiches.
Nutrition
Calories:
243
kcal
|
Carbohydrates:
11
g
|
Protein:
34
g
|
Fat:
6
g
|
Saturated Fat:
2
g
|
Cholesterol:
95
mg
|
Sodium:
660
mg
|
Potassium:
626
mg
|
Fiber:
1
g
|
Sugar:
9
g
|
Vitamin A:
750
IU
|
Vitamin C:
0.5
mg
|
Calcium:
20
mg
|
Iron:
1.2
mg