Smokey, tender, and bursting with flavor this instant pot pulled pork is the perfect potluck BBQ recipe to bring along or to make throughout summer to escape the heat.
We're so excited for summer to come! With the warmer weather all we can think about is the grill, and what to make with BBQ sauce. Our meal plan looks like BBQ chicken sliders, blueberry BBQ chicken wings, and grilled chicken thighs with white BBQ sauce!
For some balance we like to make fun salads, such as this fun 7 layer salad and our garden fresh cucumber tomato salad recipe.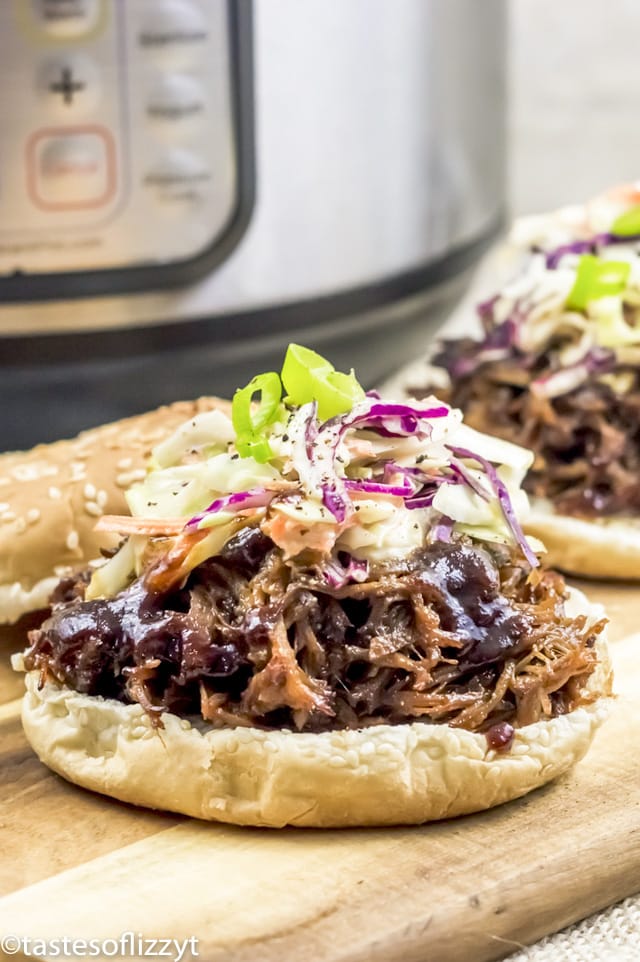 With school getting out we have to prepare for a stress-free summer and one of our priorities is meal planning. This fuss-free smoked pulled pork recipe is made easy in the Instant Pot to save on time without giving up on the bold flavor we associate with BBQ pulled pork recipes.
Now that we know that this pulled pork recipe is a go for the meal planning rotation the true question comes….
Pulled Pork or Shredded Beef
If you're in the south the answer most likely would be beef. But everywhere else, smoked pulled pork is the easier and best choice for making a BBQ pulled anything. Especially a BBQ pulled pork sandwich.
Why should you use pork instead of beef for pulling?
Pork is easier to cook.
Pork is more tender.
Pork is cheaper.
A shoulder of Pork is forgiving. If you overcook it, it will just break apart more, not harden like beef would.
Pork is easier to shred.
Pork takes on flavors like a champ! (So does beef, so it's even here.)
Pulled pork is great for beginners, so take this opportunity to get the kids involved for a culinary class at home this summer.
What cut of meat for pulled pork?
Boneless pork shoulder is the go to cut of pork meat for pulled pork sandwiches. You can also use a whole picnic bone-in pork shoulder.
**Pro Tip: For the Instant Pot, you will have to cut the pork into large chunks in order to fit it all in. You can ask your butcher to cut it for you if you want!**
Pork loin is another option for cooking BBQ pulled pork if you can't find the pork shoulder at your local market.
Our suggestion is to use pork shoulder since the pork shoulder has a great amount of collagen and fat. This helps the pork to tenderize and keep your pork extra moist.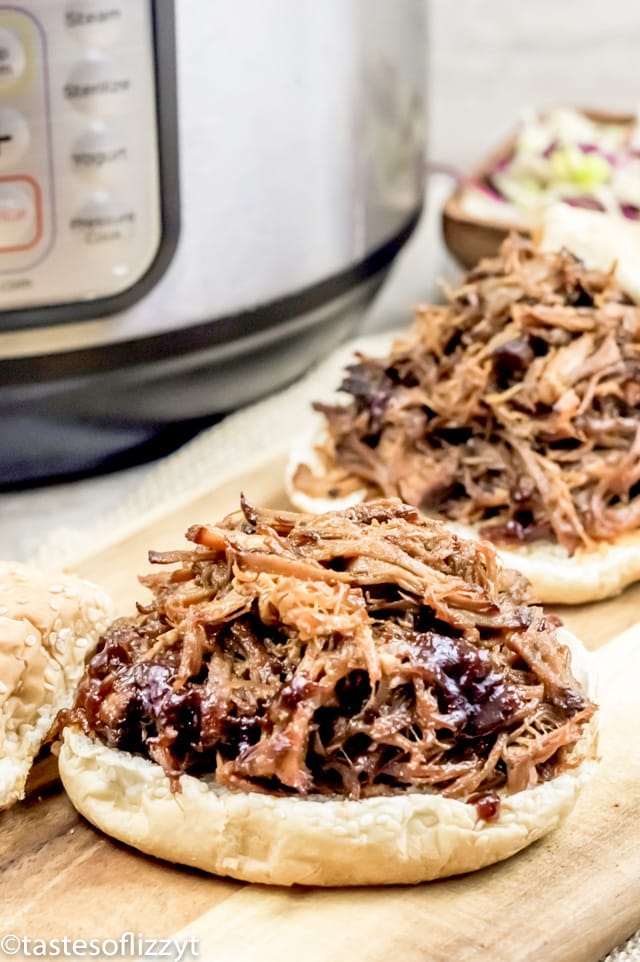 How to Make Instant Pot Pulled Pork
Now that we have our cut of pork, it's time to season the pork with an intensely bold dry rub recipe. This will ensure the best smoked pulled pork recipe you'll ever make in the Instant Pot.
What to season your smoked pork with:
brown sugar
garlic powder
chili powder
smoked paprika
salt (a generous amount)
ground black pepper
All of these simple flavors combined create a sweet and smokey profile that goes great with pulled pork recipes. The trick now is to let your pork sit for at LEAST 30 minutes to really take on the seasonings from the dry rub.
If you have time, season your pork chunks the night before and refrigerate them. Then take them out for 30 minutes before cooking so it can get to room temperature. When your meat comes to room temperature, there's a more even cooking time and it also allows your meat to be more tender and juicy, which is what we're going for here!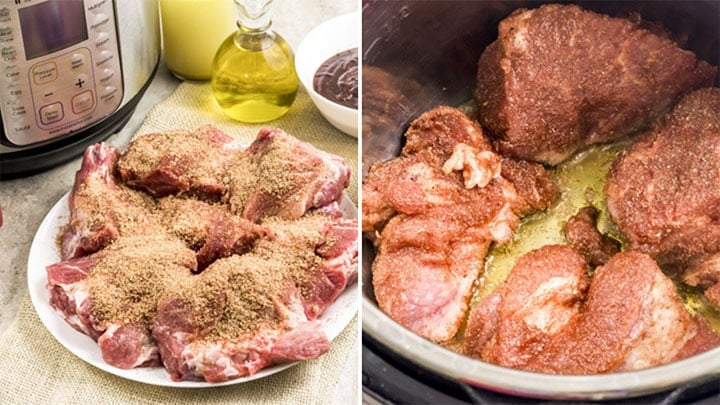 Should you sear your pork for pulled pork?
Now that your pork has been seasoned and brought to room temperature, it is time to sear the pork. Searing the pork allows a beautiful brown crisp to occur on the outside that will be unique once you pull your pork. Searing the pork also allows for the moisture to stay in the pork while cooking in the Instant Pot.
Sear the pork for 3-4 minutes per side on the saute mode. You will have to do this in batches, so be sure to have a large plate or mixing bowl at the ready for holding onto the seared pork.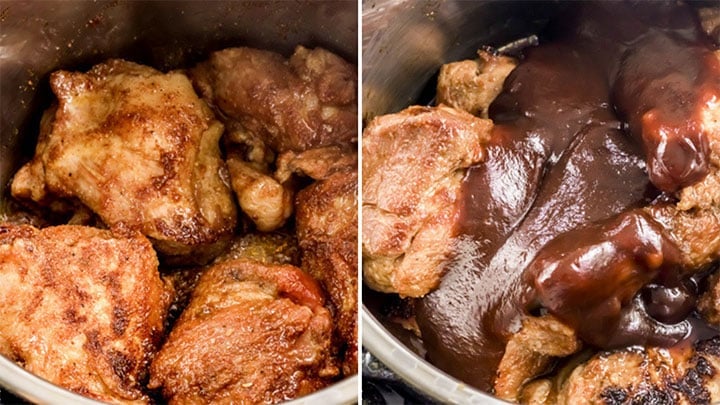 When all batches of the pork has been seared, add your chicken broth and BBQ sauce to your Instant Pot. Make sure the saute mode is turned off.
DO NOT FORGET to add your chicken broth! Pressure cooking machines require liquid in order to steam cook your meals. If you forget your chicken broth, you will burn your pork.
How Long Does Pulled Pork Take To Cook In The Instant Pot?
This bold pulled pork recipe takes 1 hour to cook on high pressure for 4-5 pounds of pork, which will make about 12 BBQ pulled pork sandwiches. Once the hour is done, allow the pot to naturally release by pressing the cancel button and walking away.
After half an hour, your Instant Pot should be depressurized. Open the Instant Pot. Use a tea towel just in case any steam escapes to protect your arm!
Remove the pork chunks from the Instant Pot to shred it. Reserve the juice to add to the pork if desired.
How do you shred pork easily?
Pulling pork in any pulled pork recipe is essential! The best way to pull pork is to use two forks. With the forks facing against each other, take a pork chunk and with one fork, hold down the chunk and with the opposite fork scrape at the flesh of the pork meat. You should see thick strands come apart.
As you continue and get used to it, you will be able to start using both forks to shred at the same chunk of meat for a double shred. This makes the process quicker.
The beauty of pulled pork is that there is no messing up. You can even use clean fingers if desired. Be sure to wear gloves if you choose to pull pork with your hands.
At this point, you can decide to add more BBQ sauce if desired.
**Pro Tip: If you make a lot of pulled pork, you may want to invest in these meat claws which makes shredding meat really easy.**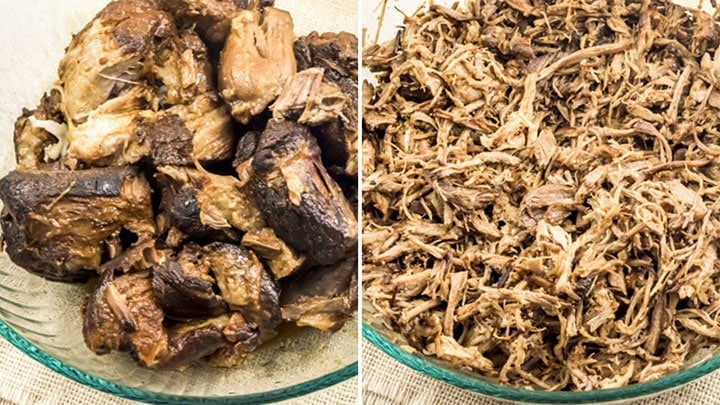 That's it. This is how you make the best BBQ pulled pork in the Instant Pot!
What to serve with BBQ pulled pork
Here are some great recipe ideas to serve with BBQ pulled pork that is perfect at home or to bring to a potluck this summer!
Need an Instant Pot? We often find great deals on them at Kohls! Check out the IP Duo here.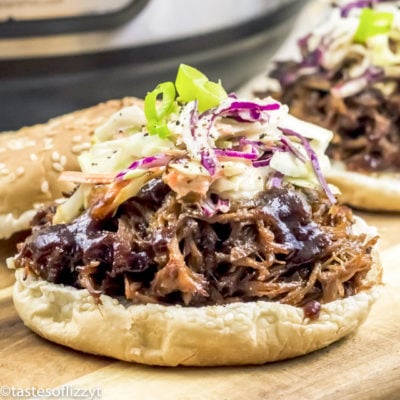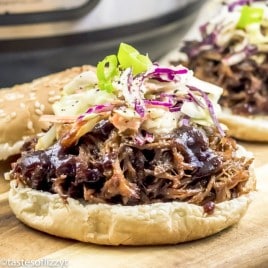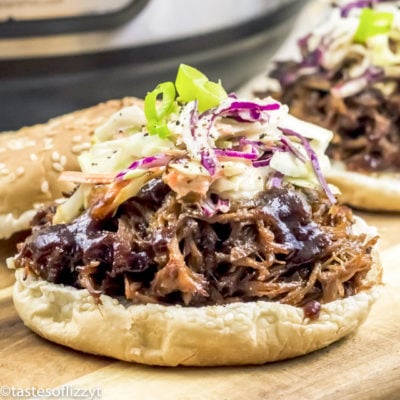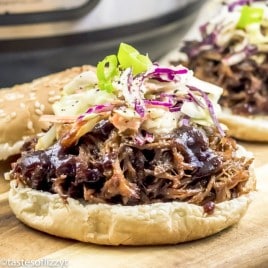 Instant Pot BBQ Pulled Pork
Smokey, tender, and bursting with flavor this instant pot pulled pork is the perfect potluck BBQ recipe to bring along or to make throughout summer to escape the heat.
Cook Time
1

hour
35

minutes
IP Pressure Time
20

minutes
Total Time
1

hour
50

minutes
---
Ingredients
4 to 5

lbs.

boneless pork shoulder

¼

cup

brown sugar

2

tablespoons

garlic powder

1

tablespoon

chili powder

1

tablespoon

smoked paprika

1

tablespoon

salt

2

teaspoon

black pepper

¼

cup

olive oil

¼

cup

chicken stock

2

cups

bbq sauce
Instructions
In a small bowl mix together the brown sugar, chili powder, smoked paprika, garlic powder and salt and pepper.

Cut the pork Shoulder into 6 to 8 big chunks. Liberally season both side of each chunk of pork with the prepared dry rub.

Turn the Instant Pot on the 'Sauté' mode. Add the olive oil and let it heat up for a couple of minute.

In batches, add the 3 to 4 pork chunks and let it cook for 3 to 4 minutes on each side or until both sides gets a golden sear. Transfer the seared meat in to a clean plate and continue searing the rest of the meat chunks.

Add the chicken stock and the BBQ sauce to the instant pot and return the seared pieces of the meat to the instant pot too.

Turn off "Sauté" mode. Put the lid on, making sure that the pressure valve is in the "Sealing" position.

Select the "Pressure Cook" mode. Adjust the time, with the "- / +" to 1 hour.

When Instant Pot beeps, let the pressure release the natural way for 30 minutes and then using a thick tea towel, turn the pressure valve to "Venting" position to do the quick release.

Using a slotted spoon, transfer the pork chunks to a large bowl and shred it using two forks.

Meanwhile, skim the fat from the liquid accumulated in the Instant Pot using a spoon or a ladle or a fat separator.

Then turn on the 'Sauté' mode for 20 minutes and let liquid in the instant pot simmer and thicken.

Add the shredded pork back in the IP to soak up the BBQ sauce.

Serve immediately over toasted hamburger buns, topped with crunchy coleslaw.

Refrigerate the leftovers.
Notes
The calories shown are based on the recipe serving 12, with 1 serving being 1/12 of the pork. Since different brands of ingredients have different nutritional information, the calories shown are just an estimate. **We are not dietitians and recommend you seek a nutritionist for exact nutritional information.**
Nutrition
Calories:
341
kcal
|
Carbohydrates:
25
g
|
Protein:
35
g
|
Fat:
10
g
|
Saturated Fat:
2
g
|
Cholesterol:
90
mg
|
Sodium:
1173
mg
|
Potassium:
740
mg
|
Fiber:
1
g
|
Sugar:
20
g
|
Vitamin A:
590
IU
|
Vitamin C:
0.2
mg
|
Calcium:
36
mg
|
Iron:
2.1
mg