Need a simple, yet incredibly tasty slider recipe to feed a crowd? If so, this BBQ chicken sliders recipe is the perfect sliders recipe to make for a get together at home or to bring to a picnic or potluck!
The beauty of sliders is that you can seriously stuff it with anything! Ham and cheese sliders are easy for eating on the go when your kid has practice and you need to run out. Reuben sliders are great to use up leftover roast beef (seriously, this recipe is amazing). Think pulled pork sliders, chicken Parmesan sliders, Cuban sandwich sliders, breakfast sliders and even French Dip Sliders…you get the idea!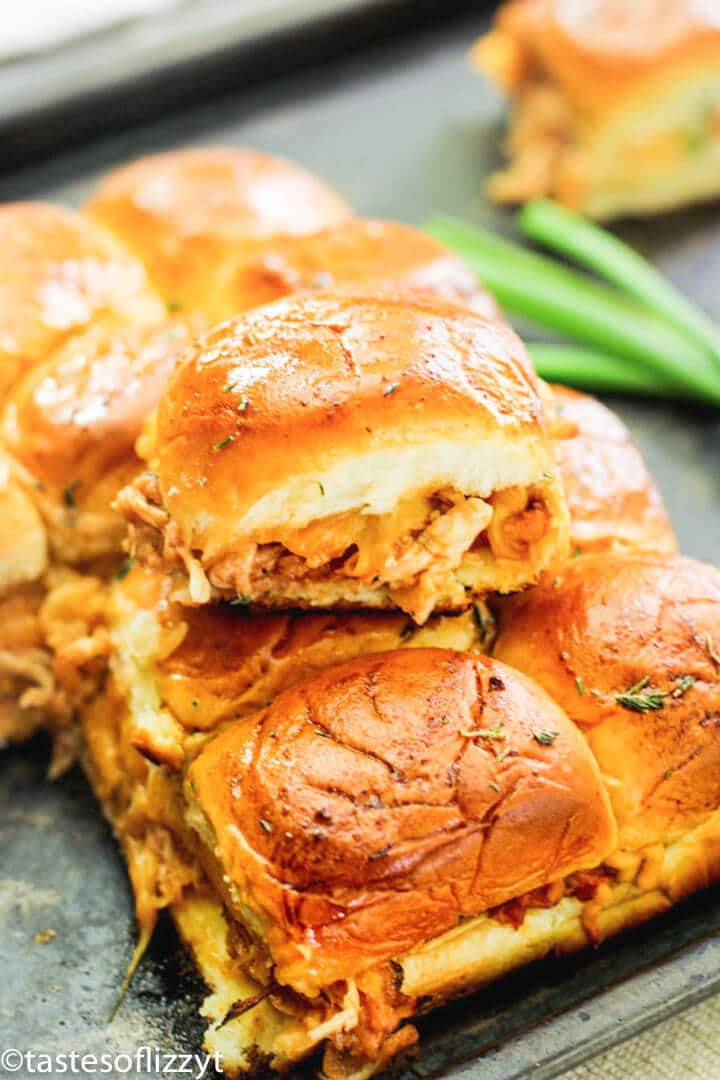 How To Make BBQ Chicken Sliders
To make BBQ chicken sliders, you need a few ingredients. Shredded chicken, BBQ sauce, cheese, Hawaiian rolls and butter!
Can I make sliders with canned or rotisserie chicken?
Yes, you can make sliders with either canned chicken or rotisserie chicken. If you decide to use canned chicken, be sure to drain the water and use about 3 cans, but try to use this method as a last resort.
Freshly shredded chicken from either cooked chicken breasts or rotisserie chicken is best for making BBQ chicken sliders.
What kind of BBQ sauce should I use for sliders?
The kind of BBQ sauce you use is up to you. For this recipe, we're going with a homemade Asian BBQ sauce recipe that is so sweet and savory! You can also make our classic homemade BBQ sauce recipe that we keep on hand at all times.
Can I add coleslaw to my sliders?
You can add coleslaw to your sliders after the sliders are made. Coleslaw contains mayonnaise, and for sliders, that lovely crunch is what is anticipated. My suggestion is to serve the coleslaw on the slide, and let your guests stuff their BBQ chicken sliders with coleslaw if they choose to once served.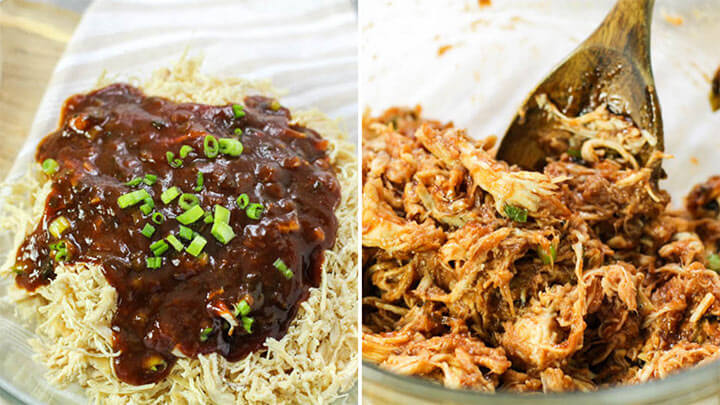 How To Assemble Slider Sandwiches
Slider recipes are known for being made with Hawaiian rolls, this BBQ chicken sliders recipe is no different. First, you start with slicing your Hawaiian rolls in half, but keeping the bottom half attached to each other.
Next, in a large bowl, you add your shredded chicken with your favorite BBQ sauce, remember, we've added our Asian BBQ sauce recipe here with green onions. Toss it to coat. You want just enough BBQ sauce to coat the chicken, not dripping everywhere.
Once your chicken is coated, layer the chicken over the bottom layer of the Hawaiian rolls. Top the chicken with sharp cheddar cheese. We used freshly shredded for an amazing melt, but you can use sliced or any kind of cheese you enjoy. Although, sharp cheddar and BBQ sauce are a match made in BBQ chicken sliders heaven.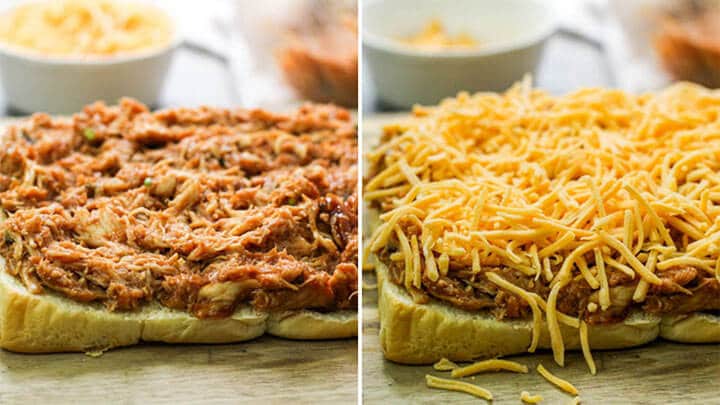 Close the BBQ chicken sliders with the top half of the Hawaiian bread and the final step is to brush the top of the buns with melted butter! For an amazing "oh my word, that's so good" buttery topping, I highly suggest adding a quarter teaspoon of Better Than Bullion Beef Broth base to the butter as well as fresh thyme and Parmesan cheese. Seriously, try it.
Finally, you're going to bake the sliders until the cheese has melted and the top has a beautiful golden brown color. Top with sesame seeds if desired, and you're good to go!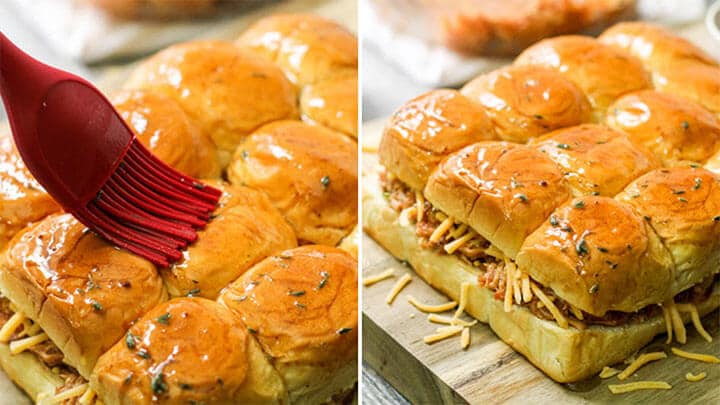 What goes with BBQ chicken sliders?
Whether you're feeding a crowd or just your family, having sides with your BBQ sliders is a must. Sliders are known more for being an appetizer, which makes this the perfect game day recipe or recipe to make for parties. Naturally, we all want to know what else is on the side of Hawaiian roll sliders.
Wings are the first thing that comes to mind to serve with BBQ chicken sliders. Some of our favorite wing recipes are:
Potatoes are another side staple, now if you want potato wedges, loaded potatoes, french fries, or mashed potatoes, that's up to you! Here are some of our favorite potato dishes that goes with this easy sliders recipe: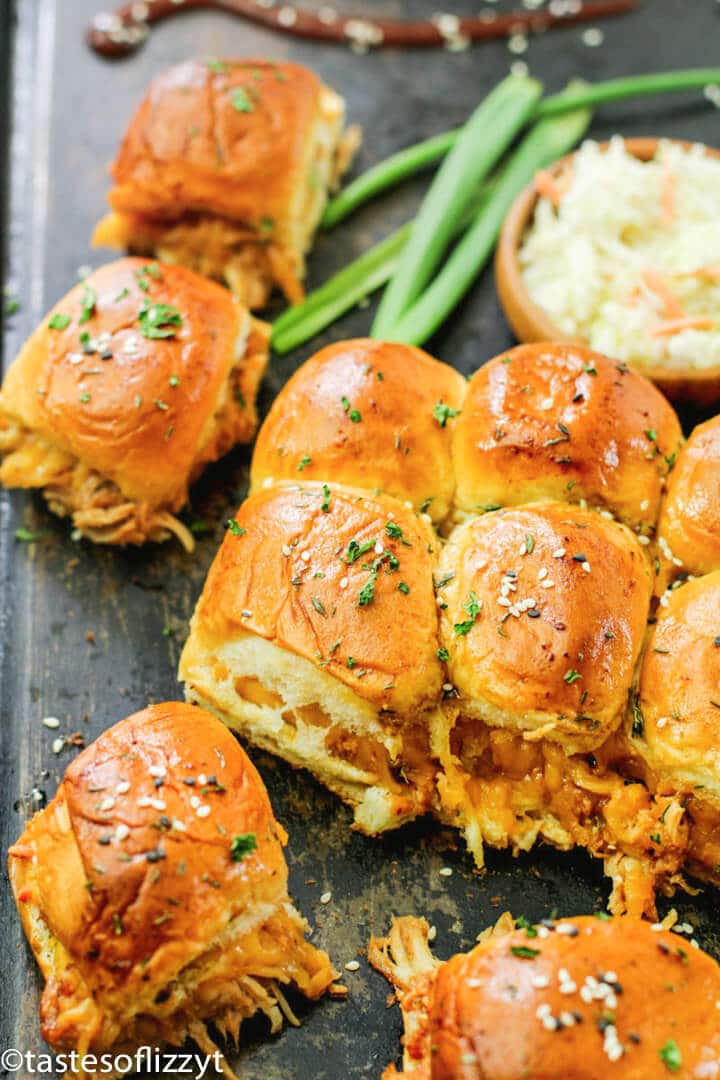 If you like this BBQ chicken sliders recipe, you're going to love some of these!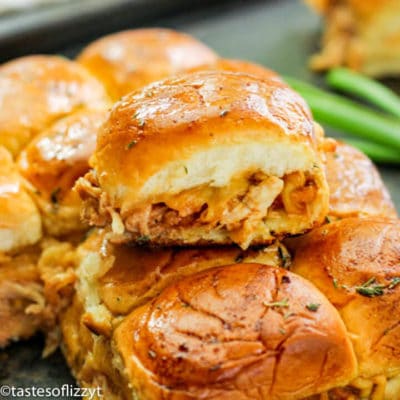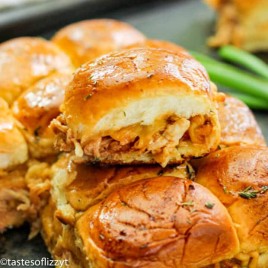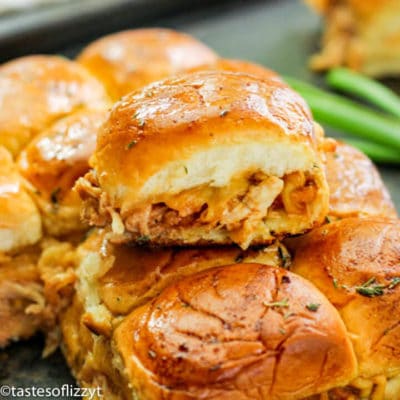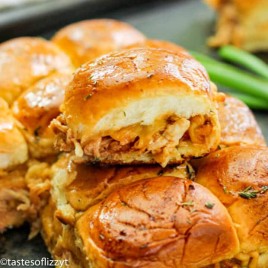 BBQ Chicken Sliders
Need a simple, yet incredibly tasty slider recipe to feed a crowd? If so, this BBQ chicken sliders recipe is the perfect sliders recipe to make for a get together at home or to bring to a picnic or potluck!
---
Ingredients
4

cups

shredded chicken

1 1/2

cups

barbecue sauce

2

cups

shredded sharp cheddar cheese

24

Hawaiian bread rolls

(2 packages)

2

tablespoons

melted butter

¼

teaspoon

beef broth base

(Better Than Bouillon, optional)

3

sprigs of thyme

(stems removed)

1

teaspoon

grated Parmesan cheese
Instructions
Preheat oven to 375 degrees Fahrenheit.

Line a baking sheet with foil. Spray very lightly with cooking spray.

In a large bowl, toss together chicken breast and barbecue sauce. (Use as much barbecue sauce as you'd like...more or less!

Use a large serrated knife to slice the rolls in half, separating the tops from the bottoms. Place the bottom of the rolls onto the prepared baking pan.

Evenly distribute BBQ chicken mixture over both sets of rolls.

Top with an even amount of shredded cheddar cheese.

Place the tops of the rolls onto the sandwiches.

In a small bowl, mix together the butter, beef broth, thyme, and Parmesan cheese. Brush butter mixture over the rolls.

Cover the rolls loosely with foil.

Bake in the preheated oven until the rolls are lightly browned and the cheese has melted, about 15-20 minutes.

Slice into individual rolls to serve. Serve warm!
Notes
The calories shown are based on the recipe making 24 sandwiches, with 1 serving being 1 sandwich. Since different brands of ingredients have different nutritional information, the calories shown are just an estimate. **We are not dietitians and recommend you seek a nutritionist for exact nutritional information.**
Nutrition
Calories:
236
kcal
|
Carbohydrates:
29
g
|
Protein:
11
g
|
Fat:
7
g
|
Saturated Fat:
4
g
|
Cholesterol:
39
mg
|
Sodium:
543
mg
|
Potassium:
145
mg
|
Sugar:
15
g
|
Vitamin A:
215
IU
|
Vitamin C:
0.2
mg
|
Calcium:
85
mg
|
Iron:
0.6
mg