Tastes of Lizzy T participates in affiliate advertising programs. We may earn a commission when you make a purchase through links on our site.
Looking for a delicious potato side dish? Try the BEST twice baked potatoes! They are creamy, loaded potatoes with amazing flavor.
One of our most popular recipes is simply how to bake a potato. I agree…baked potatoes are just about the perfect side dish! But what happens when you get tired of roasted potatoes or plain baked potatoes? Make a twice baked potato. We're talking all about how to make THE BEST overloaded potatoes today.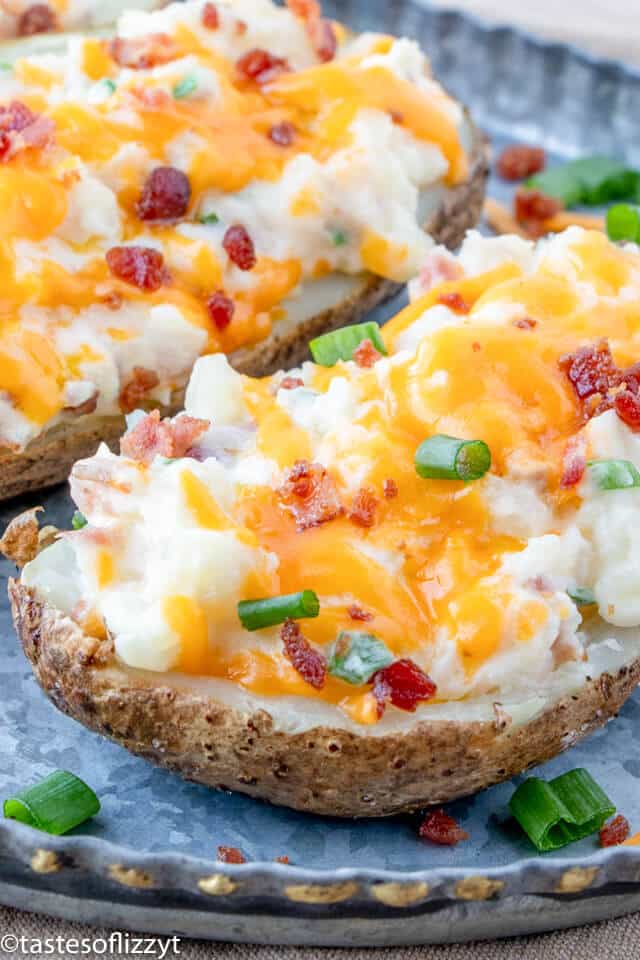 The BEST Baked Potatoes
What are your favorite baked potato toppings? Our family loves cheese, sour cream and bacon. Throw in a few green onions for color and you're almost set.
Our twice baked potato recipe has a secret ingredient that makes it ultra creamy. Can you guess?
It's cream cheese.
We've added cream cheese to our mashed potatoes, but you can also mix it in to potato filling for a crazy creamy, rich texture.
What is a twice baked potato?
So what exactly is a twice baked potato? It's just what it sounds like. Bake a potato…then scoop out the potato, add other ingredients and bake again. Baking two times…twice baked!
What potatoes are best for twice baked potatoes?
We love helping you choose the best potatoes for each recipe. For twice baked loaded potatoes, we like to use a starchy potato. You may find it hard for them to stay together when you scoop out the filling, but the potato filling will mix in and absorb the butter and sour cream much better than a waxier potato like red potatoes. We choose Russet potatoes for this recipe.
How do you make twice baked potatoes?
Making twice baked potatoes may seem time consuming, but they are quite easy and are 100% worth it.
Scrub potatoes clean and dry them.
Poke the potatoes with a fork.
Rub the potatoes with oil and then sprinkle with salt and pepper.
Bake the potatoes at 425 degrees for about 45 minutes. Note: The exact time will depend on how big the potatoes are. If the potatoes are big, plan at least an hour.
Before you start scooping out the potato filling, you'll want to allow the potatoes to cool for 10 minutes. They will be VERY HOT.
Slice the potatoes in half lengthwise.
Scoop out the filling. Be careful to leave about 1/4″ of the potato flesh on the skin. If you get to close, it will be hard to hold the potatoes together with the heaviness of the filling.
Mix up the potato filling. Get creative with what you add!
Use a potato masher or a hand mixer on low speed to get everything combined.
Stuff the potato halves.
Top with additional cheese and bacon if you'd like!
Bake for about 15 minutes. The potatoes will already be warm, but you want to make sure they are nice and hot all through.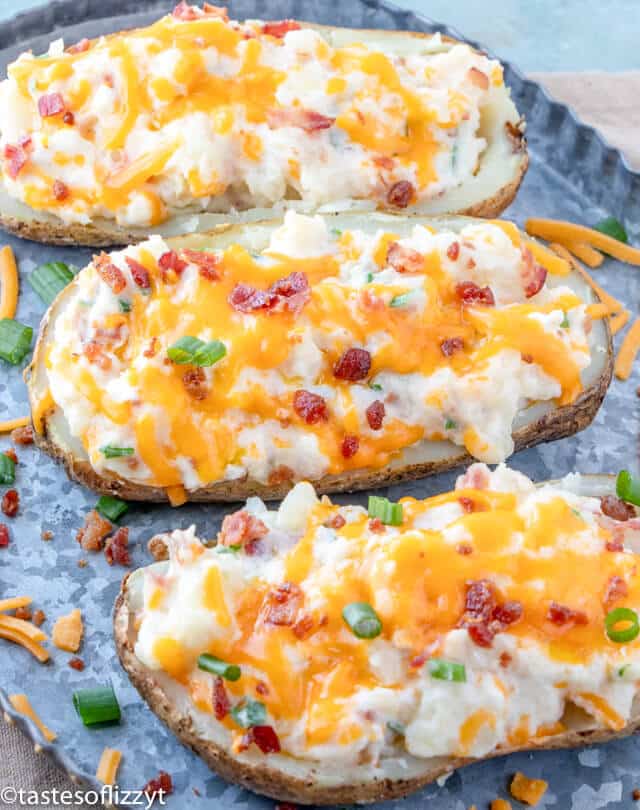 Can you make these baked potatoes in advance?
Yes! You can put the potatoes together, then refrigerator for up to 3 days before baking. This makes it a great company side dish and also perfect for holidays. Make sure the potatoes are sealed well in the fridge.
Can you freeze twice baked potatoes?
Yes! We often bake the potato, then fill the potato. Before baking the second time, you can freeze the potatoes. Place them on a baking sheet and put them in the freezer for about an hour. Then take the potatoes and seal them in an airtight bag or container. Freeze for up to 2 months.
When you want to bake them, remove them from the freezer about 24 hours in advance. Bake as directed in the recipe. If they are still partially frozen, they will take longer to bake.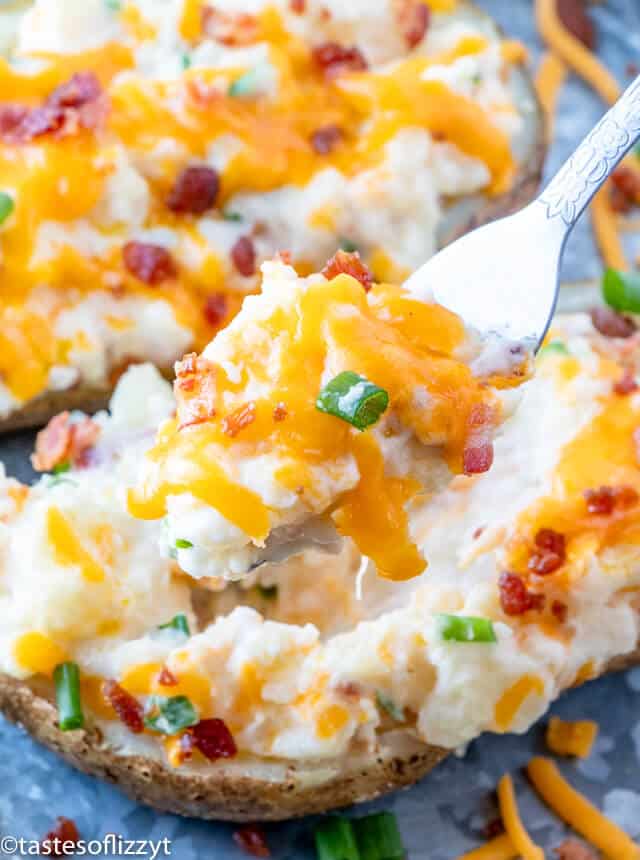 Can you reheat baked potatoes?
Yes! Place the potatoes on a baking sheet. Preheat the oven to 350º Fahrenheit. Bake the potatoes for about 25 minutes or until they are heated through.
How long do baked potatoes last in the refrigerator?
These potatoes will last in the refrigerator for about 2-3 days after baking. Be sure that they are stored in an airtight container.
You may want to top them with a little extra shredded cheese to freshen them up before reheating.
What goes good with baked potatoes?
Just about anything goes good with this recipe, but here are a few of our favorites!
OUR MOST POPULAR POTATO SIDE DISH RECIPES: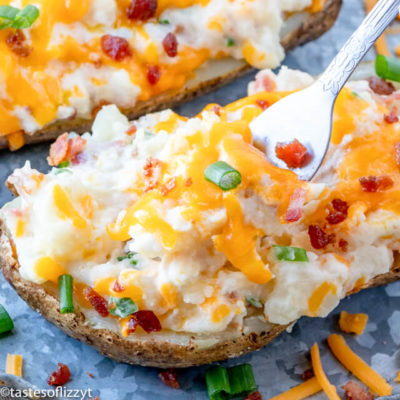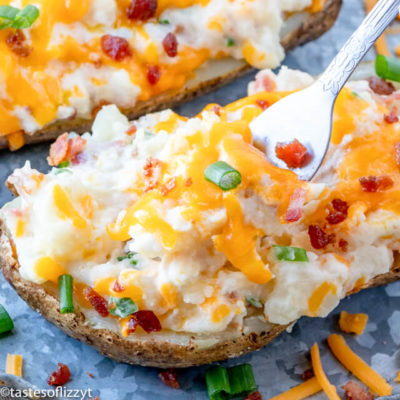 Twice Baked Potatoes
Looking for a delicious potato side dish? Try the BEST twice baked potatoes! They are creamy, loaded potatoes with amazing flavor.
Total Time
1

hour
15

minutes
---
Ingredients
4

large Russet baking potatoes

3

tablespoons

canola oil

salt and pepper

½

cup

sour cream

(or more to get texture creamy)

4

ounces

cream cheese

½

cup

milk

¼

cup

salted butter

¾

cup

crumbled bacon

(cooked and crumbled, divided)

2

green onions

(chopped)

1 ½

cups

shredded cheddar cheese

(divided)
Instructions
Preheat the oven to 425º F.

Wash and dry the potatoes.

Pierce the potato 2-3 times with a fork.

Rub oil all over the potatoes.

Rub salt and pepper all over the potatoes.

Place the potatoes on a baking sheet and bake for about 45 minutes. The exact baking time will depend on how large the potatoes are. The potato should be tender inside if you poke a fork into it.

Remove the potatoes from the oven and allow them to cool for 10 minutes.

Reduce the oven temperature to 350º F.

Slice potatoes in half lengthwise and use a spoon to scoop the flesh into a large bowl. Be sure to leave about ¼" of the flesh on the skins so the skins can hold the filling.

To the potato flesh add sour cream, cream cheese, milk, butter, bacon, chopped onions and 1 cup of cheese.

Use a potato masher to mash the mixture together until it is well mixed and as smooth as you'd like it. It's ok to leave the potatoes a little chunky if you'd like...more make them completely smooth!

Spoon the mixture into the potato skins. Top each with remaining cheese and bacon.

Bake for an additional 10-15 minutes or until the cheese is melted.
Nutrition
Calories:
391
kcal
|
Carbohydrates:
21
g
|
Protein:
13
g
|
Fat:
28
g
|
Saturated Fat:
14
g
|
Cholesterol:
77
mg
|
Sodium:
569
mg
|
Potassium:
533
mg
|
Fiber:
1
g
|
Sugar:
2
g
|
Vitamin A:
725
IU
|
Vitamin C:
6.8
mg
|
Calcium:
217
mg
|
Iron:
1.2
mg