Sweet Potato Casserole with Pecan Streusel Topping
Real sweet potatoes whipped with eggs and milk make this the best sweet potato casserole with pecan streusel topping around. There's an unmistakable hint of vanilla that you'll love!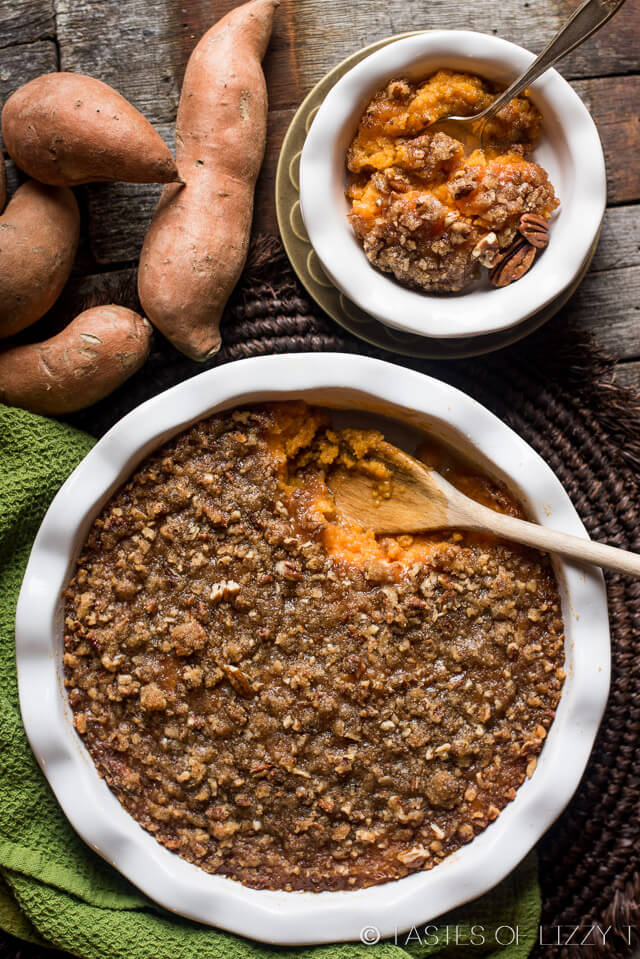 Sweet Potato Casserole with Pecan Streusel Topping
Ok, time for honesty. As if there ever isn't a time for honesty, but that's another discussion altogether.
Who's ever had dessert for dinner?
I'm not talking dessert before dinner, but dessert in place of dinner.
*Raising hands high* I have!! Dessert for dinner is one of the best ideas ever. Now all of you diehard healthy living friends aren't going to like this and I can already feel the head shakes, but when apple dumplings, Reese's peanut butter cake or pumpkin crumb pie is in the house you can bet that there's a good chance I'm skipping the main course and going straight to dessert. I want to enjoy those delectable desserts when I'm hungry, not after I'm full of pot roast. (Although, let's be honest. That garlic bacon pot roast is amazing.)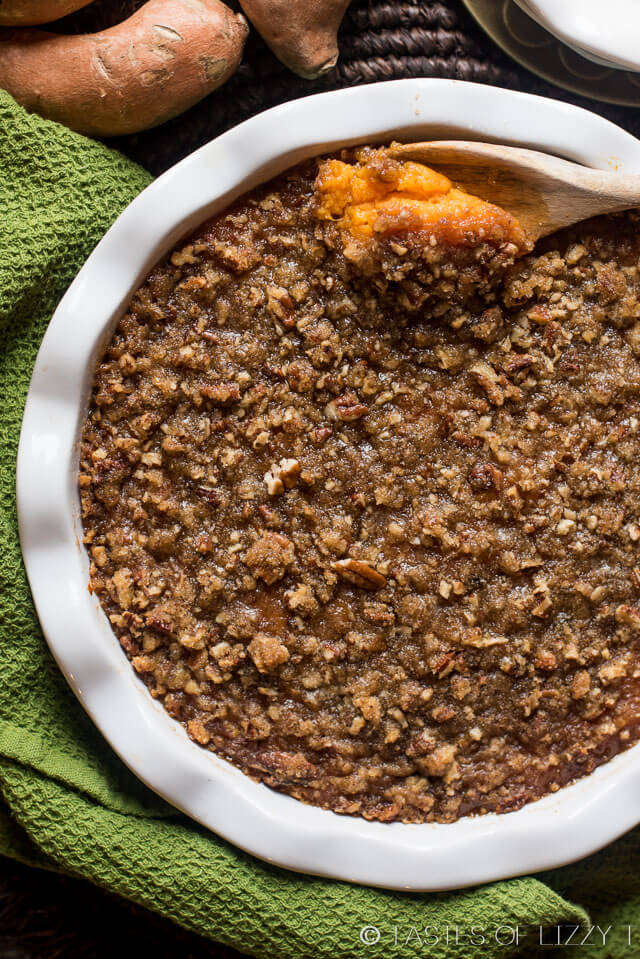 The Best Sweet Potato Casserole Recipe
This sweet potato casserole with pecan streusel topping officially qualifies as a side dish, but it's creamy sweetness is like a dessert. Mmm…it's the best.  In fact, this is one of those casseroles that I'd eat simply by itself as a dinner and dessert together. It's got sweet potatoes so it's healthy, right?
Don't burst my bubble. It's perfect.

Sweet Potato Casserole Ingredients
This popular Thanksgiving side dish is simply sweet potatoes, evaporated milk, eggs and sugar. Evaporated milk adds richness. You can use regular milk if you'd like, but use whole milk for best results if you choose to do that.
Canned Sweet Potatoes Vs Fresh
I truly recommend using real sweet potatoes for this recipe. I've made it both ways, but by using fresh sweet potatoes instead of canned sweet potatoes, your casserole will taste much lighter and fresher.
How to Make the Perfect Sweet Potato Casserole
Prepping the sweet potatoes will take about 15 minutes. If you've made mashed potatoes before, you can do sweet potatoes, too! Peel the sweet potatoes (to get exactly 3 cups I used 8 small sweet potatoes), then cut them into cubes. Throw the cubes into boiling water and let them boil for about 10-15 minutes. The exact time will depend on how big you've cut the cubes, so watch them closely. Once they are soft, drain the potatoes and then mash them. I like to use my hand mixer to beat them so they get nice and fluffy.
And now for my favorite part…..
Pecan Topping for Sweet Potato Casserole
You guessed it. The pecan streusel topping… a crumb topping of pecans, brown sugar, a touch of flour and vanilla get mixed together and sprinkled on top.
Many sweet potato casseroles have marshmallows baked on top. And I love my marshmallows just as much as anyone else, but nothing beats this brown sugar pecan topping that has a hint of vanilla. Streusel beats marshmallows any day.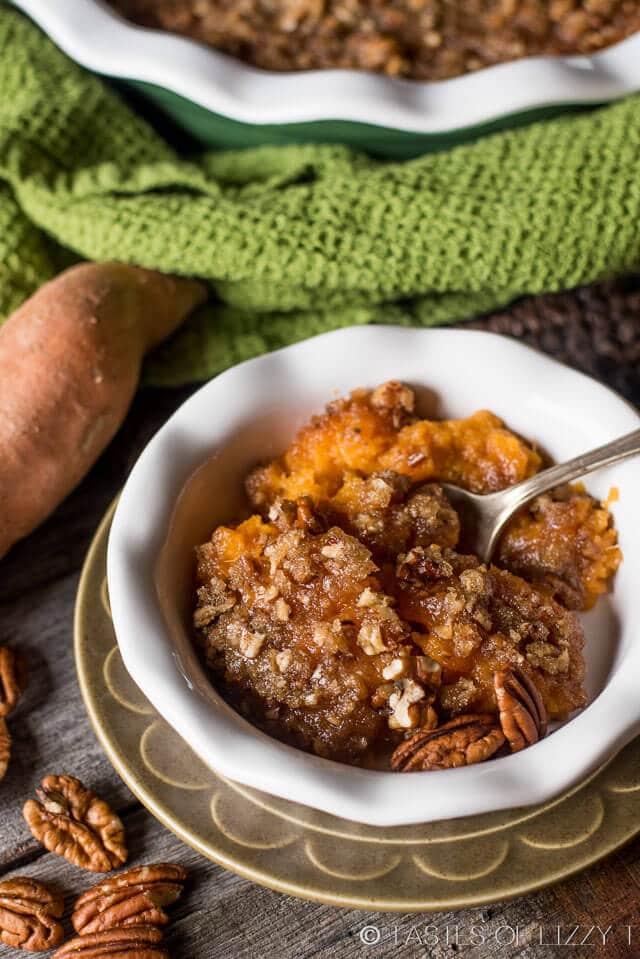 Can you make sweet potato casserole in advance?
This recipe is best served right after baking, but you can put together the casserole before baking and bake right before you need it. Cover the casserole with plastic wrap and refrigerate for up to 2 days. Remove the casserole 1 hour before baking so it can come closer to room temperature. Then uncover and bake as directed!
Tools for Making Traditional Sweet Potato Casserole
Pastry Cutter

: I use this tool all the time. It cuts butter into flour perfectly for streusels, crusts and other pastries.

Potato Masher

: Mash potatoes easily by hand with this fine-grid potato masher.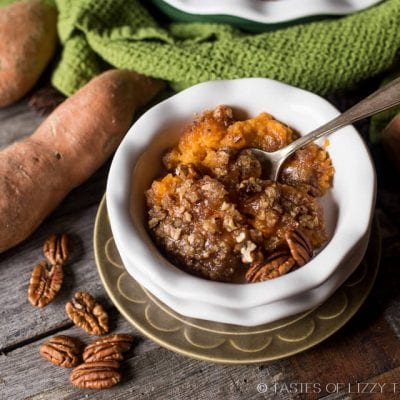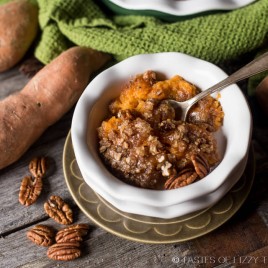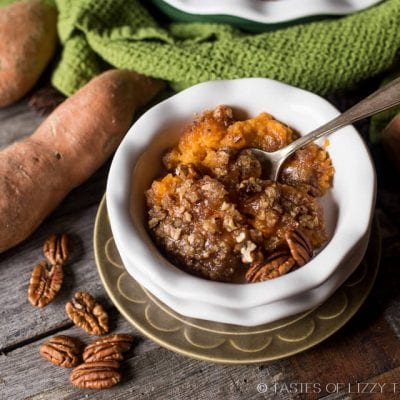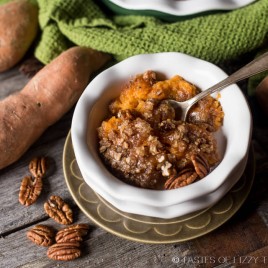 Sweet Potato Casserole
Real sweet potatoes whipped with eggs and milk make this the best sweet potato casserole with pecan streusel topping around. There's an unmistakeable hint of vanilla that you'll love!
---
Ingredients
3

cups

mashed sweet potatoes

I used 8 small potatoes*

2

large

eggs

3/4

cup

granulated sugar

1/2

cup

evaporated milk**
Topping:
1/2

cup

brown sugar

2

tablespoons

all-purpose flour

1/2

cup

chopped pecans

1/4

cup

cold butter

1

teaspoon

vanilla extract
Instructions
Preheat the oven to 350 degrees.

In a medium-sized bowl, use a mixer to whip together the mashed potatoes and eggs until completely blended.

Stir in the sugar and milk.

Pour this mixture into a pie plate or an 8x8 pan that has been sprayed with cooking spray.

In a small bowl, mix together the brown sugar, flour and pecans.

Cut the butter into small chunks.

Use a pastry blender to cut the butter into the sugar mixture until it is coarse crumbs.

Mix the vanilla into the streusel topping.

Sprinkle the streusel over the sweet potato mixture.

Bake for 35 minutes or until the top is golden brown.
Notes
To prepare the sweet potatoes: Peel the potatoes and cut them into chunks. Boil them in water over medium heat until they are soft (about 10-15 minutes depending on the size of the sweet potato chunks). Drain off the water, then mash them with a potato masher or a mixer. You can also use canned sweet potatoes if you'd like. Drain the liquid off and mash. *Instead of evaporated milk, you can also use a high fat milk or cream (whole milk, half & half, or even heavy whipping cream for a rich flavor). ***You can double this recipe and bake it in a 9x13 pan. This will most likely take at least 10 minutes longer to bake.
Nutrition
Calories:
278
kcal
|
Carbohydrates:
41
g
|
Protein:
3
g
|
Fat:
11
g
|
Saturated Fat:
4
g
|
Cholesterol:
59
mg
|
Sodium:
103
mg
|
Potassium:
248
mg
|
Fiber:
1
g
|
Sugar:
32
g
|
Vitamin A:
6540
IU
|
Vitamin C:
1.3
mg
|
Calcium:
73
mg
|
Iron:
0.8
mg