How to Make Instant Potatoes Taste Better
Tastes of Lizzy T participates in affiliate advertising programs. We may earn a commission when you make a purchase through links on our site.
Have everyone thinking you spent a long time peeling, boiling, mashing and mixing potatoes, when really didn't! Learn how to make instant potatoes taste better: rich, creamy and full of flavor.
Did you grow up eating from scratch mashed potatoes or instant? My mom made us real, homemade mashed potatoes 99% of the time. They were amazing! But here's the weird thing…every now and then I would have a taste of instant potatoes and I thought the flavor and texture were so good. Just because they were different.
So whether you grew up on instant potatoes or real Idaho potatoes, we hope you give these jazzed up instant potatoes a try. They are a great convenience food. You'll be surprised at how good instant spuds are!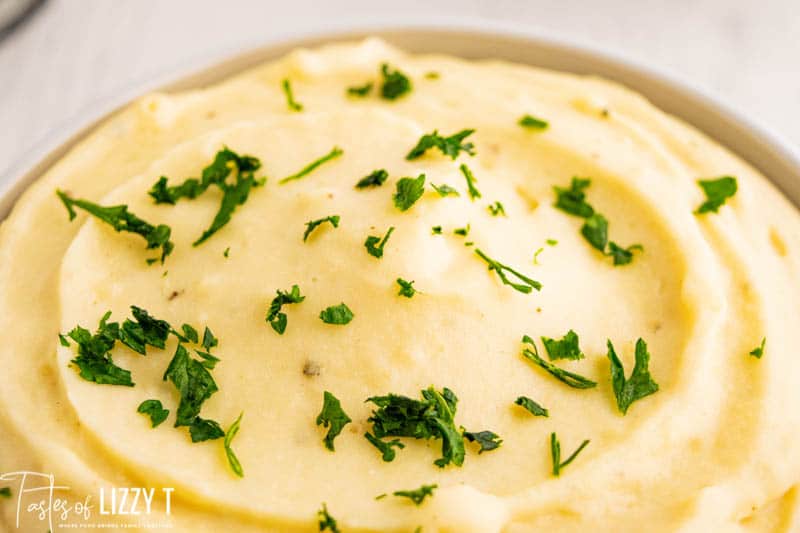 Why you'll love this recipe:
uses pantry items
quick and easy for last minute dinners
easy add-ins for great classic flavor
goes with just about any main dish
Are instant potatoes as healthy as real potatoes?
The short answer is no. Real whole potatoes are the best option. But if you're comparing instant potatoes to fried potatoes or fast food potatoes, then they are definitely healthier than that.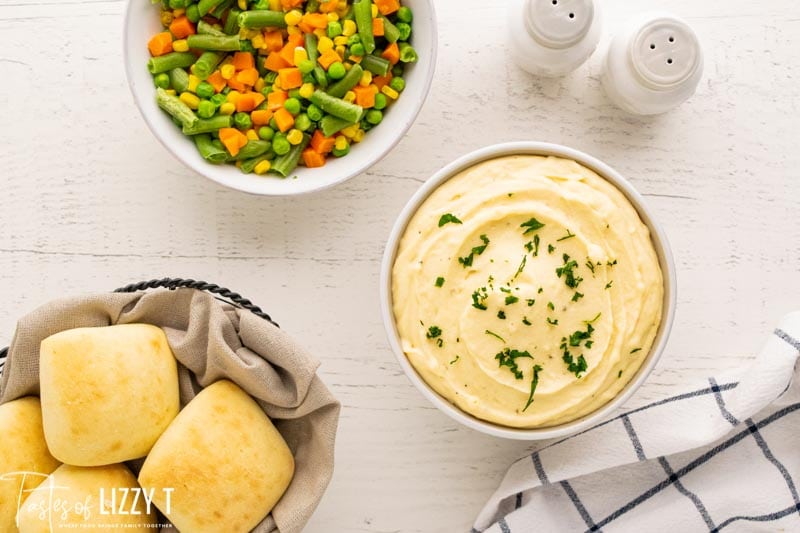 What are the best instant potatoes?
We tested three types of instant potatoes:
Idahoan Buttery Homestyle Mashed Potatoes: These were our favorite! They had great buttery flavor, a good consistency and were fairly light and fluffy. Some might find them a little salty if they are sensitive to salt.
Meijer Store Brand Creamy Buttery Mashed Potatoes: These were very thick. The exact opposite of the Hungry Jack potatoes. Because of that they were heavier. They had the consistency most like our traditional fresh homemade mashed potatoes, and the flavor was comforting. Not quite as buttery as the Idahoan, but still flavorful.
Hungry Jack Mashed Potatoes: These had a familiar flavor that was ok. However, they were really runny compared to the other two. Too runny for my tastes. If I were using this brand again, I would add more flakes to make them thicker.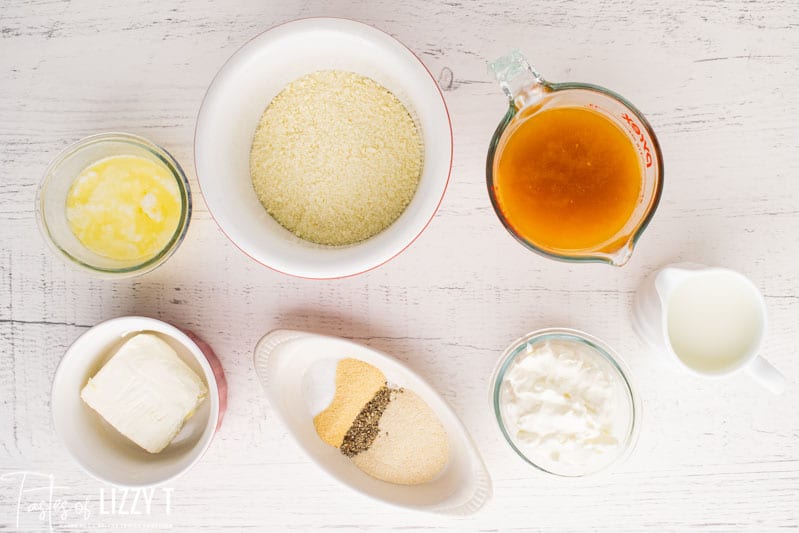 What to Add to Instant Potatoes to Make Them Taste Better
Many packages of instant potatoes call for just adding water. That is what makes them quick and easy, right? However, if taste is most important to you, try these additions based on your preferences:
Milk: Milk adds to the richness of the potatoes. Use at least 2% milk, but preferably whole milk.
Chicken broth: This adds a richer flavor than if you would just use water.
Butter: Butter is always a good idea. Don't use margarine. Use real 100% butter, either salted or unsalted.
Sour Cream: Sour cream and potatoes just go together. So why not mix them in?
Cream cheese: My grandma always added cream cheese to her potatoes. It thickens them and makes them super creamy.
Seasonings: Salt, pepper, garlic powder and onion powder are our favorites, but add any seasonings you'd like.
Please be aware that every brand of instant potatoes already puts in their own seasonings, so don't go overboard. Add the ingredients slowly so that you get the perfect flavor that you prefer. Especially if you need less salt.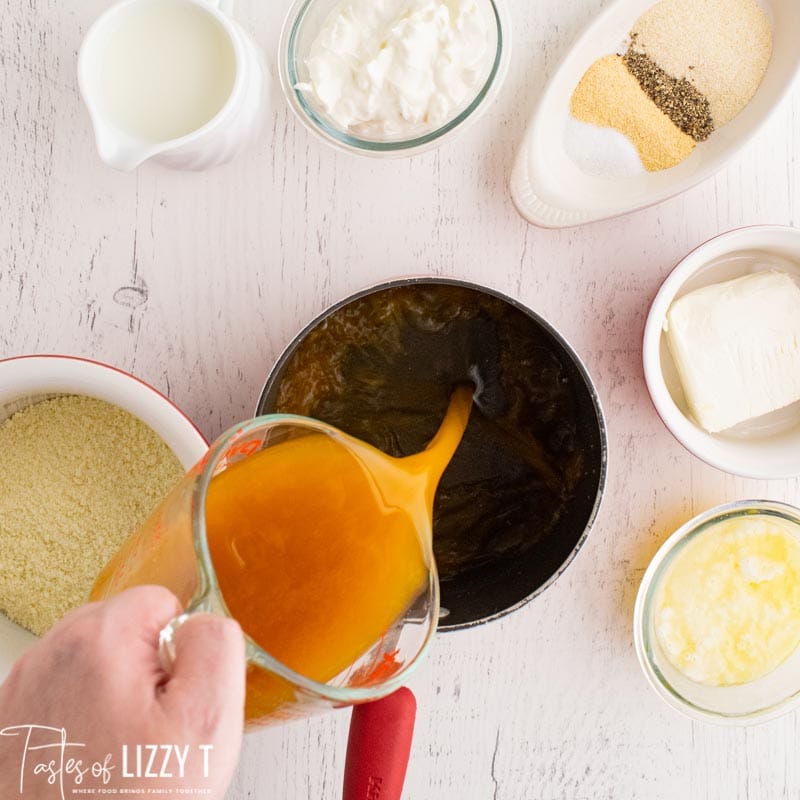 How to Store Instant Potatoes
Place the leftovers in an airtight container in the refrigerator for up to 5 days. When you are ready to reheat them, warming them in the microwave is the best option.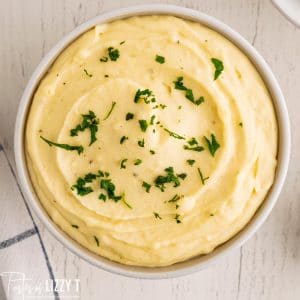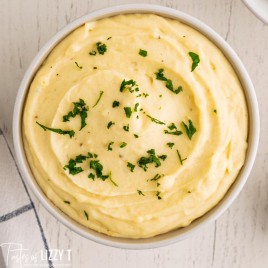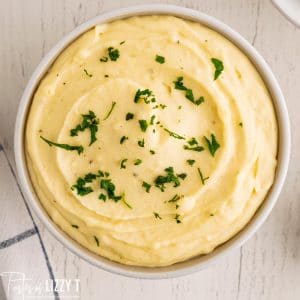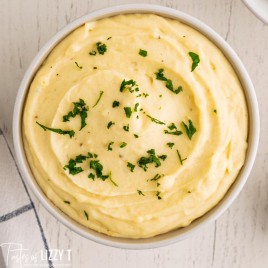 How to Make Instant Potatoes Taste Better
Have everyone thinking you spent a long time peeling, boiling, mashing, and mixing potatoes, when really didn't! Learn how to make instant potatoes taste better: rich, creamy and full of flavor.
---
Ingredients
8

ounces

instant mashed potatoes*

(We used 2 4-ounce packages)

2

cups

milk

2

cups

chicken broth

½

cup

melted butter

1/2

teaspoon

salt

1/2

teaspoon

black pepper

½

cup

sour cream

½

cup

cream cheese

1

teaspoon

onion powder

1

teaspoon

garlic powder
Instructions
In a medium saucepan bring the milk and broth to a gentle boil and stir continuously while the mixture boils for two minutes.

Remove the liquids from heat and pour into a large mixing bowl.

Add potato flakes and stir well with a whisk to make sure all flakes are moistened. Let sit for five minutes.

Use a hand mixer to mix and fluff potatoes on medium speed for one minute.

Add remaining ingredients and mix on medium to medium high until all ingredients are well combined. You can have small lumps, but should not have very many.They should be slightly fluffy and smooth.

Garnish with parsley, bacon, cheese, gravy…whatever you choose!
Notes
*We prefer the Idahoan buttery homestyle brand of instant potatoes. Go by ounces rather than cups to measure the potato flakes.
In the video I say you need a tablespoon of onion powder, but it is a teaspoon. Follow the written recipe. 
The calories shown are based on the recipe serving 8, with 1 serving being ⅛ of the recipe. Since different brands of ingredients have different nutritional information, the calories shown are just an estimate. **We are not dietitians and recommend you seek a nutritionist for exact nutritional information.**
Nutrition
Calories:
324
kcal
|
Carbohydrates:
28
g
|
Protein:
6
g
|
Fat:
21
g
|
Saturated Fat:
13
g
|
Cholesterol:
60
mg
|
Sodium:
866
mg
|
Potassium:
497
mg
|
Fiber:
2
g
|
Sugar:
5
g
|
Vitamin A:
733
IU
|
Vitamin C:
27
mg
|
Calcium:
118
mg
|
Iron:
1
mg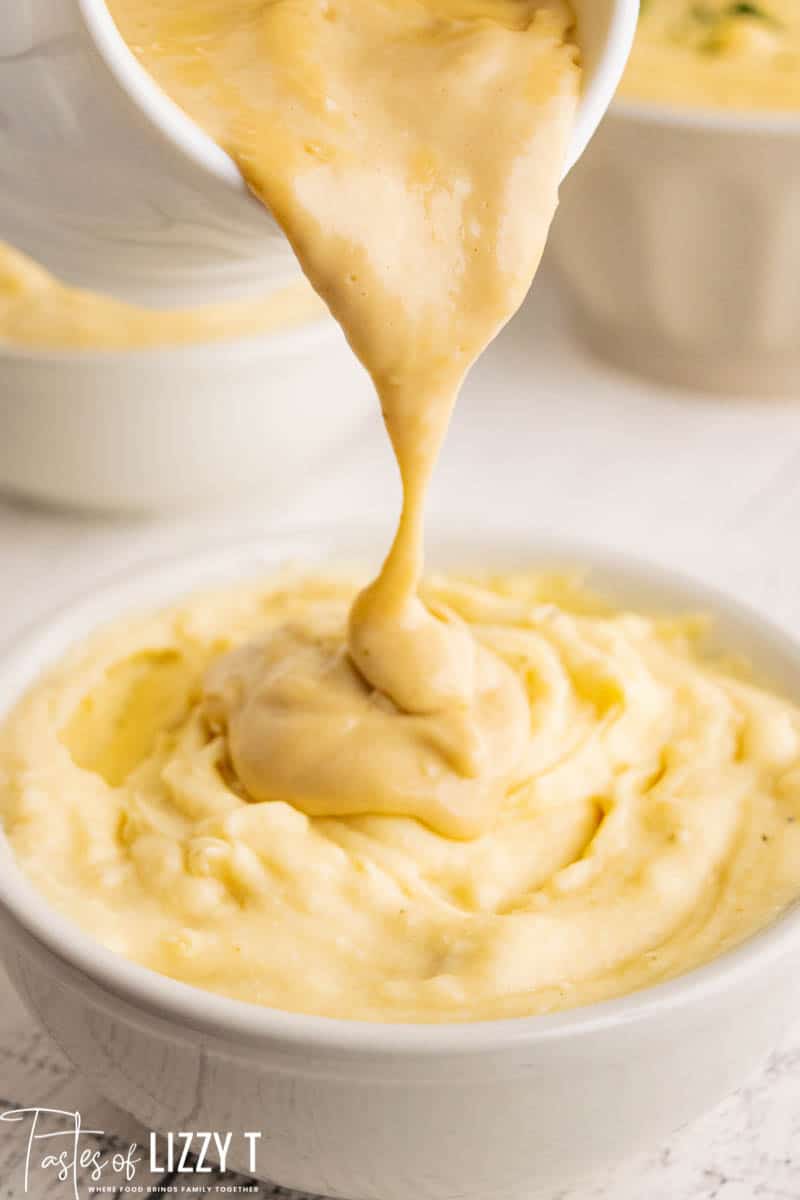 Other Mashed Potato Recipes
Love potatoes? We do, too! Try one of our mashed potato recipes: