Sneak some spinach into your mashed potatoes in with these cheesy Spinach Mashed Potatoes. Even though the mashed potatoes have green in them, the kids love them!
Spinach Mashed Potatoes
Have you ever sneaked veggies in food? I have. And I'll be honest. Most of the time I'm found out. There's been a few times when I've sneaked pureed squash into lasagna or spaghetti sauce and added cauliflower to a casserole. Just a few of those times I've gotten away with it and tricked my family. Green vegetables, though? That's a little harder. I don't know about your kids (or husband!), but mine can spy a green speck in food from a mile away.
So when I served this Spinach Mashed Potatoes side dish, there was no hiding the green spinach that was all throughout those pure white mashed potatoes. My kids are good about at least trying new things, because they know they have to. Sometimes they take one bite and by the look on their face, I know they won't be asking for seconds. With this casserole? I'm happy to say they actually liked it. And went back for seconds. This, my friends, is a winner.
My kids loved that you couldn't taste the spinach inside these potatoes. Yes, it was green, but there was no weird texture and the butter, sour cream, salt and cheese gave the potatoes an amazing flavor. So amazing that my little picky eaters ate the leftovers for lunch the next day!
This recipe makes a full 9×13 pan of mashed potatoes. It's a great potluck side dish and is easily portable.
Do you have a hard time getting your kids to eat vegetables? Give this side dish a try. If they like mashed potatoes, I think you'll find a winner with this recipe!
Spinach Mashed Potatoes
Sneak some spinach into your mashed potatoes in with these cheesy Spinach Mashed Potatoes. Even kids will love them!
Ingredients
6-8

large

white potatoes

3/4

cup

sour cream

2

teaspoons

salt

1/4

teaspoon

pepper

1/2

cup

butter

softened

8

ounces

frozen chopped spinach

thawed and drained

1

cup

shredded sharp cheddar cheese
Instructions
Preheat the oven to 400 degrees.

Peel the potatoes and cut them into chunks. Boil them in a large pot of water until the potatoes are soft. Drain the water off the potatoes and mash the potatoes.

Add the sour cream, salt, and pepper to the potatoes. Beat the potato mixture until it is fluffy.

Drain as much water off of the spinach as possible. Stir the spinach into the mashed potatoes.


Spread the mixture in a 9x13 pan that has been sprayed with cooking spray.

Sprinkle the shredded cheese on top of the mashed potatoes. Bake at 400 degrees for 25-30 minutes, until it is bubbly and the cheese is melted.

Notes
If desired, you can bake the casserole for 15 minutes without the cheese so it doesn't melt too much. Add the cheese after 15 minutes and bake for an additional 10-15 minutes.
Nutrition
Serving:
291
g
|
Calories:
393
kcal
|
Carbohydrates:
36
g
|
Protein:
8
g
|
Fat:
17
g
This recipe was introduced to me by a good friend, but it is originally a Taste of Home recipe.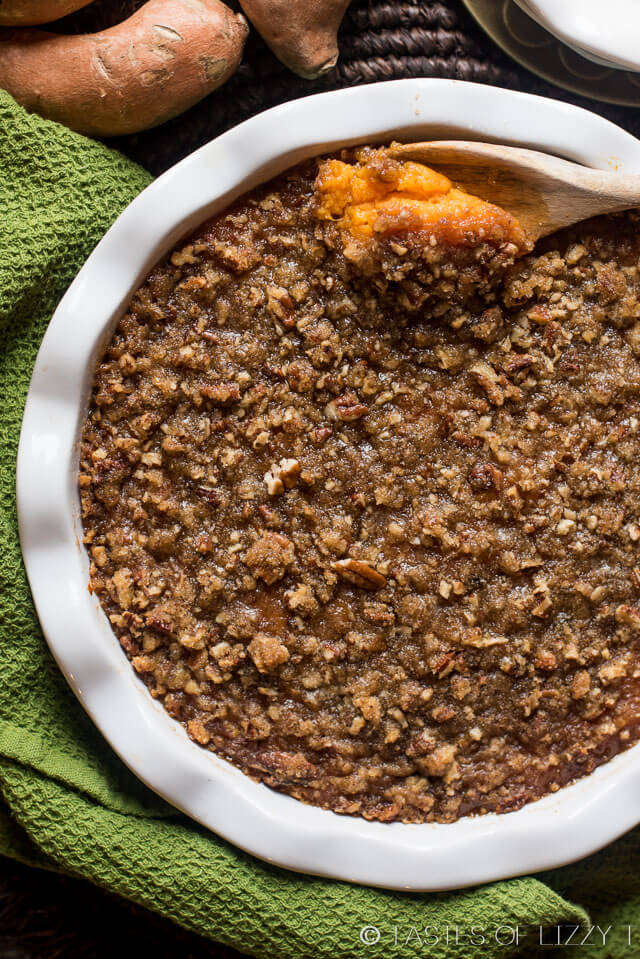 Grandma's Thanksgiving Turkey Stuffing