Learn how to make crispy golden brown fried pork chops. This easy dinner recipe makes juicy pork chops that are full of flavor.
Crispy, golden brown breading isn't just for chicken! We're sharing another delicious pork chop recipe that is easy to get on the dinner table for your family. Kids will love this comforting dinner.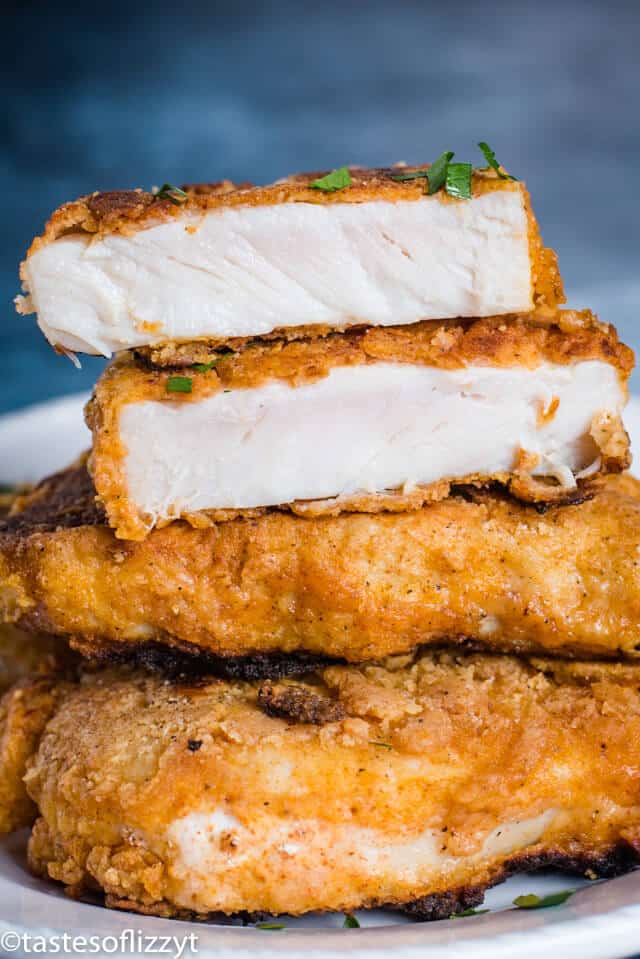 Table of Contents
Why you'll love this Fried Pork Chops recipe:
They are one of the most versatile dinners and a delicious change from traditional fried chicken. Serve it on a bun with fresh tomatoes and lettuce, slice them and serve on a salad or make a more traditional dinner with mashed potatoes and green beans.
Pork chops are economical. Pork chops are often on sale in our stores so it is easy to stock up when they are cheap.
They are quick. There is a 30 minute rest time, but the rest of the recipe is no time at all.
⭐️ ⭐️ ⭐️ ⭐️ ⭐️ Reader, Tiffany, says "Made these pork chops tonite (2/4/20) and hands down they were the best pork chops I've ever made. Thanks for sharing your wonderful recipe. (They were in no way dry either). My husband loved them. He likes pork chops much more than I do, but even I liked these. For an old 80 yo lady, this was a great new recipe for me to try out with success."
Hints for Making Fried Pork Chops
You'll want to plan about an hour to make the pork chops. They don't take that long for actual hands-on time, but you'll need to let them "rest" after flouring for 30 minutes. While they are resting you can prepare any side dishes for the dinner. Or throw that load of laundry in the dryer!
Choose the chops. We choose boneless pork chops that are about 3/4″ thick. You can choose thicker if you'd like, but realize that means it will take longer for them to fry. It's all about the timing. 3/4″ chops are perfect for a quick frying time. You can use bone-in pork chops but they may take a little longer to cook.
Season the chops. Salt, pepper, paprika and dry mustard are a must when making fried pork chop breading. Smoked paprika will add a touch of smoky flavor. Delicious!
Serve immediately. Ok…not immediately because they will be HOT from the oil, but after letting them rest for a few minutes, serve the pork chops right away so they don't get soggy.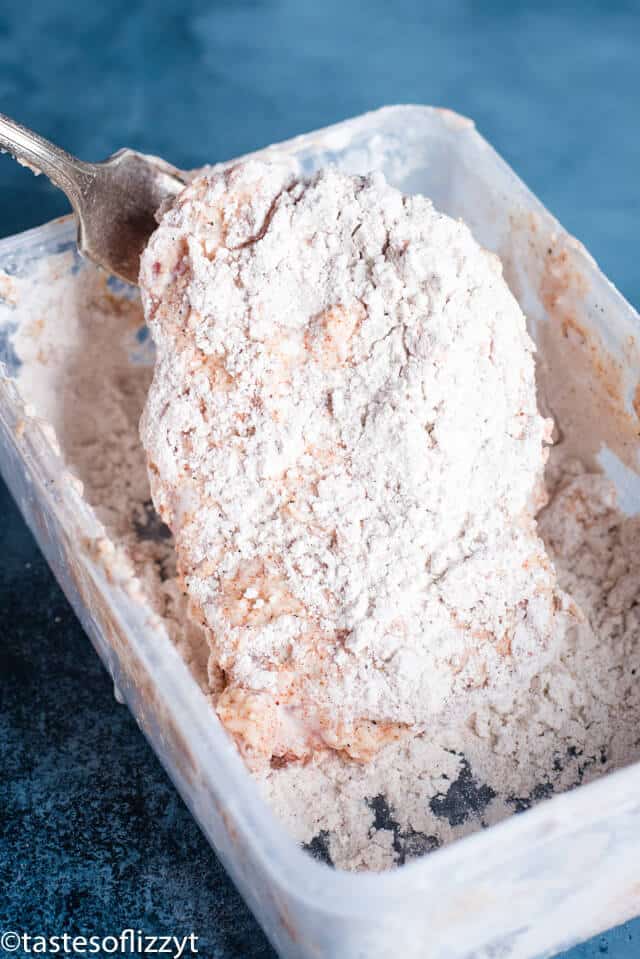 How do you get breading to stick to the meat?
Do you have trouble with the breading sticking to meat when you fry it? Here's a hint. Bread the pork chops as the recipe states, then allow the chops to rest for 30 minutes before you fry them. The breading will get "gummy" while the chops sit. This texture is what helps keep all that delicious breading on the meat.
Also, make sure the oil is hot when you add the pork chops to the skillet. This will ensure the breading stays on the chicken and doesn't stick to the pan.
One last hint is to be gentle when you turn the chops. The spatula can tear the breading off if you aren't gentle.
How do you fry crispy pork chops?
Here are a few hints for the crispiest pork chops:
The breading. Make sure you don't skip the cornstarch in the flour mixture. Yes you can use just flour, but cornstarch helps the pork to brown beautifully and makes a crisp crust which seals in the juices.
The oil. You want to choose an oil with a high smoke point. What does this mean? You want to be able to heat oil hot enough to fry the pork, but you don't want the oil to start "smoking". You most likely have canola oil or vegetable oil on hand so choose this oil over olive oil. Lard or peanut oil is a good choice too.
The skillet. If you have a cast iron skillet, we suggest using it for this recipe. They are great for even heat distribution.
Oil Amount. Place enough oil in your skillet so that the oil comes up halfway on the pork chops. The exact amount to use will depend on how thick the pork chops are.
Oil temperature. You want to get the oil nice and hot before adding the pork chops to the skillet. Heat the oil to about 350º Fahrenheit.
After frying. Place the pork on a wire rack with paper towels underneath to catch any drips. This helps all sides of the pork stay crisp.
Double Breaded Pork Chops
If you really love breading and want an extra thick, extra crispy breading, double bread the pork chops. Follow these steps:
Dip the chop in buttermilk.
Coat with flour mixture.
Dip back in buttermilk.
Coat one more time with flour mixture.
Going back and forth between buttermilk and flour can become messy. Try to keep one hand only in the wet ingredients and the other hand only for the dry. And shake off any excess.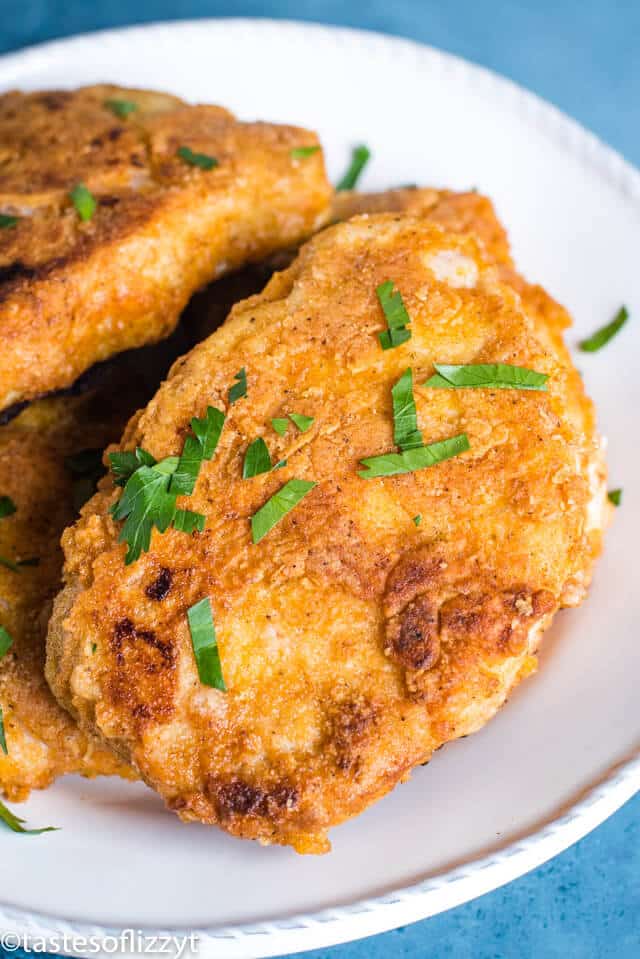 How long does a pork chop take to fry?
The exact time it takes to fry a pork chop depends on the thickness of the chop. A basic rule is to allow the pork chop to cook for about 4 minutes on one side, then flip it to cook an additional 4-5 minutes or until the internal temperature reaches 145º Fahrenheit.
How do you make fried pork chops tender?
The key to tender, juicy pork chops is to not overcook them. It's ok if the pork chops have a blush of pink inside. They are safe to eat when the internal temperature reaches 145º F. You can cook them just a little bit longer if you'd like, but if you're looking for tender chops, don't cook them too long!
We LOVE our Thermoworks ThermaPen (meat thermometer) to quickly test pork chop temperatures. This probe thermometer is AMAZING. Get it here.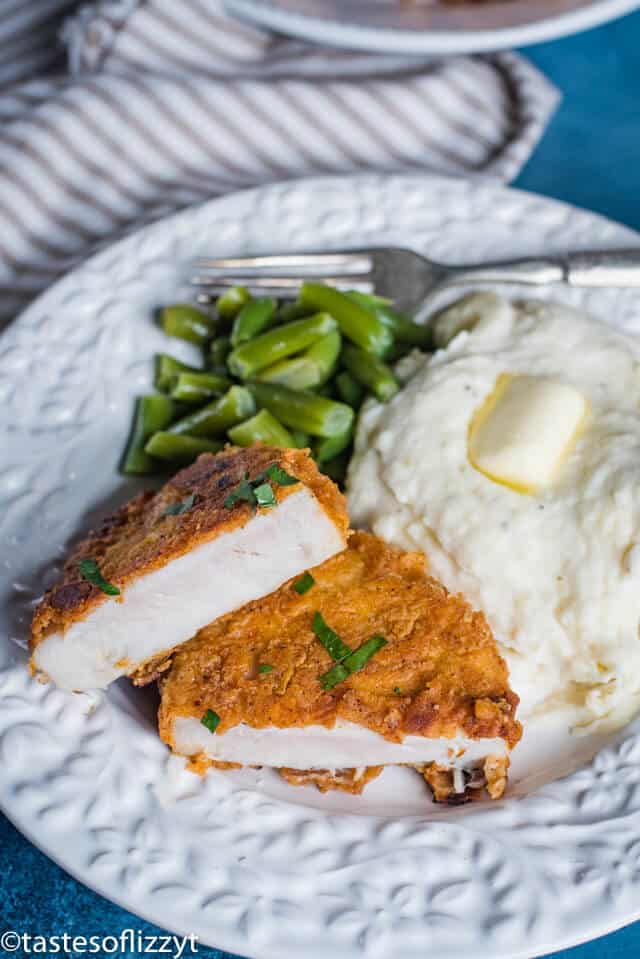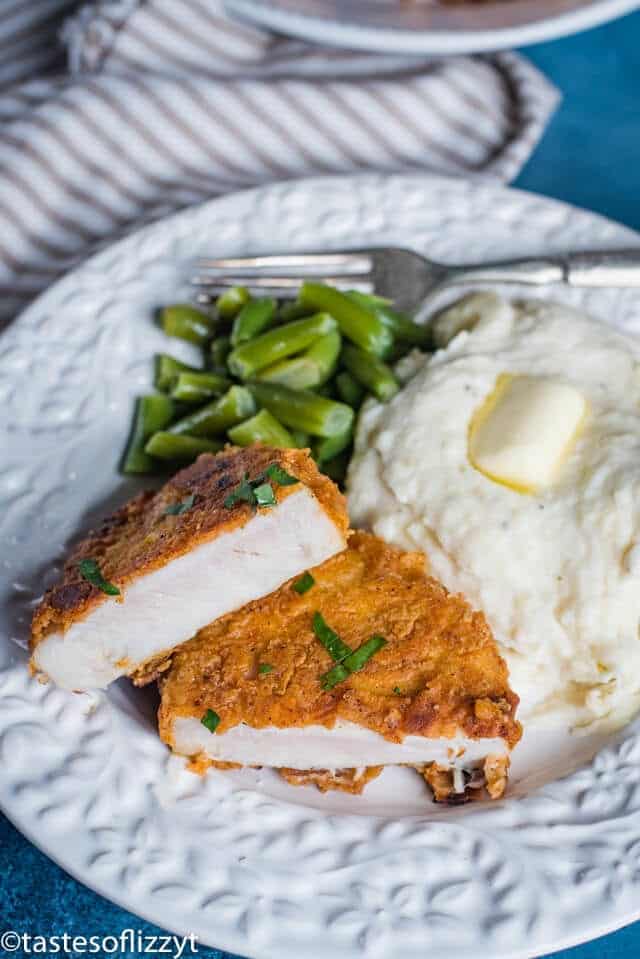 What to Serve with Pork Chops
Bring the family around the table by serving these pork chops along with this: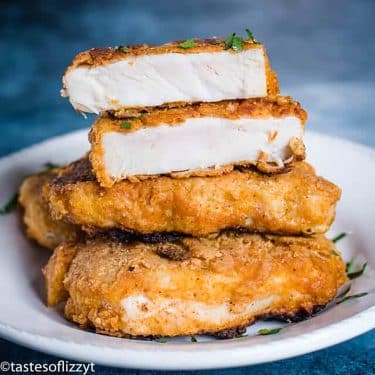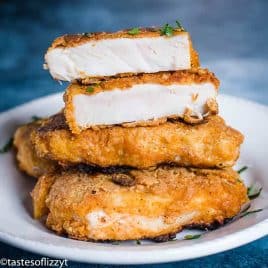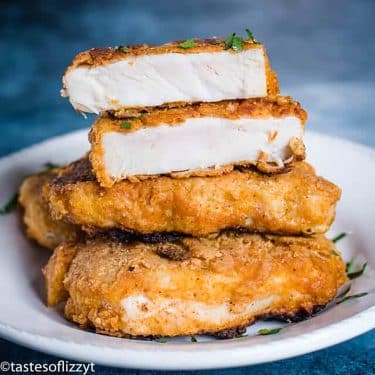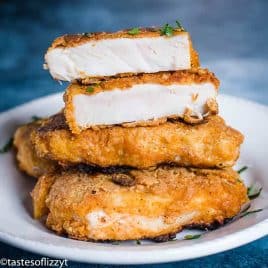 Fried Pork Chops
Learn how to make crispy golden brown fried pork chops. This easy dinner recipe makes juicy pork chops that are full of flavor.
---
Ingredients
Flour Coating
1

cup

all-purpose flour

1/4

cup

cornstarch

2

teaspoons

paprika

1

teaspoon

black pepper

2

teaspoons

salt

(or less, to taste)

1/2

teaspoon

dry mustard
Buttermilk Dip
2 1/2-3

pounds

boneless center cut pork chops

1

cup

buttermilk
For Frying
1/4

cup

canola oil

(or your favorite oil)
Instructions
For the Flour Coating
In a bowl, mix together the flour, cornstarch and spices. Mix well.

Pour 1 cup of buttermilk into a shallow bowl.

Take a pork chop and dunk it into the buttermilk.

Then dredge the pork chop in the flour mixture and turn to coat.

Place the pork on a plate to rest. The pork should rest for 30 minutes before frying so that the coating does not come off during cooking.
Fry the Pork
Heat ¼ cup oil in a large skillet over medium-high heat.

When the oil is hot, place the chops in the frying pan and allow it to cook for 4-5 minutes. Fry in batches if you have a small skillet.

Turn the pork to cook on the other side and cook an additional 4-5 minutes or until the internal temperature of the pork reaches 145 degrees Fahrenheit. Repeat with remaining pork chops.

Remove the pork to a wire rack with paper towels underneath to catch drips. Allow the pork to rest for 3 minutes before serving.

Store any leftovers in an airtight container in the fridge for up to 3 days.
Notes
Other seasoning options to add are: garlic powder, cayenne pepper or onion powder.
Refer to the article above for more tips and tricks.
The calories shown are based on the recipe serving 8, with 1 serving being 1 fried pork chop. Since different brands of ingredients have different nutritional information, the calories shown are just an estimate. **We are not dietitians and recommend you seek a nutritionist for exact nutritional information. The information in the nutrition box are calculated through a program and there is room for error. If you need an accurate count, I recommend running the ingredients through your favorite nutrition calculator.**
Nutrition
Calories:
375
kcal
|
Carbohydrates:
18
g
|
Protein:
33
g
|
Fat:
18
g
|
Saturated Fat:
5
g
|
Cholesterol:
98
mg
|
Sodium:
682
mg
|
Potassium:
597
mg
|
Fiber:
1
g
|
Sugar:
2
g
|
Vitamin A:
296
IU
|
Calcium:
47
mg
|
Iron:
2
mg
Other Pork Recipes
Love pork as much as we do? Try one of these recipes: