How to Make Easy Fork Tender Ribs
Tastes of Lizzy T participates in affiliate advertising programs. We may earn a commission when you make a purchase through links on our site.
3 ingredient sweet & tangy pork ribs marinade and hints how to make easy fork tender ribs. Start in the oven…finish on the grill!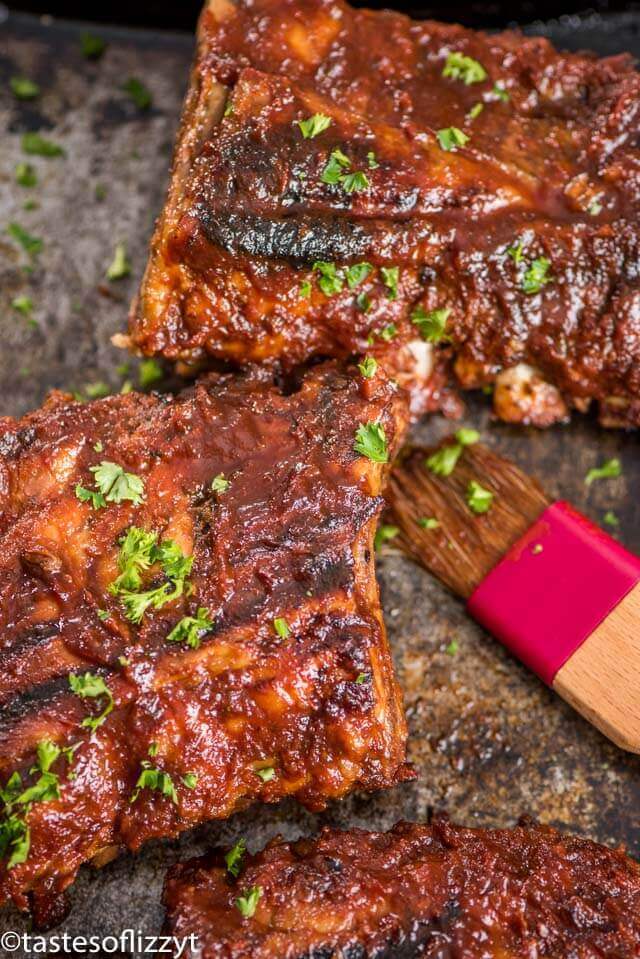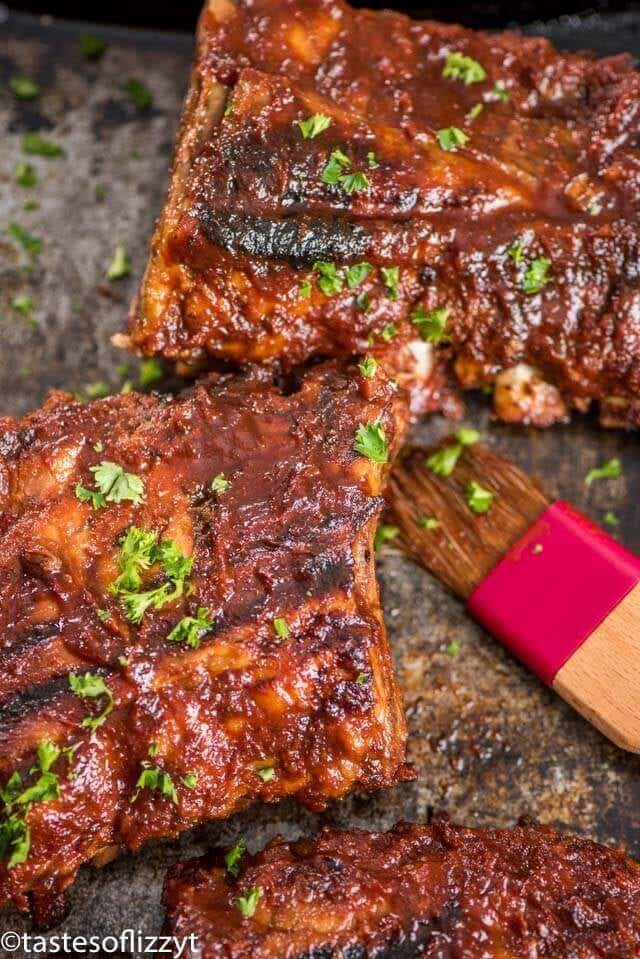 How to Make Easy Fork Tender Ribs
Thanks to the Ohio Pork Council for sponsoring this post. As always, all opinions are my own.
I like a challenge. Especially when it comes to cooking.
I've been married over 19 years now and for the first few years of our marriage, I was always trying new recipes. Although cooking wasn't new to me, getting to plan menus, grocery shop and cook meals for my little family was new. And I loved it.
All these years later, I still like tackling new things in the kitchen, whether it's a new cooking technique, how to use a new ingredient or a new-to-me cut of meat.
These sweet & tangy pork ribs are my latest successful challenge and I'm so excited to share them with you! Let's talk about how to make easy fork tender ribs!
Baby Back Ribs in the Oven
Cooking a rack of baby back ribs to fall of the bone fork tender perfection isn't as hard as it seems. Before this summer, I had never cooked pork ribs before, much to my husband's dismay. It was a big cut of meat and a little intimidating to me, but I can honestly say today I wish I had tried it long ago.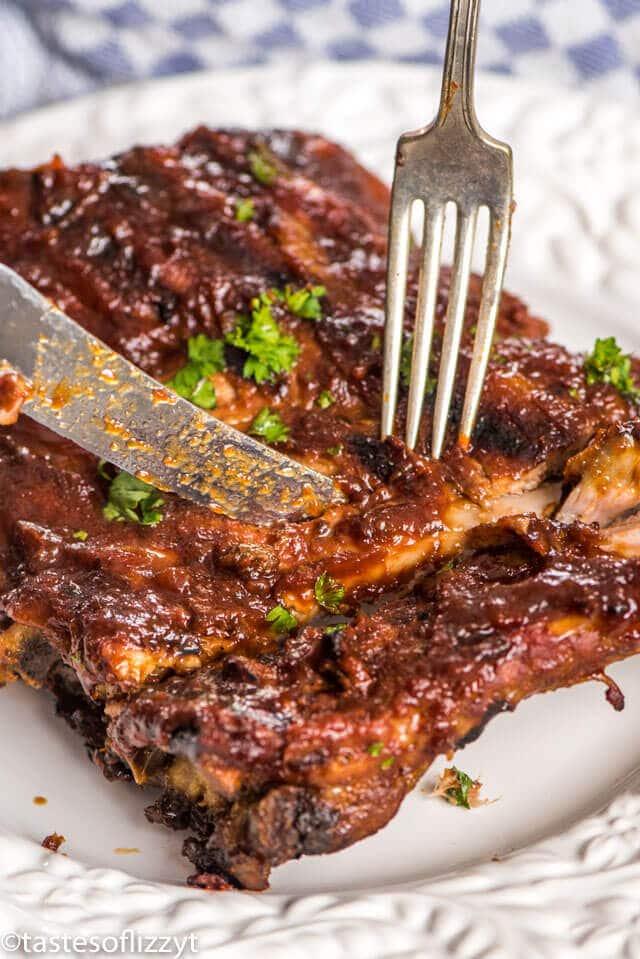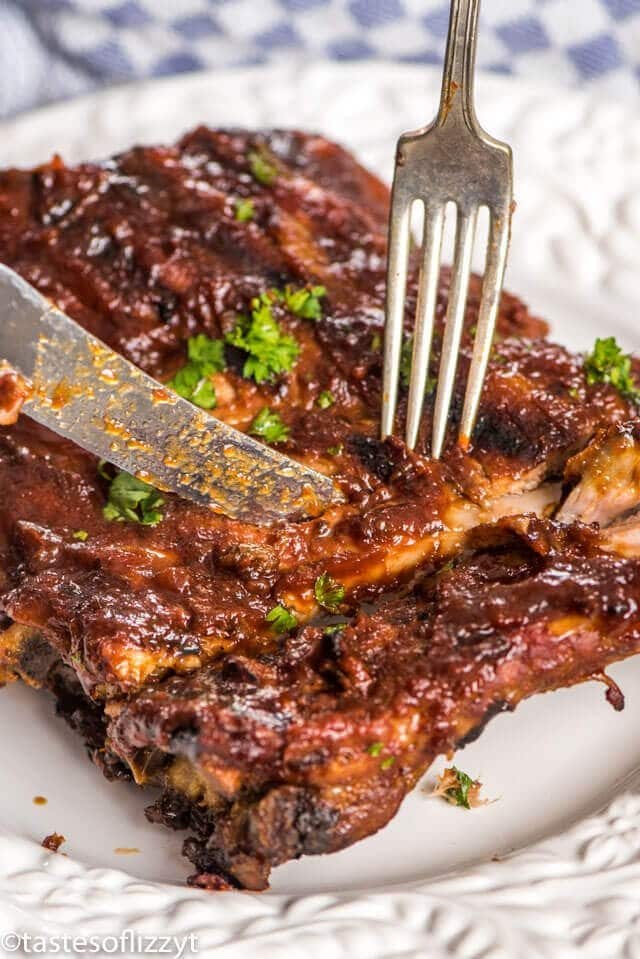 Difference between Baby Back Ribs and Spare Ribs
Choose baby back pork ribs. What's the difference between baby back ribs and spare ribs? Baby back ribs are smaller, which can seem less intimidating than the larger, rectangular spare ribs. Baby back ribs are more curved than the flatter spare ribs. Baby back ribs are also leaner and more tender than spare ribs. Since I was new to cooking ribs, I chose baby back, but you can feel free to use spare ribs if you'd like. You may have to cook them longer since they are a larger cut.
Removing Membrane from Ribs
Remove the membrane on baby back ribs. On the underside of the rib rack, there is a very thin membrane. To remove the membrane, simply slide a knife under the membrane on one end of the ribs. Use the knife to loosen the membrane over one bone. Using a paper towel, grab hold of the membrane and pull back. The membrane may come off in one piece or several smaller pieces.
How to Cook Ribs in the Oven
Bake pork ribs in the oven. For easy, fork-tender pork ribs, start the ribs in the oven. Place them in a baking pan, pour your favorite pork marinade recipe overtop and cover the pan with foil. Bake the pork ribs "low and slow"…..low oven temperature (300 degrees) for 3 hours. The exact time will depend in the size of the pork ribs. Test the ribs…they should be fork tender before removing them from the oven.
Finishing Ribs on the Grill
Finish the pork ribs on the grill. Once the pork ribs come out of the oven, finish them on the grill for a little bit of smoky flavor and those gorgeous grill lines. Make sure the grill is at least 400 degrees to get those nice sear lines. The pork is cooked completely at this point, so you'll just need about 4-5 minutes of grilling on each side.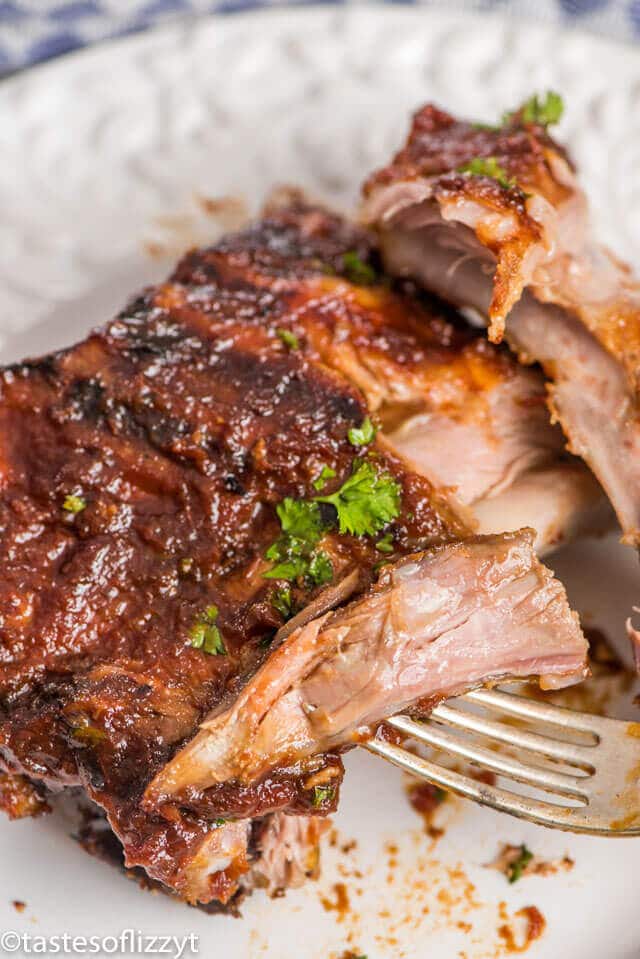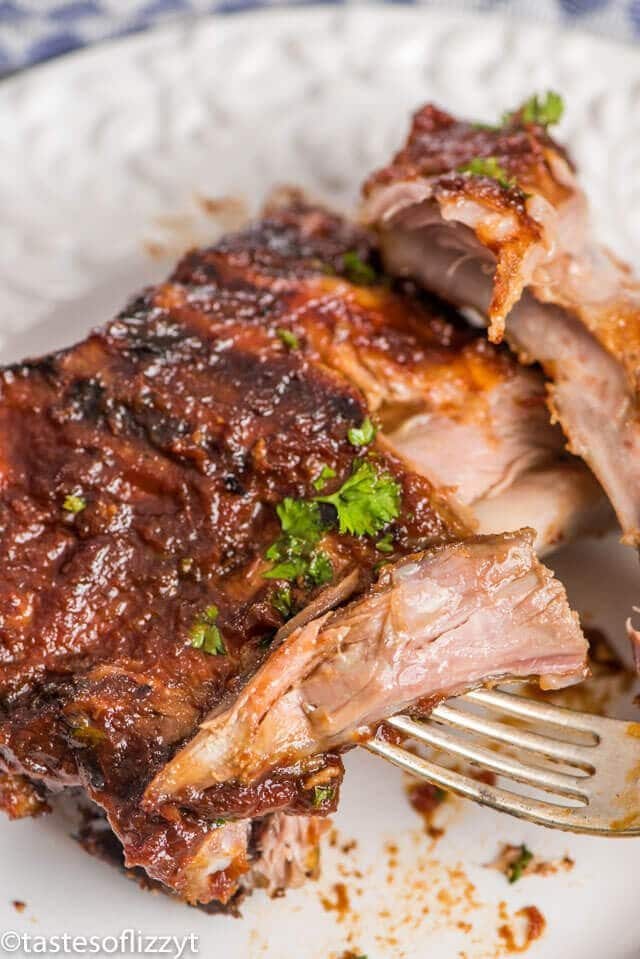 And that's it! Simple as that.
The week I was perfecting my rib-making skills, we had these sweet & tangy pork ribs 4 nights in a row. Matt fell in love with them and said he never knew he liked ribs so much.
There ya go. If you've never made pork ribs before, take on this challenge. If I can do it, you can do it!
If you've been making pork ribs for years, share your hints. I'd love to continue to learn. And give this easy pork rib marinade a try next time. 🙂
Other Pork Recipes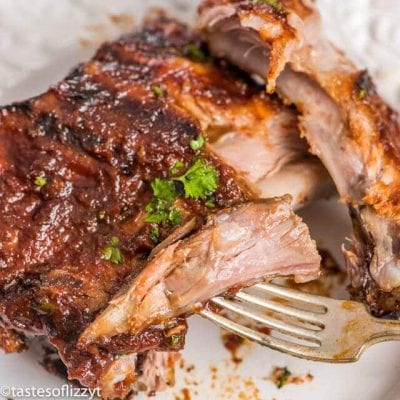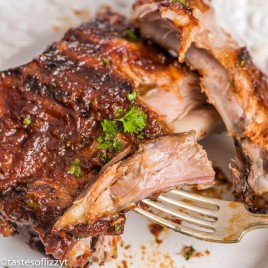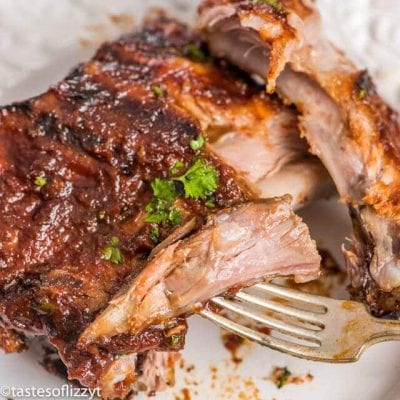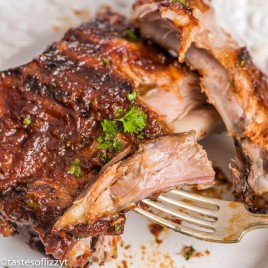 How to Make Easy Fork Tender Ribs
3 ingredient sweet & tangy pork ribs marinade and hints on how to make easy fork tender pork ribs. Start in the oven...finish on the grill!

Cook Time
3

hours
20

minutes
Total Time
3

hours
30

minutes
---
Ingredients
2 1/2

pounds

pork back ribs

1

cup

chili sauce

1/4

cup

molasses

1/4

cup

apple cider vinegar
Instructions
Preheat the oven to 300 degrees.

Prepare a 9x13 baking pan by lining it with 2 large pieces of foil, crossing them in the center so the pork ribs can be enclosed in the foil.

Use a sharp knife to loosen the thin membrane on the back of the rib rack.

Grab hold of the membrane using a paper towel and pull back to remove the membrane. Discard the membrane.

Cut the rack of ribs into 3 sections.

In a small bowl, combine chili sauce, molasses and vinegar. Mix well.

Reserve ½ cup of sauce for basting during grilling.

Place the rib pieces on the foil in the baking pan.

Pour the sauce over top the ribs.

Fold the foil over the ribs to enclose them.

Remove ribs from the oven. Grill ribs on a preheated grill (400 degrees) for 4-6 minutes per side. Baste with additional marinade while the ribs are grilling.

Remove from the grill and serve immediately.
Notes
The calories shown are based on the recipe being divided 5 ways and all of the marinade being used. Since different brands of ingredients have different nutritional information, the calories shown are just an estimate.
Nutrition
Calories:
536
kcal
|
Carbohydrates:
23
g
|
Protein:
45
g
|
Fat:
26
g
|
Saturated Fat:
5
g
|
Cholesterol:
167
mg
|
Sodium:
880
mg
|
Potassium:
1178
mg
|
Fiber:
3
g
|
Sugar:
18
g
|
Vitamin A:
390
IU
|
Vitamin C:
8.7
mg
|
Calcium:
95
mg
|
Iron:
3.2
mg