Slow Cooker Pork Tenderloin
Tastes of Lizzy T participates in affiliate advertising programs. We may earn a commission when you make a purchase through links on our site.
Comforting Slow Cooker Pork Tenderloin is an easy dinner recipe packed with potatoes and carrots, then slowly simmered in a savory, robust sauce.
Slow cookers are a great way to cook any type of pork. One of our favorites is slow cooker pork chops, but today we're tackling a pork tenderloin. And it's easier than ever!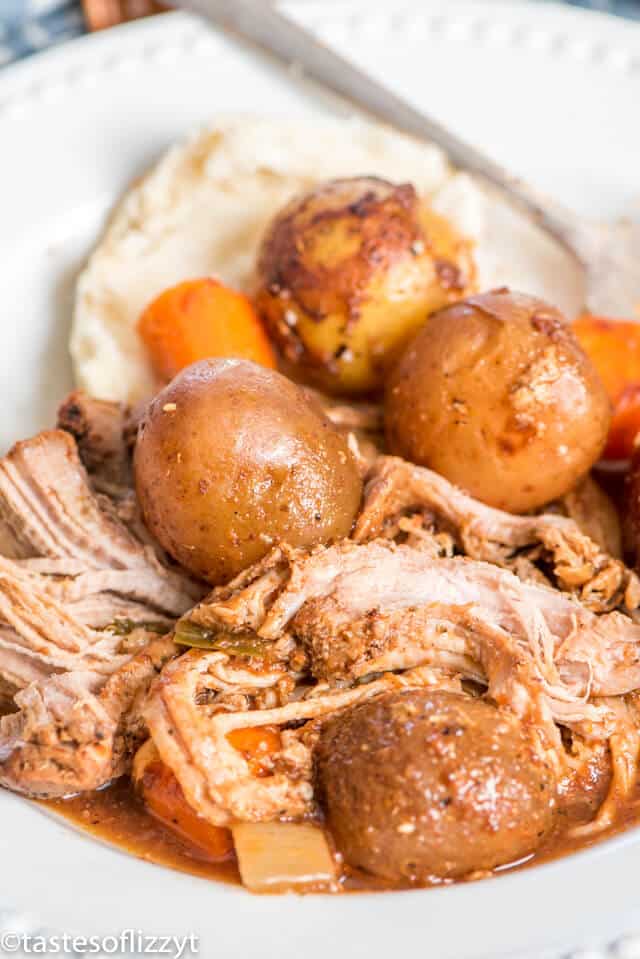 Slow Cooker Pork Tenderloin
Thank you to A.1. Sauce for sponsoring this post. As always, all opinions are my own.
Baby, it's cold outside! The weather is dipping down colder than I prefer which means it is the time of year that I want to stay cozy and warm under a blanket and not fuss about anything at all. It's also the time of the year that I enjoy cooking the most. Schedules slow down and dinner cooking adds a warmth to the house that brings a smile to my face.
I'm always looking for new slow cooker recipes to try, giving tweaks and twists to classic, comforting recipes. Pork tenderloin is fantastic cooked in and out of the slow cooker. You just can't go wrong with this lean cut of meat. For something different, I made a bold-flavored pork tenderloin with new potatoes and chopped carrots slow cooked to fork-tender. I knew my husband and son would quickly fall in love with this meat and potatoes dinner, but I was surprised how much my little Kinslee, who tends to be a picky eater, dug right to this dinner after dance one evening!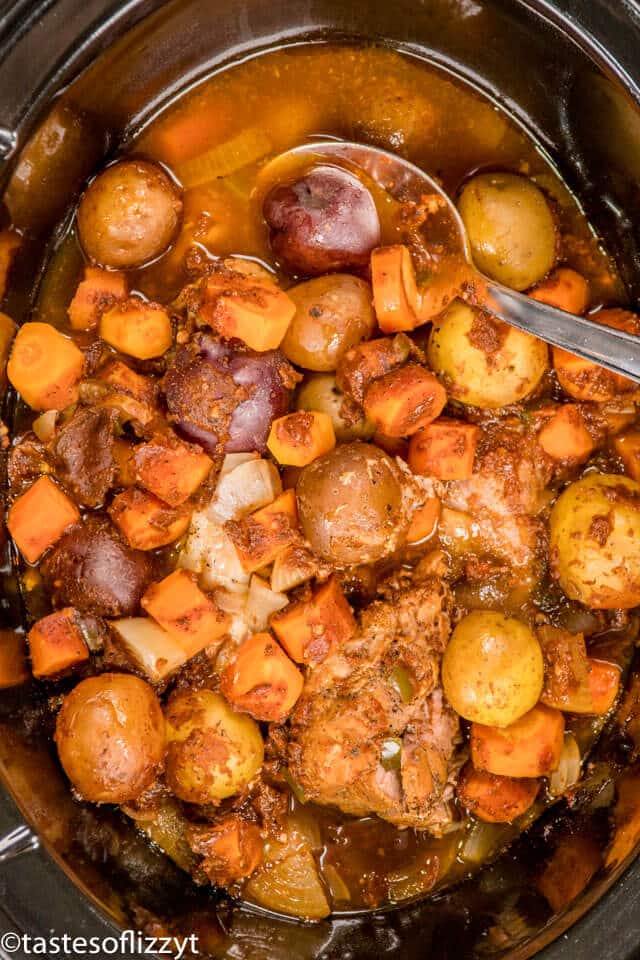 Sauce For Slow Cooker Pork
This easy, 5-minute sauce has a bold flavor that just tastes cozy. A.1. Sauce is the star of this recipe. Chefs and home cooks have been using A.1. Sauce since 1862 to bring versatility and bold flavors to dishes. Don't be fooled…A.1. Sauce is not just for steaks and burgers. You can add the bold flavor to chicken, vegetarian dishes and pork recipes such as this.  A.1. Sauce makes almost everything taste better!
Along with the A.1. Sauce, I added HEINZ Ketchup, a little apple juice for sweetness, garlic, pepper and a hint of coriander to add a warm, nutty flavor. We like to toss in about two tablespoons of diced jalapeno pepper for a little spice, but this is totally optional. You can leave the jalapeno out altogether, or double it if you'd like an extra kick!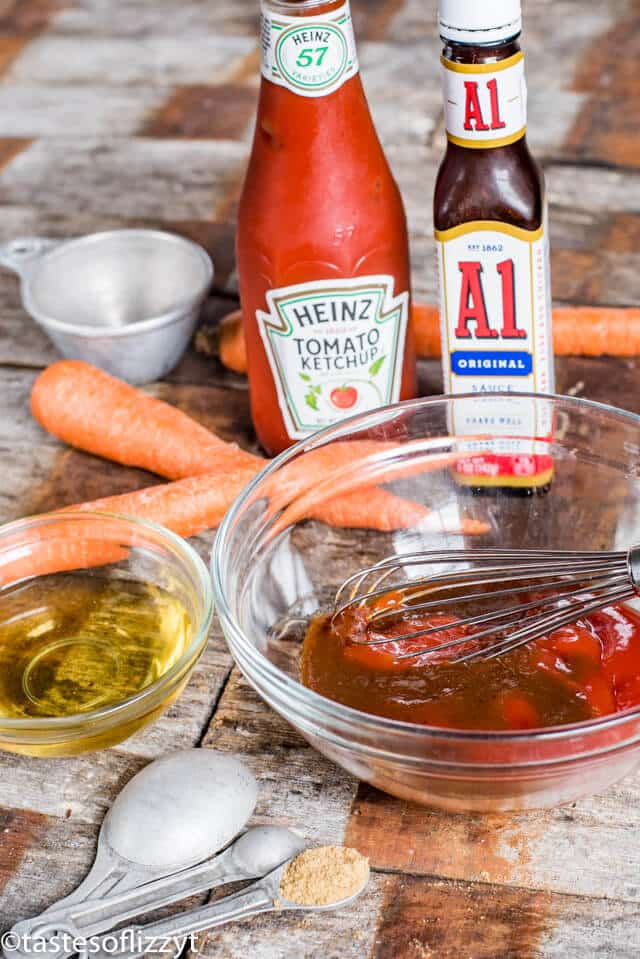 Do I need to sear meat before slow cooking?
Searing the meat before slow cooking might seem like a wasted extra step, but I highly recommend not skipping it. Searing helps the meat to develop more of a complex flavor. The meat will get slightly caramelized on the outside as you sear it, which will make the pork have a deep, rich flavor.
To sear the pork, heat a tablespoon of olive oil over medium heat. Once the oil is hot, add the pork tenderloin and allow it to sizzle and sear for a minute or two on each side.
Searing takes less than 10 minutes and it is totally worth the time!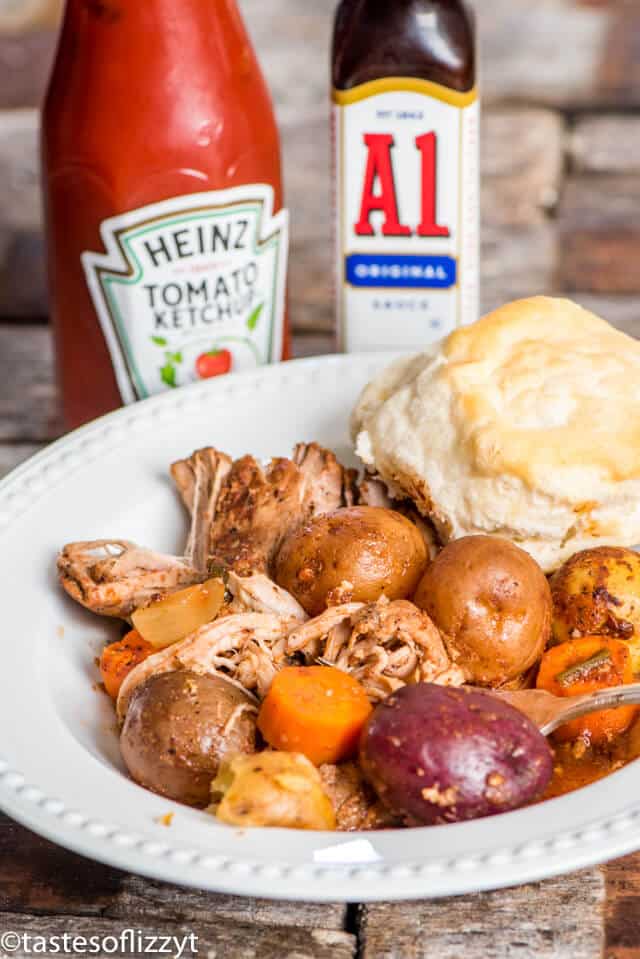 Potatoes, Carrots and Pork
For ease, I used new potatoes in this recipe. New potatoes are small, nearly bite-size potatoes that take virtually no preparation. If you'd like, you can use a larger potato and cut it into chunks before adding it to the slow cooker. I also added carrots and onion. Get creative and add veggies that you know your family will love!
What to Serve with Pork Tenderloin
Since this has veggies included, it is really an easy, all-in-one meal easy enough for busy weeknights. If you'd like, you can add a side of biscuits or rolls and a side salad. This makes the slow cooker pork tenderloin an ideal dinner to serve to guests also.
Be sure to visit A.1. Sauce on Facebook and get more A.1. inspired Kraft Recipes on Twitter, Instagram and Pinterest.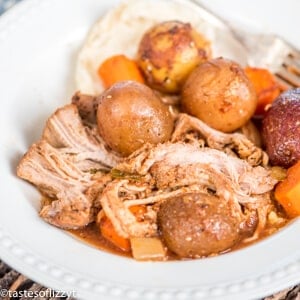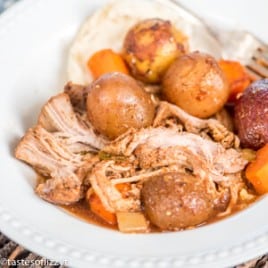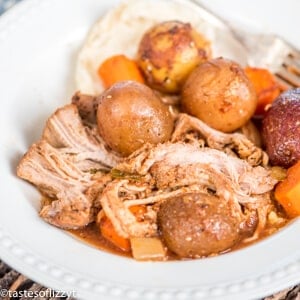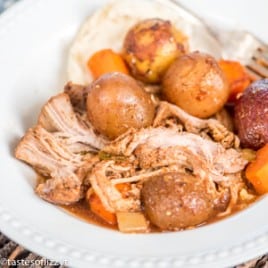 Slow Cooker Pork Tenderloin
Comforting Slow Cooker Pork Tenderloin is an easy dinner recipe packed with potatoes and carrots, then slowly simmered in a savory, robust sauce.
Total Time
6

hours
20

minutes
---
Ingredients
1

tablespoon

olive oil

½

teaspoon

salt

½

teaspoon

pepper

2 ½

pounds

pork tenderloin

½

cup

A.1. Sauce

1

cup

HEINZ Ketchup

2

tablespoons

diced jalapeno pepper

(optional)

⅓

cup

apple juice

1

teaspoon

pepper

1

teaspoon

minced garlic

½

teaspoon

ground coriander

1 ½

pounds

new potatoes

(scrubbed and cleaned)

3

carrots

(peeled and sliced)

1

onion

(sliced and chopped)
Instructions
Heat the oil in a large skillet over medium heat.

Rub the salt and pepper over the pork tenderloin.

Sear the pork tenderloin until all sides are browned.

Place the pork tenderloin in a 5 quart slow cooker.

Add the potatoes, sliced carrots and onion.

In a medium bowl, mix together the A.1. Sauce, HEINZ Ketchup, pepper, juice, and spices. Mix well.

Pour the sauce over the pork and vegetables.

Cover and cook on high for 6 hours or on low for 8-10 hours until the potatoes are tender the pork loin can be easily shredded with a fork.

Serve immediately.
Notes
The calories shown are based on the recipe serving 10 people, with 1 serving being 1/10 of the recipe. Since different brands of ingredients have different nutritional information, the calories shown are just an estimate.
Nutrition
Calories:
503
kcal
|
Carbohydrates:
13
g
|
Protein:
75
g
|
Fat:
14
g
|
Saturated Fat:
4
g
|
Cholesterol:
235
mg
|
Sodium:
731
mg
|
Potassium:
1628
mg
|
Fiber:
1
g
|
Sugar:
8
g
|
Vitamin A:
3255
IU
|
Vitamin C:
7.3
mg
|
Calcium:
36
mg
|
Iron:
3.9
mg