The juiciest burger you've ever had! This keto butter burger recipe had a simple, yet amazing flavor. Grill or pan fry for the best burger recipe ever. You may also love our Cola burgers!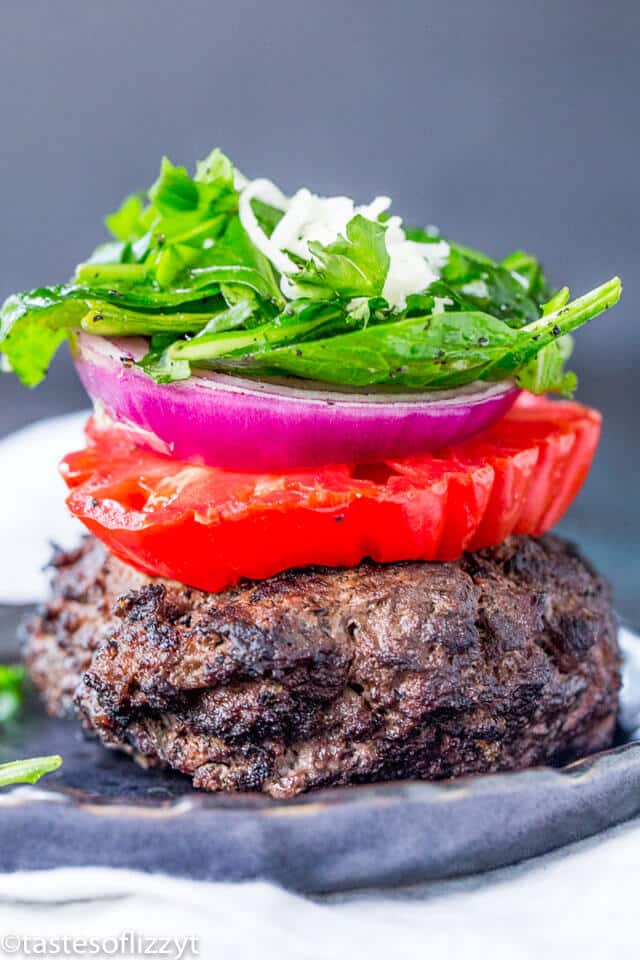 Butter Burger Recipe
Have you ever heard of a butter burger? I've never been to Milwaukee, but I have heard about their famous butter burgers and it's definitely on my list for places to go now. My bucket list most includes top cities and the foods they are known for. I know how to travel. 🙂
If you have a Culver's near you, you can experience their buttery burgers, but today we're going to do a low-carb take on a butter burger. If you've heard of the keto diet, this recipe would be a great lunch or dinner that fits the keto eating plan!
What is a butter burger?
Traditionally, a butter burger is a cooked burger patty with a pad of butter placed on the the top while it is warm. Put the bun on top of the butter and the butter melts into the bun and down around the burger. Drooling yet?
You already know we like to brush our steaks with garlic butter, so why not stuff a burger with butter? Instead of the butter being placed between the burger patty and the bun, to make this burger you wrap the beef around a tablespoon of butter. Before grilling. Which means that amazing butter gets cooked inside with all of the beef juices.
What is the best meat to use for hamburgers?
For the juiciest burgers with the most flavor, use ground chuck, 80% lean. If you go too lean, the burgers will be tough and not as flavorful.
If you have a way to grind meat at home, use freshly ground beef for your grilled burgers. We've done this a handful of times and it is THE BEST flavor.
How to Make Butter Burgers
The most important thing to remember when making any burger is to not overwork the meat. The more you mix and stir the meat, the tougher the hamburger will be.
Break the ground chuck into smaller pieces.
Add the spices and mix (we like to use our hands best!) just until the spices are mixed in.
Split the beef 6 ways equally (or 4 if you like big burgers!)
Place a pad of cold butter into the  center of the meat and form the beef around it so that no butter is showing.
You can pan fry or grill these burgers. Be careful if you are grilling as the butter can cause extra flareups. Grilling the burgers on foil can help prevent flareups.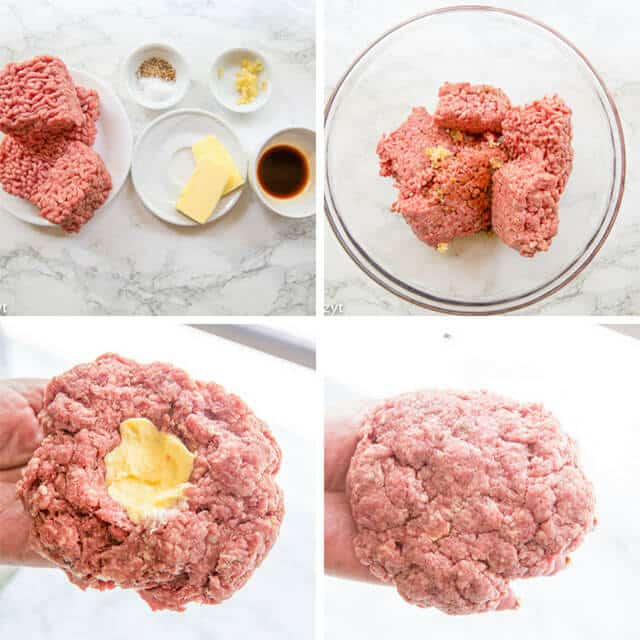 What temperature should a burger be cooked to?
The internal temperature of a burger should be 145 degrees Fahrenheit for medium rare, 150 degrees F for medium well, and 160 degrees F for well done. A digital thermometer is a great tool for summer grilling.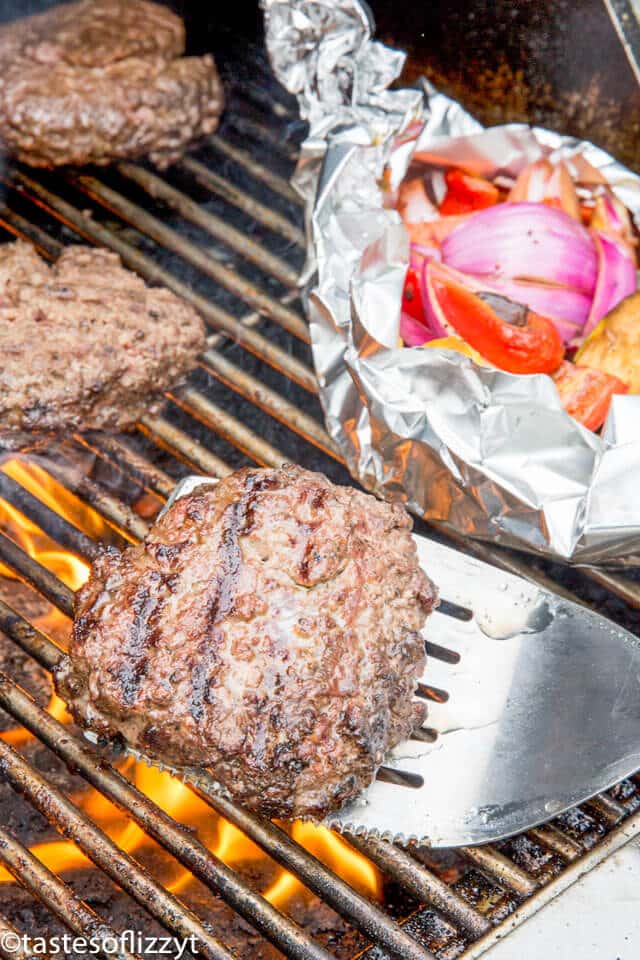 Burger Toppings
This butter burger recipe is good enough to eat without any other sauces, but you can always top it with fresh tomato and onion.
Other Burger Recipes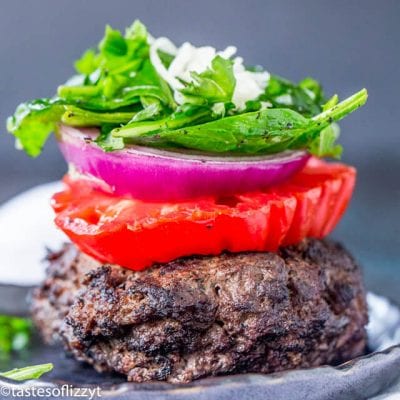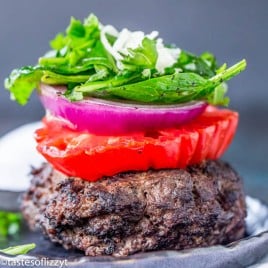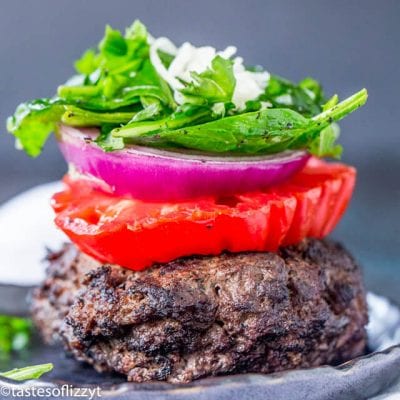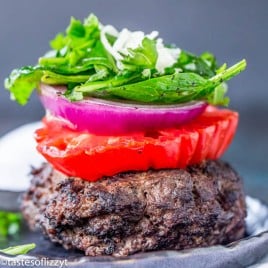 Butter Burger Recipe
The juiciest burger you've ever had! This keto butter burger recipe had a simple, yet amazing flavor. Grill or pan fry for the best burger recipe ever.
---
Ingredients
3

cloves

garlic

2

pounds

ground chuck

(80% lean)

2

tablespoons

Worcestershire sauce

½

teaspoon

pepper

1

teaspoon

salt

6

tablespoons

butter

(make sure it is cold)
Instructions
Using your hands, crumble the ground beef into a bowl.

Mince the garlic and add it to the beef along with the Worcestershire sauce, pepper and salt.

Mix all ingredients just until combined, being careful not to overwork the meat.

Form 6 burgers of equal size.

Press one tbsp of butter into the center of each burger and then wrap the beef around the butter, making sure no butter is showing.

Preheat the grill to 400 degrees Fahrenheit. Once the grill is hot, cook for approximately 6-8 minutes on each side until you achieve the desired doneness.

Make sure you watch the burgers on the grill. The added fat may cause flare ups. You may cook them on a piece of foil to avoid this.

If cooking in a pan cook on med. Heat or 8-9 min on each side. This will result in a medium burger.

Garnish burger with what you like.
Notes
The calories shown are based on the making 6 burgers, with 1 serving being 1 burger. Since different brands of ingredients have different nutritional information, the calories shown are just an estimate.
Nutrition
Calories:
491
kcal
|
Carbohydrates:
1
g
|
Protein:
26
g
|
Fat:
41
g
|
Saturated Fat:
18
g
|
Cholesterol:
137
mg
|
Sodium:
644
mg
|
Potassium:
459
mg
|
Vitamin A:
350
IU
|
Vitamin C:
1.2
mg
|
Calcium:
39
mg
|
Iron:
3.2
mg