Mexican Guacamole Burgers
If you love guacamole, you'll love these Mexican Guacamole Burgers. They've got Mexican seasoning baked inside and homemade guacamole on top!
You know how we're crazy for burgers. We load them with bacon, stuff them with cheese and wrap them around butter (say what??!).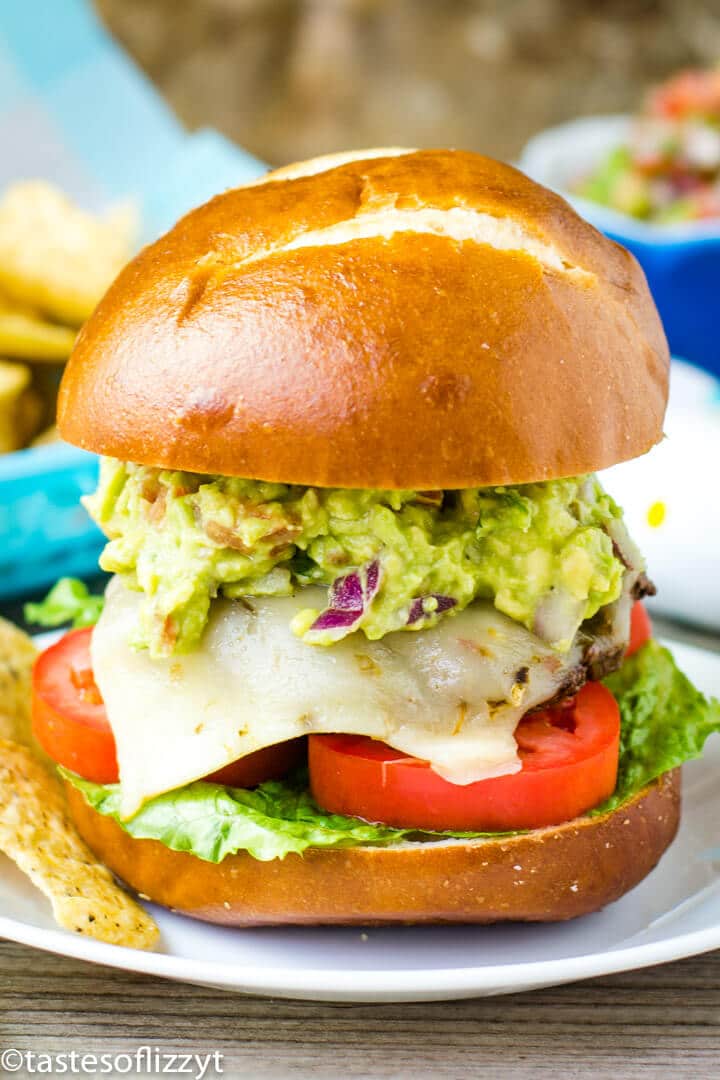 Mexican Guacamole Burgers Recipe
But we also love Mexican food. Any time I get to put two favorites together? It's a win! Today we're sharing one of our favorite summer grilling recipes. There's just nothing like burgers on the grill. Juicy, tender beef loaded with just about any kind of toppings.
Have you ever had the guacamole burger at Red Robin or Steak & Shake? They're one of my favorite things to order. But they are always better made at home.
Easy Burger Recipe
These Mexican Guacamole Burgers are a simple recipe. It's based on another of my favorite grilling recipes, Mexican Steak & Avocado Salsa. We took that Mexican seasoning and mixed it with ground beef, then loaded the burgers with a lot of homemade guacamole.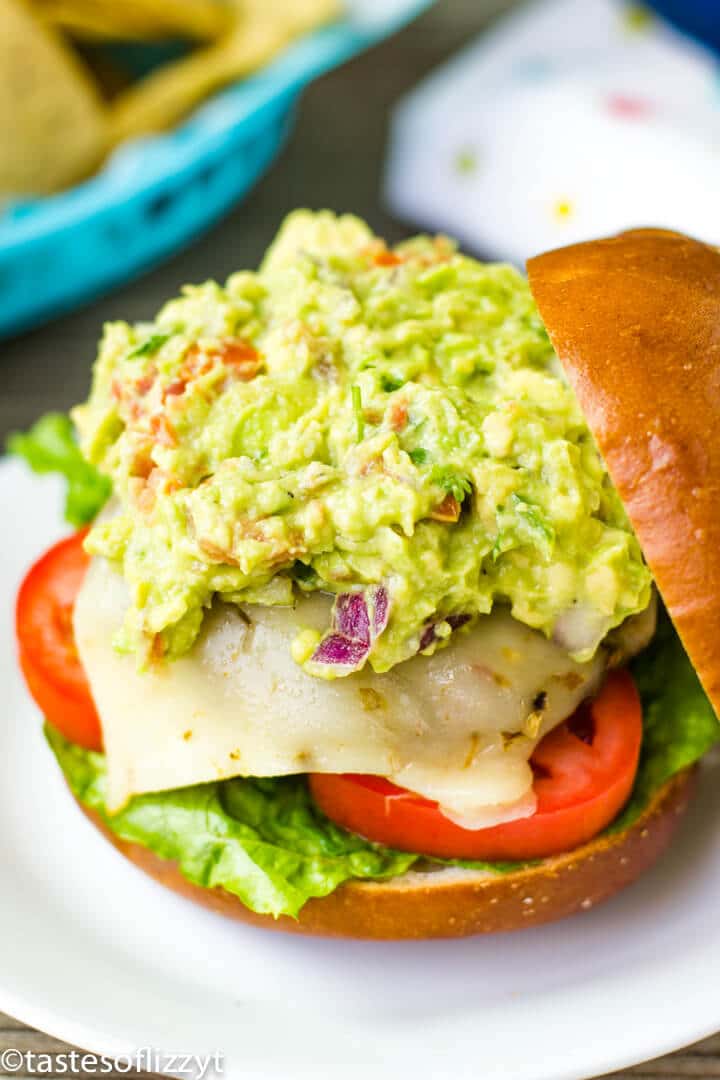 How to Make Mexican Burgers
It's easy to pull these burgers together.
Mix the seasonings together and add to 2 pounds of ground beef.
Make 6 patties and throw them on a grill that has been preheated to at least 400 degrees.
Cook them about 6 minutes on each side, or until they are to your desired doneness.
How do you know when burgers are done on the grill?
Burgers need to be cooked until the internal center is 160 degrees. Use an internal thermometer and be sure to test your burgers for doneness.
Homemade Guacamole
While the burgers are cooking, you can make the homemade guacamole.  Guacamole is fairly easy to make, but does take a few minutes to chop up the veggies. This is our favorite guacamole recipe.
Guacamole is best done the same day you want to eat it.  If you need to make it in advance, try this trick for keeping your guacamole from turning brown found at the kitchn!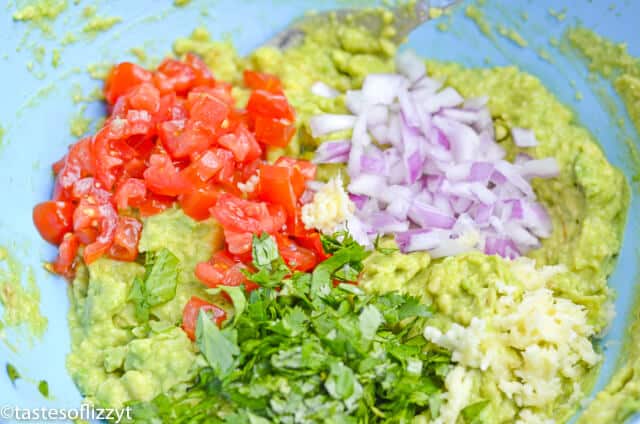 How to Choose a Ripe Avocado
By the way…Do you know how to choose a ripe avocado?  We just started eating them regularly last year, and I'll admit that I had no idea how to know if an avocado was ripe.
Here's some hints for you from Hass Avocados:
Choose an avocado that is darker, rather than lighter in color, since they darken when the ripen.  But you don't want it overripe.
Look for any indentations in the fruit, which can be bruises and mean the fruit is overripe.
Gently squeeze the avocado.  If it gives a little, it is a sign of ripeness. If it is very firm and doesn't "give" at all, it is not quite ripe yet. It should definitely not feel mushy.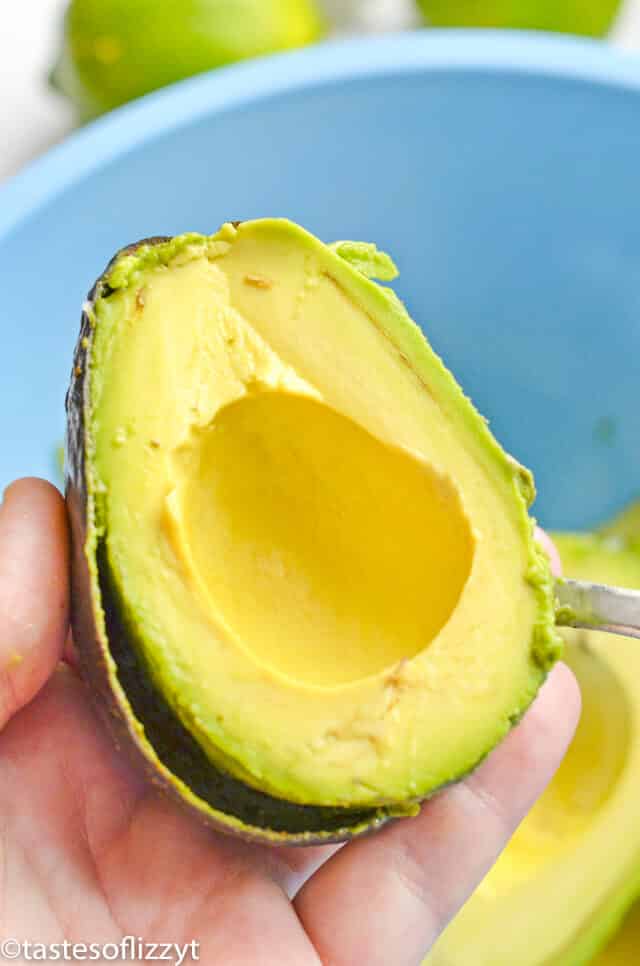 Building the Perfect Burger
After you have the guacamole made up, just add some Pepper Jack cheese slices to the burgers, slice up some tomatoes and throw lettuce leaves on a burger.
And if you've never tried pretzel buns with burgers, you need to.  I surprised the kids by buying these pretzel buns and I definitely got the "Mom of the Day" award. There's just something about soft pretzels that makes my kids' eyes go wide, and when you get a soft pretzel in a bun? Good times are ahead.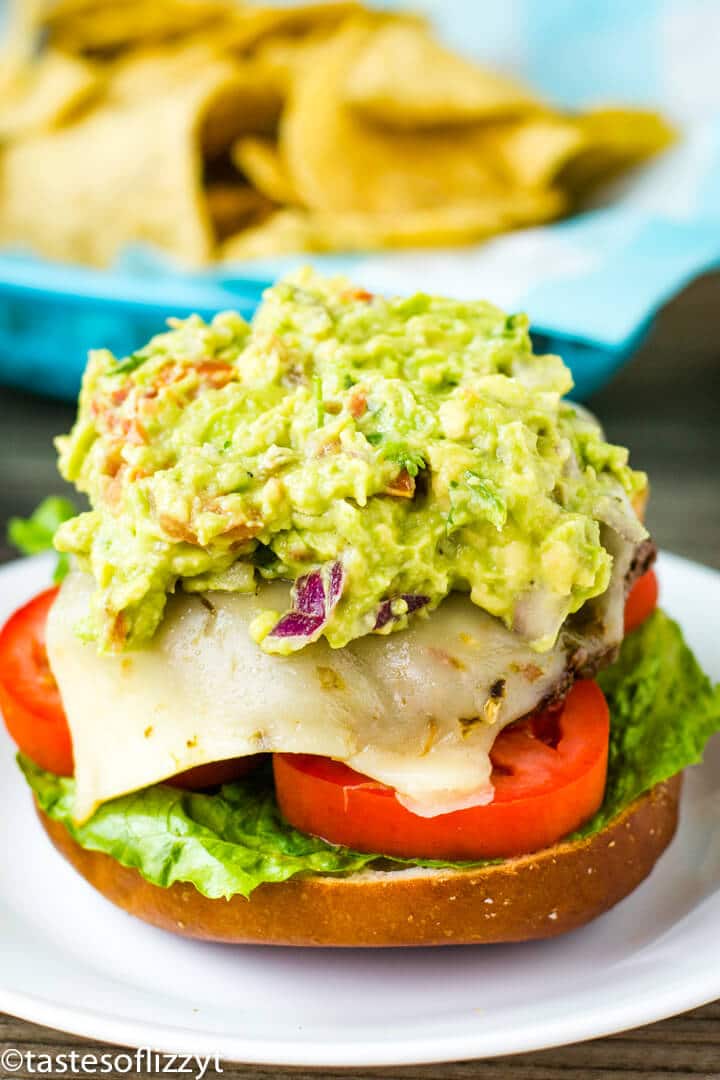 How long are burgers good for in the fridge?
If you have leftover burgers, store them in an airtight container in the refrigerator. You'll want to eat them within 3-4 days of cooking.
What are some good sides for a cookout?
With Mexican burgers, you'll definitely want to add some tortilla chips and homemade salsa. Even a side of pico de gallo would be delicious.
Or you can always go the traditional route with baked beans, potato salad and broccoli salad.
Other Mexican Recipes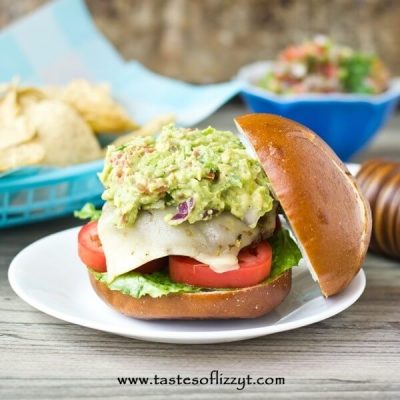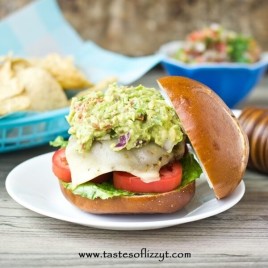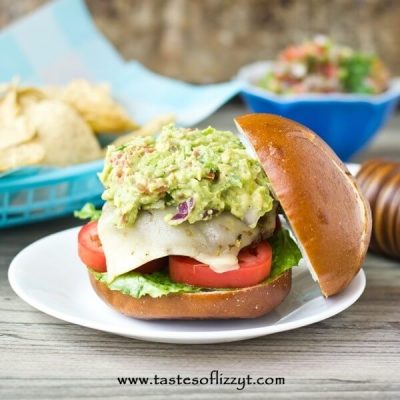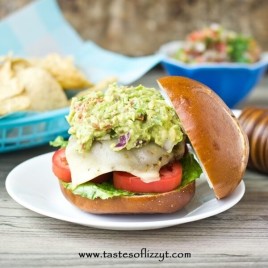 Mexican Guacamole Burgers
If you love guacamole, you'll love these Mexican Guacamole Burgers. They've got Mexican seasoning baked inside and homemade guacamole on top!
---
Ingredients
2

pounds

ground beef

2

tablespoons

smoked paprika

2

tablespoons

chili powder

1

tablespoon

cumin

1

tablespoon

oregano

1

teaspoon

dry mustard

1/2

teaspoon

cayenne

1/2

teaspoon

fresh ground pepper

1/4

teaspoon

salt
Guacamole:
1

avocado

diced

2

small tomatoes

diced

1/4

cup

chopped red onion

1/4

teaspoon

dried cilantro

1/2

teaspoon

garlic

1

teaspoon

lime juice

salt and pepper

to taste
Toppings:
6

slices

pepper jack cheese

6

leaves

lettuce

6

slices

tomato

6

buns
Instructions
Preheat a grill until it reaches 400 degrees. In a bowl, mix together the ground beef and seasonings. Form into 6 patties.

Grill the burgers for about 6 minutes on each side, or until they are cooked as desired.

Mix together the guacamole ingredients in a small bowl.

To put together your sandwiches, place down the bottom bun, then layer the lettuce, tomato, burger, cheese, guacamole, and the top of the bun.

Serve immediately.
Nutrition
Calories:
742
kcal
|
Carbohydrates:
40
g
|
Protein:
40
g
|
Fat:
46
g
|
Saturated Fat:
17
g
|
Cholesterol:
132
mg
|
Sodium:
692
mg
|
Potassium:
802
mg
|
Fiber:
5
g
|
Sugar:
6
g
|
Vitamin A:
2565
IU
|
Vitamin C:
7.5
mg
|
Calcium:
286
mg
|
Iron:
16
mg