Tastes of Lizzy T participates in affiliate advertising programs. We may earn a commission when you make a purchase through links on our site.
Today we're talking all about how to make this Mexican Street Corn recipe, or Elotes! One of the best Mexican side dishes, we'll share tips for getting it on the table quickly.
I have had Mexican street corn in so many different forms…from casseroles to dips to Mexican corn salad. Every single one was is good because the corn flavors are fantastic. The flavors are versatile enough for so many different recipes, but today we're talking about the classic version of street corn: with ears of corn.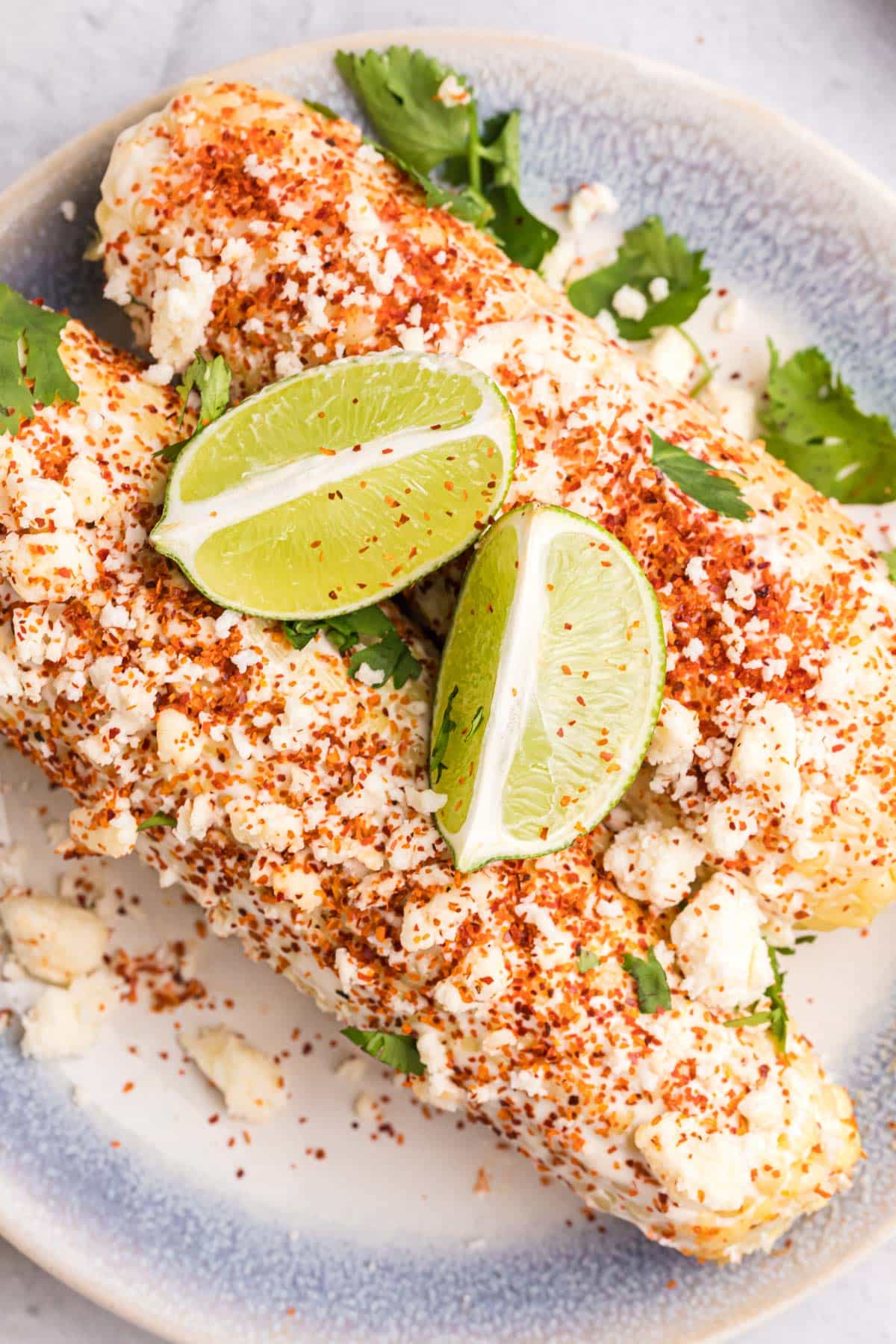 ⭐️ ⭐️ ⭐️ ⭐️ ⭐️ Reader, Alyssa, says, "Made this for dinner tonight. SO GOOD!! I added one tablespoon of miracle whip just for a little extra tang and used freshly grated parm cheese bc I couldn't find the Cotija in my grocery store. 10/10 will be making again soon!!"
What is street corn?
Elotes Mexicanos is the same food as Mexican Street Corn. "Elote" translates to "corn cob", so it's obvious how this Mexican favorite got its name. It is also sometimes called "crazy corn". It's roasted fresh corn, coated with a mayo/sour cream mixture and then dusted with Tajín and Cotija cheese.
We had Elotes Mexicanos when we visited Mexico over 12 years ago. And since then I've loved visiting authentic Mexican restaurants in many different cities and trying it there.
Street Corn Ingredients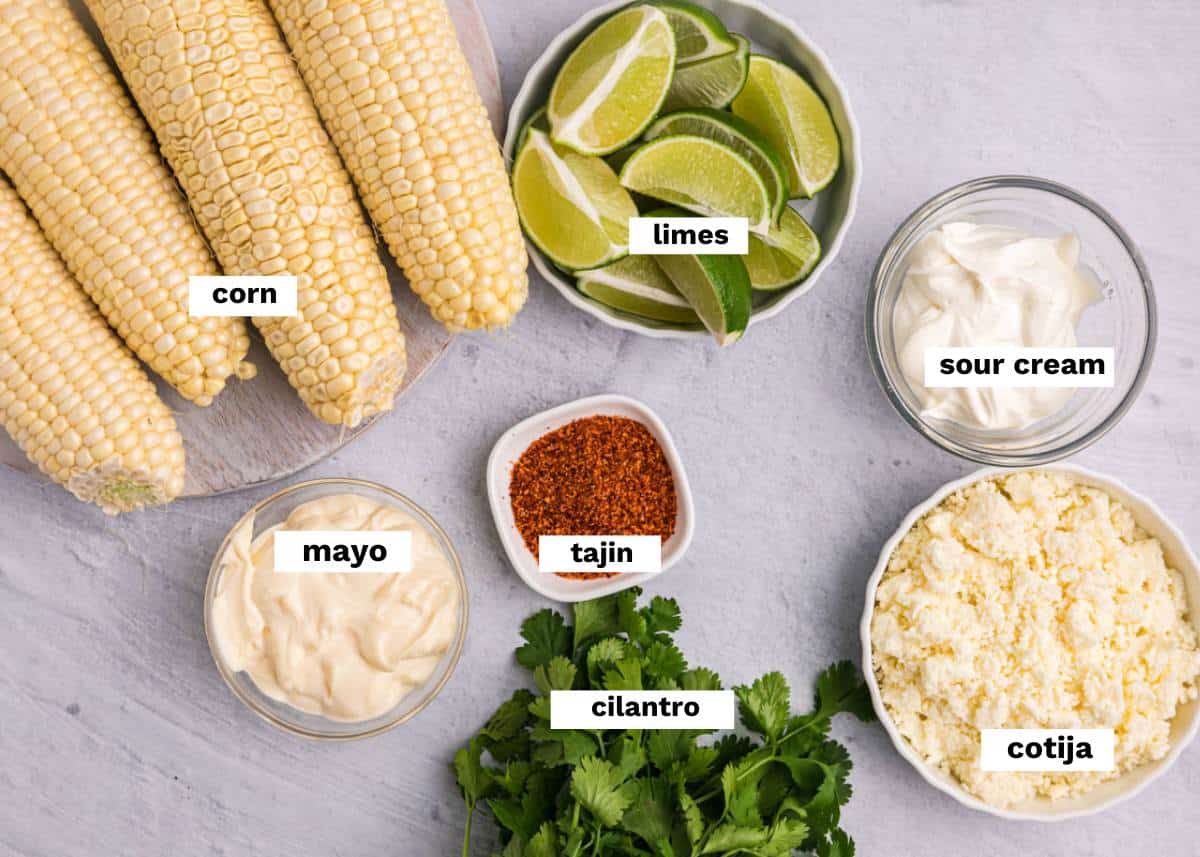 Mayo. Use mayo, not Miracle Whip.
Sour cream. Or use a homemade Mexican crema in place of the sour cream.
Cotija. Cotija is the cheese that is traditionally in this recipe. It has a salty flavor, so really adds to the flavor profile.
Tajín. If you can find this spice mix in the store, make it at home. It has a chili lime (along with salt) flavor that you'll love.
How to Make Mexican Street Corn
The first step to making this crazy corn is to cook the corn.
Cook the corn.
Get a large pan and fill it with water. Bring the water to a boil.
Once the water is boiling, place the shucked corn ears in the water. Cover the pan and turn off the burner.
Allow the corn to sit in the water for 10 minutes, then drain off the water.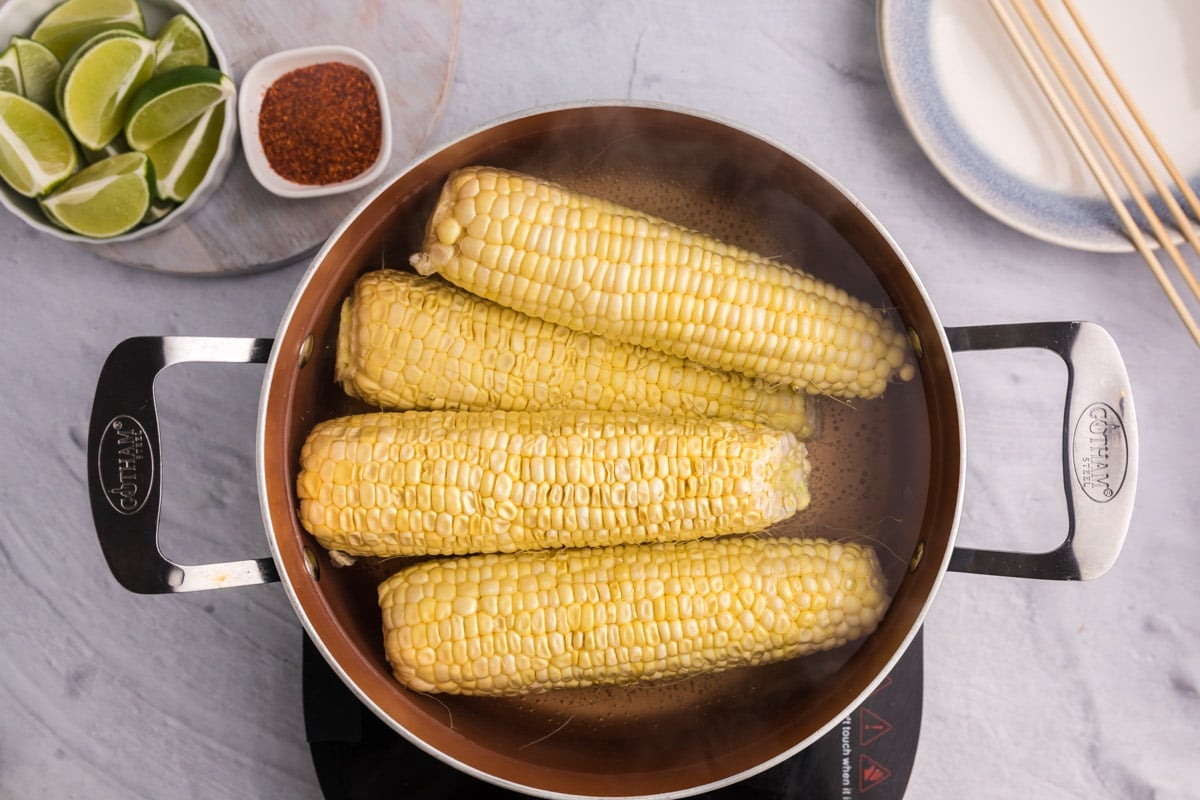 You can also grill corn or oven roast it if you'd like.
Skewer the corn.
Push a long wooden skewer into the corn cob so that you can easily hold the corn. Remember…it's crazy corn and can be messy, so the wooden skewer helps with that.
Brush the corn with mayo mixture.
The next step is to brush the corn with a creamy mayo and sour cream combination. For the best flavor, use mayonnaise instead of Miracle Whip. Be as generous or as light with the mayo sauce as you'd like, but cover the whole ear of corn.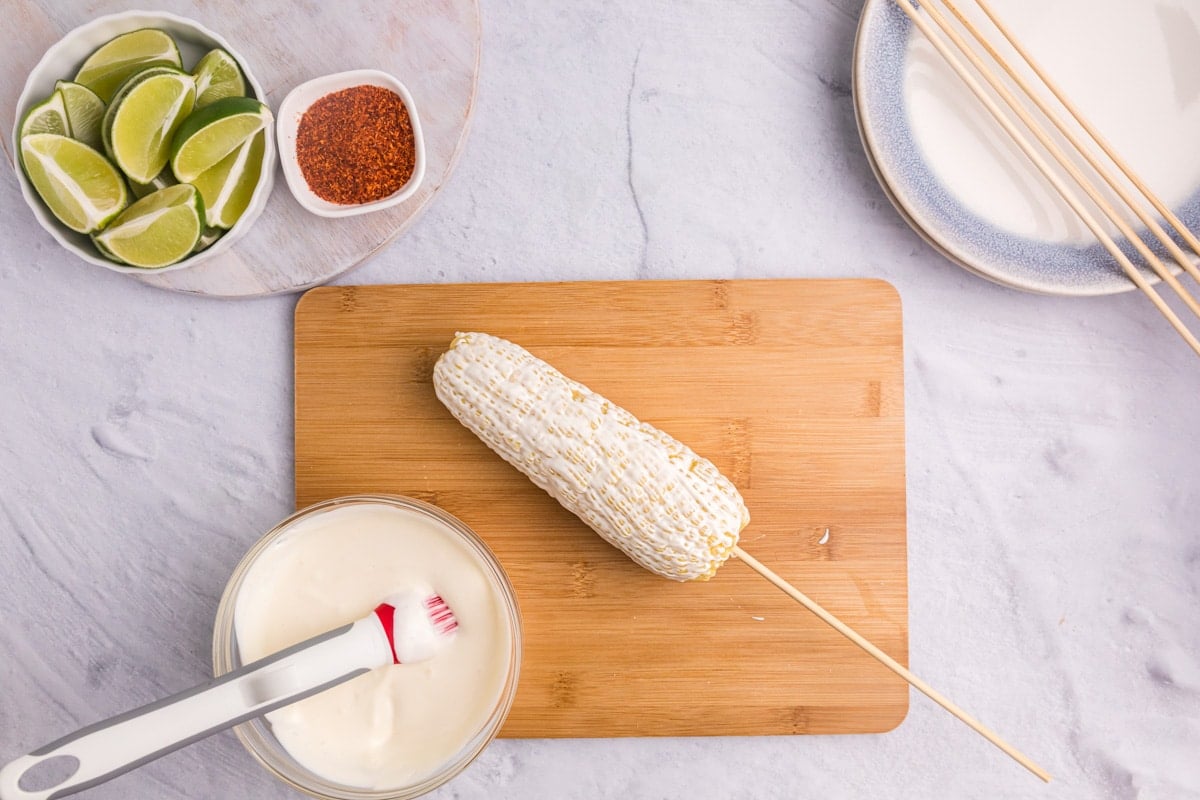 Mexican street corn seasoning.
Then you'll sprinkle with spices. We used Tajín chili powder. This seasoning has a chili lime flavor that you'll love. Note…it is STRONG. You can put as much on as you'd like…some in our family like a little and some like a lot.
And if you don't have Tajín, use your favorite chili powder (ancho chili powder and chipotle chili powder work great).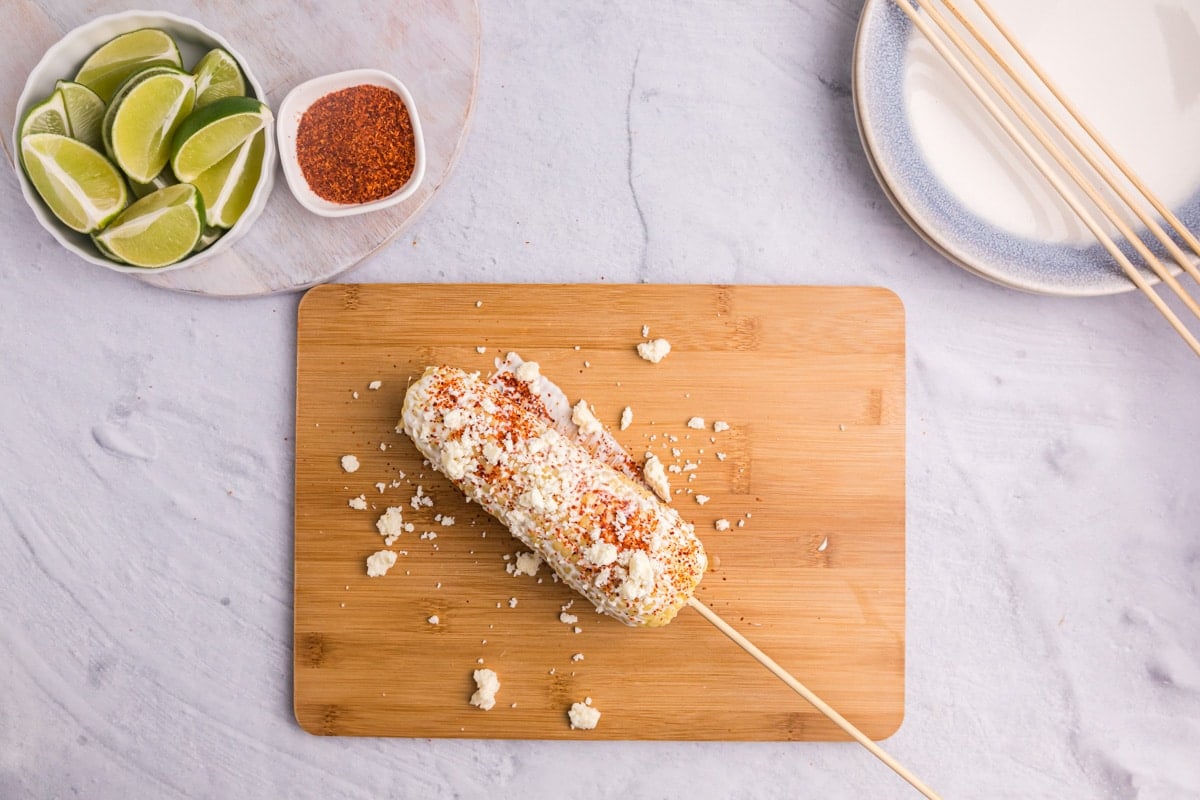 Cotija Cheese.
Lastly, sprinkle the corn with Cotija cheese. This is my favorite part because…cheese!
Mexican Street Corn Toppings
When you buy street corn at a restaurant or from a street vendor, it can have many different toppings: sprinkle with lime juice or chopped cilantro….or get crazy and put bacon on top. Yes!!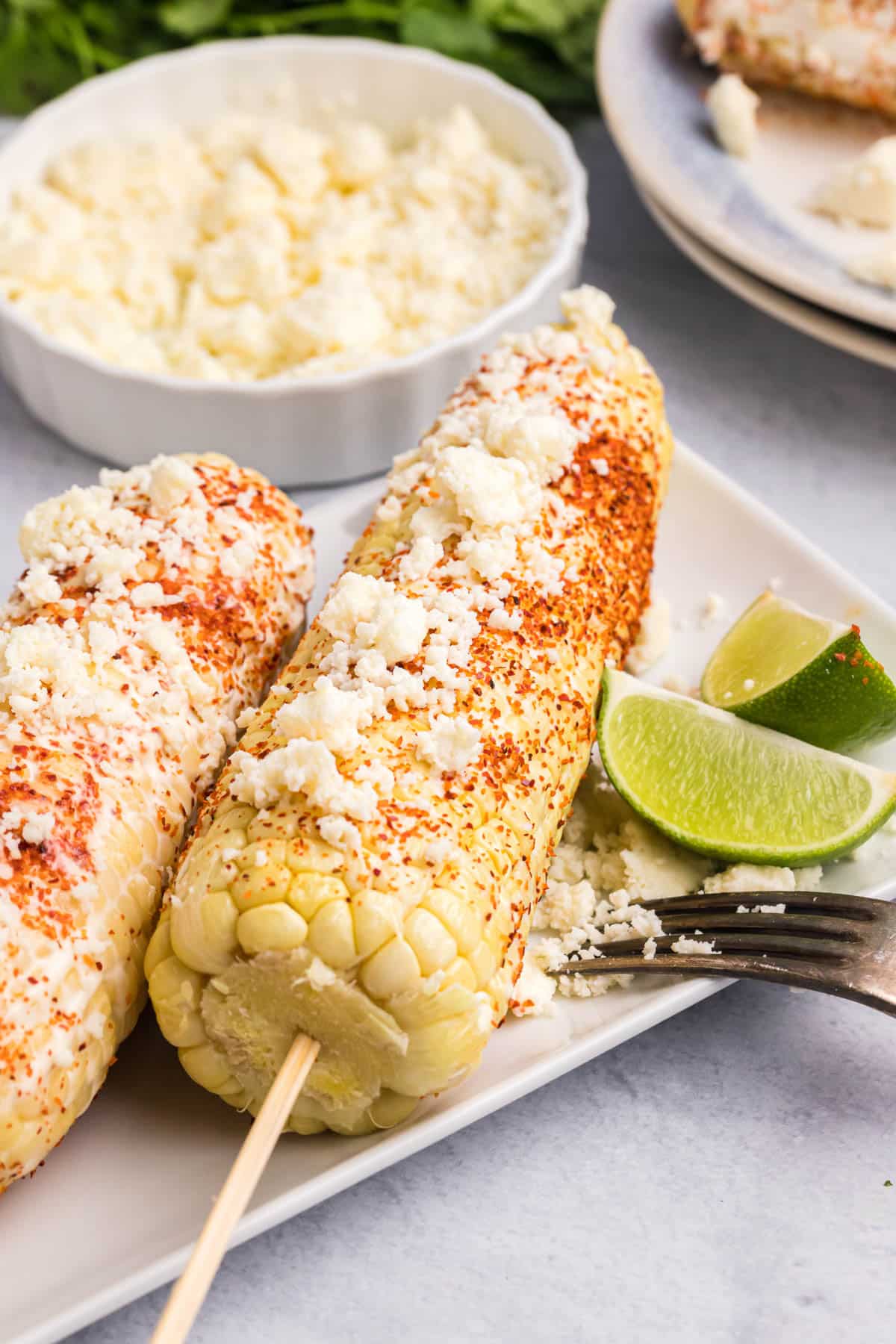 What to Serve with Mexican Street Corn
This is a classic side dish that pairs so well with any one of these:
Black Beans
Tortilla chips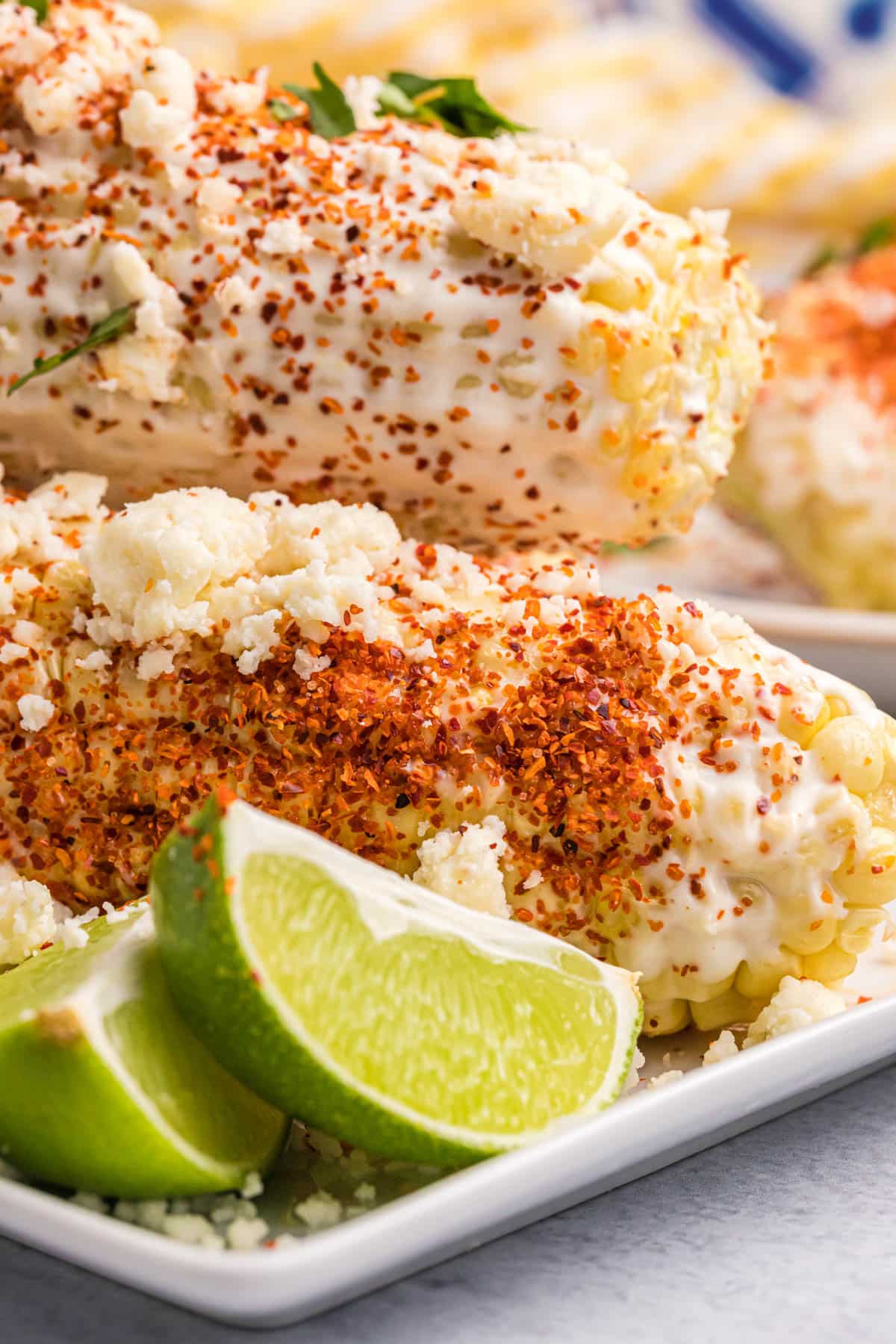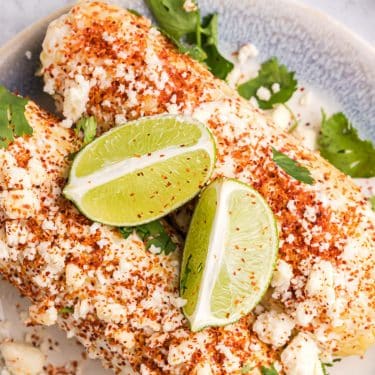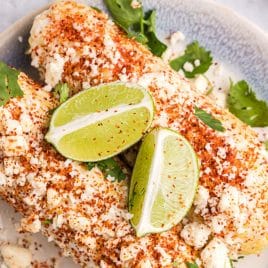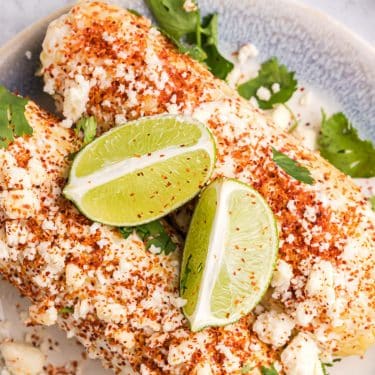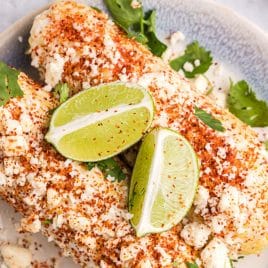 Mexican Street Corn
Today we're talking all about how to make Mexican Street Corn, AKA Elotes! One of the best Mexican side dishes, we'll share tips for getting it on the table quickly.
---
Ingredients
2

corn

remove husks

2

tablespoons

mayonnaise

(or as desired)

2

tablespoons

sour cream

(or equal parts if you use more mayo)

2

teaspoons

Tajin seasoning

(or more as desired)

¼

cup

cotija cheese

Lime wedges

for serving
Instructions
In a large pot add in about 6 cups of salted water. Bring to a boil and add in corn. Cover the pot, turn off the heat and allow the corn to sit in the hot water for 10 minutes.

Remove corn from the pot allow it to cool, and push a wooden skewer into the corn.

In a small bowl, mix together the mayo and sour cream.

Brush the mayonnaise mix generously on the sides of the corn.

Spoon Tajin seasoning over the corn, then sprinkle cotija cheese on top.

Serve with lime wedges.
Notes
The calories shown are based on the recipe making 2 ears of corn, with 1 serving being 1 ear of corn. Since different brands of ingredients have different nutritional information, the calories shown are just an estimate. **We are not dietitians and recommend you seek a nutritionist for exact nutritional information.**
Nutrition
Calories:
168
kcal
|
Carbohydrates:
1
g
|
Protein:
3
g
|
Fat:
16
g
|
Saturated Fat:
5
g
|
Cholesterol:
28
mg
|
Sodium:
307
mg
|
Sugar:
1
g
|
Vitamin A:
155
IU
|
Calcium:
106
mg
|
Iron:
0.1
mg
Frequently Asked Questions
Can Greek yogurt replace mayo in Mexican street corn?
The short answer is yes, you can replace mayonnaise with Greek yogurt for Mexican street corn. It will change the flavor slightly, but if you are used to making that substitution regularly anyway, then you should enjoy it.
I like spice. How can I make this spicier?
Try adding a dash of cayenne pepper.
Can I use frozen corn on the cob?
I haven't tried this recipe with frozen corn, but if you are used to eating frozen corn, it should work.
What other toppings can I put on Mexican street corn?
Get creative with lime zest, red onion, feta cheese or garlic. Have other ideas? Leave them below so we can try them out!
Can I make this in a bowl instead?
Yes. Esquites is a street food that is all of the ingredients and flavors of street corn on the cob, but the corn kernels are cut off and served in a bowl. It's easier to eat and much less messy.
Other Mexican Recipes