How to Make Steak Fajitas
Tastes of Lizzy T participates in affiliate advertising programs. We may earn a commission when you make a purchase through links on our site.
Learn how to make sizzling steak fajitas just like you get in your favorite Mexican restaurant! Find out what type of steak is best and how to season the beef for a delicious flavor.
Matt is crazy for steak fajitas. We love going to locally owned Mexican restaurants and without fail Matt orders the steak fajitas. Although I usually choose a taco salad or chicken & rice dish, I'll admit that when the server delivers the sizzling steak fajitas to our table, we all ooooo and ahhh.
Have you ever wondered how to make sizzling steak fajitas at home? This is how you do it. And I'll give you tips on how to get that sizzle, too.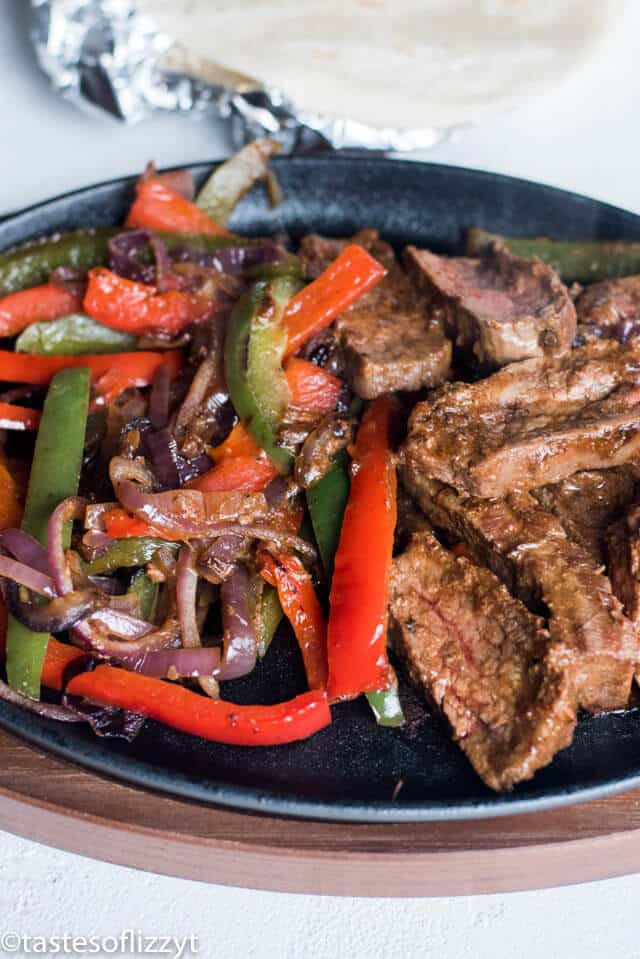 About this Steak Fajitas Recipe:
Flavor: The flavor comes from the steak strips being rubbed with fajita seasoning that has spices including cumin, paprika and chili powder. It has just the right amount of spice.
Texture: Steak fajitas are loaded with texture. Tender steak, sautéed veggies and soft flour tortillas.
Method: To get the best flavor, you'll grill the steak, then sauté the veggies on the stovetop, but then you'll also use the oven to heat the cast iron skillets for the sizzle. It's a few steps, but so worth it.
Best Steak for Fajitas
There are several different steak cuts that are traditionally used for steak fajitas. The flour common cuts are:
hanger steaks
flank steaks
trip-tip steaks
skirt steaks
Our grocery store regularly has flank steaks, so that's what I use. It is a fairly tender cut of beef, which is one of my requirements of steak. If your grocery store carries skirt steaks, definitely pick up that cut for a delicious fajita.
Fajita Seasoning
To marinate or to season? That's the question! We'll be sharing our fajita steak marinade recipe soon, but when you need something more last-minute for dinner and don't have time to marinate, fajita seasoning is the way to go.
For the best flavor, use our homemade fajita seasoning recipe. We make up a big batch of this and keep it on hand for quick dinners. I rub 3-4 tablespoons of fajita seasoning into a 1 ½ pound steak, but you can easily control the amount of spice by adding a little less or even a bit more.
In a shortcut, you can buy packets of fajita seasoning.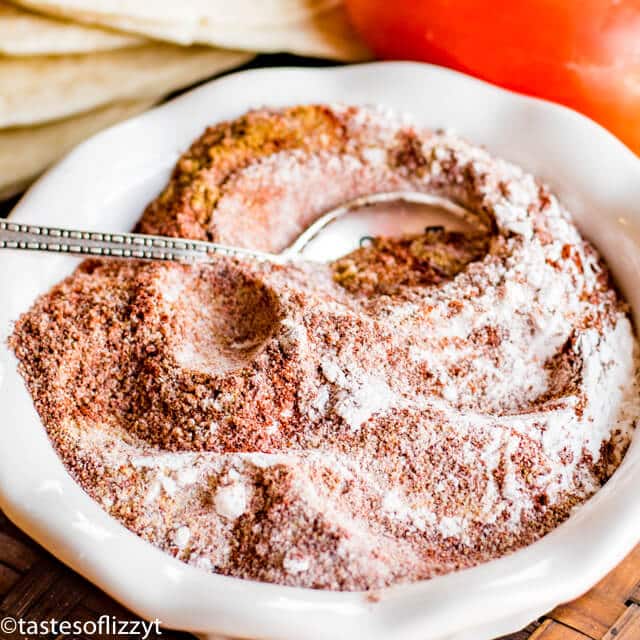 How to Make Fajitas
Making fajitas at home is quite easy. It does have several steps that if you do in the right order will make the process a little faster.
Be sure to remove the steak from the refrigerator and season it at least 30 minutes before you grill it. This will allow the seasoning to soak in and the steak to cook more evenly.
If you don't have a grill, fry the steak in a skillet over medium-high heat. Your steak fajitas will be just as good!
Cook the steak to the doneness you'd like. See the recipe box below for different internal temperatures.
Allow the steak to rest for 5 minutes before you slice it. This will help seal in the juices.
Preheat the oven to 400ºF. You don't actually cook food in the oven, but you'll heat the fajita skillets so that you can serve dinner up with a sizzle. Be sure to do this before you start the vegetables. Sometimes we even do this step first so the skillets can be nice and hot at serving time.
Heat a skillet on the stovetop with a little oil. Slice your vegetables and fry them up in that hot oil. Don't cook the vegetables too long. You want them to still be a little crisp.
To slice the steak, cut it once down the middle, then cut it against the grain into slices. If you end up with tough pieces of steak, most likely you cut it the wrong way. Cutting it against the grain breaks up those long strands of protein and gives you a tender bite of steak.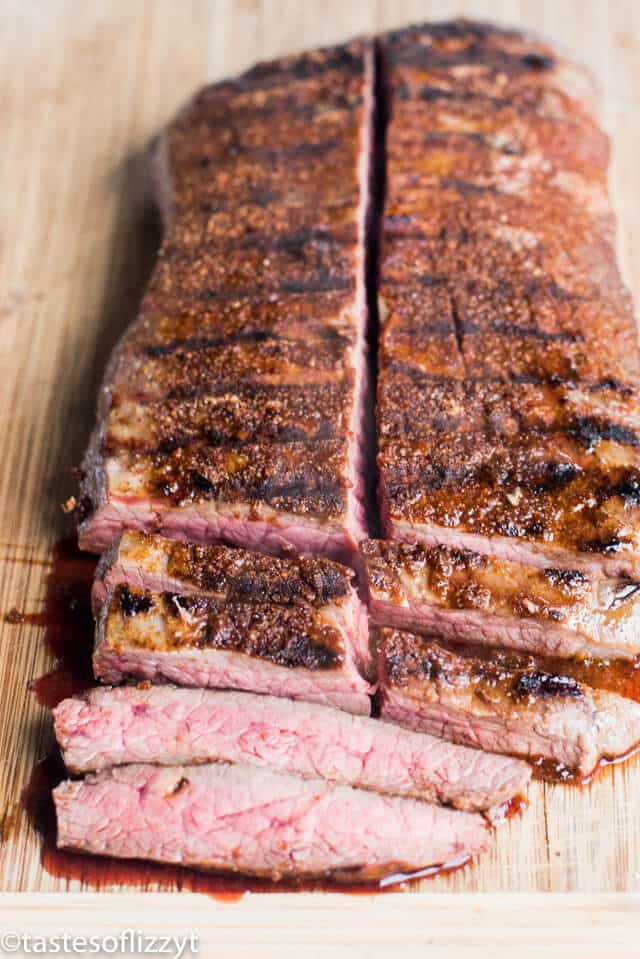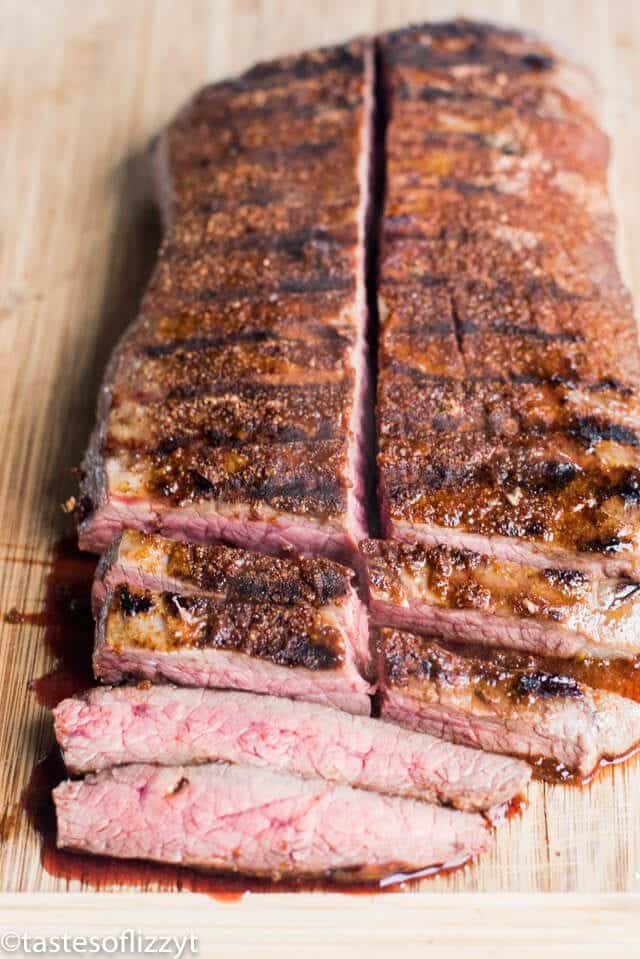 The hard part is done! Pull the fajita skillets out of the oven and arrange the meat and veggies on the hot skillet. Serve it right away. It will sizzle for 1-2 minutes, so be sure all of your toppings are ready to go so you can serve up the "wows".
It's important to remember those skillets will be HOT! The fajita skillets we use come with little handle pot holders which helps, but be careful when serving the hot skillets that no one touches. it.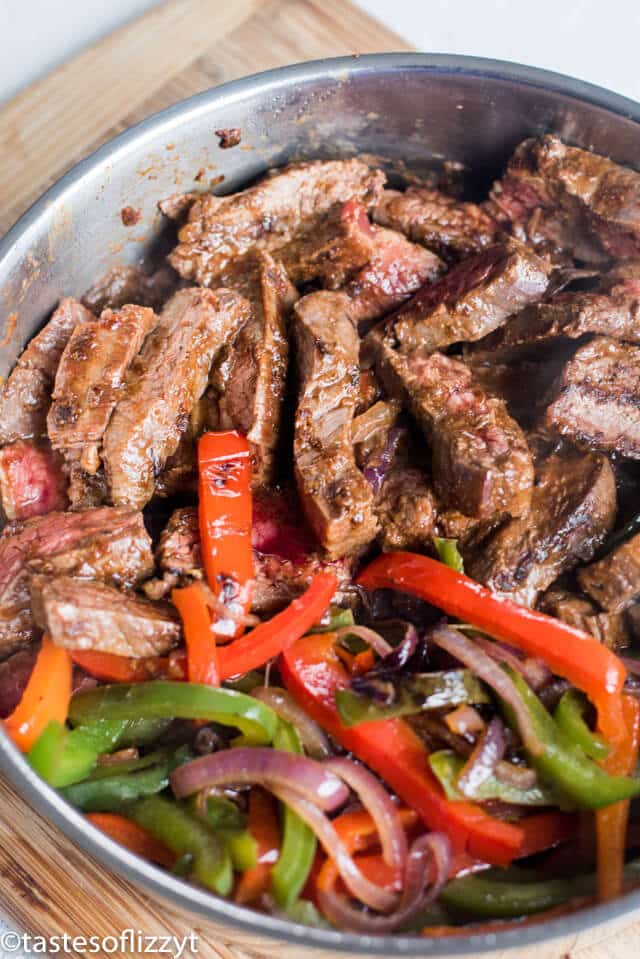 What to Serve with Beef Fajitas
What are the best topping for fajitas? You'll definitely want some warm tortillas to wrap around the delicious beef & veggie mixture. From there it is up to you. We love fajitas with a little guacamole, pico de gallo, slices of lime, sour cream and a side of rice. Add cheese and fresh lettuce or fresh homemade salsa if you'd like.
Recipe Variations
Use chicken breast or chicken thighs to make chicken fajitas.
Use lettuce as a base to make a fajita salad. Add chopped cilantro on top and drizzle lime juice over the top for garnishes.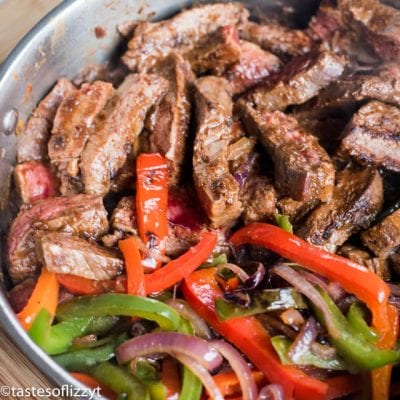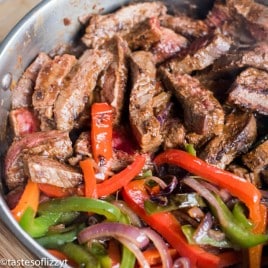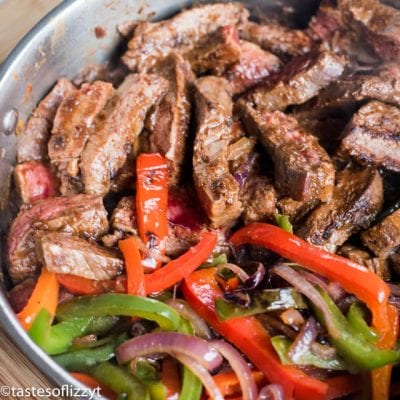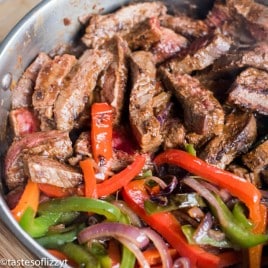 Sizzling Steak Fajitas
Learn how to make sizzling steak fajitas just like you get in your favorite Mexican restaurant! Find out what type of steak is best and how to season the beef for a delicious flavor.
---
Ingredients
1 1/2

pounds

flank steak

4

tablespoons

fajita seasoning

2

tablespoons

olive oil

1

large

red onion

1

red bell pepper

1

green bell pepper

salt and pepper

(to taste)
Optional Toppings:
flour tortillas

shredded cheddar cheese

sour cream

guacamole
Instructions
*Remove the flank steak from the refrigerator 30 minutes before grilling.*

Rub the fajita seasoning into both sides of the steak and allow it to rest for 30 minutes.

Place the steak on the grill and cook for 4-6 minutes on each side, until the internal temperature reaches the desired doneness.*

Remove the steak from the grill and allow it to rest for 5 minutes before slicing.

Heat the oven to 400ºF. Place the cast iron fajita skillets into the oven for at least 20 minutes in order to get a good sizzle.

While the fajita pans are heating, heat the oil in a skillet on the stovetop over medium heat.

Slice the onions and peppers into thin slices.

Add the vegetable slices to the hot oil and fry until they are tender, yet still crisp. Season with salt and pepper, to taste.

While the vegetables are cooking, slice the steak down the middle (if it is a wide steak), then slice it against the grain the size steak slices you'd like.

When the vegetables and fajita skillets are ready, remove the cast iron skillets from the oven adn quickly arrange the beef and peppers on it. It will immediately start to sizzle.

Serve the sizzling skillets with warm tortillas and other fajita toppings of your choice.
Notes
*Medium-rare (145 degrees F)
Medium (160 degrees F)
Well Done(170 degrees F)
**The calories shown are based on the recipe making 6 fajitas, with 1 serving being 1 fajita and 1 tortilla. Since different brands of ingredients have different nutritional information, the calories shown are just an estimate. **We are not dietitians and recommend you seek a nutritionist for exact nutritional information. The information in the nutrition box are calculated through a program and there is room for error. If you need an accurate count, I recommend running the ingredients through your favorite nutrition calculator.**
Nutrition
Calories:
297
kcal
|
Carbohydrates:
17
g
|
Protein:
27
g
|
Fat:
12
g
|
Saturated Fat:
3
g
|
Cholesterol:
68
mg
|
Sodium:
267
mg
|
Potassium:
509
mg
|
Fiber:
1
g
|
Sugar:
2
g
|
Vitamin A:
695
IU
|
Vitamin C:
41.3
mg
|
Calcium:
58
mg
|
Iron:
2.9
mg
Tools to Make Sizzlin' Fajitas
Other Mexican Recipes