Tastes of Lizzy T participates in affiliate advertising programs. We may earn a commission when you make a purchase through links on our site.
Love steak and potatoes? Try this easy Steak and Potato Salad. Oven fried potatoes, tender steak, cheese, onion and bacon all on top of a bed of spring lettuce. Don't forget the simple 2-ingredient dressing!
I was thinking about steak and potatoes, a classic comfort meal that my husband loves, when the idea of this steak and potato salad started formulating in my mind.
Steak always goes with potatoes. What goes with potatoes? Cheese…bacon…onion…sour cream…And I wondered why I had never put them into a salad before. It was one of those ideas that was the cause of me making a special trip to the store to get the ingredients I needed. I just had to try this.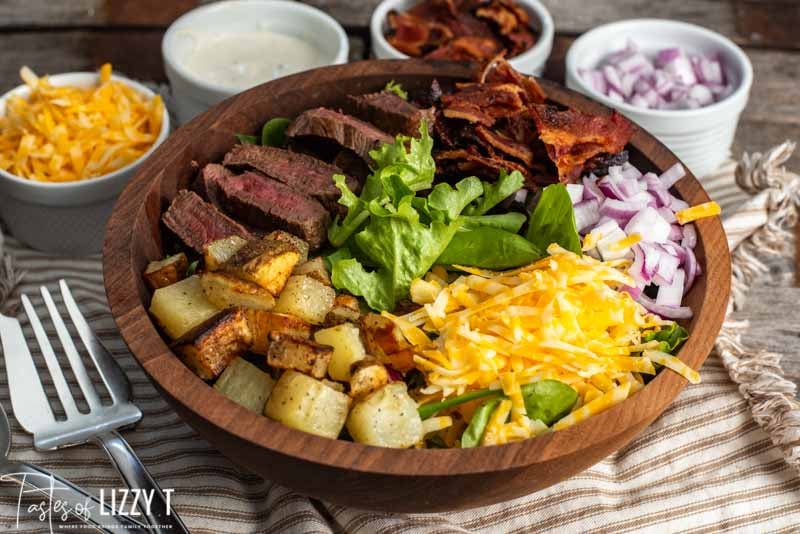 The results? Love at first bite. My family swooned, if swooning is still a thing.
Why you'll love this recipe:
a complete meal in one salad
delicious flavors of juicy steak and golden brown potatoes
savory toppings such as bacon, onion and cheddar cheese
a simple ranch dressing
How to Make Steak & Potato Salad
This salad may seem like it will take a long time to put together, but there are several things you can do to meal prep and make it go faster.
Put the bacon in the oven to start it cooking.
Cut the potatoes and get them roasting in the oven. Or, if you have an air fryer, use that!
Cook the steaks. This will probably the quickest part. It doesn't take long for steaks to get to a beautiful medium rare. This is also a great recipe if you have leftover steaks. Just slice and serve.
While the steaks are cooking you can prepare the rest of the salad ingredients: dressing, cheese and onion.
Sour Cream Ranch Dressing
I made a simple 2 ingredient dressing of ranch dressing and sour cream to drizzle overtop the salad. The cool creamy dressing was the perfect match to the beef and bacon.
If you're looking for an unique dinner salad, give this a try!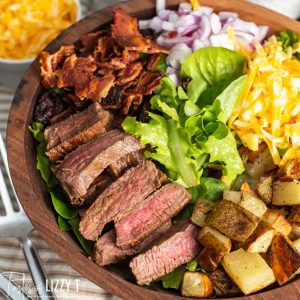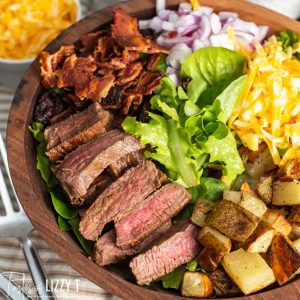 Steak and Potato Salad
Love steak and potatoes? Try this easy Steak and Potato Salad. Oven fried potatoes, tender steak, cheese, onion and bacon all on top of a bed of spring lettuce. Don't forget the simple 2-ingredient dressing!

---
Ingredients
For the potatoes:
4

Russet potatoes

washed and dried

3

tablespoons

olive oil

1/2

teaspoon

garlic powder

1/4

teaspoon

salt

to taste

1/4

teaspoon

pepper

to taste
For the steak:
1 1/2

pounds

Certified Angus Beef® petite sirloin steak

salt & pepper

to taste
For the dressing:
1/3

cup

ranch dressing

1/4

cup

sour cream
Other salad ingredients:
6

ounces

shredded cheddar cheese

8

ounces

bacon

cooked and crumbled

1

medium

red onion

diced

8

cups

spring lettuce
Instructions
Preheat the oven to 450 degrees Fahrenheit.

Cut the potatoes into 1 inch chunks and place them in a bowl.

Toss the potatoes with the olive oil, salt and pepper.

Spray a baking sheet with cooking spray. Arrange the potatoes in a single layer on the baking sheet.

Bake for 25-30 minutes, turning the potatoes once in the middle of cooking to brown on all sides. Bake until the potatoes are tender and golden brown.

While the potatoes are baking, sprinkle the steaks with salt and pepper.

Heat a grill to 400 degrees or a frying pan to medium heat. (If you are using a frying pan, spray the pan with cooking spray.)

Place the steaks on the hot grill and cook for 4 minutes, then turn the steaks and cook for an additional 4-6 minutes or until the steaks are cooked through to the desired temperature and doneness.**

Place the steaks on a plate and allow them to rest for 3-4 minutes. Then slice the steaks into thin slices, cutting across the grain.

Place the lettuce in a large bowl or on 4 separate plates.

Top the lettuce with the grilled steak slices, cheese, onion, bacon and potatoes.

In a small bowl, combine the ranch dressing and sour cream until well mixed.

Drizzle the dressing over the salad and serve immediately.
Notes
Medium Rare: 135 degrees
Medium: 145 degrees
Medium Well: 150 degrees
Well Done: 160 degrees
Frequently Asked Questions
What are the best steaks to use?
New York strip steak, ribeye, filet mignon or petite sirloin steaks are great for this recipe. Just remember to slice it across the grain so the steak is tender.
Can you use frozen potatoes?
Yes! If you want to save chopping time, use frozen cubed potatoes and bake as the package suggests.