Bacon Cheddar Egg Salad Sandwiches
Bacon makes everything better, right? Jazz up your lunch with these savory Bacon & Cheddar Egg Salad Sandwiches. Perfect for school lunches!

Lunches tend to be a time of slight chaos in this homeschooling family's house.  Three kids, all making different lunches at the same time, excited that the hardest part of their school day is over equals one loud, crazy time.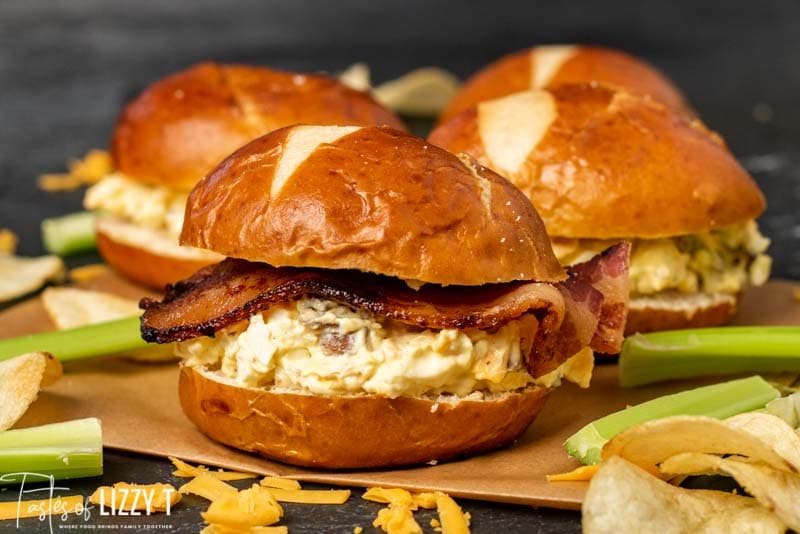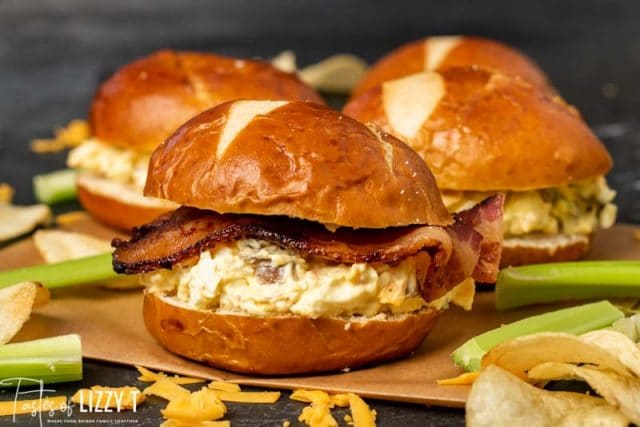 I realize I could make this time easier by preparing a lunch for them and requiring that they eat whatever I fix. Let's get real, though. If I get dinner on the table for everyone, I'm doing good. Adding a set lunch to the mix is just more than I want to think about.  
Besides, I like to give the kids a time to get creative in the kitchen on their own. It's fun to see them get so excited about a new version of a tortilla roll-up or even sauteed veggies that they have prepared themselves.
Egg Salad with Bacon
One of my favorite lunches to fix is egg salad sandwiches. It's easy to pack, easy to throw together into a bun or on special occasions, a croissant. It's especially delicious when we add bacon and cheddar cheese. You'll love the salty bacon paired with the creamy egg salad and full-flavored sharp cheddar cheese that this sandwich mix holds.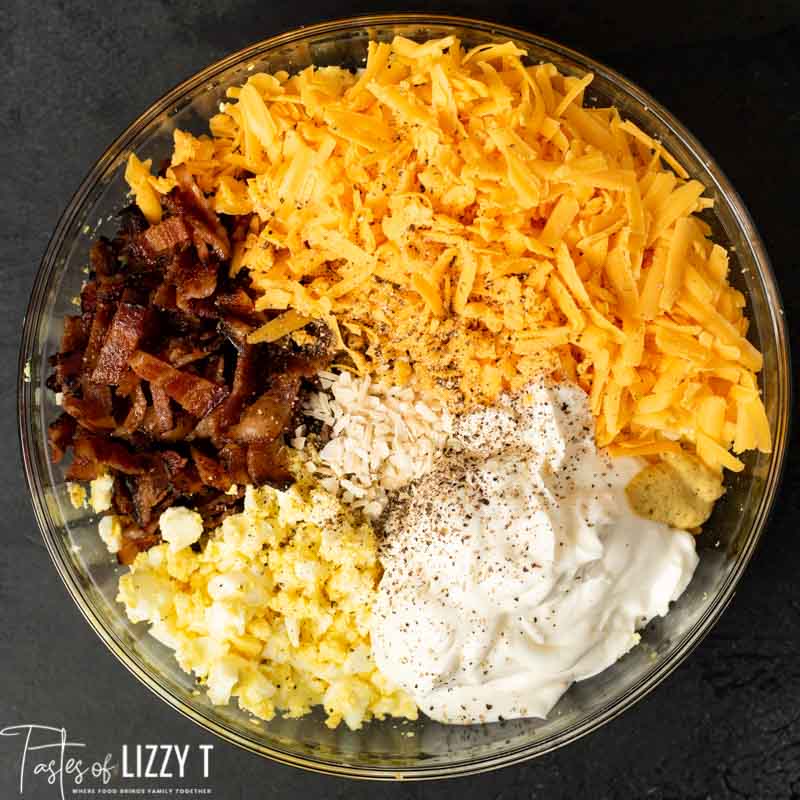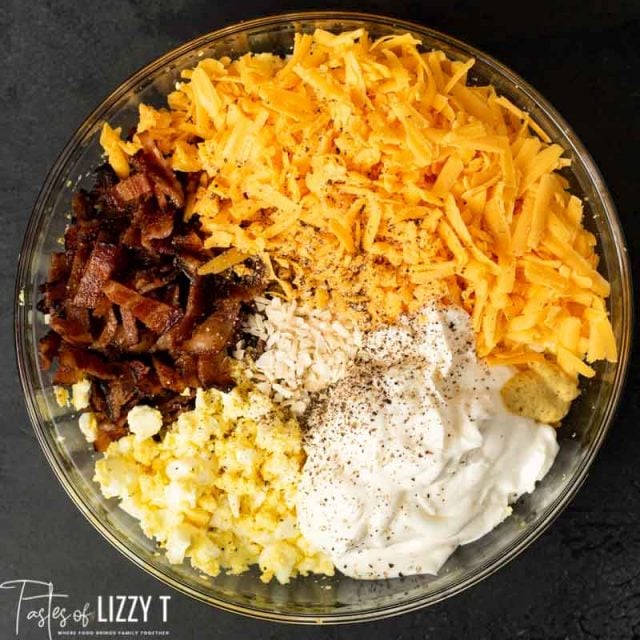 What is the best way to hard boil eggs?
In the past we always hard boiled eggs on the stovetop in a pot of boiling water. But being a busy mom, there were times I totally forgot about them. Oops!
Now we make hard boiled eggs in the Instant Pot. It's the easiest method and they come out perfectly, every time.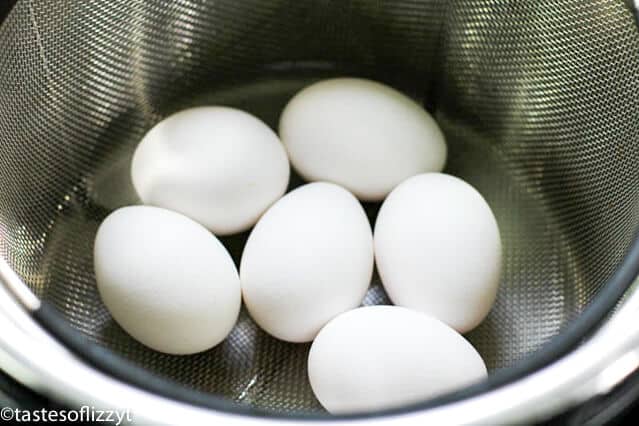 How do you cut eggs for egg salad?
After you've hard boiled the eggs and peeled them, it's time to chop them. This is another method we've changed over the years.
You can use a knife and cutting board to slice and chop the eggs. It's easy enough. But we take our pastry cutter and chop the eggs this way. It is super easy and you can keep the mess in the bowl.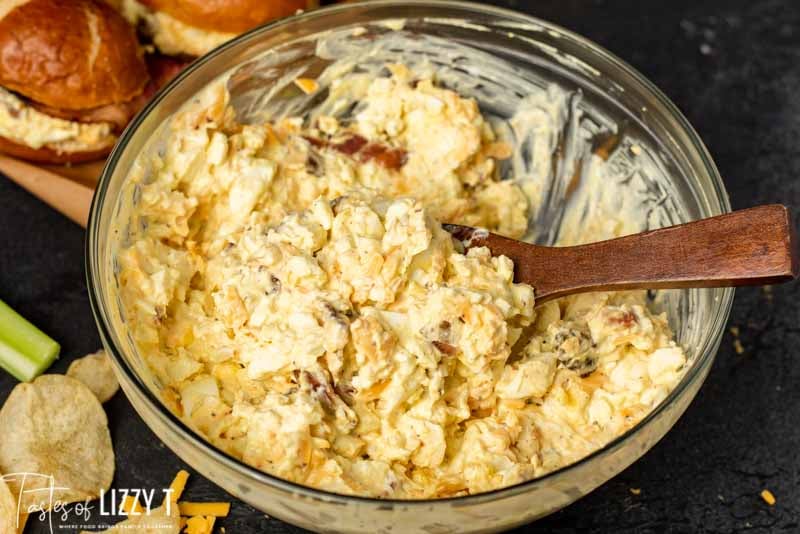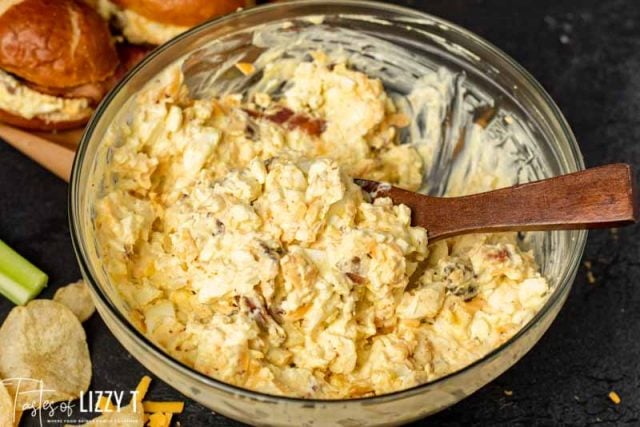 How to Make Egg Salad
Making our bacon and cheddar egg salad takes a little bit of prep time to cook the eggs and bacon. But after that, you just mix it up and serve. In fact, it is a great way to use leftover Easter eggs or slices of bacon from a pancake breakfast.
Prepare. Hard boil the eggs and cook the bacon.
Chop. Chop the eggs and bacon.
Mix. Mix all of the ingredients together.
Then serve!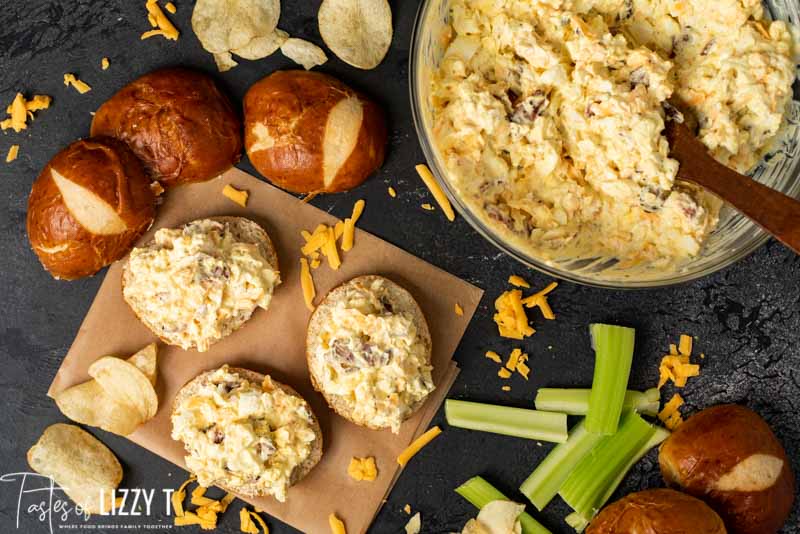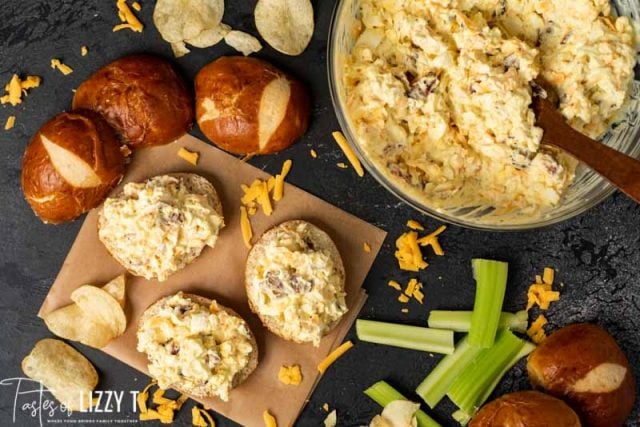 What type of bread is best for egg salad sandwiches?
White bread is always a classic, but here are some other fun options:
croissants
pretzel buns
nut breads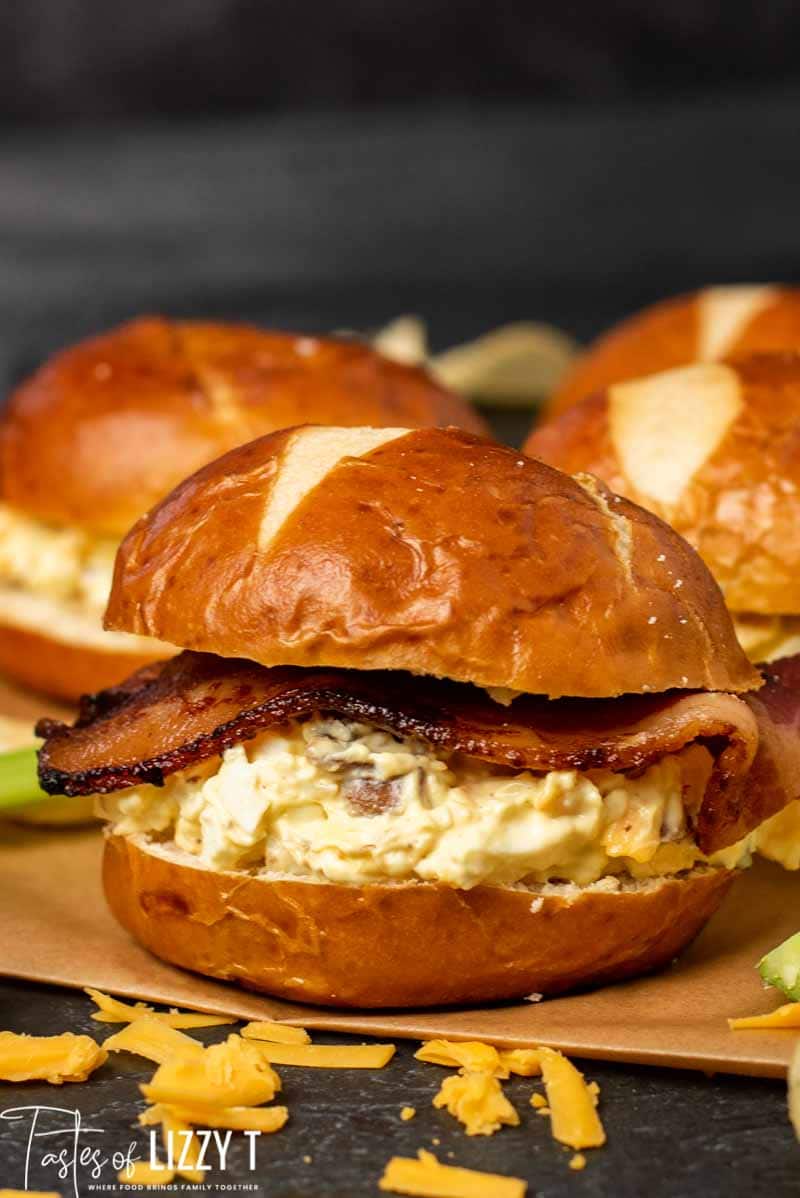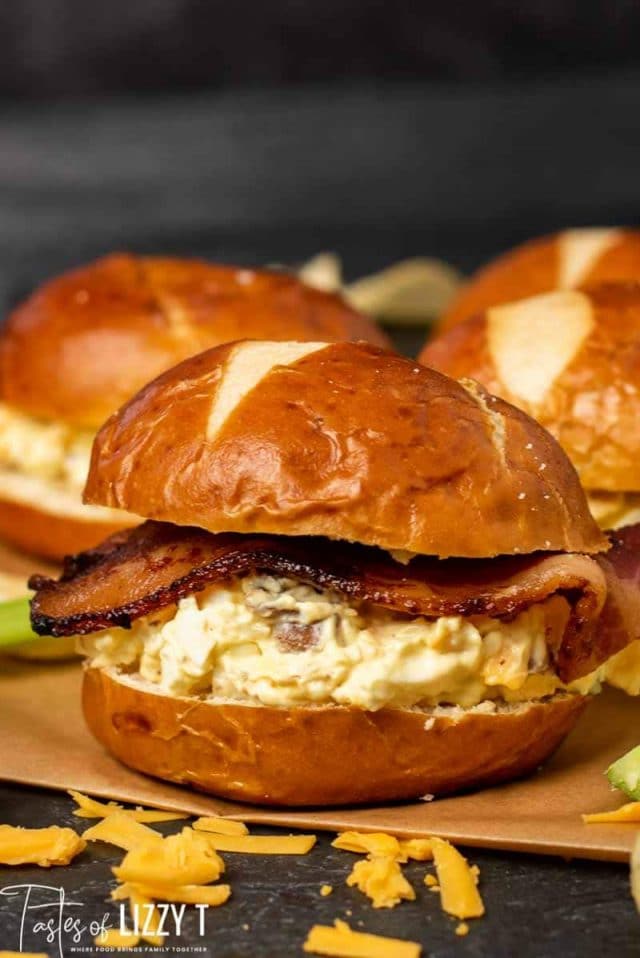 What do you eat with egg salad?
I prefer to eat egg salad sandwiches with a side of fresh veggies such as carrots, celery and peppers. I often use those veggies to scoop up the egg salad and save calories by skipping the bread.
If you're looking to serve this with sides, here are a few options: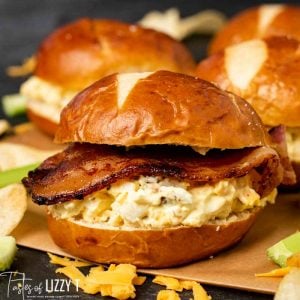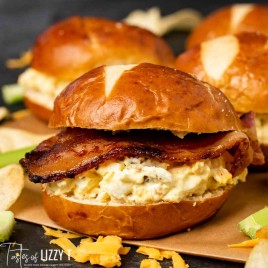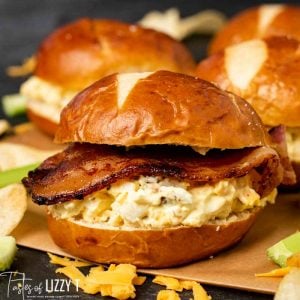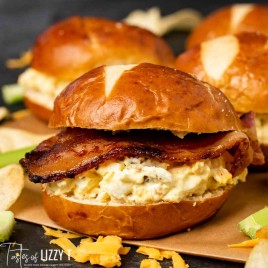 Bacon & Cheddar Egg Salad Sandwiches
Bacon makes everything better, right? Jazz up your lunch with these savory Bacon & Cheddar Egg Salad Sandwiches.
---
Ingredients
6

large

hard boiled eggs

(finely chopped)

1

teaspoon

minced onion

3

bacon strips

(fried and crumbled)

1/2

teaspoon

salt

(optional, to taste)

1/2

teaspoon

pepper

1/4

teaspoon

yellow mustard

1

cup

shredded sharp cheddar cheese

1/2

cup

mayonnaise

(more or less, as desired)
Instructions
In a bowl, mix together all of the ingredients (except the mayonnaise) until combined.

Add the mayonnaise, starting with ⅓ cup and adding more as you desire. Mix well.

Cover and refrigerate until serving.
Nutrition
Calories:
263
kcal
|
Carbohydrates:
1
g
|
Protein:
12
g
|
Fat:
22
g
|
Saturated Fat:
8
g
|
Cholesterol:
217
mg
|
Sodium:
507
mg
|
Potassium:
103
mg
|
Vitamin A:
450
IU
|
Calcium:
161
mg
|
Iron:
0.8
mg
Frequently Asked Questions
Is egg salad healthy?
This specific egg salad recipe isn't exactly on the low fat side since it has bacon, cheddar and mayonnaise. You can leave out the bacon and cheddar if you'd like and load it up with chopped veggies for a lower fat version.
Is egg salad low carb?
Make a keto version of this egg salad by using homemade mayonnaise (with no sugar!). Use a lettuce wrap or dip veggies in the egg salad for a low carb lunch.
How long does egg salad last?
Store egg salad in a sealed container in the refrigerator for 3-5 days.
Can you freeze egg salad?
Egg salad will not have the same creamy texture after freezing, so for that reason, we do not recommend freezing egg salad.