Tastes of Lizzy T participates in affiliate advertising programs. We may earn a commission when you make a purchase through links on our site.
Homemade English Muffins are easier to make than you think! This yeast bread dough is cooked in a skillet instead of baked in the oven. An easy breakfast bread.
You know how much we love our breakfast breads such as orange cranberry, apple and blueberry breads. But what if you don't want a sweet bread? You can make these easy homemade English muffins to serve with jam or make a quick breakfast sandwich.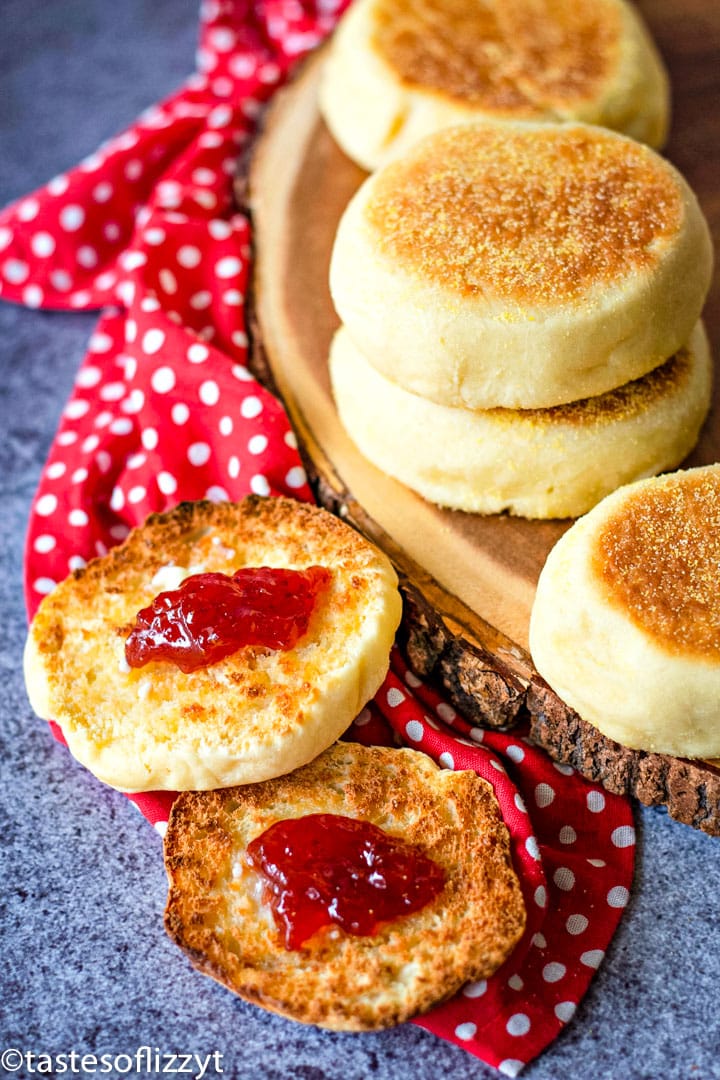 English muffins might seem intimidating to try to make at home, but they are really very easy! You don't even need to turn on the oven. Today we're talking all about how to make THE BEST homemade English muffins.
What are english muffins?
English muffins got their name in America to differentiate them from our traditional muffins baked in cupcake tins. In England, however, these flat yeast breads that are sliced horizontally and toasted are simply called "muffins". They are sometimes also called "toasting muffins".
English muffins were born in the late 1800's, making them over 130 years old. What started as an English breakfast treat was quickly adopted by Americans also.
Are english muffins healthy?
English muffins are similar to bread nutrient-wise. You'll find that in general they are lower in calorie than 2 slices of bread. But they are similar in fiber and protein.
Do english muffins contain eggs?
Although you may find some recipes without eggs, our English muffins call for 1 large egg.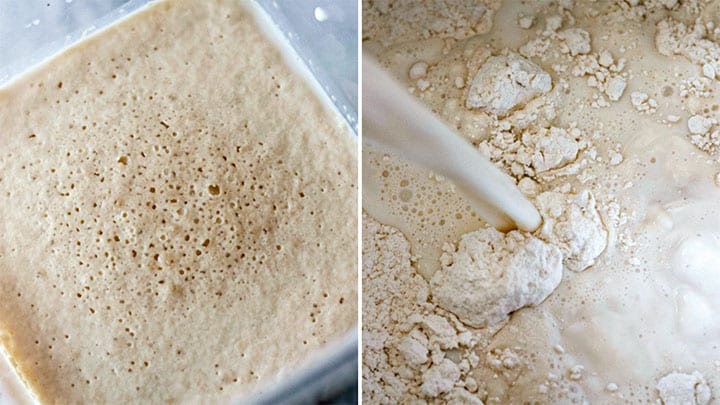 How to Make English Muffins
The hardest part of making English muffins at home is allowing time for the dough to rise. Because the dough takes about 90 minutes to rise, you'll want to plan over 2 hours to make this recipe. Thankfully, much of that time is hands-off so you can get other things done while the dough is rising.
Here are a few tips:
Every yeast is just a little bit different. We like Red Star Platinum yeast that you can add right to the flour, but many yeasts call for time for the yeast to "bloom" or "proof". Read the back of your yeast packed to know which type of yeast you have.
Although you can knead bread dough by hand, we find it easiest to use a stand mixer.
Allow time for the dough to rise until it is doubled. This will most likely take about an hour. Then punch down the dough and form the circles.
You can make as many muffins as you'd like, but we normally make 16 muffins.
Don't skip the cornmeal! Cornmeal is classic on English muffins so if you'd like them to taste similar to store-bought, dust the parchment paper with cornmeal.
Allow the circles to rise another 30 minutes.
This may seem surprising since most bread is baked, but English muffins are actually cooked in a skillet. If you have large griddle, you can cook these muffins almost all at once.
You'll cook the muffins about 7-9 minutes on each side until they are done. So how do you know they are done? They'll poof up a little and may even dome on top. If they start to dome you can use a spatula to flatten them. If you aren't sure about their doneness, test them with a probe thermometer. They should read about 200º Fahrenheit.
Isn't that rise beautiful???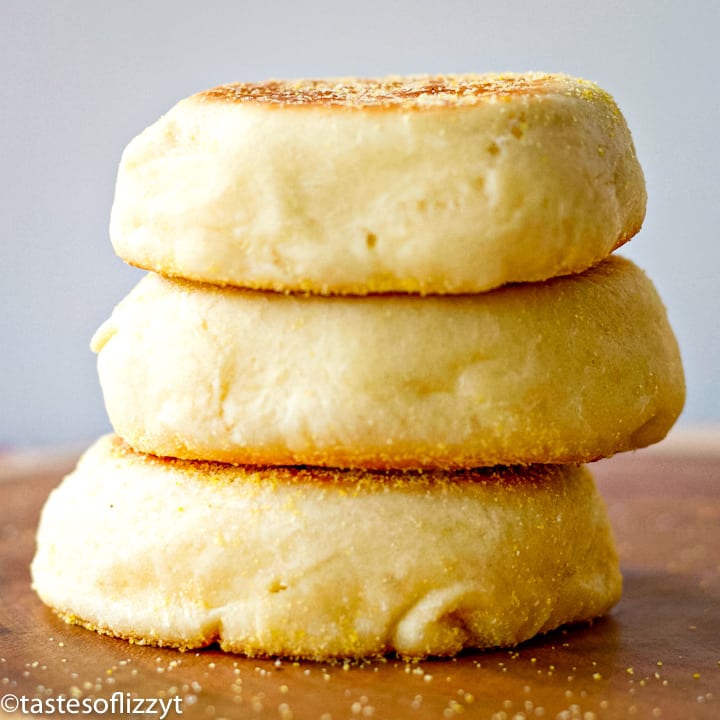 How to Split English Muffins
You may be wondering how to get that classic "split" look on your homemade English muffins.
Simply take a fork and poke the tins in the middle of the muffin all around the outside. This will allow you to pull apart the muffin quite easily!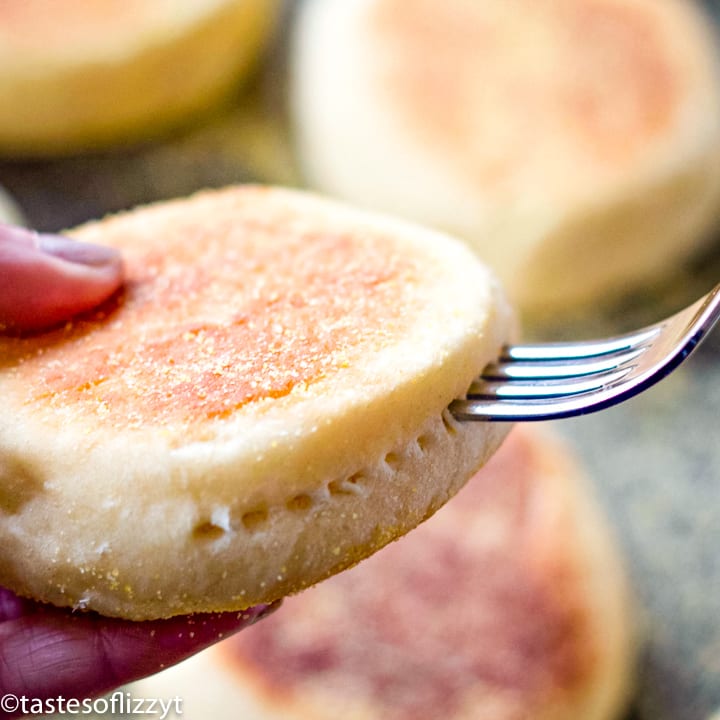 How long do homemade English muffins last?
Store the English muffins in an airtight container at room temperature. You'll to eat them within 4 days of making them.
Do english muffins need to be refrigerated?
Some branded English muffins require refrigeration, but homemade muffins are ok at room temperature for 4 days.
Can you freeze English muffins?
Yes! These muffins freeze well. Store them in an airtight container and freeze for up to 2 months.
What to Put on an English Muffin
Homemade jellies and jams (like blueberry lemon jam) are so, so good on homemade breads. You can also make english muffin pizzas, breakfast sandwiches, top them with sausage gravy or simply spread peanut butter or nutella on top.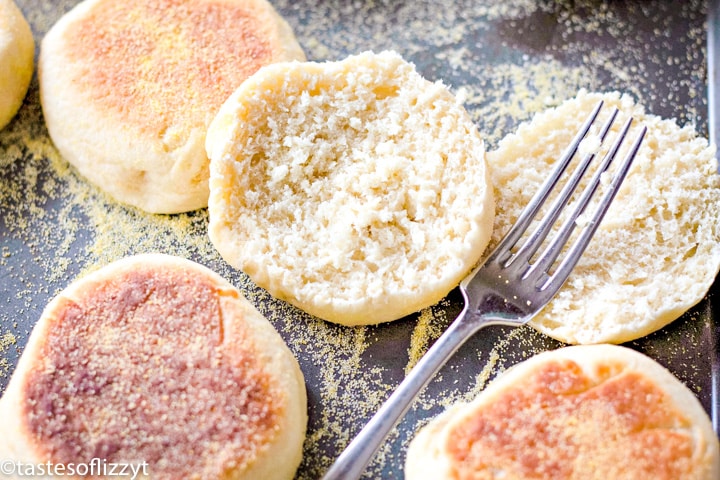 How many calories in an english muffin?
The calories vary based on the size you make the muffins, but if you make 16 muffins, each muffin will be *about* 211 calories.
Other Homemade Bread Recipes
A few of our other favorite breads are country white bread, honey wheat bread, potato bread and sourdough bread.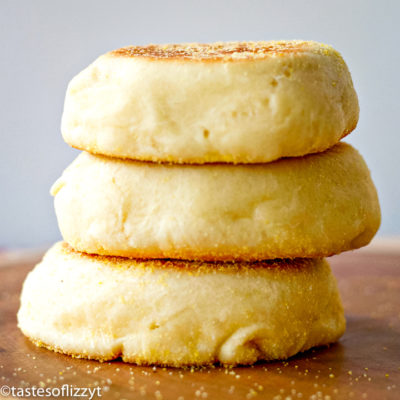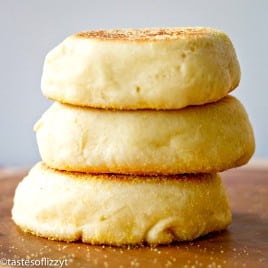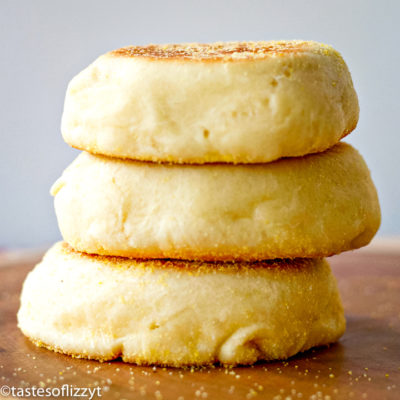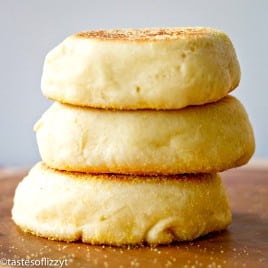 Homemade English Muffins
Homemade English Muffins are easier to make than you think! This yeast bread dough is cooked in a skillet instead of baked in the oven. An easy breakfast bread.
Rise Time
1

hour
30

minutes
---
Ingredients
2

cups

whole milk

2

tablespoons

honey

1

package instant dry yeast

0.25 ounce (2 ¼ teaspoons)

5

cups

all-purpose flour

½

teaspoon

salt

1

large

egg

¼

cup

butter

(melted)

1/3

cup

cornmeal

Oil for greasing pans
Instructions
Warm the milk to about 110F degrees.

Add the honey and yeast to the warm milk and stir well. Set aside to allow the yeast to bloom for up to 10 minutes until frothy.

In a large bowl, combine the flour and salt. Add the yeast mixture, egg, and melted butter.

Use a stand mixer with dough hook to combine the ingredients and knead on medium speed for 5 minutes. If you do not have a stand mixer with dough hook, simply combine the ingredients by hand with a spatula, then turn the dough out onto a floured surface and knead by hand for 5 minutes.

Generously grease a large bowl with oil. Place the dough in the bowl, then turn once to ensure the top of the dough is lightly oiled. Cover the bowl with a clean towel then place in a warm location and allow the dough to rise until doubled, about 1 hour.

After the dough has doubled, punch it down in the center. Divide the dough into 16 equal portions and form each into a ball. Flatten each ball into a disc, approximately 4 inches in diameter.

Cover a large baking sheet (or two medium baking sheets) with parchment paper and spread about half of the cornmeal over the paper. Place the discs of dough on the paper with 2 inches of space between them. Dust the tops with the remaining cornmeal. Set the English muffins aside to ride in a warm place for 30 minutes.

Heat a large skillet or electric griddle over medium heat. Grease with a small amount of oil or non-stick cooking spray. Cook the English muffins in the skillet or on the griddle for 7-10 minutes per side until golden brown on each side.

Split the English muffins in half with a fork. Toast them and serve with butter and jam.

Store leftover muffins in an airtight container in the refrigerator for up to 3 days, or freeze for up to 2 months.
Notes
The calories shown are based on the cake being cut into 16 pieces, with 1 serving 1 english muffin. Since different brands of ingredients have different nutritional information, the calories shown are just an estimate. **We are not dietitians and recommend you seek a nutritionist for exact nutritional information.**
Nutrition
Calories:
211
kcal
|
Carbohydrates:
35
g
|
Protein:
5
g
|
Fat:
4
g
|
Saturated Fat:
2
g
|
Cholesterol:
23
mg
|
Sodium:
117
mg
|
Potassium:
97
mg
|
Fiber:
1
g
|
Sugar:
3
g
|
Vitamin A:
155
IU
|
Calcium:
43
mg
|
Iron:
2
mg