Soft, tender muffins full of strawberries and sugar crumb topping. Strawberry muffins are easy to mix up and perfect for brunch.
It's the time of year that everyone starts chattering about our strawberry bread recipe. It's almost as popular as our cinnamon rolls, and for good reason. That vibrant pink fresh strawberry glaze is like no other.
Many of you have made our strawberry bread into muffins, and I've done it in the past, too. But this year, I decided it was time to satisfy your cravings with a special strawberry muffin with crumb topping and that same pinkalicious glaze.
Here's a peek:
Drooling yet? I hope so. 😉 Let's dive into the details.
About this Strawberry Muffin Recipe:
Flavor: It's the same strawberry quick bread flavor you know and love, with just a little twist. I added a teaspoon of almond extract (along with the vanilla extract) into the muffin batter which enhances the strawberry flavor. The sugar crumb topping and strawberry glaze are extras to boost the buttery richness.
Texture: Soft, tender, yet dense and moist. I'm not a "light and fluffy muffin" kind of girl. These are a heavier muffin, thanks to all the fruit inside and sugar crumb on top. But they are not in any way dry.
Method: One recipe makes 12 muffins, which perfectly fit in a standard muffin pan.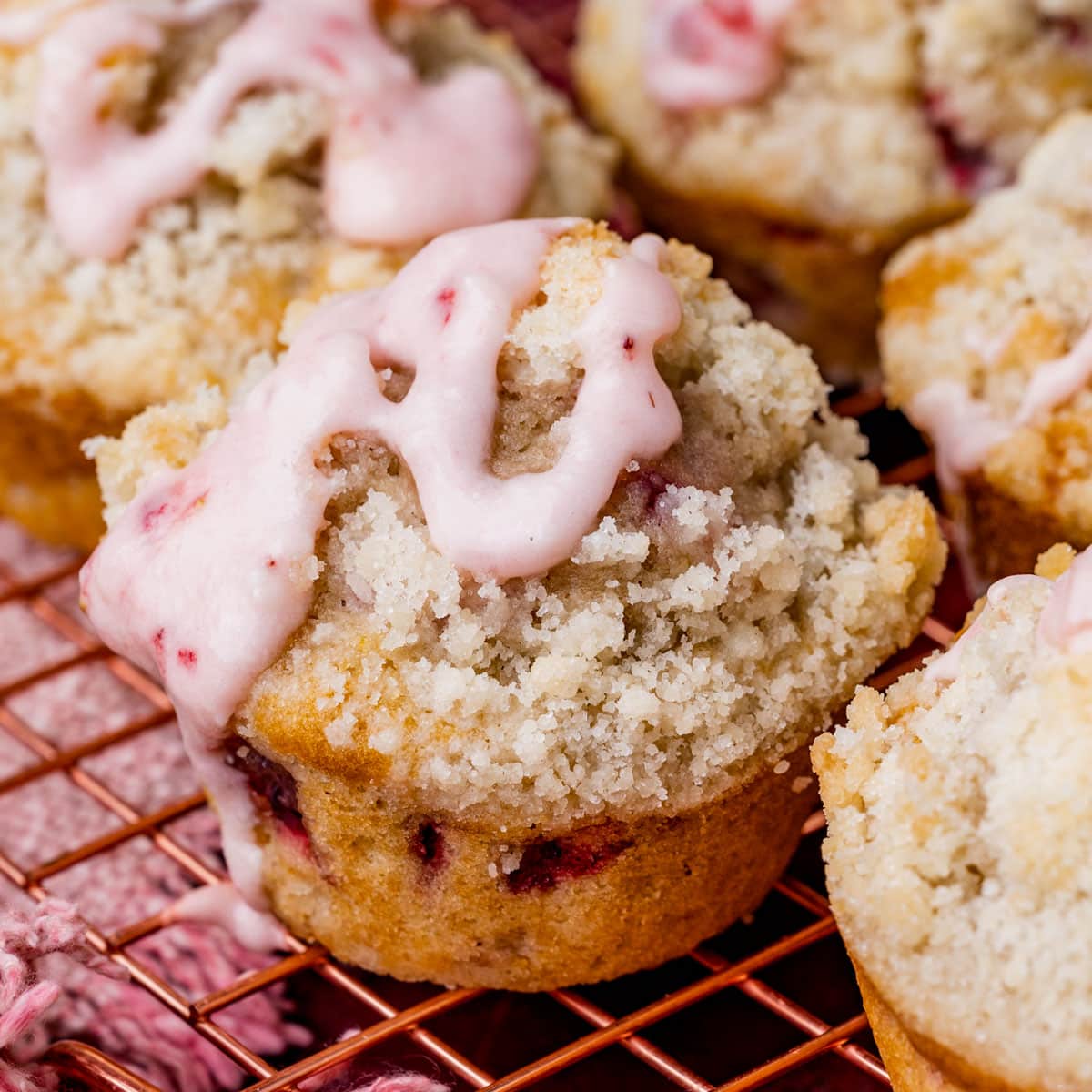 Tips for Making Strawberry Muffins
Use quality ingredients. Fresh strawberries, pure extracts, and make sure your baking powder and baking soda are not expired.
Combine dry ingredients and wet ingredients separately. Yes, this makes an extra dirty bowl, but it is necessary to evenly distribute the ingredients.
Don't over mix the batter. Overmixing can lead to tough, chewy muffins. Gently combine the wet and dry ingredients until barely mixed. It's ok if there is just a little flour still showing. Then add in the strawberries and fold gently to distribute the strawberries and any remaining flour.
Preheat the oven. Preheating the oven to a high temperature will ensure that the muffins get that nice rise you can see below. Bake for 5 minutes at 425ºF, then lower the oven temperature to 350ºF to finish baking.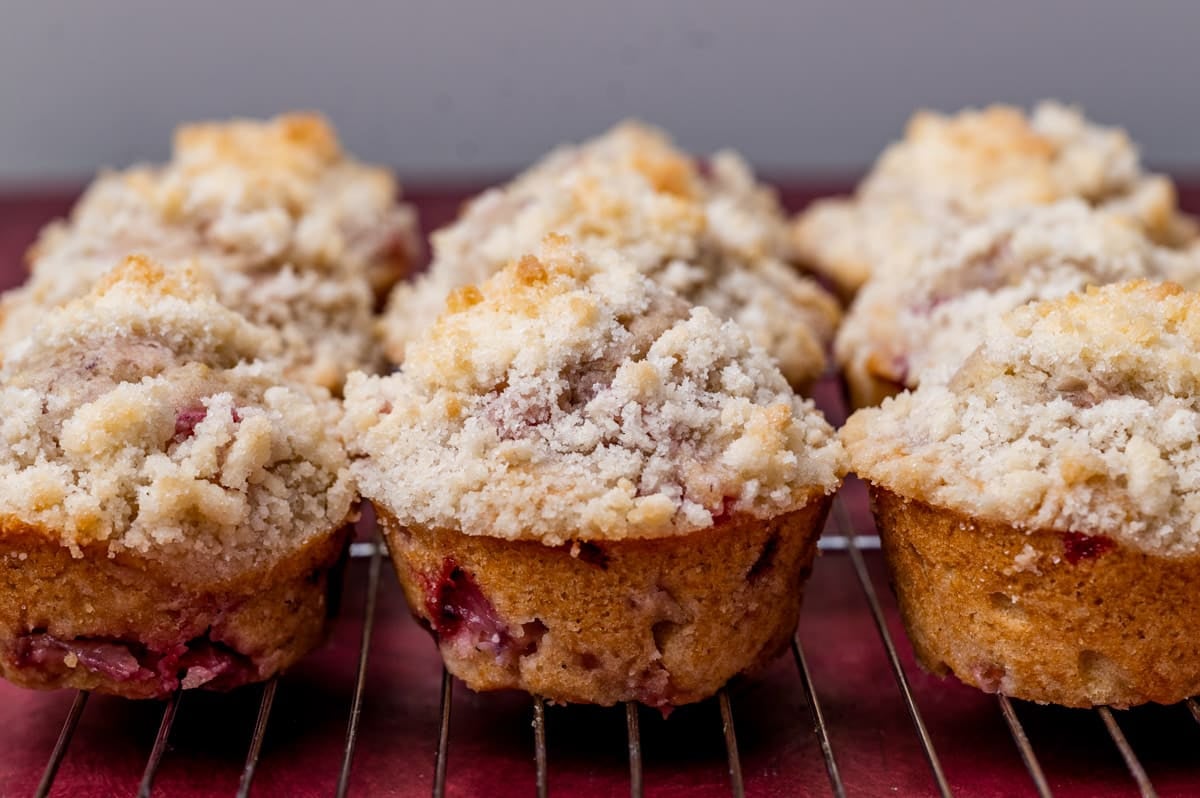 Storage Instructions
Strawberry muffins should be stored in an airtight container. They can be at room temperature for about 24 hours, but after that, refrigerate the muffins for up to another 3 days. Rewarm the muffins in the microwave for 15-20 seconds.
Freeze the muffins in freezer bags for up to 6 weeks. It's best if you freeze the muffins without the glaze. You'll have less mess that way.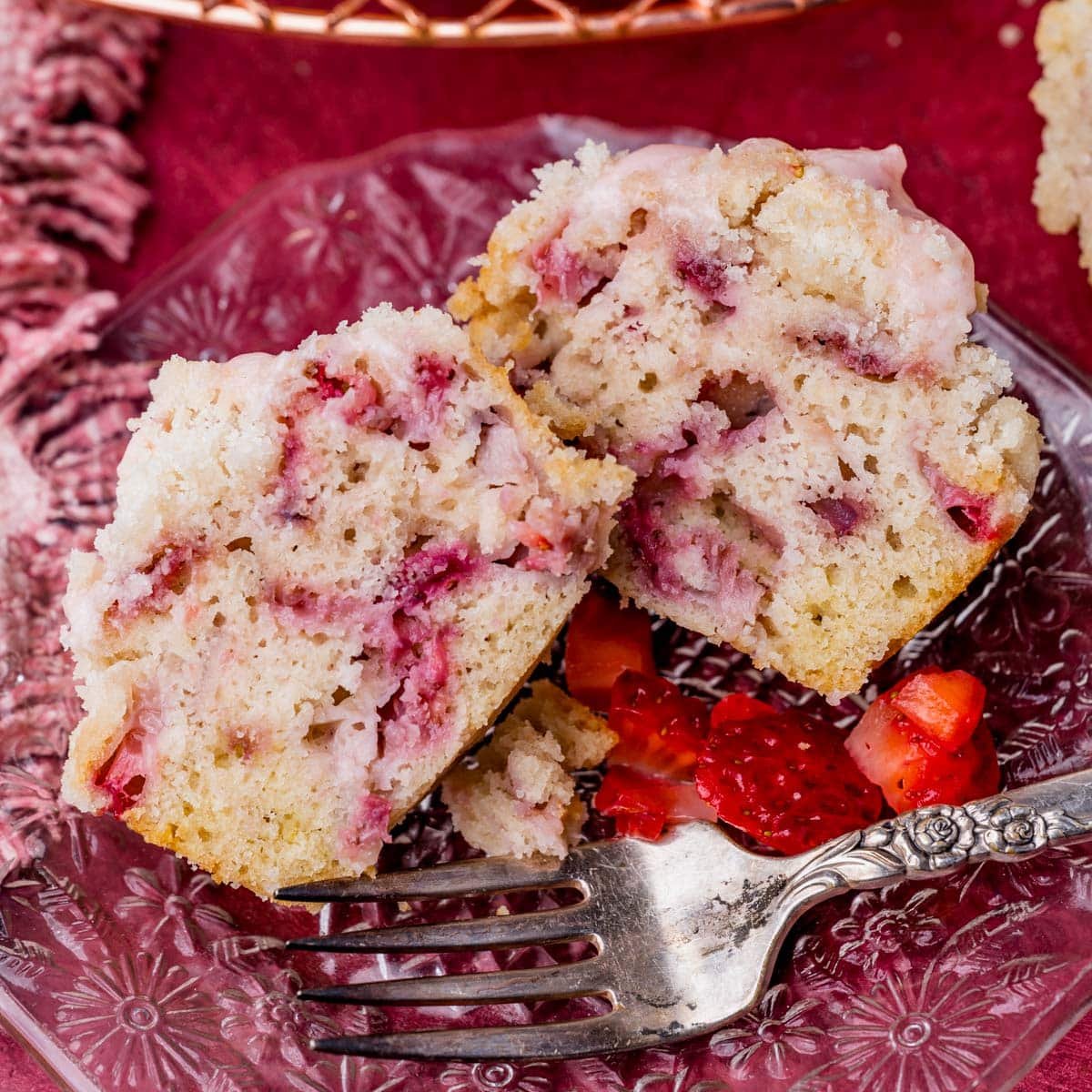 Recipe Variations
Make these easy strawberry muffins your own with one of these variations:
Replace the canola oil with coconut oil. It gives the muffins an extra layer of flavor. Melt the coconut oil before adding it into the ingredients so it mixes in well.
Use other fruit if you'd like: blackberries, raspberries or even blueberries.
Love chocolate and fruit? Add ⅓ to ½ cup mini chocolate chips to the batter. Or you can sprinkle mini chocolate chips over the top of the muffin batter before baking.
Use an all-purpose gluten-free flour to make the muffins gluten free.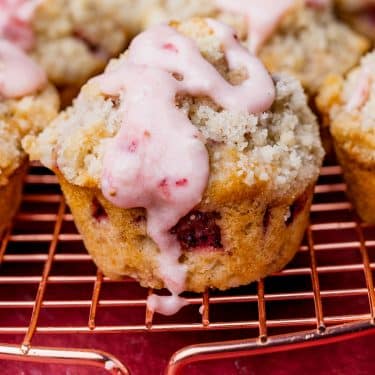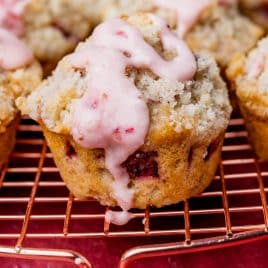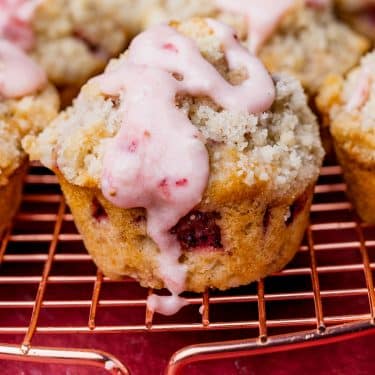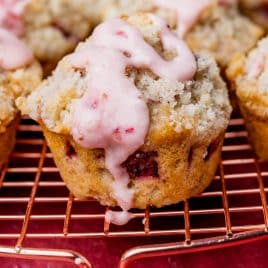 Strawberry Muffins
Soft, tender muffins full of strawberries and sugar crumb topping. Strawberry muffins are easy to mix up and perfect for brunch.
---
Ingredients
For the muffins:
3/4

cup

granulated sugar

150 grams

1/2

cup

2% milk

4 ounces

1/2

cup

canola oil

4 ounces

1

large

egg

1

teaspoon

vanilla extract

5 grams

1

teaspoon

almond extract

5 grams

2

cups

all-purpose flour

260 grams

1

teaspoon

baking powder

3 grams

1/2

teaspoon

baking soda

2 grams

1/2

teaspoon

salt

3 grams

2

cups

finely diced fresh strawberries

315 grams
For the crumble:
1/2

cup

granulated sugar

100 grams

1/2

cup

all-purpose flour

65 grams

3

tablespoons

salted butter

softened
For the glaze:
1

cup

powdered sugar

130 grams

1

tablespoon

salted butter

melted

1/4

teaspoon

almond extract

3

tablespoons

finely diced strawberries

1-2

tablespoons

heavy cream

optional, if needed
Instructions
Preheat the oven to 425ºF. Spray a 12-cup muffin pan with Baker's Joy baking spray (choose a baking spray with flour for best results).

In a large bowl, whisk together the sugar, milk, oil, egg, vanilla and almond extract.

In a separate medium bowl, combine the flour, baking powder, baking soda and salt.

Add the flour mixture to the wet ingredients and stir until just combined. Do not overmix.

Fold the strawberries gently into the batter.

Spoon the batter into the 12 muffin cups, dividing the batter evenly.

Make the crumble by mixing together the flour, sugar and butter in a small bowl. Don't overmix this. It's ok if it is a little floury. This mixture will be crumbly.

Divide the crumbs between the 12 muffins, sprinkling the crumbs on top of the batter.

Bake at 425ºF for 5 minutes, then lower the oven temperature (without opening the oven) to 350ºF and bake for an additional 16-18 minutes. A toothpick inserted in the center of the muffin should come out clean.

Allow the muffins to cool for about 3 minutes in the pan, then remove the muffins and place them on a wire rack to cool completely.

Store at room temperature in an airtight container for up to 24 hours, then refrigerate for up to 3 more days.
Notes
Refer to the article above for more tips and tricks.
The calories shown are based on the recipe making 12 muffins, with 1 serving being 1 muffin. Since different brands of ingredients have different nutritional information, the calories shown are just an estimate. **We are not dietitians and recommend you seek a nutritionist for exact nutritional information. The information in the nutrition box are calculated through a program and there is room for error. If you need an accurate count, I recommend running the ingredients through your favorite nutrition calculator.**
Nutrition
Calories:
356
kcal
|
Carbohydrates:
54
g
|
Protein:
4
g
|
Fat:
15
g
|
Saturated Fat:
4
g
|
Polyunsaturated Fat:
3
g
|
Monounsaturated Fat:
7
g
|
Trans Fat:
0.2
g
|
Cholesterol:
28
mg
|
Sodium:
185
mg
|
Potassium:
127
mg
|
Fiber:
1
g
|
Sugar:
33
g
|
Vitamin A:
171
IU
|
Vitamin C:
16
mg
|
Calcium:
39
mg
|
Iron:
1
mg
Frequently Asked Questions
What makes muffins too moist?
Adding fresh fruit to muffins can make them moist, and moist muffins are good. But you don't want them too moist, nearing soggy. Bake the muffins right in the muffin pan with no paper liners. Use a good baking spray that contains flour to ensure they come out cleanly. Remove the muffins from the muffin tin within 5 minutes of them coming out of the oven. I remove them as soon as I am able to handle them. Let them cool on a wire rack. This will allow the steam to evaporate as they cool, rather than trapping it in the muffin.
Can you use frozen strawberries?
Yes. Thaw the berries completely and drain them well before dicing them and adding them to the muffin batter. I prefer fresh strawberries, though.
Do I have to use almond extract?
No. If you don't have almond extract, double the vanilla extract.
Can I add lemon flavor?
Sure! Lemon zest is amazing in the muffins for a hint of lemon flavor.
Love quick breads? Our cookbook is for you.

Bonus!!! We've included our top 5 tips for making any type of quick bread. These will be sure to give you success every time!
Other Easy Muffin Recipes To Love