A buttery crumb topping goes on the bottom and the top of these easy Strawberry Crumb Bars. Use fresh strawberries for an easy summer dessert that is ready in under 1 hour. It's like strawberry shortcake in a bar!
In Ohio, early June is strawberry season. You'll find Strawberry festivals, farmer's markets selling beautiful big, ripe berries, and grocery stores with berries on sale for 99 cents a pound.
That can only mean one thing…it's time to bake everything with fresh strawberries. This easy strawberry dessert is perfect when you are craving something sweet. It makes a small amount…enough for you to sample and maybe share with a friend.
These strawberry bars with fresh strawberries are a great take along dessert for summer picnics, potlucks and family reunions.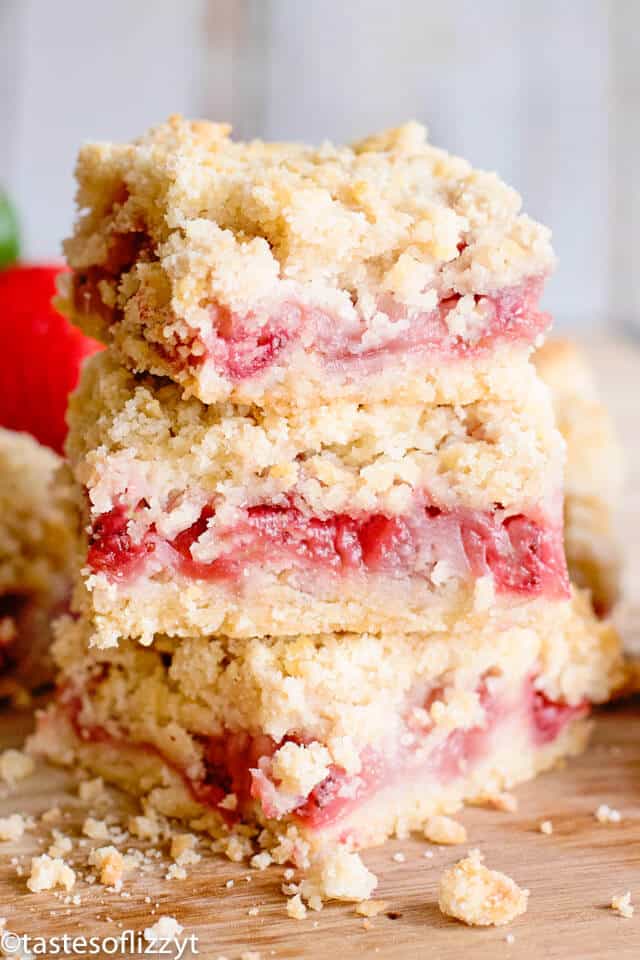 About this Strawberry Crumb Bars Recipe:
Flavor: Buttery sugar crust and topping, with a sweet fresh strawberry filling on the inside. It's such a rich, yet fresh combination.
Texture: The easy strawberry bars are soft and easy to eat. The streusel is slightly crumbly, yet the bar holds together well.
Method: This bakes in an 8×8″ baking pan, so it makes just a small amount of bars. If you line the pan with foil or parchment paper, you can easily remove the bars for cutting.
⭐️ ⭐️ ⭐️ ⭐️ ⭐️ Reader Val says, "Made this strawberry crumble bars recipe to use up some of my frozen berries. Turned out great! Top with extra strawberries and whipped cream and it makes a fun breakfast."
⭐️ ⭐️ ⭐️ ⭐️ ⭐️ Reader Alicia says, "I love this recipe so much! We discovered it last summer and have been just waiting for fresh local strawberries to be in season again to make it. Thank you for such a delicious recipe!"
Are strawberries good for baking?
The short answer is yes. From strawberry bread to strawberry rolls, they make a sweet dessert with eye-popping color.
Strawberries are high in water content, which can make them tricky for baking. For that reason, it's best to use slightly underripe strawberries for this recipe so that you don't end up with a juicy mess.
Slightly underripe strawberries are red, but have just a small amount of white at the top of the strawberry by the hull.
Save those bright red, juicy & sweet strawberries for enjoying fresh!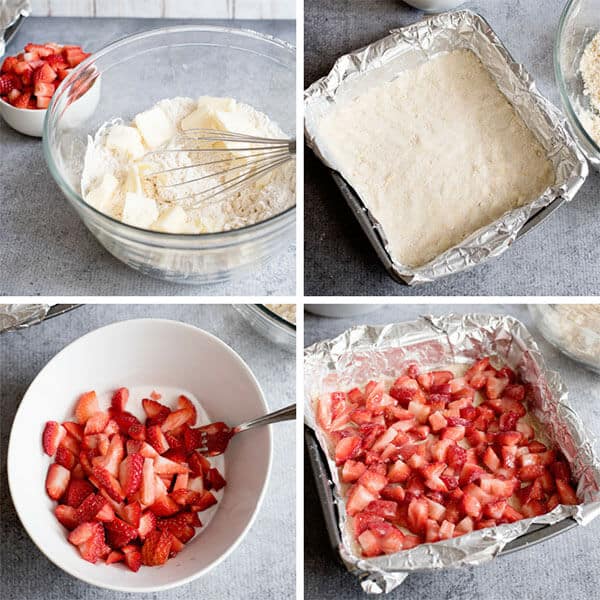 can you use frozen strawberries?
Yes. You can use frozen strawberries in this recipe. Thaw the strawberries first and let them drain off any liquid. Then use them as described below.
Tips for Making Strawberry Crumb Bars
Line the baking pan with parchment paper or foil. Crumb bars can be tricky to cut and remove from the pan without it.
The base of the bar is also the crumb topping. Mix up the crumb mixture, then press half of it into the bottom of the pan. The rest of the crumbs go over the strawberry filing as a crumble topping. It's like a strawberry crumb sandwich…which would be my favorite kind of sandwich.
The fresh strawberry mixture in this easy bar recipe is simply diced strawberries, sugar and corn starch. The cornstarch is what will thicken the strawberry filling just a little bit to make the bars stay together.
Can i use jam instead of fresh strawberries?
Yes! Strawberry jam crumble bars are a popular recipe. Instead of fresh strawberries, use strawberry jam (or your favorite flavor of jam) in the middle of the bars. Plan to use about 1 to 1 ½ cups of jam.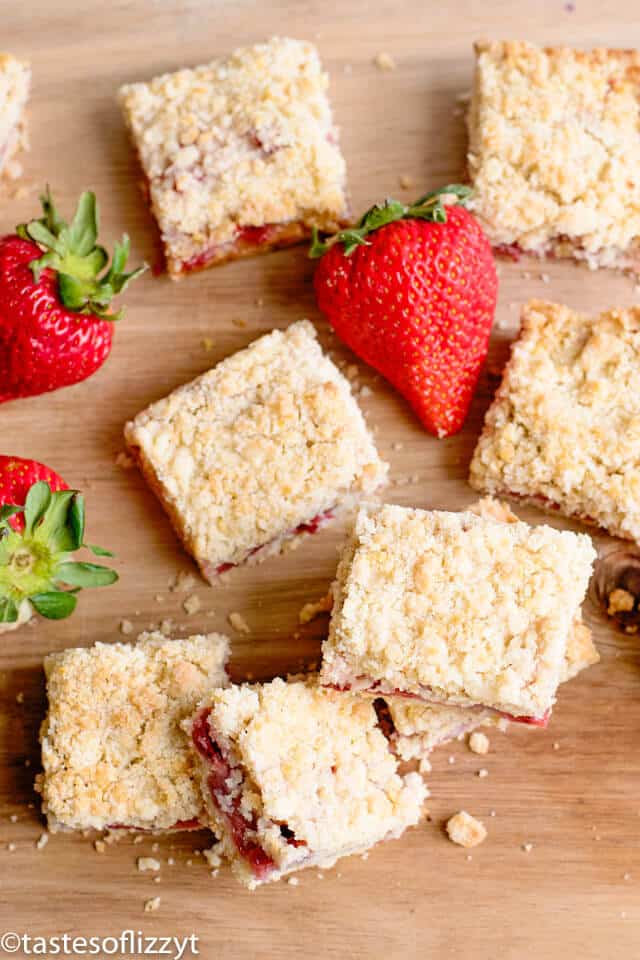 Storage Instructions
The bars are best if you store them in the fridge in an airtight container for up to 4 days. You can also pop them into the freezer and store for up to 6 weeks.
Recipe Variations
Try adding lemon zest to the crumble mixture. It adds a delicious, fresh flavor. You could even add a tablespoon of fresh lemon juice to the strawberries.
Use half brown sugar and half white sugar for a warm depth of flavor.
Serve with vanilla ice cream on top. It's a unique twist on strawberry shortcake.
Use all-purpose gluten free flour for a gluten free dessert.
You may also love our blueberry crumble oatmeal bars.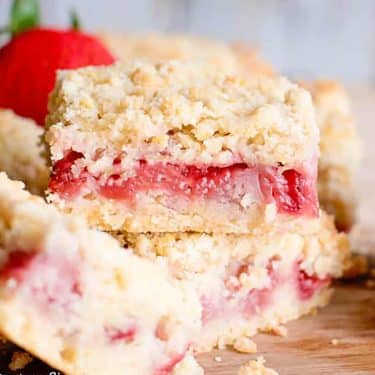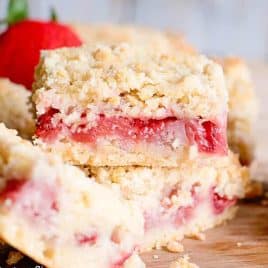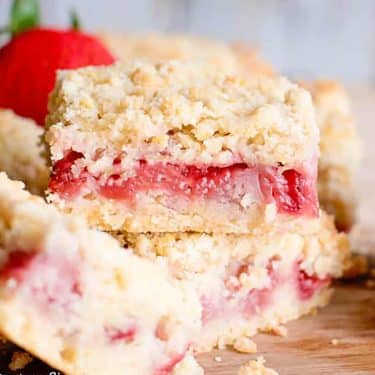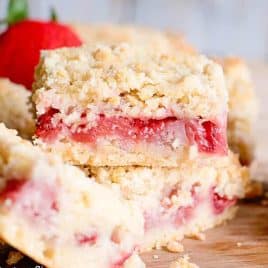 Strawberry Crumb Bars
A buttery crumb topping goes on the bottom and the top of these easy Strawberry Crumb Bars. Use fresh strawberries for an easy summer dessert that is ready in under 1 hour. It's like strawberry shortcake in a bar!
---
Ingredients
For the crust & topping:
½

cup

granulated sugar

1 ½

cups

all-purpose flour

½

teaspoon

baking powder

1/2

teaspoon

salt

1

large

egg

1

teaspoon

vanilla extract

1/2

cup

salted butter

(cold)
For the strawberry filling:
1

pound

fresh strawberries

diced up

2

teaspoons

cornstarch

1/3

cup

granulated sugar
Instructions
Preheat oven to 375ºF. Prepare a 8×8 inch baking dish by lining it with foil or parchment paper allowing the edges to overhang the pan for easy removal. Then, spray the lining with cooking spray.

In a large bowl, add the ½ cup sugar, flour, baking powder and salt and mix until combined.

Then, add the egg and vanilla. Mix well.

Cut the cold butter into the flour mixture until it is crumbly.

Take half of the flour mixture and pack it down in the bottom of your pan. Reserve the remaining crumbs for the topping.

In a medium bowl, combine the diced strawberries, ⅓ cup sugar and cornstarch. Mix until the strawberries are coated well.

Spread the sweet strawberry filling over the bottom layer in the pan and spread out evenly.

Sprinkle the rest of the flour mixture evenly over the top of your strawberries.

Bake for 35-40 minutes, until the top is golden brown. Allow to cool completely before cutting with a sharp knife.

Store in an airtight container in the fridge for up to 4 days.
Notes
The calories shown are based on the bars being cut into 12 pieces, with 1 serving being 1 strawberry bar. Since different brands of ingredients have different nutritional information, the calories shown are just an estimate.
Nutrition
Calories:
198
kcal
|
Carbohydrates:
29
g
|
Protein:
2
g
|
Fat:
8
g
|
Saturated Fat:
5
g
|
Cholesterol:
35
mg
|
Sodium:
56
mg
|
Potassium:
97
mg
|
Fiber:
1
g
|
Sugar:
15
g
|
Vitamin A:
265
IU
|
Vitamin C:
22.2
mg
|
Calcium:
20
mg
|
Iron:
1
mg
Tools to Make This Recipe
Pastry Cutter

: I use this tool all the time. It cuts butter into flour perfectly for streusels, crusts and other pastries.

8×8 Cake Pan

: For small cakes and casseroles.

Strawberry Slicer:

Get perfectly sliced strawberries to decorate your desserts.