No Bake Strawberry Lime Cheesecakes….Strawberries and lime collide to make a quick and easy no-bake summer dessert great for entertaining!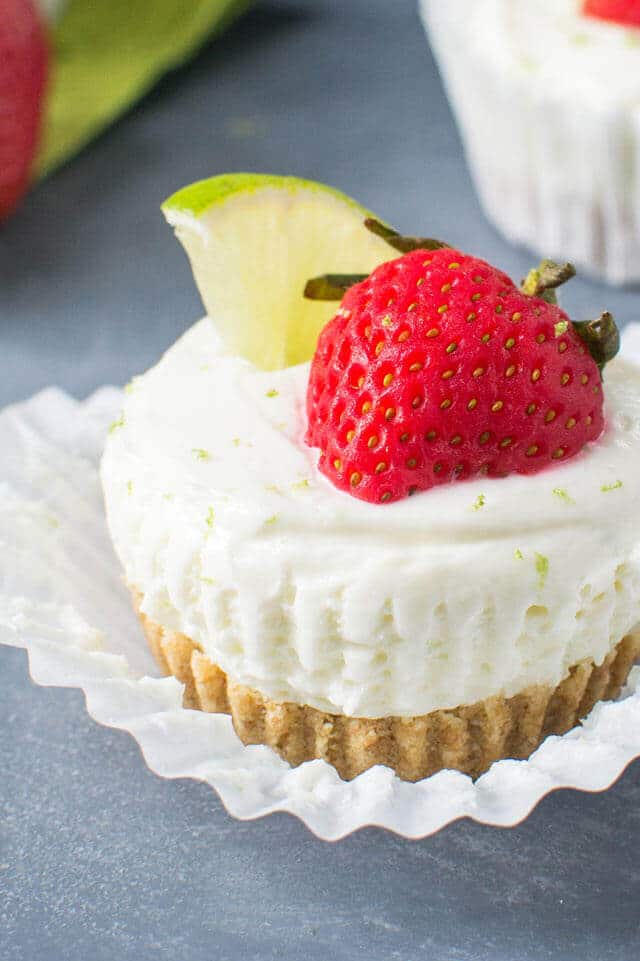 No Bake Strawberry Lime Cheesecakes
Today I am going to share a delicious warm weather dessert that doesn't require the oven (yay!). Cool and refreshing no bake strawberry lime cheesecakes will still satisfy your sweet tooth. Topped with beautiful seasonal strawberries and a tiny wedge of lime, the cheesecakes are fast and fuss free. Already in individual servings, these pretty little things will make summertime entertaining a breeze.
We LOVE cheesecake at our house! The kids love cheesecake smoothies, or frozen peanut butter cheesecake bites. It's definitely one of my go to desserts for parties since it can be dressed up, like espresso chocolate cheesecake, or super simple like these no-bake cheesecakes. But no matter what the occasion, cheesecake is always a crowd favorite!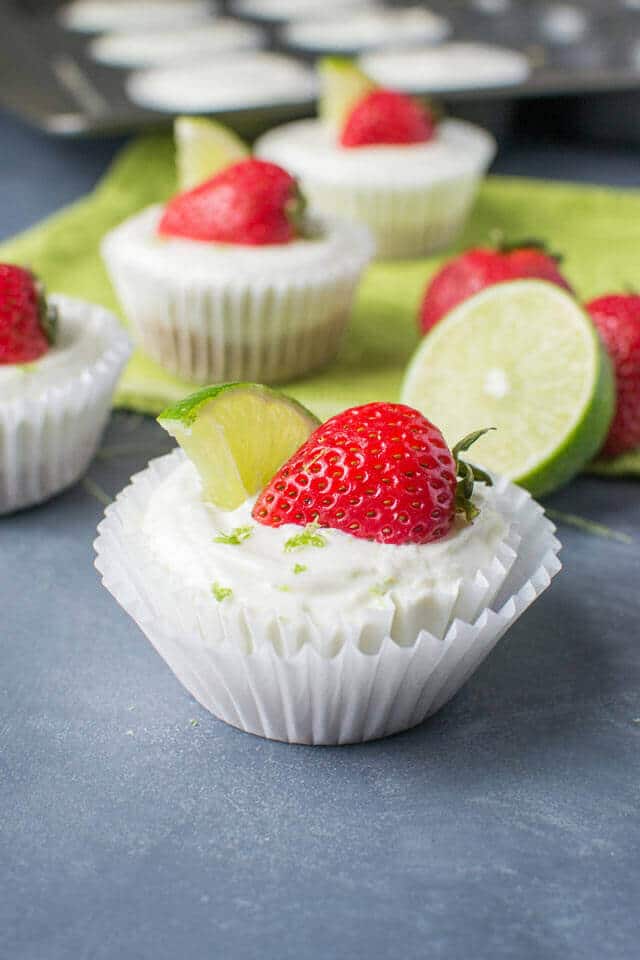 For the crust of the no bake strawberry lime cheesecakes, I blended up some graham crackers in my mini food processor. It was about 12 Graham crackers to get two cups of crumbs. If you don't have a food processor you can put them in a plastic baggie and pound them with a rolling pin. I've seen graham cracker crumbs sold at the grocery store, to make these even one step less! I used honey and butter to help bind together the crust, because I love the flavor of honey and also to give it a little extra stickiness. After mixing it all together, it is pressed into the bottom of the cupcake liner.
Originally I planned to have the crust come up the sides, but it was challenging to press the graham cracker crumbs into the fluted sides of the cupcake liner. After a while I threw in the towel, this is supposed to be an easy recipe after all! Since I did the crust just in the bottom, it only took me a few minutes to finish all 12. Much better 🙂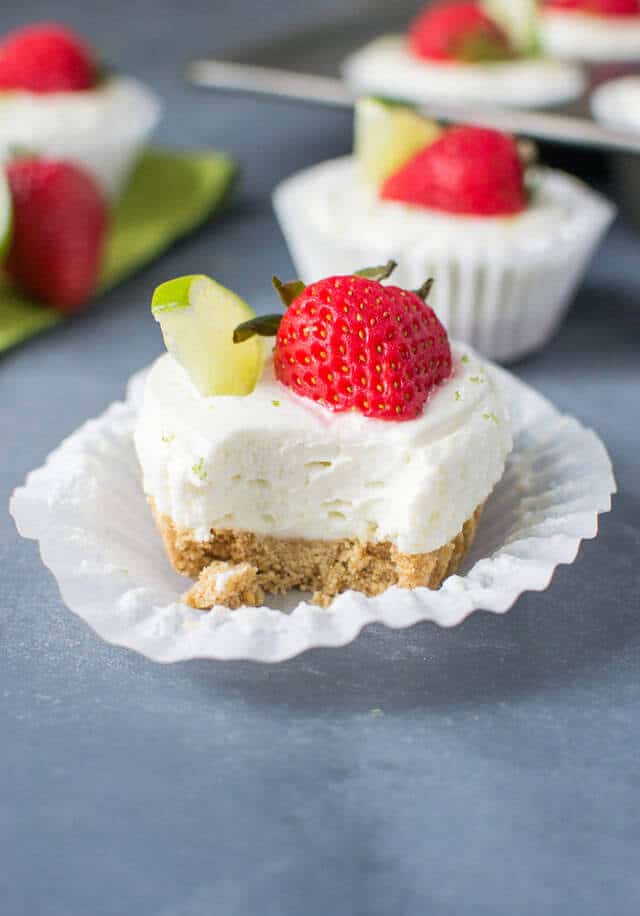 The cheesecake filling is also quick to whip together. Throw the ingredients in a bowl and beat until smooth and creamy. I used my hand mixer with a whisk attachment, but you can also use a stand mixer. The filling isn't super sweet, I really wanted the tangy lime flavor to shine. Since there aren't any eggs in the batter, you can taste and adjust the sweetness.
While testing the recipe, I also made a batch of lemon cheesecakes. Which were also lovely, if you prefer lemon over lime. Just swap out the lime juice and zest for lemon.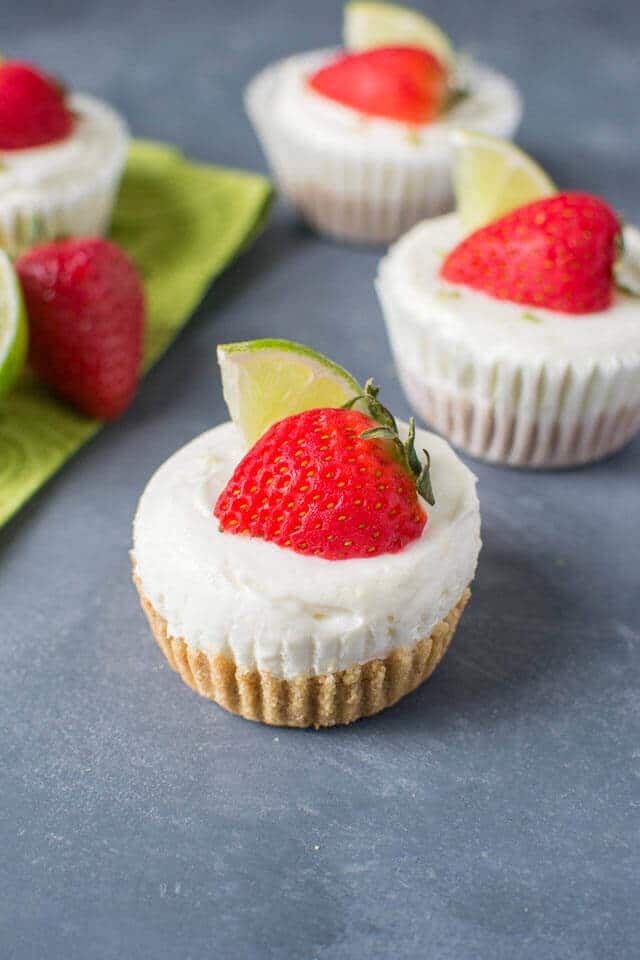 The filling is cream cheese, yogurt, sugar and lime. It has a creamy, mousse-like texture. The cheesecake doesn't have any gelatin, whipped cream or other stabilizers, so it is best served cold. Even though it is in a cupcake liner for easy serving and clean up, I still serve them with a spoon and plate for mess free eating. Lastly, I recommend putting the fruit topping on close to serving time. Since the fruit is cut, it will eventually leak some of the juices onto the cheesecake. Which will still taste great, just not look as cute! Enjoy 🙂
No Bake Strawberry Lime Cheesecakes
No Bake Strawberry Lime Cheesecakes….Strawberries and lime collide to make a quick and easy no-bake summer dessert great for entertaining!
Ingredients
For the Crusts:
2

Cups

Graham Cracker Crumbs

5

Tablespoons

Butter

2

Tablespoons

Honey
For the Cheesecakes:
2

Packages Cream Cheese

(16 Ounces), Softened

⅔

Cup

Sugar

½

Cup

Plain Whole Milk Yogurt

2

Tablespoons

Lime Juice

Zest of 1 Lime

6

Strawberries + ½ Lime

(For Topping)
Instructions
Line a muffin pan with paper liners.

For the Crust:

Melt the butter and add it with the honey to the graham cracker crumbs. Stir until all the crumbs are moistened. Divide the graham crackers between the 12 cupcake liners. Press the crumbs down firmly into the bottom of the liner.
For the Cheesecake:
Beat together the cream cheese, sugar, yogurt, lime juice and lime zest until light and fluffy. Divide the cheesecake batter between the 12 cupcake liners on top of the crusts. (I used a cookie scoop to fill the cups.) Refrigerate at least 3 hours or overnight.

When ready to serve, top each cheesecake with ½ strawberry and ¼ slice of lime. Garnish with additional lime zest if desired. Serve cold.
Notes
Sour Cream or Greek Yogurt can be substituted for the yogurt.
Nutrition
Calories:
164
kcal
|
Carbohydrates:
25
g
|
Protein:
1
g
|
Fat:
6
g
|
Saturated Fat:
3
g
|
Cholesterol:
14
mg
|
Sodium:
139
mg
|
Potassium:
49
mg
|
Sugar:
18
g
|
Vitamin A:
155
IU
|
Vitamin C:
4.3
mg
|
Calcium:
26
mg
|
Iron:
0.6
mg