Monster Cookie Cheesecake
Your favorite cookie meets creamy cheesecake! This Monster Cookie Cheesecake will be a hit with cookie and cheesecake lovers alike. Cookie crust with M&M's swirled throughout and a chocolate ganache topping.

Monster Cookie Cheesecake Recipe
I don't think there is any better way to start a week than with a Monster Cookie Cheesecake.
Who's with me?!
This tall, creamy mess of cookie and cheesecake has been prepared twice in our kitchen this past month. I'm happy to say that our family did not devour each full cheesecake. That's more than we can say for our glorious cheesecake feasting weekend. Rather, both of these cheesecakes went to parties and were devoured by an appropriate number of people. Here's a shoutout to our many taste testers. Our waistlines thank you!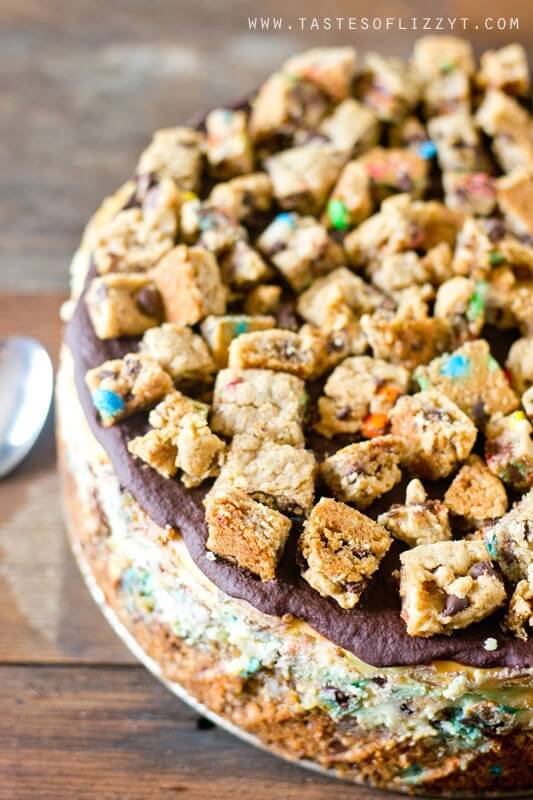 I don't know exactly how the idea for this cheesecake was born, but I'm certainly glad it happened.
Here's the layers:
1. Monster Cookie Crust. This is our classic monster cookie recipe. Thick, peanut buttery and full of oats and M&Ms.
2. Creamy cheesecake. When it comes to cheesecake recipes, I like to stick with the best. Who better to go to than Philadelphia cream cheese for a cheesecake recipe? You'll find their classic recipe here. It's fantastic. Simple as that.
3. There's mini M&M's swirled throughout the cheesecake. You'll find mini M&M's in the baking aisle of your grocery store. They're too cute…and mini-sized food is always better. (Except for when it comes to a slice of cheesecake!)
4. Chocolate ganache and chopped monster cookies top the cheesecake. It makes for a grand "monster" of a cheesecake.
If a cheesecake could take a selfie of itself, I'm pretty sure this monster cheesecake recipe would be it. Doesn't it just scream, "Come and get me?"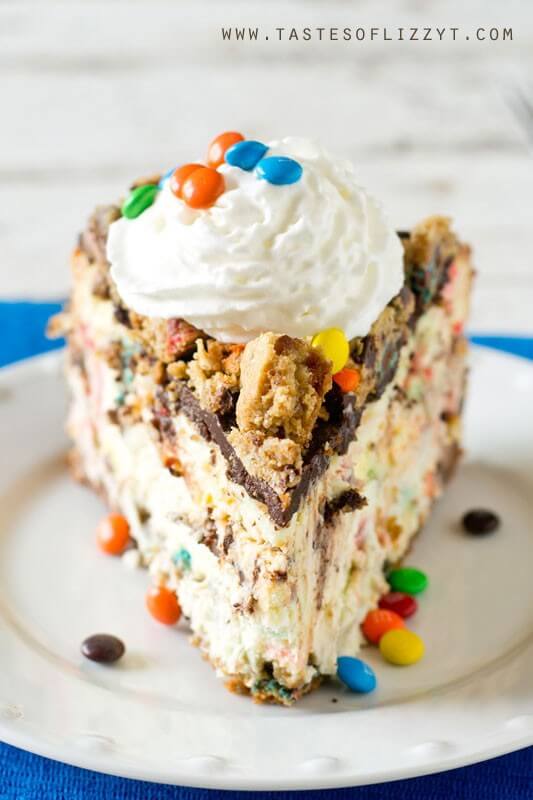 Don't mind if I do!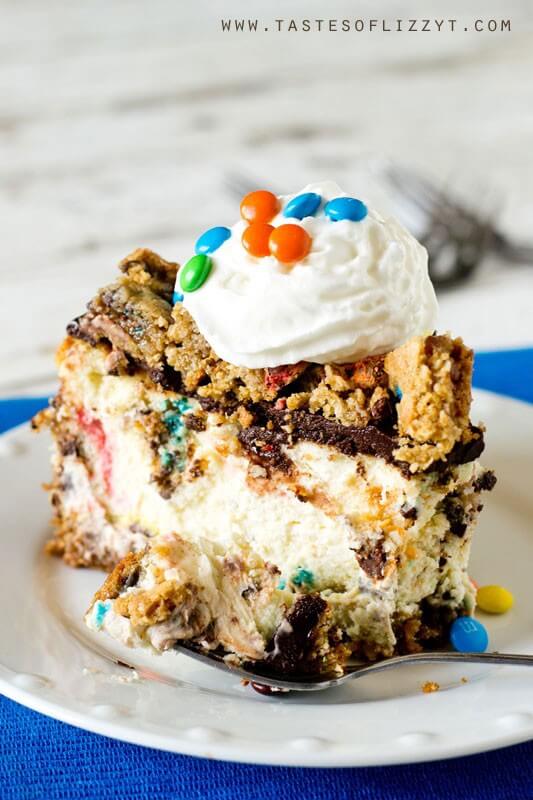 Although cheesecake isn't one of my favorite things to make, it is one of the best things to eat, so I put up with the time it takes to bake, the pressure of "Will my cheesecake have cracks in the top?" and the "Just how do I know it is done?" questions. I wish I had all of the cheesecake answers for you, but I'm not going to pretend that I do. I'm constantly trying new cheesecake techniques and maybe someday will have it down to a science. But ya know what? No matter what, each cheesecake tastes amazing. And that is what matters.
The one great thing about this cheesecake is that it doesn't matter if there is a little crack in the top. You're going to slather melted chocolate all over it anyway to make it look pretty. 🙂
The original recipe called for a baking time of 1 hour and 10 minutes. I left it in for an additional 5 minutes just to be certain. The internal temperature of a cheesecake should read 160-165 degrees in order to be done.  In general, you want about 1-2 inches of the center of the cheesecake to still be a little "jiggly". Now, I realize that "jiggly" to me may be different from what "jiggly" is to you. I've made this cheesecake twice now and I would not leave it for longer than 1 hour 15 minutes.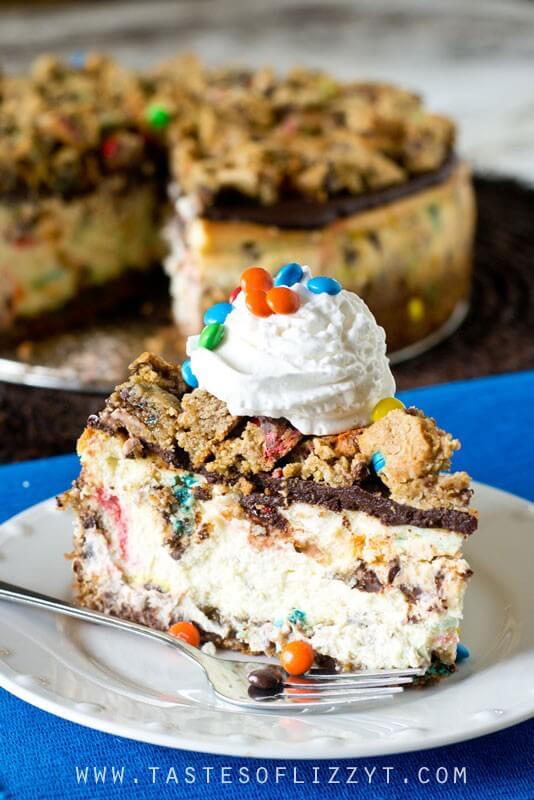 I've tried to be very detailed in the recipe instructions below. Don't be scared to try baking a cheesecake. You can do it! Anyway you slice it, it's going to be good. Happy baking!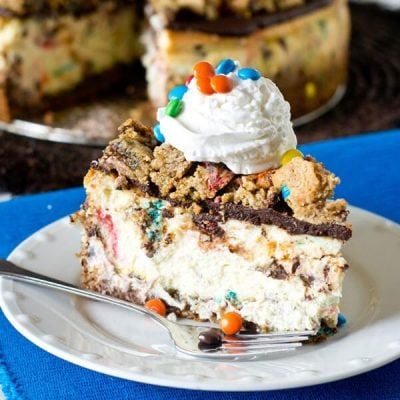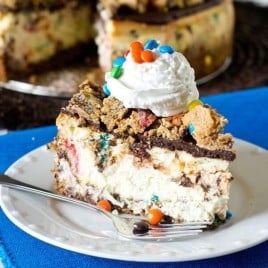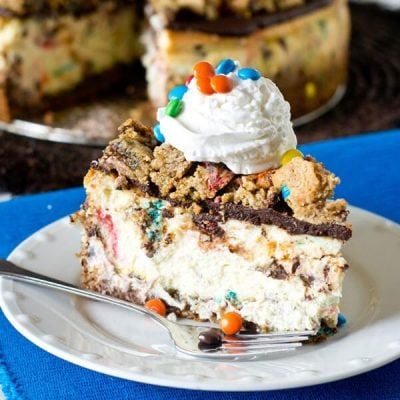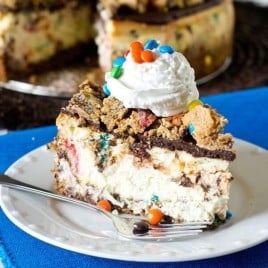 Monster Cookie Cheesecake
Your favorite cookie meets creamy cheesecake! This Monster Cookie Cheesecake will be a hit with cookie and cheesecake lovers alike. Cookie crust with M&M's swirled throughout and a chocolate ganache topping.
Cook Time
1

hour
10

minutes
Total Time
2

hours
10

minutes
---
Ingredients
Monster Cookie Dough:
1/3

cup

butter

softened

2/3

cup

white sugar

2/3

cup

brown sugar

1

cup

creamy peanut butter

2

large

eggs

1/2

teaspoon

corn syrup

1/2

teaspoon

vanilla

1 1/3

teaspoons

baking soda

3

cups

quick cook oats

2/3

cup

mini chocolate chips

2/3

cup

mini M&M baking chips
For the Cheesecake:
40

ounces

cream cheese

softened

1

cup

white sugar

3

tablespoons

flour

1

tablespoon

vanilla

1

cup

sour cream

4

large

eggs

1/2

cup

mini chocolate chips

1/2

cup

mini M&M baking chips
For the Ganache:
1/2

cup

heavy whipping cream

1 1/2

cups

semi-sweet chocolate chips

(not mini sized)
Instructions
*This cheesecake needs to be made the day before eating it so it has enough time to cool.*

Preheat oven to 350 degrees.

In a large bowl, cream together the butter, sugars, and peanut butter until smooth. Beat in the eggs. Stir in the corn syrup and vanilla. Mix in baking soda and oats until well blended. Stir in the M&Ms and chocolate chips. Reserve two cups of cookie dough and set aside for the crust. With the remaining dough, use an ice cream scoop to make 12 cookies and place them on a cookie sheet.

Bake the cookies for 10 minutes at 350 degrees.

Lightly spray a 10" springform pan with cooking spray. Press the reserved cookie dough into the bottom and about 1/2" up the sides of the pan.

Using a stand mixer with a paddle attachment, beat the softened cream cheese or 1-2 minutes until it is smooth and creamy.

Add the sugar, flour, vanilla and sour cream. Beat for an additional 1 minute. Add the eggs, one at a time, beating between each addition just until blended.

Gently fold in the mini chocolate chips and M&M's.

Pour the cheesecake batter onto the cookie crust and smooth the top.

Bake at 325 degrees for 1 hour and 10 minutes. The center of the cheesecake should still be "jiggly", but look set. Try not to open the oven door during baking, as this can cause a change in temperature and potentially cause cracks.

Remove the cheesecake from the oven and run a knife along the edge of the cheesecake to loosen it from the pan. This will also help prevent cracks as it cools.

Allow the cheesecake to cool to room temperature, the cover it with plastic wrap and place it in the refrigerator to cool completely.

After the cheesecake has refrigerated for at least 3-4 hours, prepare the ganache.

Heat ½ cup whipping cream in the microwave for 30 seconds or until it is very hot, but not boiling.

Place the semi-sweet chocolate chips in a bowl. Pour the hot whipping cream over the chocolate chips and stir it constantly for 1-2 minutes until the chocolate has completely cooled and is smooth and shiny.

Remove the outside ring of the springform pan from the cheesecake.

Spoon the ganache on top of the cheesecake and spread it out to the sides.

Chop about 7-8 of the baked monster cookies into chunks. Sprinkle the cookie chunks on top of the ganache.

Cover the cheesecake and refrigerate overnight or until serving.
Notes
*When you fold in the mini M&M's, you want to stir the least amount possible since the colored coating on the M&M's will start to come off. The swirled color look was kind of pretty. If you want to prevent this, pour ⅓ of the cheesecake batter in the pan, then sprinkle M&M's on top, and repeat the layers. This way the M&M's will be spread throughout the cake, and you won't have to stir them in. br]*Because this cheesecake has a topping, it doesn't matter too much if cracks develop. I've given a few hints above to prevent cracks. Another option is to use a water bath. Sally from Sally's Baking Addiction has some great tips for baking cheesecake [here . *Do not use mini chocolate chips for the ganache. They do not melt smoothly. *If you want a "dripping chocolate" look for the cheesecake, spoon the chocolate to the edge and use the spoon to just barely push the chocolate over. It will drip down in a mouth-watering way!
Nutrition
Calories:
928
kcal
|
Carbohydrates:
81
g
|
Protein:
16
g
|
Fat:
61
g
|
Saturated Fat:
31
g
|
Cholesterol:
192
mg
|
Sodium:
524
mg
|
Potassium:
443
mg
|
Fiber:
4
g
|
Sugar:
62
g
|
Vitamin A:
1540
IU
|
Vitamin C:
0.2
mg
|
Calcium:
178
mg
|
Iron:
3.4
mg