Tastes of Lizzy T participates in affiliate advertising programs. We may earn a commission when you make a purchase through links on our site.
Thick, rich, gingerbread cheesecake layered with gingerbread loaf batter. Spiced whipped topping, crushed gingersnaps and caramel top this decadent, holiday dessert.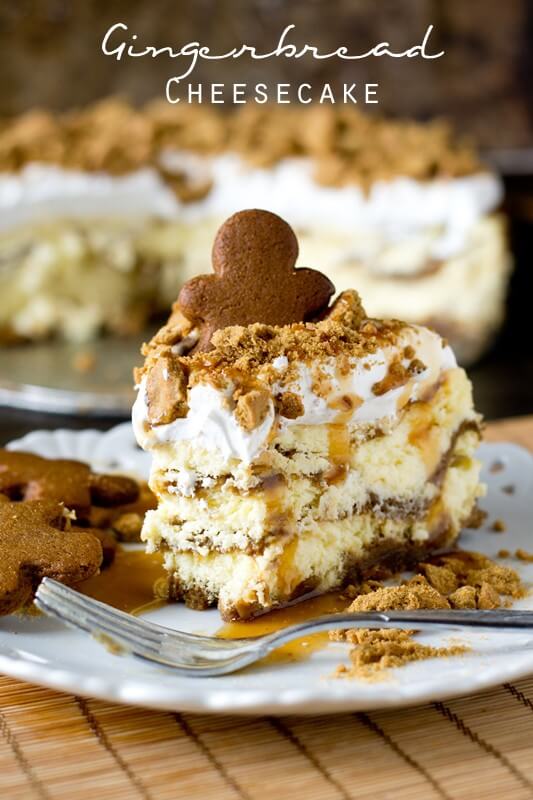 Gingerbread Cheesecake Recipe
Have you ever eaten two cheesecakes in one weekend?
Yeah…me either…*averting eye contact*...
I can say that I personally did not eat two entire cheesecakes this past weekend. My family helped. But I did make and eat more than my share. It was a goooooood weekend. 🙂
One recipe was a delicious failure and still needs work. But this gingerbread cheesecake came out perfectly. Just for you. Just for this gingerbread-y holiday season.
Gingerbread Cheesecake Layers
Gingersnap crust. I had never bought a box of gingersnaps before this past weekend, and it is clear that I can't keep these crunchy, sweet little cookies sitting around. They're just too good.
Creamy, rich cheesecake, layered with gingerbread.  Remember this gingerbread loaf? We halved that recipe and layered the batter with the cheesecake. It all baked together in an amazingly delicious way.
Spiced Cool Whip topping. I added just a touch of nutmeg and ginger to the Cool Whip to give it a little kick. I love this light, refreshing layer on top of the rich, sweet cheesecake.
Crushed gingersnaps for a crunchy topping.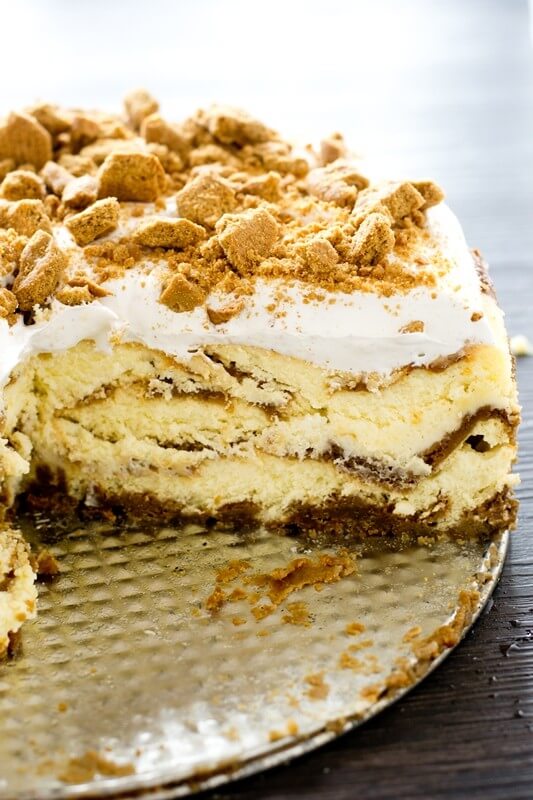 Make Ahead Dessert Recipe
My family watched like hawks as this cheesecake baked and could hardly stand the 24 hours that we let it sit in the fridge.  It was pure torture for them. Matt even helped me with the photos, because the faster the photos get done, the faster the forks and plates come out!
Friends, this cheesecake was good. We each had a slice Sunday night and the rest went in the freezer to save for a later time. Well, that later time ended up being Monday night. Yes, 24 hours was the limit of our self-control. Matt is already trying to think of a reason why we need to make this again! This is just the perfect dessert for making in advance. It helps keep your kitchen clean on the day your company comes.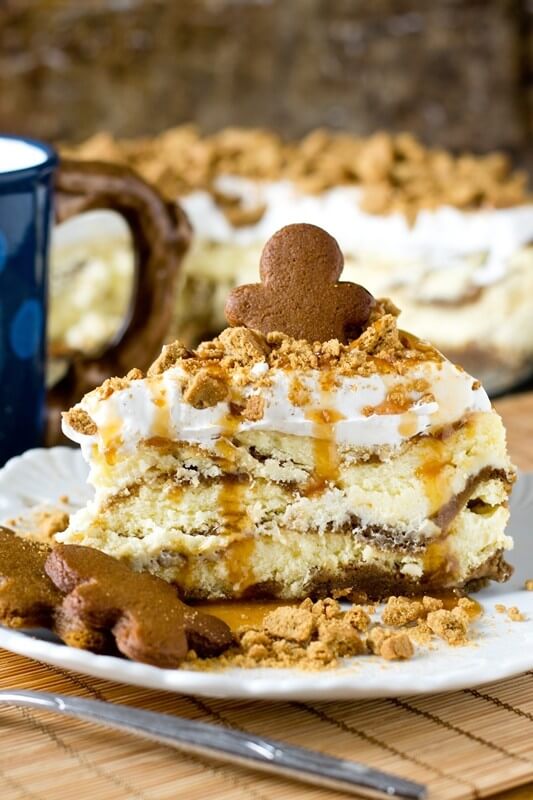 Bake a Cheesecake in a Water Bath
Cheesecakes can be tricky, but every time I make them I realize how simple they are to whip up. Making the cheesecake doesn't take long. It's the baking and cooling process that takes a lot of time.
I normally bake my cheesecakes in a water bath. You can see pictures here of what my cheesecake water bath looks like. If you're afraid your cheesecake will be waterlogged, you could try this method by America's Test Kitchen. I'm going to try it as soon as I get a pan that's a little bigger than my springform pan.
How to Know if a Cheesecake is Done
The biggest problem I have when baking cheesecakes is knowing when the cheesecake is done. With my failed cheesecake this past weekend, I took the cheesecake out too early because the top was starting to brown. I had a feeling in my gut that the cheesecake wasn't done, but I didn't want it to get any browner. Well, you guessed it. The center ended up being like a cheesecake pudding (which was quite tasty!).
To fix the problem when I made the second cheesecake, I lowered the oven temperature to 325 degrees and baked it for 80 minutes. Then I turned off the oven and let the cheesecake sit in the hot oven for another 20 minutes. You want to bake your cheesecake until there is about a 2″ jiggly spot in the center. The cheesecake will finish baking as it sets. The temperature and time in your oven may vary slightly, so keep an eye on the cheesecake, but watch how much you open the oven. Cracks can occur from drafts and temperature changes, so limit the amount you open that oven door!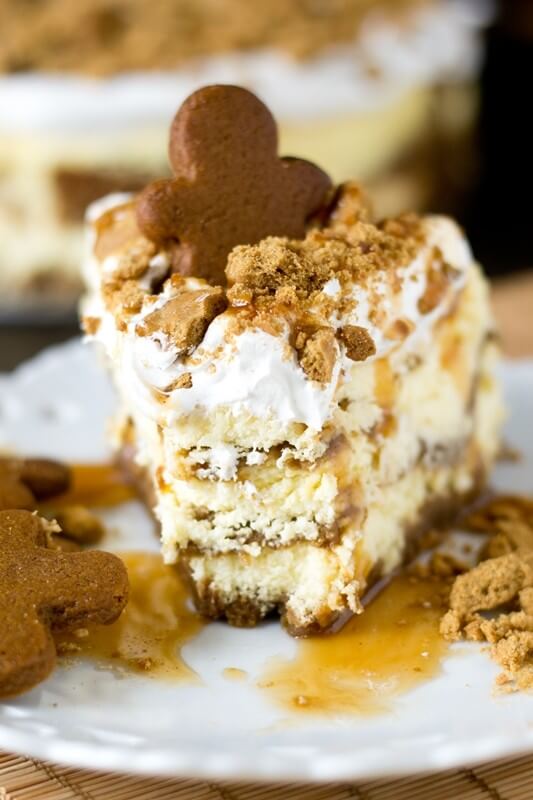 I've always found that cheesecakes taste the best when they've cooled in the fridge overnight. Desserts like this are nice because you can make them ahead of time and serve them when you're ready to!
I served this cheesecake with caramel drizzled over the top. I thought the sweet caramel paired perfectly with the gingerbread and gingersnaps. And you can even make mini gingerbread men to sit in the top of the whip cream. Totally optional, but totally cute! Find our recipe for the best gingerbread ever here.
Don't say I didn't warn you about the addictive nature of this cheesecake. I recommend making it for company so you don't end up eating it all on your own!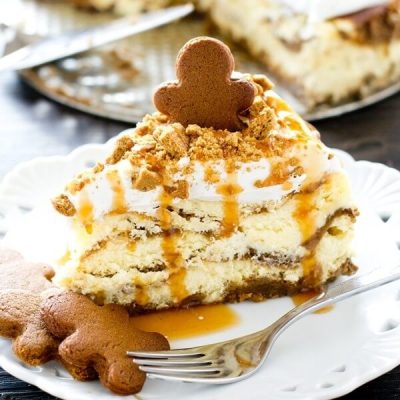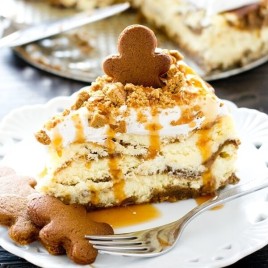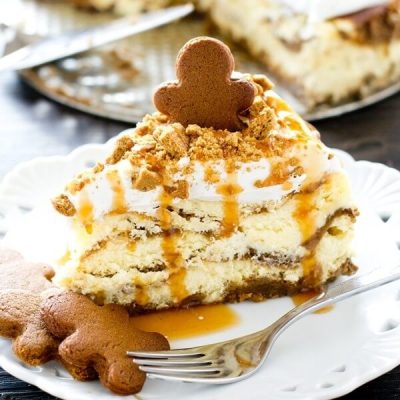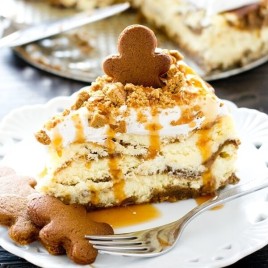 Gingerbread Cheesecake
Thick, rich gingerbread cheesecake layered with gingerbread loaf batter. Spiced whipped topping, crushed ginger snaps and caramel top this decadent, holiday dessert!
Cook Time
1

hour
40

minutes
Total Time
2

hours
5

minutes
---
Ingredients
Crust:
34

gingersnap cookies

crushed

5

tablespoons

butter

melted
Cheesecake:
24

ounces

cream cheese

softened

1

cup

white sugar

3

large

eggs

1/2

cup

plus 1 tablespoon heavy cream

1

teaspoon

vanilla
Gingerbread:
1

cup

flour

1/2

teaspoon

baking soda

3/4

teaspoon

ginger

1/2

teaspoon

nutmeg

1/4

teaspoon

salt

2

tablespoons

sugar

1/4

cup

molasses

1/4

cup

butter

softened

1

large

egg

1/2

teaspoon

vanilla

1/2

cup

buttermilk
Topping:
8

ounces

Cool Whip

1/2

teaspoon

ginger

1/2

teaspoon

nutmeg

15

gingersnap cookies

crushed

Caramel ice cream topping

optional
Instructions
Spray a 10 1/4" springform pan with cooking spray. Wrap the sides and bottom of the pan in two layers of aluminum foil.

In a small bowl, mix together the gingersnaps and butter for the crust. Press these crumbs into the bottom of the springform pan. Set aside.

For the cheesecake: In a stand mixer bowl, beat together the cream cheese and sugar at medium speed until completely smooth, which will be about 2 minutes. Add the eggs one at a time, beating for 30 seconds or so after each egg. Scrape down the sides of the bowl as needed. Add the heavy cream and vanilla extract and beat just until mixed.

For the gingerbread batter: In a mixing bowl, thoroughly stir together the flour, baking soda, ginger, nutmet and salt. Set aside. In a large mixing bowl, beat together the sugar, molasses, butter, eggs and vanilla until light and fluffy. Add the flour mixture to the sugar mixture alternately with the buttermilk, stirring just until blended after each addition.

Pour half of the cheesecake batter over top the gingersnap crust. Spoon spoonfuls of gingerbread batter over the cheesecake batter. Then alternate spoonfuls of cheesecake batter and gingerbread batter, leaving enough cheesecake batter to cover most of the top of the cake. I had just a little bit of gingerbread batter showing on top. The pan will be very full.

Place the springform pan into a larger pan. Boil 1-2 quarts of water. Pour the boiling water into the larger pan until the water comes about halfway up the side of the foil covered springform pan.
Cheesecake
Place the cheesecake in a oven that has been preheated to 325 degrees. Bake the cheesecake for 70-80 minutes. Then turn off the oven and allow the cheesecake to sit inside the oven for another 20-25 minutes, until there is no more than a 2" jiggly spot in the center of the cheesecake. Ovens may vary and pan size will vary, so watch your cheesecake carefully, but to prevent cracks, limit how much you open the oven.

Take out the cheesecake. Remove the pan from the water bath and place the pan on a wire rack with a towel placed underneath to catch any drips.

Cool the cheesecake for 1 hour, then cover the cheesecake and place it in the refrigerator for at least 6 hours, but preferrably overnight.

Before serving, mix the ginger and nutmeg into the Cool Whip and spread the topping over the cheesecake. Sprinkle crushed gingersnaps on top of the Cool Whip.

Drizzle with caramel if desired.

Store in the refrigerator.
Nutrition
Calories:
526
kcal
|
Carbohydrates:
53
g
|
Protein:
7
g
|
Fat:
32
g
|
Saturated Fat:
17
g
|
Cholesterol:
141
mg
|
Sodium:
470
mg
|
Potassium:
304
mg
|
Sugar:
30
g
|
Vitamin A:
1125
IU
|
Calcium:
123
mg
|
Iron:
2.7
mg