Soft, moist, molasses quick bread is perfectly seasoned with ginger and nutmeg. Gingerbread Loaf gives that classic holiday flavor that you love!

Gingerbread Loaf Recipe
I know what you're thinking……it's kind of early to post a Christmas recipe. We love sharing Christmas recipes, but usually we wait a little bit longer before we completely dive into those comforting Christmas treats. But trust me, we have a good reason to share this Gingerbread Loaf with you today.
I'll tell you why.
It took us a full year to finally perfect this recipe. We put a lot of time and ingredients into making this the perfect gingerbread loaf of bread. Both of us, at times, felt like we needed to just give up on this bread. Like when it's your fifth loaf of the day, you've trashed three already, and as you take the bread out of the oven, the unstable middle sinks right down to make a little dip in your bread. Bye bye, perfect gingerbread loaf. But we both also felt like we couldn't part with the idea of an actual soft, sliceable "gingerbread". It was too delicious of an idea to give up on.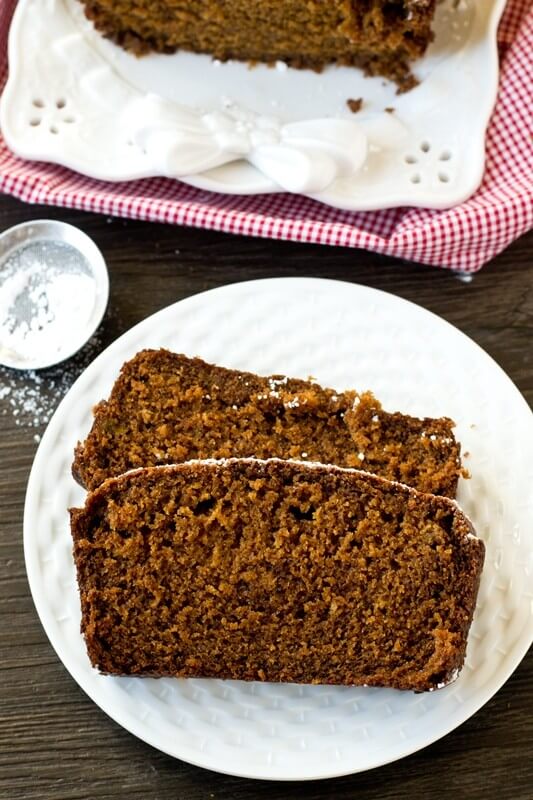 After ditching recipe after recipe, we dug through all of our old cookbooks to seek out the perfect (or almost perfect, anyway) quick bread loaf to revise into our own Christmas-y version. I couldn't ever describe how happy I was when mom looked through the oven door and announced, "This looks pretty good!" We had the best gingerbread recipe we could possibly get. And we did it for all of you. 🙂 You are so welcome.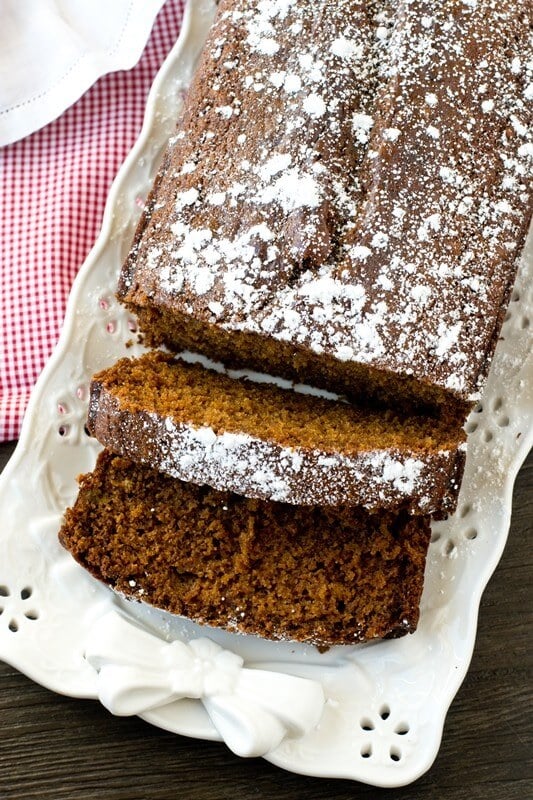 This gingerbread loaf is probably going to be one of my favorite holiday breads, just because of all its familiar spices and it smelling just like gingerbread cookies that I love so much. Since I have braces, I won't be able to eat real gingerbread cookies because they're just a little too crispy. But I'm okay with that because this is just as good! There is nothing better on a cold winter morning than a warm buttered piece of gingerbread loaf and a hot drink. Like a warm, smooth, spiced cranberry cider…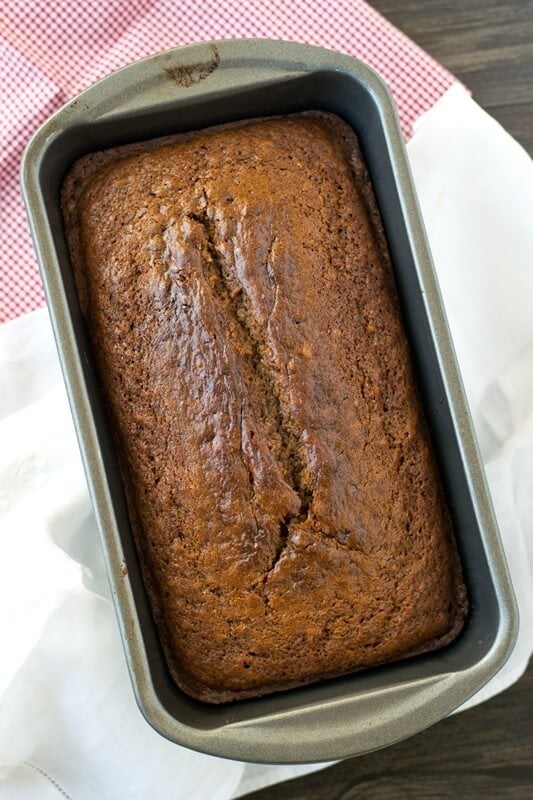 Soft Gingerbread Quick Bread
We've posted many quick bread recipes before, but I'm going to remind you again like my mom always reminds me, you should not overmix the batter. I like to use a rubber spatula to scrape and fold the batter together over and over. Then, as soon as it's blended all the way, you stop mixing immediately. Trust me, the more you make quick bread, the easier it is to remember and the more natural it becomes. I love mixing ingredients together so I was kind of frustrated I couldn't overmix, but now I don't really care. If you're afraid of getting flour chunks in your bread, you can always sift the flour before adding it in. It really works and gets your flour incorporated well.
Enjoy this recipe a lot, and be thankful that you weren't the one trying to perfect this recipe over the past year!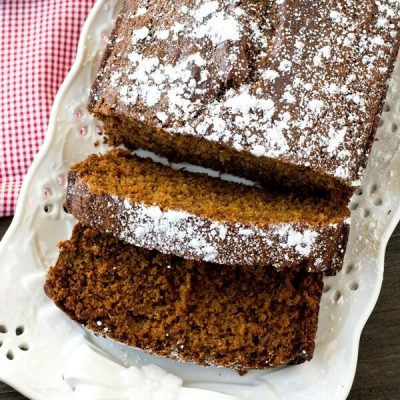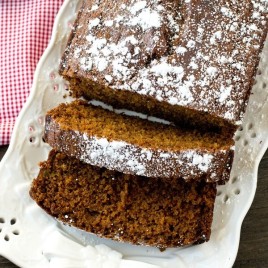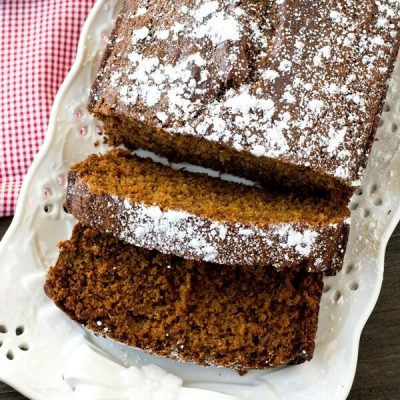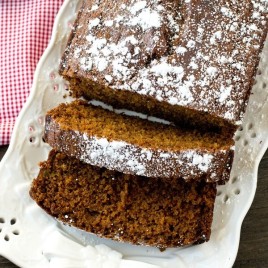 Gingerbread Loaf
Soft, moist, molasses quick bread is perfectly seasoned with ginger and nutmeg. Gingerbread Loaf gives that classic holiday flavor that you love!

---
Ingredients
2

cups

all-purpose flour

240 grams

1

teaspoon

baking soda

2

teaspoons

ginger

3/4

teaspoon

nutmeg

1/2

teaspoon

salt

1/2

cup

brown sugar

(packed)

1/2

cup

butter

(softened)

1/2

cup

molasses

1

teaspoon

vanilla

2

large

eggs

1

cup

buttermilk*

powdered sugar for dusting the top

if desired
Instructions
Preheat the oven to 350 degrees.

In a mixing bowl, thoroughly stir together the flour, baking soda, ginger, nutmeg and salt. Set aside.

In a large mixing bowl, cream together the sugar and butter until well combined. Add the molasses and vanilla. Mix well. Add the eggs, one at a time, until well mixed.

Add the flour mixture to the sugar mixture alternately with the buttermilk, stirring just until blended after each addition.

Spoon the batter into a greased 9x5 inch loaf pan and bake at 350 degrees for 45-50 minutes.

Cool in the pan for 10 minutes.

Remove from the pan and cool.
Notes
*In place of buttermilk, you place one tablespoon of vinegar in the bottom of a 1 cup measuring cup. Fill the rest of the cup with milk. Allow the mixture to sit for 5 minutes before using.
Nutrition