Tastes of Lizzy T participates in affiliate advertising programs. We may earn a commission when you make a purchase through links on our site.
Many old-fashioned recipes call for a "Powdered Sugar Glaze or frosting. Here's a tutorial on what exactly that drizzle recipe is for the tops of cakes, pastries and breads.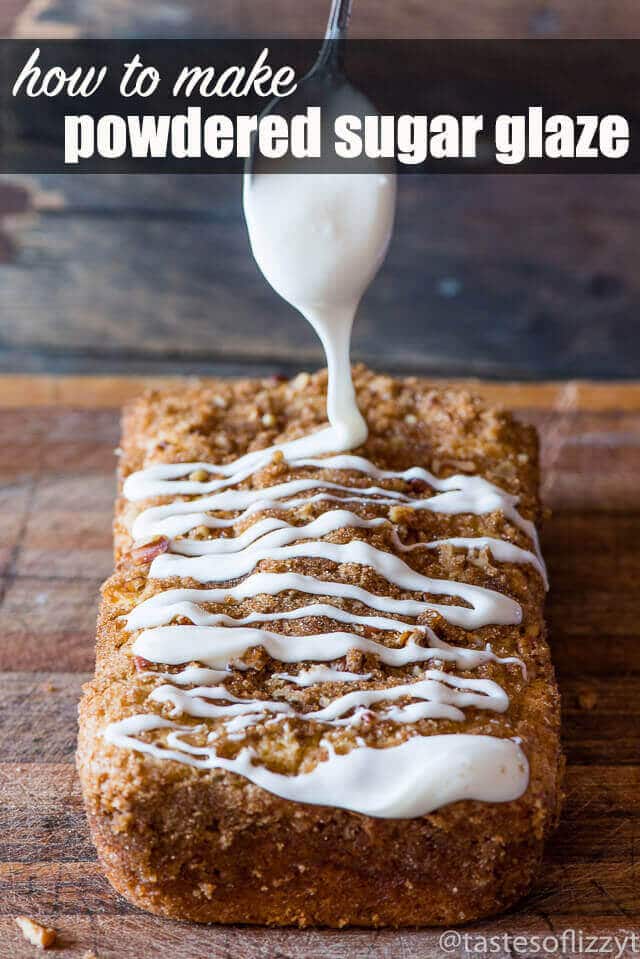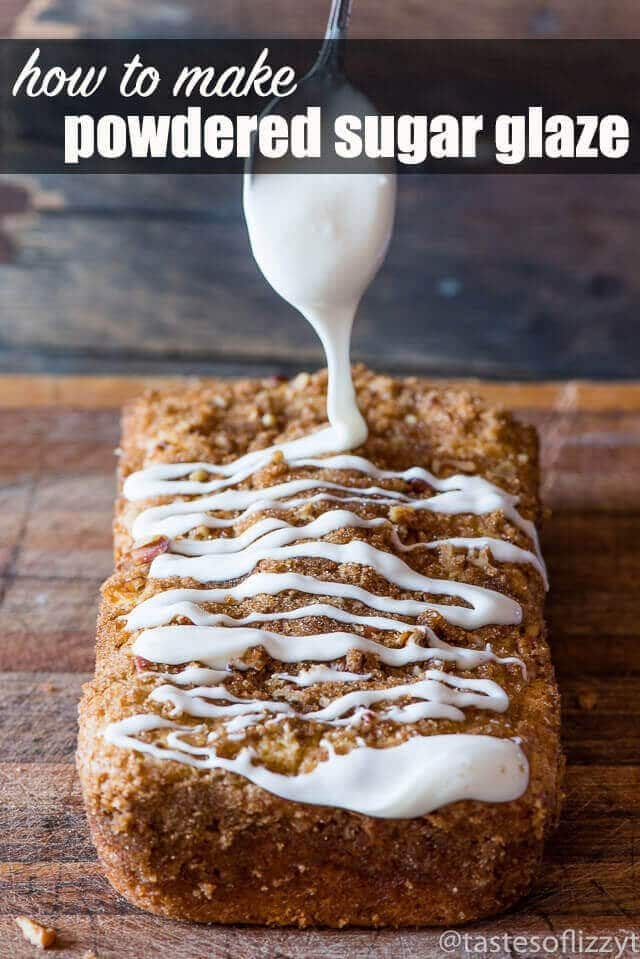 I have a confession. I am a collector of cookbooks. The older and more obscure, the better. I have a stockpile of recipes that my grandmas have cut out of newspapers and magazines for the past 70 years and old church cookbooks from 50 years ago or more.
I often have to make a lot of tweaks to these recipes as I test them. Many times ingredients and the "how-tos" are assumed and it's not exactly clear what I'm supposed to do. I love trying to understand the instructions. There's nothing like breathing fresh life into an old recipe!
One thing I've had readers ask me about is the elusive "powdered sugar frosting" recipe that many old-fashioned recipes call for. Cookbooks just assume that you know exactly how to make this icing that uses powdered sugar and is often drizzled over cakes, breads and cookies.
Although this recipe is so simple, it's also very versatile based on what you are wanting to use the glaze for, so hang in there with me as we walk through this!
What Is In Powdered Sugar Glaze?
Powdered sugar glaze has in its very basic form two ingredients: powdered sugar and milk.
Powdered sugar is the only constant in every single variation we'll talk about today. Milk is what in general thins out the powdered sugar, making it into a sweet drizzle. I like to use heavy cream instead of standard milk, because a little extra richness is always good.
How Do You Make Powdered Sugar Glaze?
The exact amounts will depend on how much drizzle you are needing, but I generally start with 1 ½ cups of powdered sugar. Then to the sugar, I add cream, one tablespoon at a time, until the mixture is at the consistency I'd like. Obviously if you are wanting to spread it on top of bread, you'd add less cream. If you want a light drizzle over some sweet rolls, you'll add more cream.
It's important to note that if you use milk, you'll need fewer tablespoons than if you use cream. The higher the fat content of the milk you use, the more tablespoons you'll need because the milk is thicker. Whatever type of milk or cream you choose, the key is to add it one tablespoon at at time until you reach the desired consistency.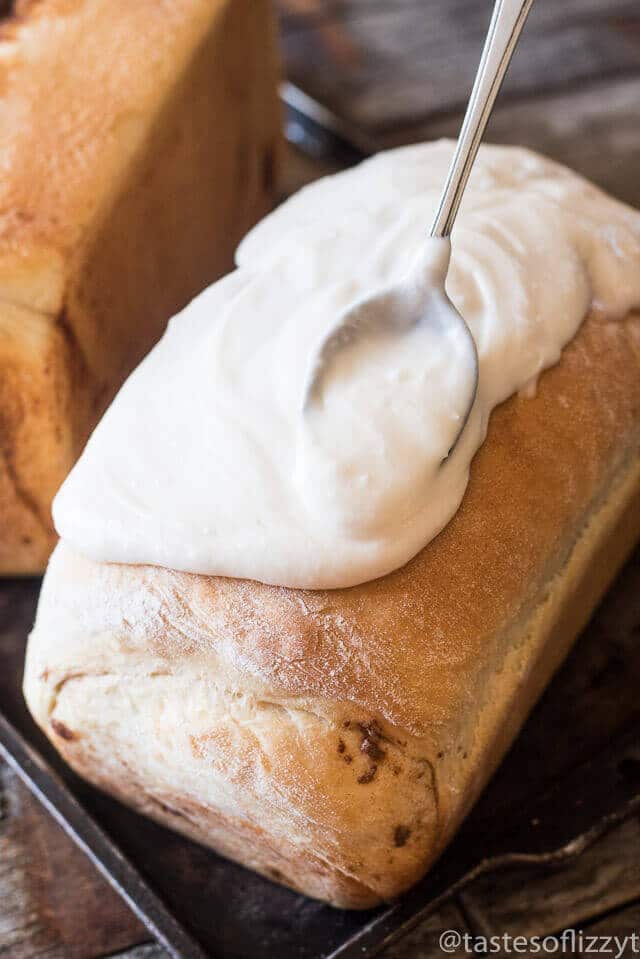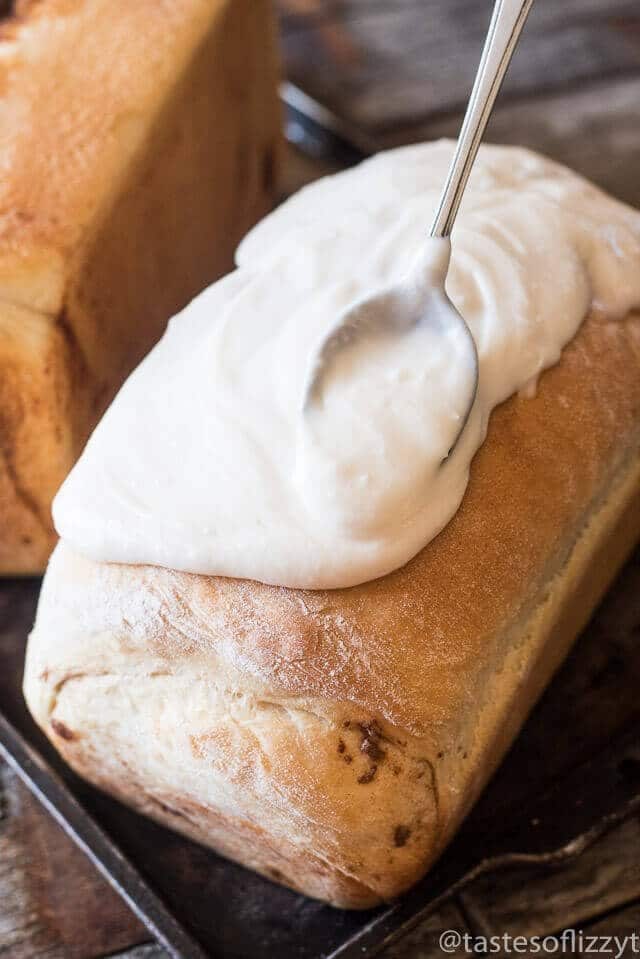 How Do I Flavor Powdered Sugar Glaze?
Once you have the basic powdered sugar and cream recipe down, the fun part comes! You can add vanilla, coconut, almond or even butter extract to the glaze to boost its flavor. Add a half teaspoon a time until it tastes just like you love.
What About Adding Melted Butter?
I do like to add a tablespoon of melted butter at times to my powdered sugar glaze. This just completely depends on tastes, but if the recipe is butter-based, I think it complements the baked goods well.
Other additions to Powdered Sugar Icing
If I am making a lemon dessert, I often use lemon juice in place of the cream. You can see how I did this in this bundt cake and on these cookies.
Love cream cheese? Soften it and add it to your glaze for drizzling on carrot cake bread.
What about apple flavor? Use apple cider in place of the cream as we did on these apple butter muffins.
Crazy for peanut butter? Try adding peanut butter and drizzle it over a chocolate cake.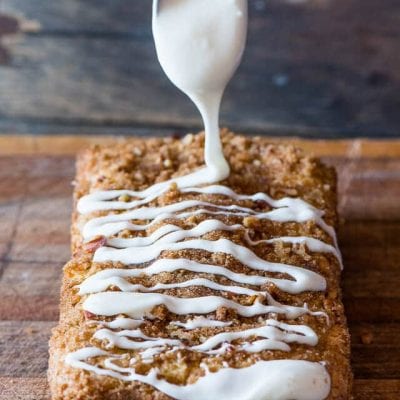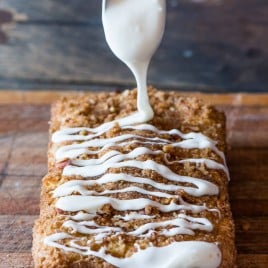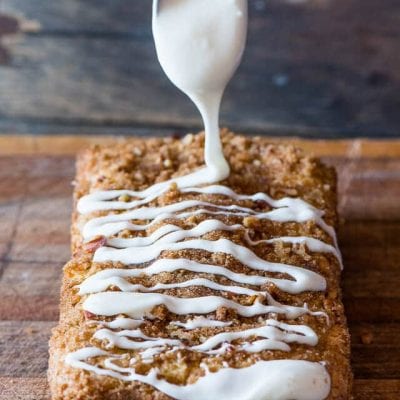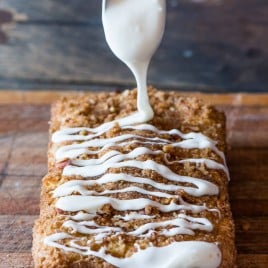 Powdered Sugar Glaze
Many old-fashioned recipes call for a "Powdered Sugar Glaze or frosting. Here's a tutorial on what that drizzle recipe is for the tops of cakes and pastries.
---
Ingredients
1 1/2

cups

powdered sugar

3-5

tablespoons

heavy cream*

1/2

teaspoon

flavored extract
Instructions
Place the powdered sugar in a medium-size bowl.

Add the heavy cream a tablespoon at a time until you reach the consistency you'd like your icing or drizzle to be.

Add the flavor extract of your choice.

Mix well and immediately drizzle or spread over cookies, cakes or breads.
Notes
*Instead of cream you can use milk, half and half or even lemon juice or apple cider. Whatever liquid you choose, just add it slowly to the sugar, one tablespoon at a time, until the glaze is at the right consistency.
Nutrition
Calories:
106
kcal
|
Carbohydrates:
22
g
|
Fat:
2
g
|
Saturated Fat:
1
g
|
Cholesterol:
7
mg
|
Sodium:
2
mg
|
Sugar:
22
g
|
Vitamin A:
85
IU
|
Calcium:
4
mg