Tastes of Lizzy T participates in affiliate advertising programs. We may earn a commission when you make a purchase through links on our site.
Tips on how to make the best cut out sugar cookies. Buttery and lightly sweet, this cookie dough holds its shape when you bake it. Perfect for Christmas cookies and other holiday shapes. If you love sugar cookies, see all of our recipes here.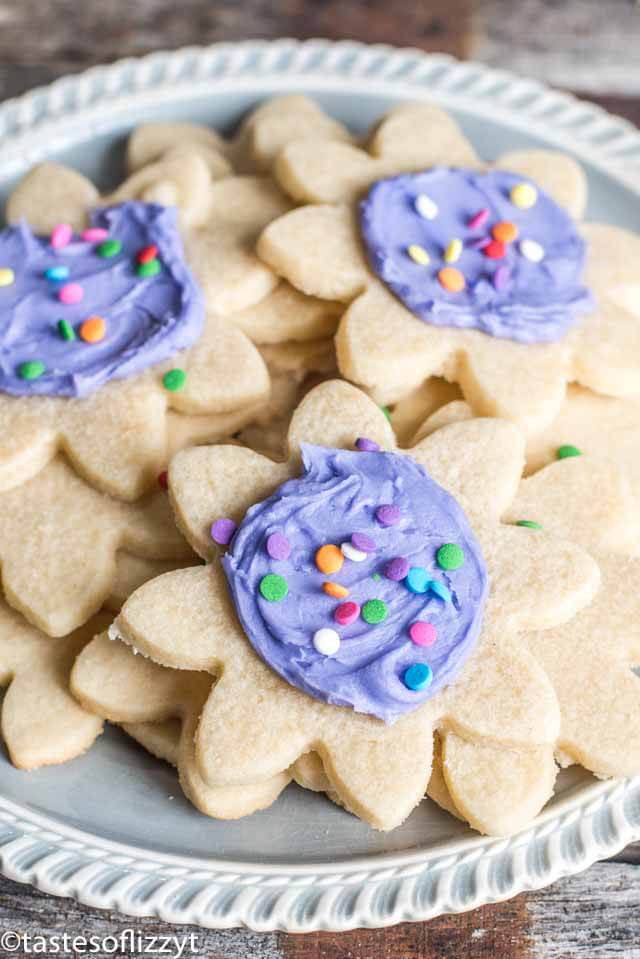 Cut Out Sugar Cookies Recipe
Cut out sugar cookies aren't just for Christmas. Yes, rolled cookies are fun at Christmas time with the stocking, tree and bell shapes, but they can be just as festive in the spring with flowers, sunshines and bird shapes. This is the best sugar cookie recipe we've found. I've been making it for years because it is so easy. Only 6 ingredients. A simple, lightly sweet buttery flavor. The cookies remind me of shortbread and I could eat a whole tray of them without any frosting. Although we know that frosting the cookies is often the part we have most fun with!
How to Make Sugar Cookies
The first step in making sugar cookies is to gather the ingredients. Flour, salt, sugar, eggs, vanilla and butter. These are all staples you probably have in your pantry. The butter should be stick butter, not tub butter…and not margarine! Use 100% real butter sticks. Be sure the butter is completely at room temperature so that it mixes in well. I would let the butter sit at room temperature for at least 2 hours before mixing the cookies. And if you have to soften it in the microwave, be sure not to melt it.
Mix the ingredients together using a stand mixer or hand mixer. This will help ensure the ingredients get mixed completely.
The next step can go one of two ways. You can chill then dough, then roll it, or you can roll the dough, then chill it. A key step to perfect cookies is to chill the dough and the dough will be much easier to roll before you chill it. Rolling the dough first is by far the easiest way to do it. Divide the dough in two balls, roll each out, then stack the dough sheets with parchment paper or wax paper between and refrigerate for at least an hour.
If you need to chill the dough before rolling, gather the dough into a ball and flatten it slightly into a disc, then wrap it in plastic wrap and refrigerate for at least an hour.
Use your favorite shapes to cut the cookies and place them on a non-stick baking sheet. Bake them for about 12 minutes, but watch them closely. You don't want them to brown at all. This will ensure you cookies stay nice and soft!
Move the cookies to a wire rack to cool completely before frosting.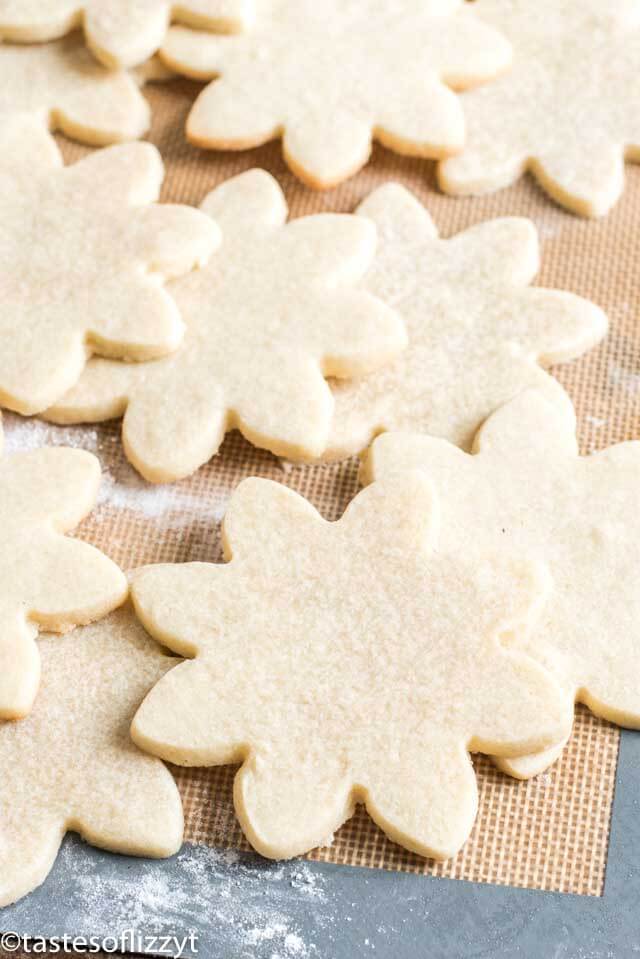 Cut Out Cookies that Hold Their Shape
There are three important things to remember in order to get sugar cookies to hold their shape.
Use real butter. No substitutes! I usually use salted butter because that's what I keep on hand. For even better results, use a high fat European butter.
Be sure that you've mixed the ingredients fully. If there are pockets of butter, you'll find them to melt during baking and cause the cookies to spread. Make sure the butter is softened and mix the dough really well.
Refrigerate the dough. It's sometimes a pain to wait for dough to chill, but it greatly helps sugar cookies keep their shape.
Freeze Sugar Cookies
This cookie recipe freezes really well. You can make these cookies up to a month in advance, wrap the cookies well and freeze them. Be sure to place parchment paper between the cookie layers. The cookies are soft and may stick together if you don't.
Allow the cookies to defrost completely before you unwrap them. Doing this will help the moisture to stay in the cookies and not become dry.
Read all about how to freeze cookie dough here.
Sugar Cookie Icing
This cookie recipe holds several different types of frosting really well. They make a great base for fancier, royal icing cookies. If you need a royal icing recipe, try this one. We've used it before and it works well!
If you want something simpler, you can use a powdered sugar frosting like we used here. You can thin this recipe as much as you'd like and spoon it on gently to spread it. The color stays vibrant and the frosting stays soft.
If you're looking for a fluffy sugar cookie frosting, try our vanilla buttercream recipe. You can pipe this in swirls on the cookies or use a knife to spread it and then top with sprinkles.
Other Sugar Cookie Recipes
Tools to Make Sugar Cookies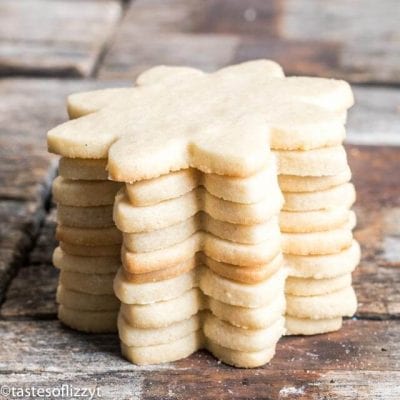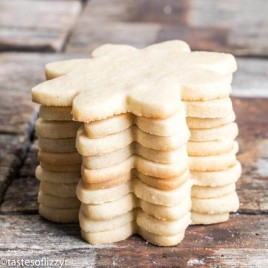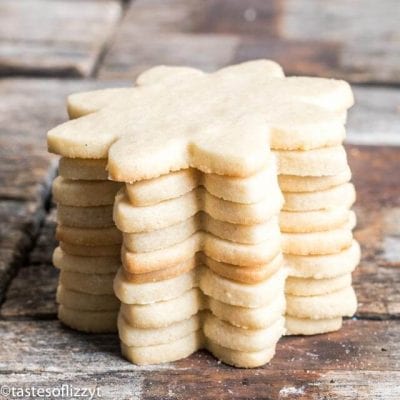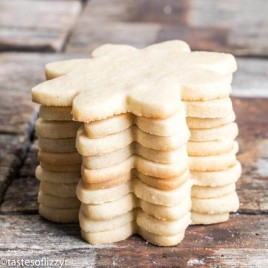 Cut Out Sugar Cookies
Tips on how to make the best cut out sugar cookies. Buttery and lightly sweet, this cookie dough holds its shape when you bake it. Perfect for Christmas cookies and other holiday shapes.
---
Ingredients
4

cups

all purpose flour

1/2

teaspoon

salt

1 1/2

cups

salted butter*

(room temperature)

1 1/2

cups

granulated white sugar

2

large

eggs

2

teaspoons

vanilla
Instructions
In a medium bowl, combine the flour and salt with a wire whisk.

In a stand mixer, cream the butter and sugar together. Add the eggs and vanilla and beat on medium speed until mixed well.

Scrape down the sides of the bowl and add the flour mixture.

Mix just until combined, being careful not to overmix.

Divide the dough in half, gently flatten the ball into a disk and wrap tightly in plastic wrap.

Refrigerate for 1 hour.**

On a floured surface, roll out the dough to 3/8" thick. Use cookie cutters and cut as many shapes as possible, re-rolling the dough scraps and cutting again.

Place the shapes on a non-stick baking sheet.

Refrigerate the cookie dough for another hour.

Preheat the oven to 325 degrees.

Bake the cookies for 12-13 minutes, pulling the cookies out just before they start to brown.

Allow the cookies to cool for 2-3 minutes, then transfer them to a flat surface to cool.

Once the cookies are cooled, decorate as desired.
Notes
*The butter should be stick butter, not tub butter...and not margarine! Use 100% real butter sticks. And make sure the butter is at room temperature, not fully softened or melted at all. The butter should just give slightly when you press into the stick of butter.
*The amount of cookies you get will greatly depend on how thick you roll the dough and how large your cookie cutter is. I'd say you'll get anywhere from 3-5 dozen cookies with this recipe depending on those factors.
**Looking for an easier way to roll the dough? Roll out the dough before you refrigerate it. Stack the rolled out sheets with wax paper or parchment paper between them. Refrigerate for at least 1 hour, then cut into shapes.
***The calories shown are based on the recipe making 36 cookies, with 1 serving being 1 unfrosted cookie. Since different brands of ingredients have different nutritional information, the calories shown are just an estimate.
Nutrition
Calories:
155
kcal
|
Carbohydrates:
18
g
|
Protein:
1
g
|
Fat:
8
g
|
Saturated Fat:
4
g
|
Cholesterol:
30
mg
|
Sodium:
104
mg
|
Potassium:
20
mg
|
Sugar:
8
g
|
Vitamin A:
250
IU
|
Calcium:
6
mg
|
Iron:
0.7
mg