How to Freeze Cookie Dough
Your complete guide on how to freeze cookie dough. Our best cookie recipes to freeze, plus tips and techniques for quick, easy, cookie baking.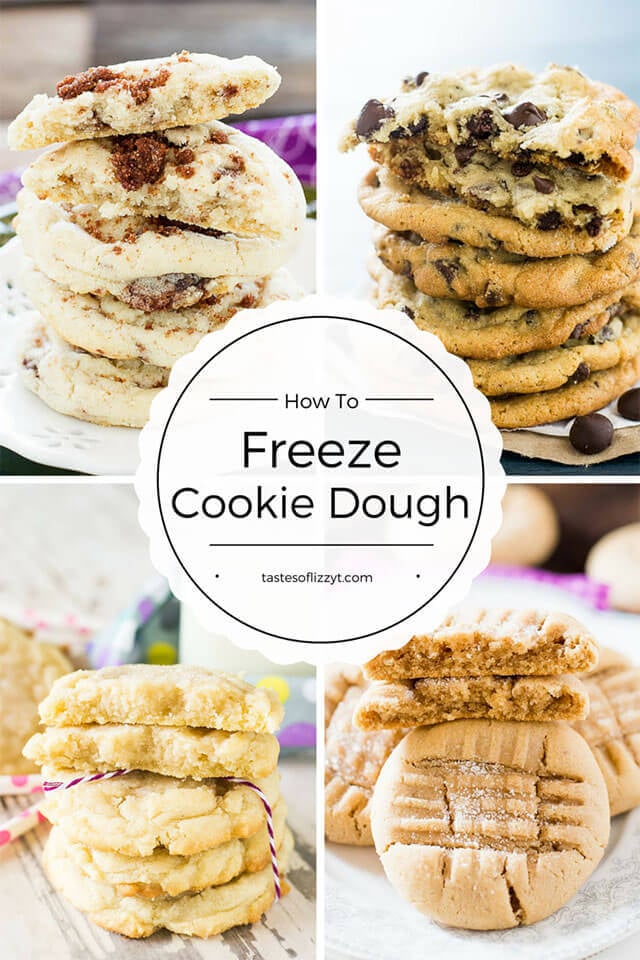 How to Freeze Cookie Dough
If there's one thing we're known for, it's our cookies.
About two years ago I set out to come up with 5 or 6 basic cookie recipes.  After much trial and error and many different recipe tests and techniques, we did it. We found our perfect peanut butter cookie, snickerdoodle cookie, sugar cookie and chocolate chip cookie, and then few variations of each.
We make these cookies quite often because they are are our quick, no-fail recipes that everyone loves. Freezing the cookie dough of our most loved recipes makes these cookies even more of a quick and easy treat.
I'm sharing with you today our tricks on how to freeze cookie dough. Let's get started!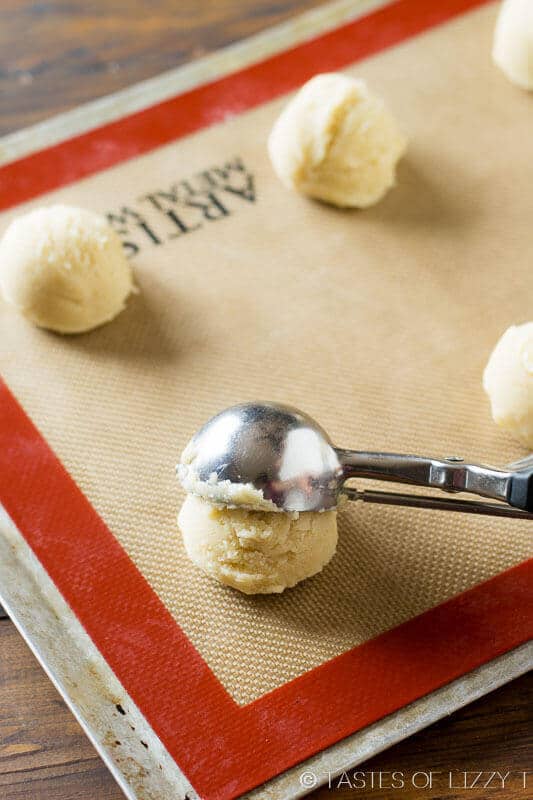 Why Freeze Cookie Dough
There can be many different reasons on why you would want to freeze cookie dough. Maybe you have a party coming up where you need a boatload of cookies. You won't have time to mix them and bake them all immediately before the party, but you want the cookies to be as fresh as possible.  Freeze the cookie dough ahead of time, then bake them as close to the party as you can and you have freshly baked cookies with half of the work.
Maybe you are like us and you get cookie cravings. When those cravings hit, you want to satisfy it quickly and with a soft, warm, sweet cookie! If you have frozen cookie dough, you can pull out just the amount of cookies you'd like to bake at that time. Because really, if there are 3 dozen cookies, you'll most likely eat those three dozen at once. Which doesn't do so great for those healthy eating goals. But if you have the self-control to just pull out ½ a dozen, you'll be able to satisfy that sweet craving easily.
Freezing cookie dough is also great for when you have unexpected company. What friend doesn't like freshly baked cookies?! They're like your own personal, homemade break 'n bake cookies.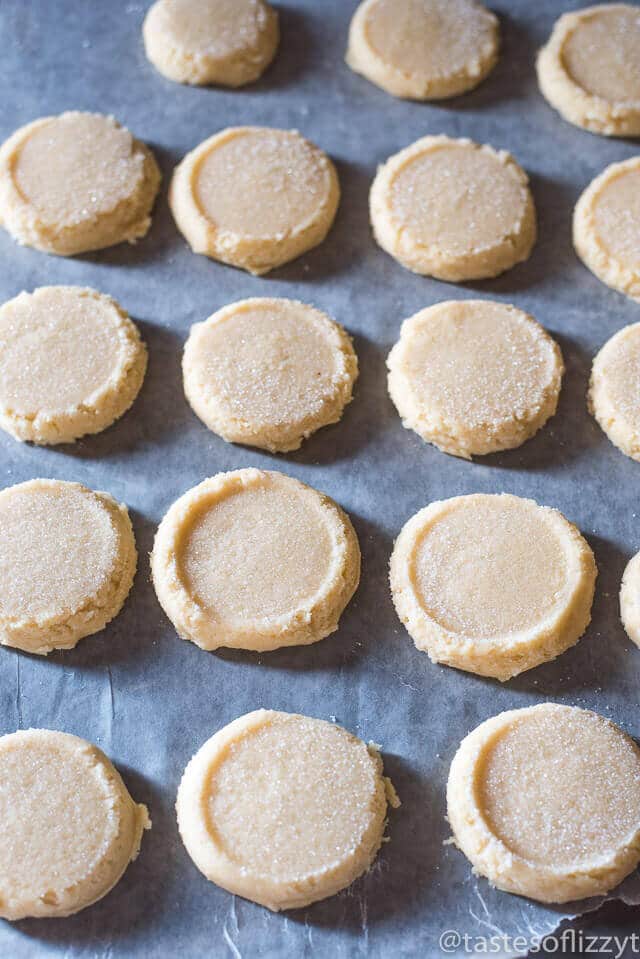 How Do You Freeze Cookie Dough
Technique is important in freezing cookie dough. You want to make it as easy as possible to pull out the cookie dough from the freezer, defrost and bake when you need that quick sweet treat.
For most cookie recipes, mix the cookies as you would normally. If the recipe calls for refrigerating, refrigerate them. Do everything that you would do as if you were baking the cookies. Scoop the cookies using a cookie scoop. We like to make big cookies, so our cookie dough balls are big. Make the cookie dough balls the size you want your cookies to be. Place the cookies close together, but not touching on a wax paper lined cookie sheet. I put them in three rows for easy dividing.
Our favorite recipes all call for gently flattening the dough balls with a sugar-covered cup, so we do this before freezing. Sprinkle the tops of the cookies with sugar (our little bakery trick!) and pop that cookie sheet in the freezer for about 30 minutes. This allows the cookies to partially freeze before you put them in the bag or freezer container. If they are not frozen separately before putting them in the storage container, they may stick together and be hard to separate.
Once the cookies are hard and mostly frozen, pull them out of the freezer and you're ready to bag them up!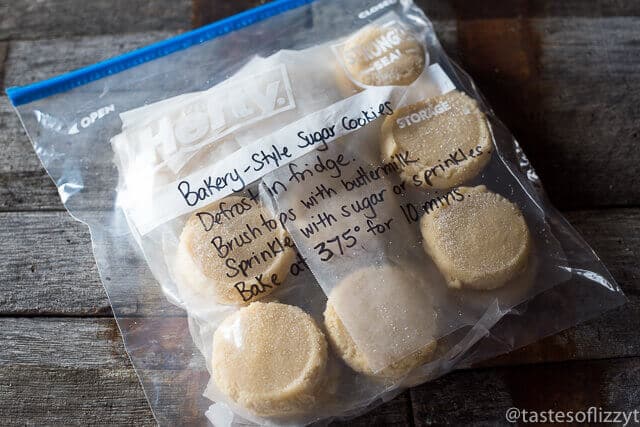 What Do I Freeze Cookie Dough In
When you freeze cookie dough, you want to wrap it well to prevent freezer burn. I stack about 3 layers of frozen cookies, with wax paper (or parchment paper) between each layer and slide them into a Ziploc freezer bag. Squeeze out any air as you seal the bag.
Next, slide that into another bag, or place that bag into large plastic storage container. These are my favorite cookie containers. They hold several dozen cookies and stack easily in the freezer.
Lastly, using a permanent marker, write the name of the cookies and baking instructions on the outside of each bag so you don't have to waste time looking up baking temperature and time.
Pop those bags or containers into the freezer and you're set!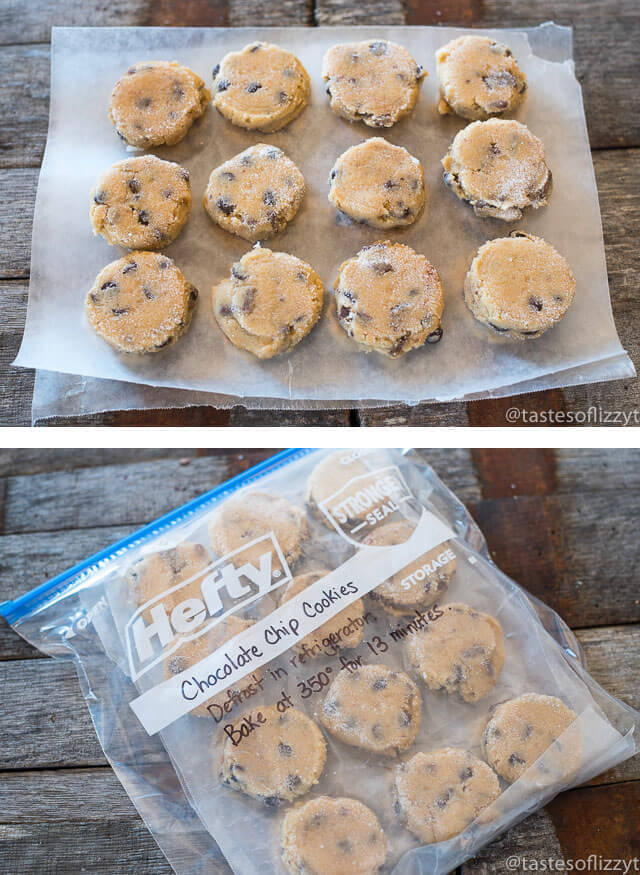 How Long Can Frozen Cookie Dough Keep
You can safely freeze cookie dough for up to 3 months. Honestly, ours has never kept that long. Because once you know you have cookie dough you can pull out and bake quickly, there's no stopping late night cookie cravings.
How To Bake Frozen Cookie Dough
So its Friday morning and you're planning ahead for your pizza and movie night with the family. You remember that frozen cookie dough and you know a freshly baked chocolate chip cookie will be just the thing to top of a perfect evening. Pull out however much cookie dough you'd like and keep it sealed in the bag. If you're not using all of the dough in the bag, just remove the cookie dough that you'd like and seal it in a separate bag. Keep the dough in the fridge, allowing it to slowly defrost, then bake it in the evening when you're ready at the normal temperature and baking time. This is the way I prefer to bake frozen cookie dough.
But….
It's Monday night and you've had a rough day. Your kids have been arguing all day, you've been playing taxi mom and you found a load of clothes that you forgot in the washer and have to start all over again. All you want to do is sit down with a bowl of ice cream and creamy, hot fudge sauce. The the chocolate chip cookie dough pops into your mind and you wish you would've remembered to pull out a bag from the freezer this morning. Don't fear. Take a deep breath. We've got your back! Pull out the cookies you'd like and set them on a cookie sheet. Allow them to sit while the oven heats. Bake the cookies at the temperature the recipe requires. The only difference will be that you may have to add a few minutes to the baking time if the dough is frozen. Add a minute or two and watch them closely.
Enjoy the sweet aroma wafting from your oven and indulge as soon as they are cool enough to eat.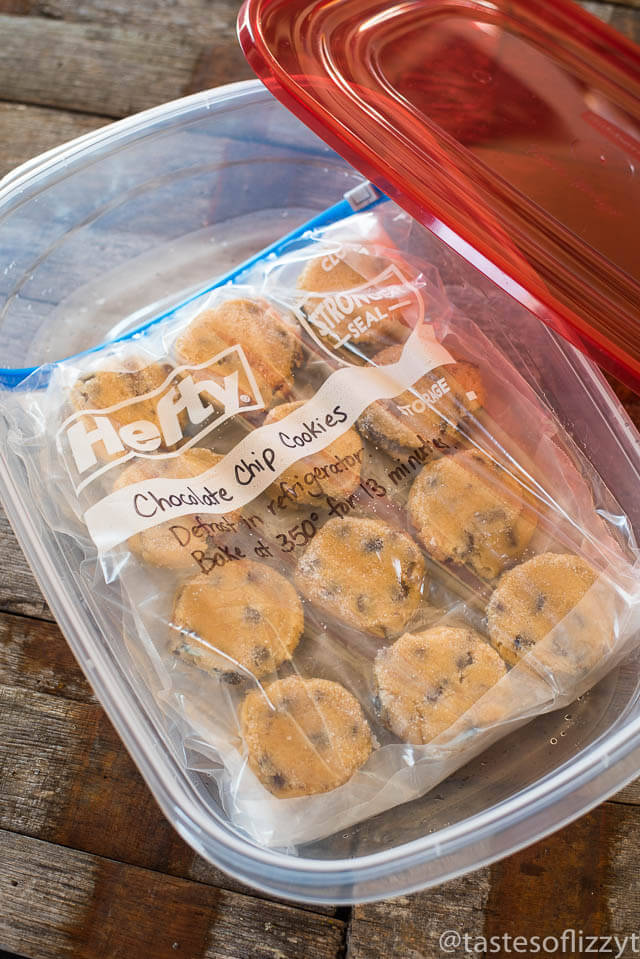 What Cookie Dough Can You Freeze
Now that I've convinced you to have a stash of cookie dough in your freezer, you're probably wondering which cookie dough freezes well. Generally cookies that are high in fat content (lots of BUTTER!) freeze well. Think drop cookies…chocolate chip, oatmeal raisin, peanut butter cookies. What cookie dough does not freeze well? Light, delicate cookie dough that tends to be very tender after they've baked. One example is my buttermilk sugar cookies. These bake up light and soft right after mixing up, but I find that if I freeze the dough they do not rise as well during baking.
When Should I Freeze Cookie Dough?
All.the.time. Make your life easier. Keep it in your freezer. 'Nuf said. 😉
Q: Do you have a favorite freezer cookie recipe or hints on how to freeze cookie dough? I'd love for you to share it!
Find out about our experiment about Butter Vs. Shortening in Cookies!
Do your cookies always come out flat? Try these tips.