Tastes of Lizzy T participates in affiliate advertising programs. We may earn a commission when you make a purchase through links on our site.
If you've ever asked, "Why are My Cookies Flat?", then you're in the right place! Troubleshoot why your cookies are flat and what you can do to make thick cookies.
Table of Contents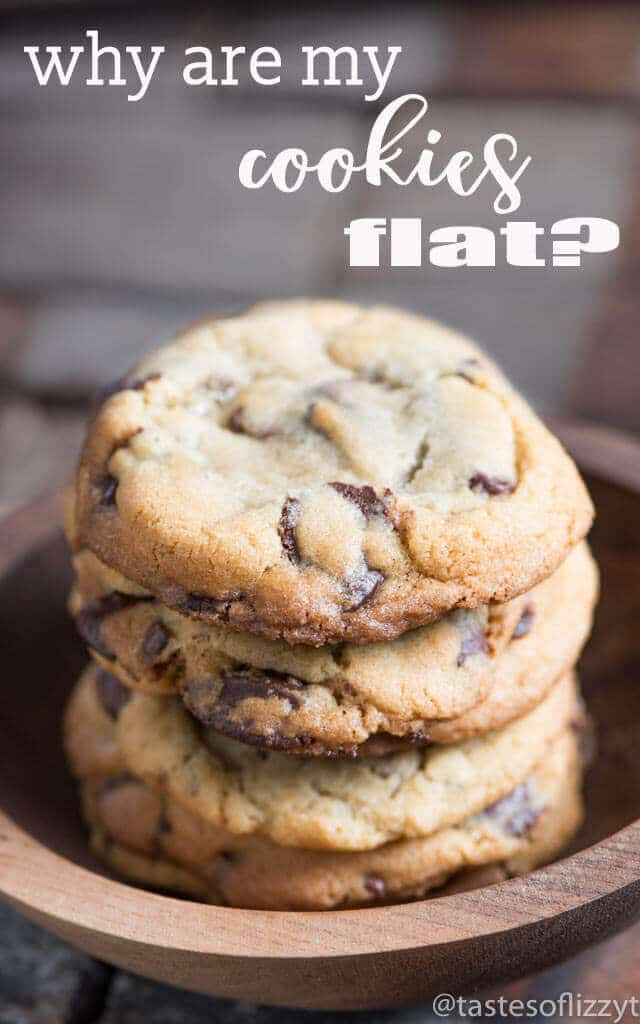 What makes a cookie perfect for you?
Is it thick? Thin? Crispy? Chewy? Soft?
There are so many possibilities when it comes to cookies, and really, I never met a cookie I didn't like. But what most people can agree on is that flat, greasy cookies are the least desirable of all. If there's one question I get as I share cookie recipes for all the world to see, it's "Why are my cookies flat?".
If this is you asking this question, you're not alone. I, too, have been in your shoes. You know how it goes. Craving a gooey chocolate chip cookie only to pull them out of the oven to find that they've spread wayyyyy to much. How do you prevent cookies from spreading?
I set out on a scientific mission to share some results with you. To finally test the ideas that I've been unscientifically using the past few years. We're going to be sharing these ideas in a few posts, so keep your eye out for more cookie baking hints.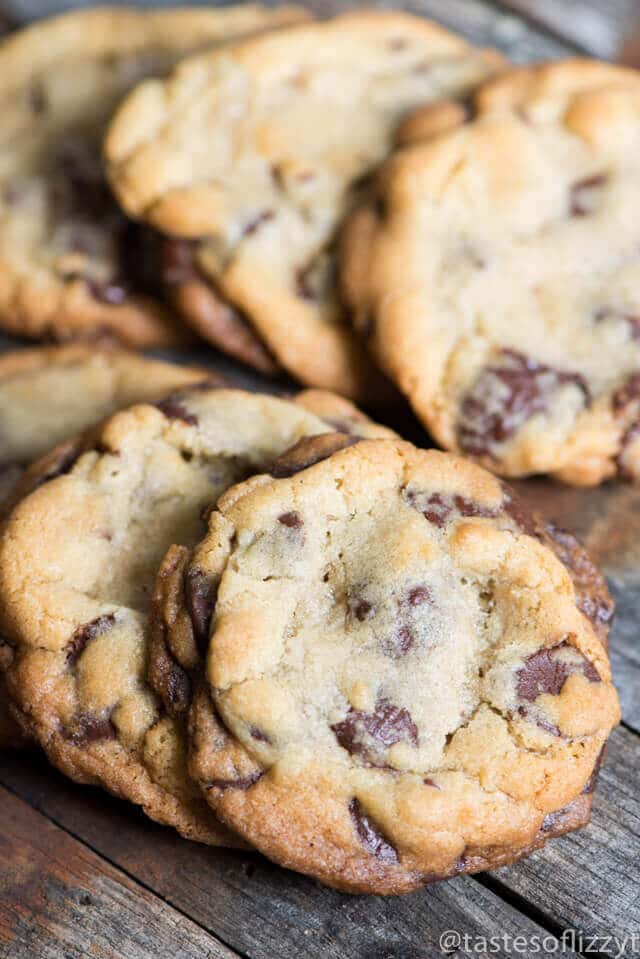 Why are my cookies flat?
Did you use margarine or butter? Don't use margarine. Enough said. If you want your cookies to turn out well, ditch that margarine. You must use the correct fat, which is butter (unless the recipe calls for something different.
Did you melt the butter? When a recipe calls for having room temperature butter to cream with the white sugar, be sure you are just getting the butter to room temperature. Not melting it. The butter should give just slightly when you press it with your finger. Melted butter changes texture and will therefore also change the texture of your cookie.
Did you overmix the cookie dough? So often with stand mixers the temptation is to turn it on and clean up a little while it is mixing. It's OK to cream the butter and sugar for a while, but once you get that egg in there, beat just until it is blended in. Overmixed cookie dough can often lead to flat cookies.
Is your oven temperature accurate? An oven thermometer can help make sure your oven is heating to the correct temperature. If it is too hot, it may make your cookies bake flatter.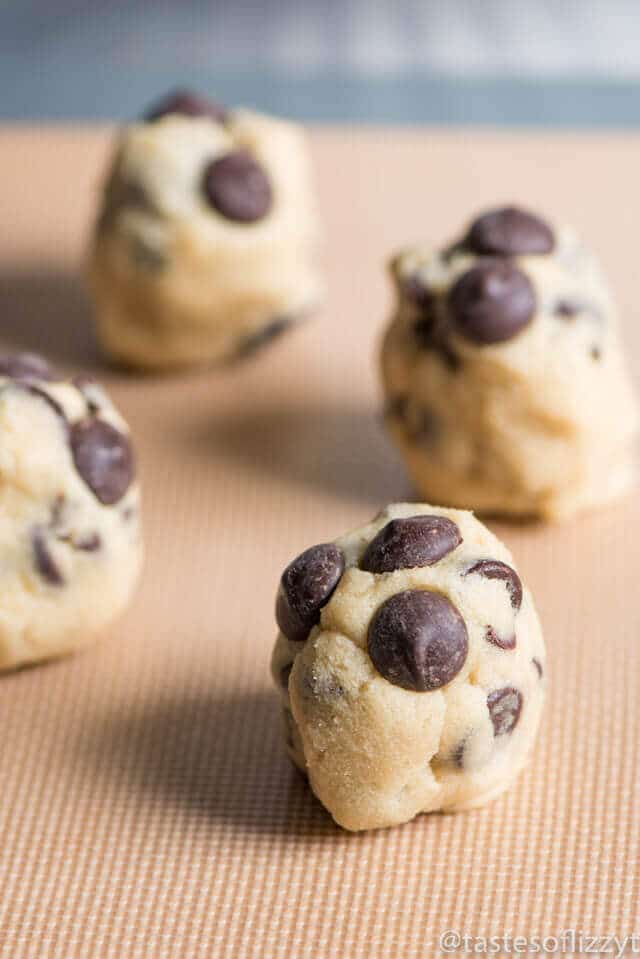 How to Make Thick Cookies
Measure the ingredients carefully and use a stand mixer (or high powered electric mixer) to mix. We're working on adding weight measurement to our recipes so that you get enough flour or don't get too much sugar (which can actually make cookies spread). In general, use spoon the flour lightly into the measuring cup and level it off with a knife. But if you have a kitchen scale, use it since the right ratios will give you the best results.
Butter vs. shortening. When it comes to taste, there's really no comparison. Butter wins every time. However, butter has a lower melting temperature than shortening does, so it is more important than ever to refrigerate cookie dough with butter in it. If you decide to use shortening, refrigerating the cookie dough isn't quite as important and will give you nice, thick cookies. The best of both worlds? Use half butter and half shortening. Here's an article about butter vs. shortening.
Refrigerate the cookie dough. I know. You didn't want to hear this. And it at least shouldn't be the first hint. But if you're looking to improve your cookie making experience, trust me. You'll want to refrigerate the cookie dough. It's rare that I find a cookie recipe that doesn't need to spend 30 minutes or so in the fridge. How long should the dough be refrigerated? At least an hour, but go with what the recipe calls for.
If you're rolling the cookie dough, form the dough balls tall instead of perfectly round. This is a hint that Sally's Baking Addiction shared. I read her hint years ago and thought it was brilliant. We do this when we remember to!
Use parchment paper or a silicone baking mat. I've never really used parchment paper for baking cookies, but I've used silicone baking mats for about 3 years now and don't know how I lived without them. They help the heat to distribute evenly and make for a perfectly browned cookie. Plus, no need for greasing the cookie sheets.
Room temperature pans. If you're like me, once you get that cookie dough made, you're ready to get the cookies quickly through the oven so you can devour them share them with the family. Placing cookie dough on hot cookie sheets will cause that precious butter to start melting before they get in the oven, causing the cookies to spread. So take my advice. Be patient. Allow the pans to cool before putting cookie dough on it. Or buy a few more baking sheets so you can have those cookies scooped up and ready to bake quickly.
Bake a small batch of cookies first to see how they will turn out. If you aren't measuring out ingredients by weight every time you make cookies (which I actually recommend and am resolving to do more), there's chance that you'll get a different amount of flour or sugar every time. Find a basic cookie recipe you like the taste of, then bake a few to make sure that the cookies don't spread when you bake them. If they do spread, you can add a few tablespoons of flour to the dough and mix again. The dough should not be hard and crumbly, but it should be too wet, either.
If you are cookie-crazy like we are, read about our hints for freezing cookie dough.
Two Favorite Cookie Recipes
The Best Chocolate Chip Cookie Recipes
Love homemade chocolate chip cookies? You've come to the right place! You'll love our collection of chocolate chip cookies that range from ready in 30 minutes to needing the dough to chill in the fridge overnight.