Peanut Butter M&M Monster Cookies
Peanut Butter M&M Monster Cookies are full of peanut butter, oatmeal, M&M's, chocolate chips and….no flour! That makes them healthy, right?
I don't know about you, but with everything that is going on in the world, all I want to do is bake cookies. And that's exactly what I've done. I've sifted through cookie recipes we haven't made in years (hello chunky cookies) to experience their simple goodness once again.
Normally when we bake an excess of cookies, we share them with friends. Not only is that a comfort for us, but it is also a way we show love. One thing hard about the current times is that not everyone wants baked goods out of someone else's home. Which is completely understandable.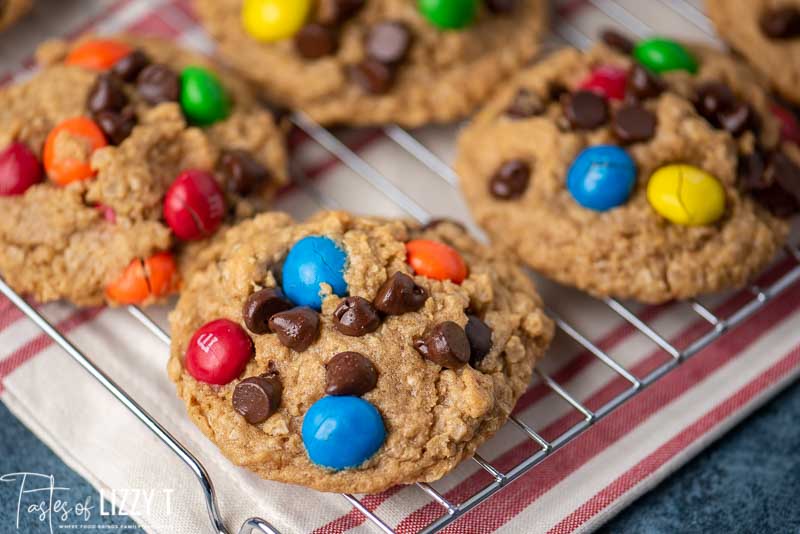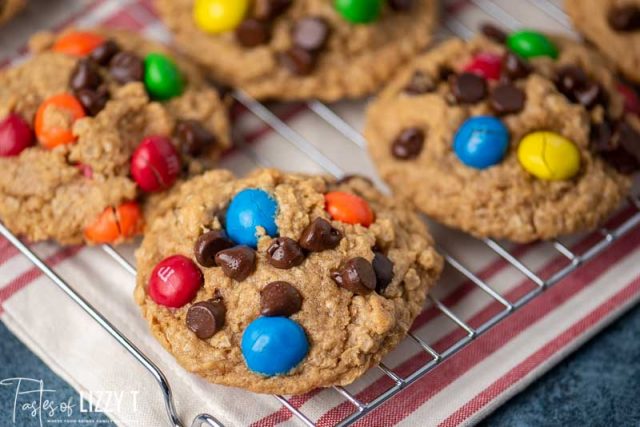 So for now, we cook. And we share with some. And we fill our freezer. And we enjoy one more cookie than we might normally let ourselves have. It's our way of coping with the unknown. What are you doing to fill your time?
Here's what you'll love about this recipe:
They stay soft.
No flour. This doesn't mean they are healthy by any means, but if you are out of flour, no problem.
Full of oatmeal, peanut butter and chocolate.
They freeze well.
They make a big batch.
Freezer Friendly.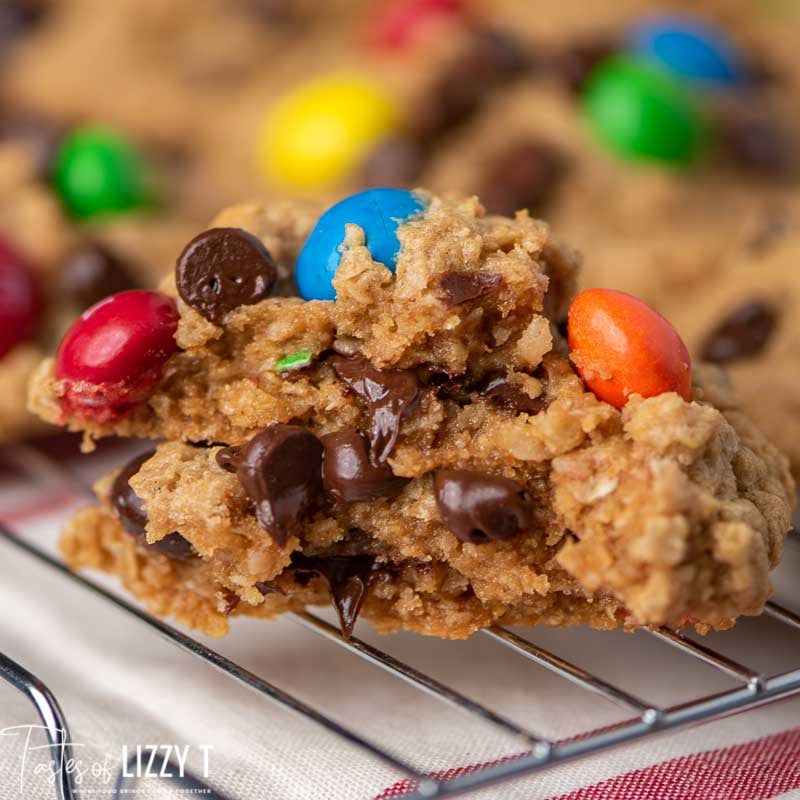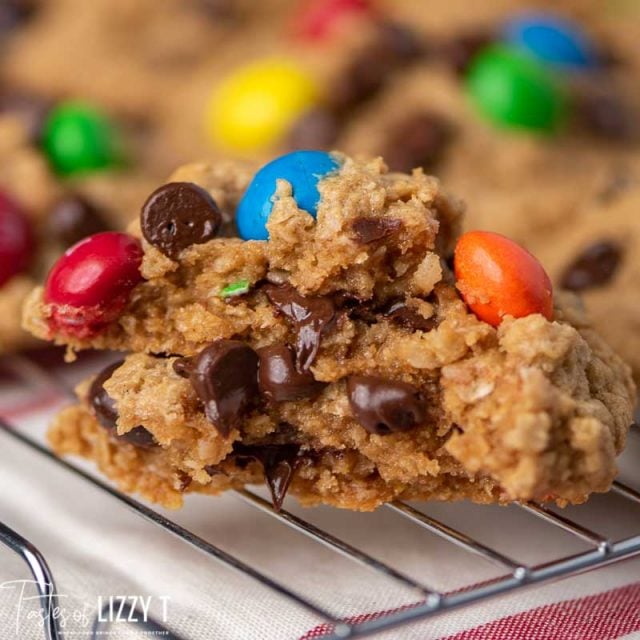 Hints for Making Monster Cookies
Please note that this recipe makes a large batch. You can easily cut the recipe in half if you'd like. Or see below for freezing the dough and the cookies themselves.
Because this makes a large batch, it will completely fill your stand mixer. And if your mixer is small, it may not fit. The good news is that this monster cookie recipe is easy to mix by hand! Use an XL mixing bowl so you have plenty of room.
This recipe works best if the ingredients are at room temperature. Butter and eggs should both be at room temperature to help the ingredients come together well.
No need to refrigerate the dough. Refrigerating the dough is often beneficial for thick cookies. For this recipe, it's just not necessary.
Don't over bake the cookies. If you like soft cookies, remove them from then oven before they turn brown.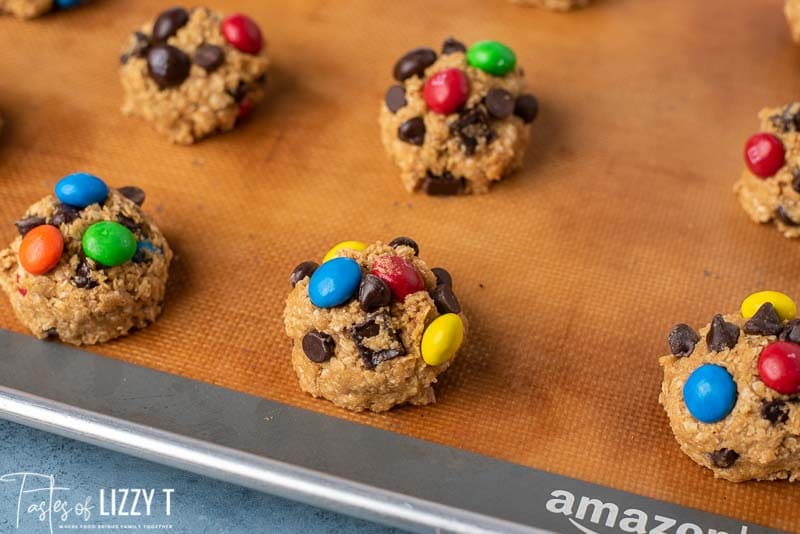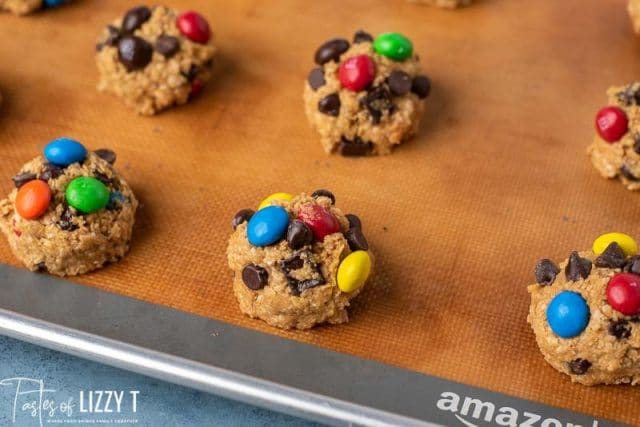 How to Make Cookies Look Pretty on Top
Have you ever wondered how people get their cookies to look so pretty on top? It's as simple as this: press extra chocolate chips and M&Ms into the top of the cookie dough balls before baking. Then when the cookies flatten you'll be able to see those chocolate chunks on the cookie tops. Easy as that!
This step is completely optional. But it does make them look pretty if you are making them for a homemade gift or a bake sale.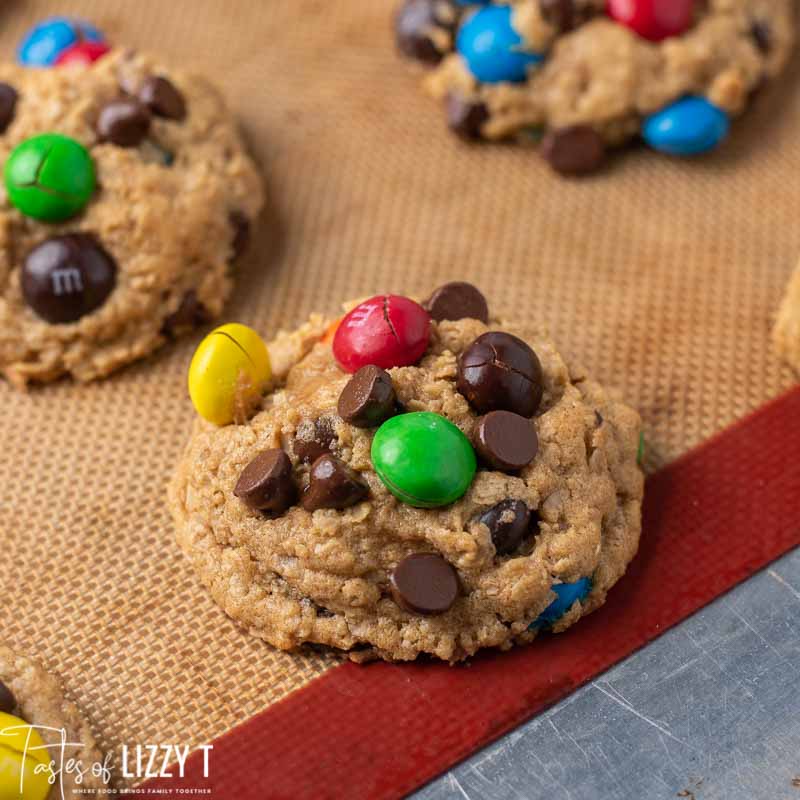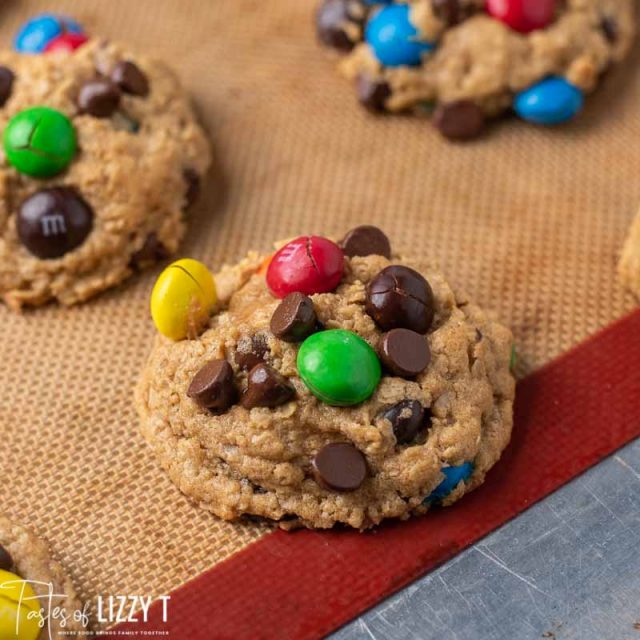 What can I add to this monster cookie recipe?
The base of this Peanut Butter M&M Monster Cookies recipe is very versatile. You can make them exactly how your family loves them. Nuts, raisins, regular M&M's, white chocolate chips, butterscotch chips…the possibilities are endless!
Can I freeze monster cookie dough?
Yes! This cookie dough freezes well. Place the cookie dough scoops in a single layer on parchment paper. You can stack the cookie dough balls if you put parchment paper between the layers. They'll remove easily this way.
Place the cookie dough balls on a baking mat for at least 10 minutes to defrost before putting them in the oven as the recipe states. Freshly baked cookies anytime you want them? Yes please!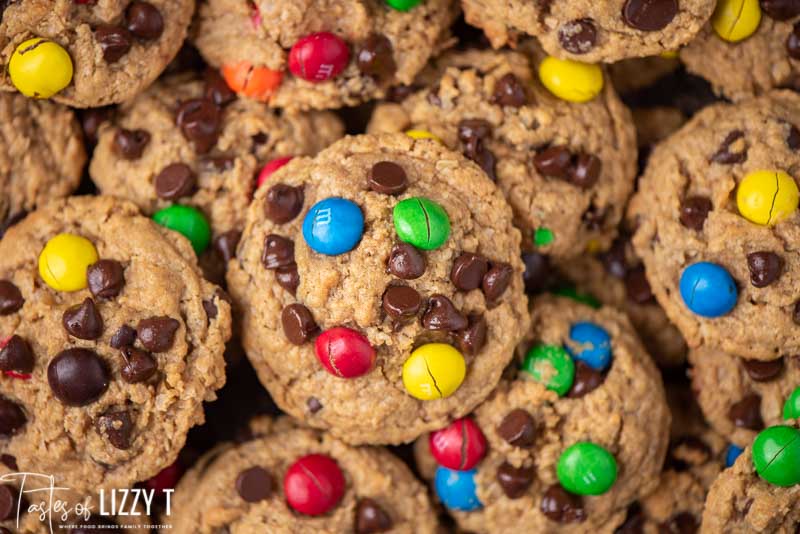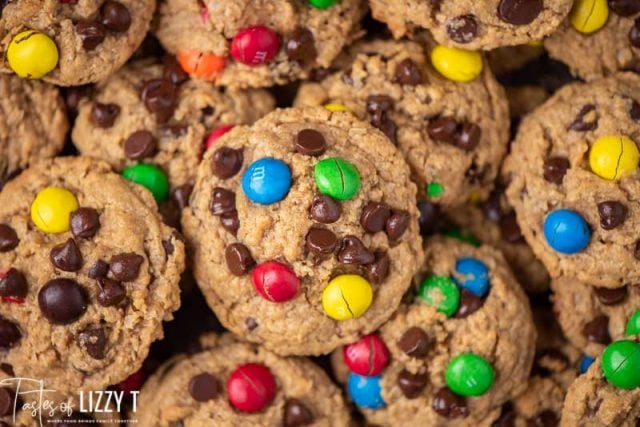 Do monster cookies freeze well?
Yes! These cookies freeze well and stay soft even after defrosting.
Freeze the cookies up to 3 months. Allow them to fully defrost in the airtight container before opening it in order to keep the cookies fresh.
Helpful Cookie Resources: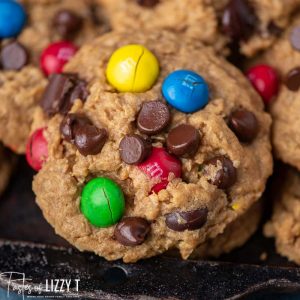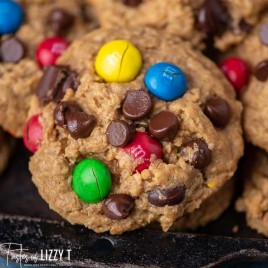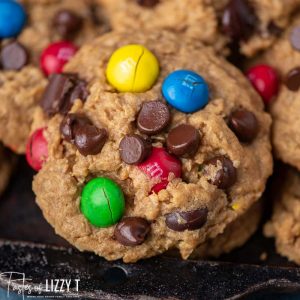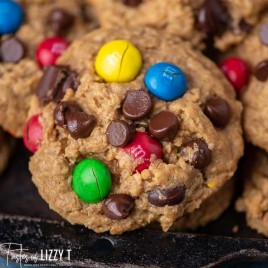 Peanut Butter M&M Monster Cookies
Peanut Butter M&M Monster Cookies are full of peanut butter, oatmeal, M&M's, chocolate chips and….no flour!
---
Ingredients
1

cup

butter

softened

2

cups

granulated sugar

2

cups

packed brown sugar

3

cups

peanut butter

6

large

eggs

1 1/2

teaspoons

corn syrup

1 1/2

teaspoons

vanilla extract

4

teaspoons

baking soda

9

cups

quick cook oats

2

cups

Peanut Butter M&M's

2

cups

chocolate chips
Instructions
Preheat oven to 350 degrees Fahrenheit.

In a large bowl, cream together the butter, sugars, and peanut butter until smooth.

Beat in the eggs, two at a time.


Stir in the corn syrup and vanilla.


Mix in baking soda and oats until well blended.


Stir in the Peanut Butter M&Ms and chocolate chips.


Use an ice cream scoop to put about 2 inch balls on a cookie sheet. If you like a flat cookie, flatten the dough slightly. If you'd like the cookie thick and rounded, just leave the dough in a ball.


Press extra candy pieces or chocolate chips in the tops of the cookies for a pretty look. This is optional.

Bake for 10 to 12 minutes at 350 degrees.


After cooling for a few minutes on the cookie sheet for 5 minutes, transfer them to wire racks to cool completely.

Store in an airtight container.
Notes
Be creative with what you put in your cookies to make your perfect "monster" cookie!
The calories shown are based on the recipe making 72 cookies, with 1 serving being 1 cookie. Since different brands of ingredients have different nutritional information, the calories shown are just an estimate. **We are not dietitians and recommend you seek a nutritionist for exact nutritional information.**
Nutrition
Calories:
229
kcal
|
Carbohydrates:
28
g
|
Protein:
5
g
|
Fat:
12
g
|
Saturated Fat:
5
g
|
Cholesterol:
24
mg
|
Sodium:
148
mg
|
Potassium:
120
mg
|
Fiber:
2
g
|
Sugar:
20
g
|
Vitamin A:
125
IU
|
Vitamin C:
1
mg
|
Calcium:
30
mg
|
Iron:
1
mg