Three meats, one cheese and a spicy herb topping make up this Monster Stromboli. It uses a shortcut pizza dough and will satisfy your family's appetites.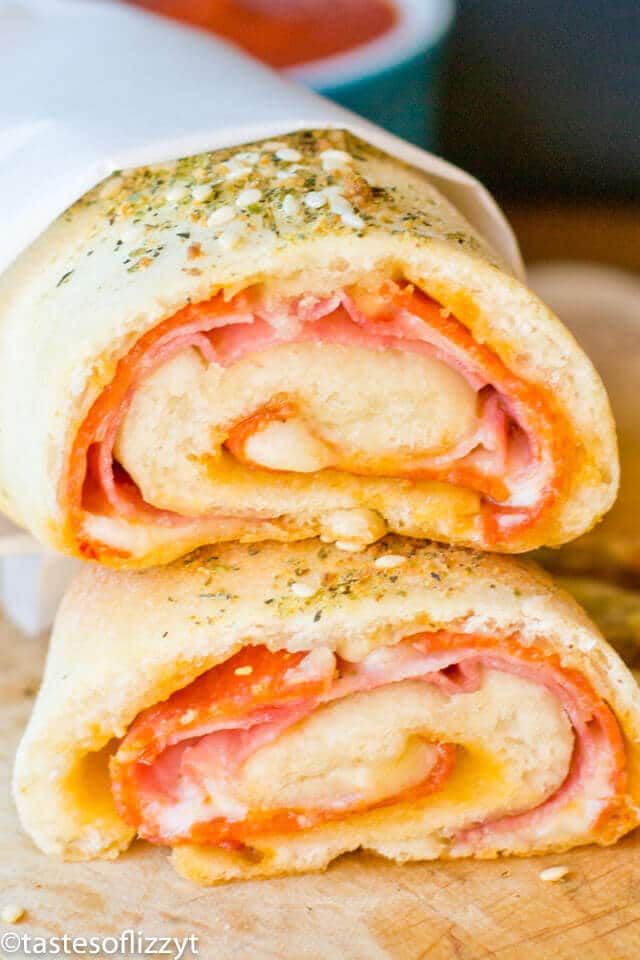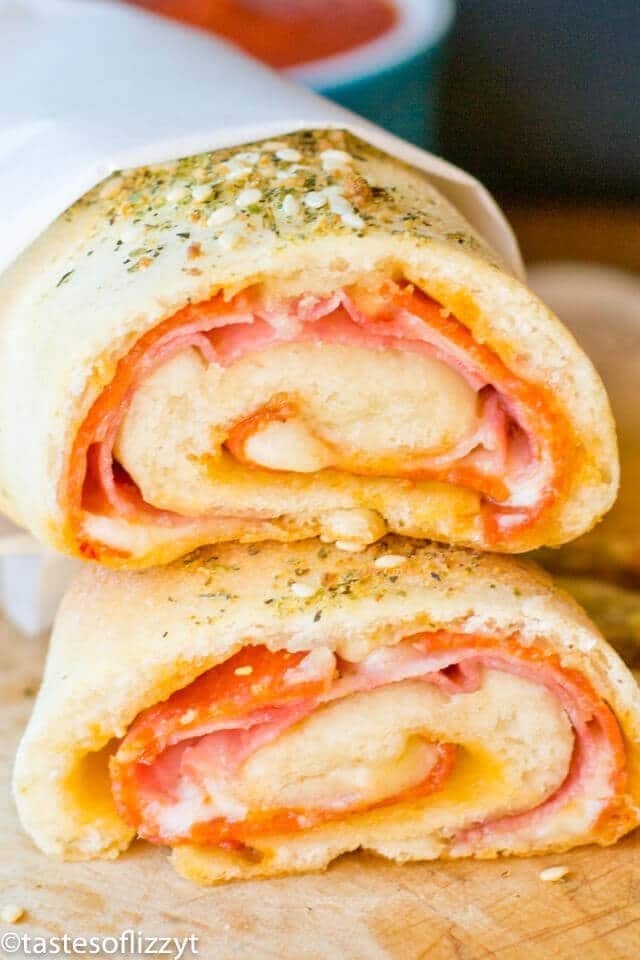 Monster Stromboli Recipe
Every Friday I get excited because it's PIZZA NIGHT!!!! We have worked and worked on perfecting our pizza, and now we're happy with it. Better than delivery, I'd say.
What's next now? I'm pretty sure if we didn't have a blog to keep up, we wouldn't be looking for another Friday night pizza-ish recipe. But you all want something new to try, right? So we dug out this Monster Stromboli recipe last week. An oldie, but a goodie.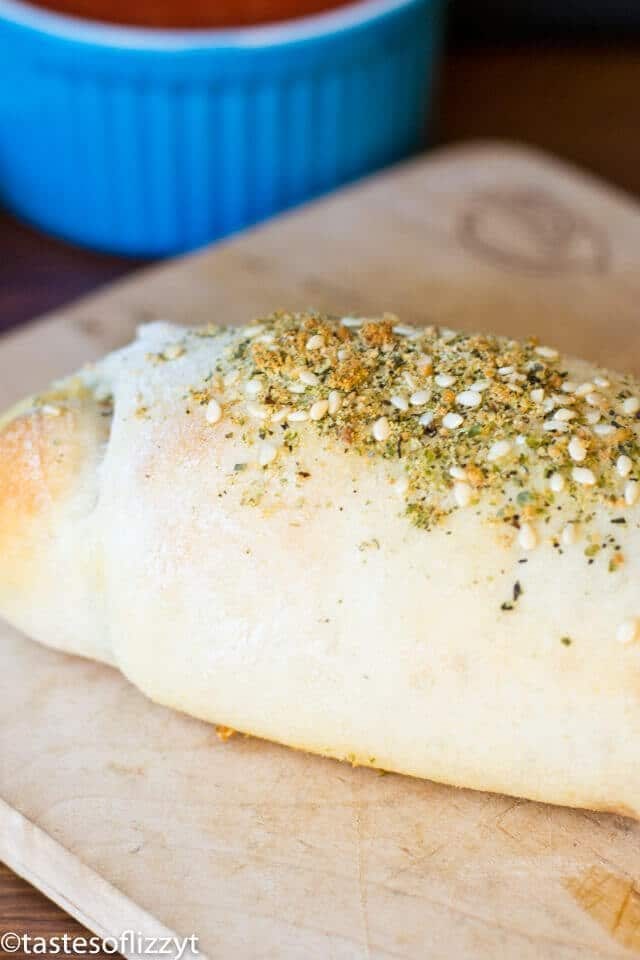 Inside this stromboli it gets pretty interesting. It has 3 meats- pepperoni, ham, and salami. It's also has lots of provolone cheese. I don't know about you, but I just love cheese. The more cheese, the better.
There really is no word to describe this Monster Stromboli. It's similar to pizza, but you're dipping it into sauce and remember all those meats you have in there, too. It is now one of my favorite meals- I ate it for lunch and dinner 3 days straight!
We used Pillsbury® Classic Pizza Crust for a little short cut. If you don't like the flavor of store-bought, then can I recommend our perfect pizza crust as the dough? Put the recipe together in just the same way, but use whatever your favorite pizza dough happens to be. Here's how we did it:
Take out the dough from the can and roll or press it into a rectangle shape. Cut that rectangle into 4 smaller rectangles. Lay down 6 pieces of pepperoni on each rectangle. Then lay down two slices of provolone cheese, 1 1/2 slices of ham and 2 slices of Genoa salami. After adding all of that glorious meat and cheese, start from one corner of the dough and roll it up all the way to the opposite corner. Make sure the edges are tightly sealed. Brush the tops of the stromboli with olive oil. Mix up the seasonings and sprinkle them on top. You don't want to skip the seasonings. It adds so much flavor to this stromboli. Then just stick these into the oven, and you're done.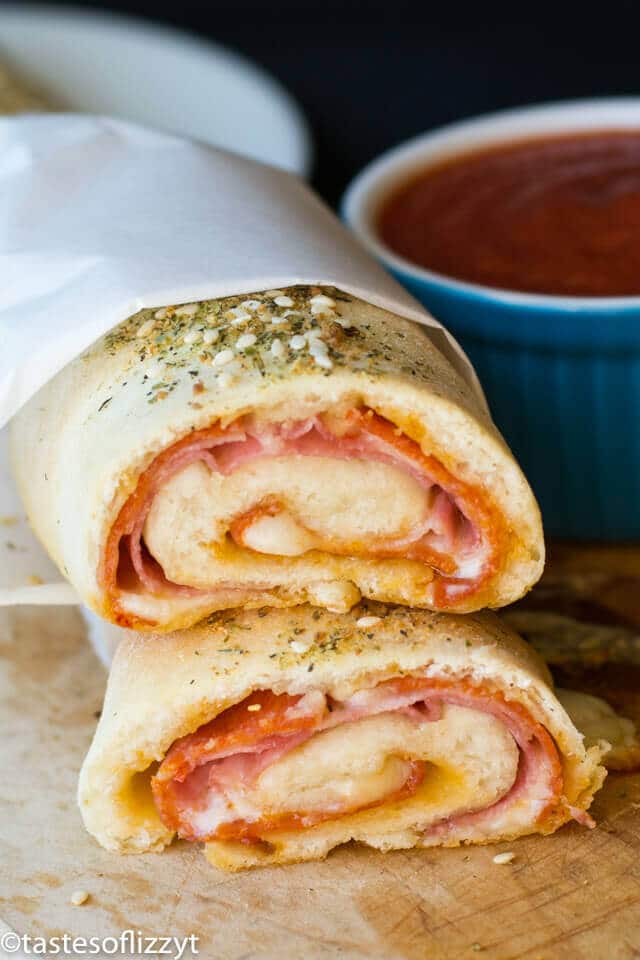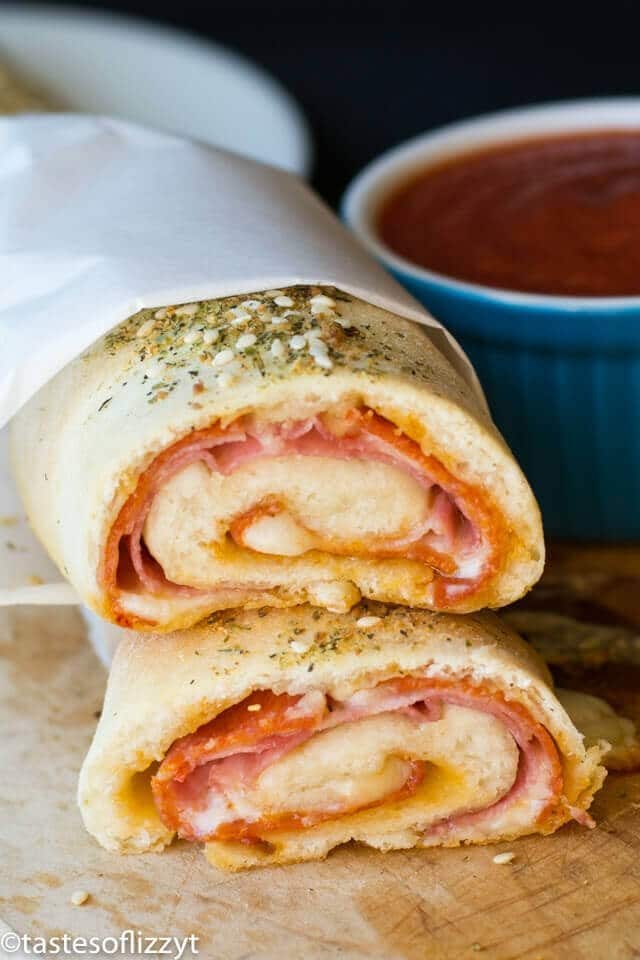 When you serve these you'll want to dip them in your favorite pizza sauce. We recommend our homemade pizza sauce. This pizza sauce makes a big batch and can be used for so many different things!
If you're looking for a change from your traditional pizza, definitely try out this recipe.
Monster Stromboli
Three meats, one cheese and a spicy topping make up this Monster Stromboli that is sure to please.
Ingredients
11

ounces

Pillsbury® Classic Pizza Crust

2

tablespoons

all-purpose flour

1/4

pound

sliced pepperoni

about 24 slices

8

slices

provolone

deli sliced

6

slices

deli ham

8

slices

Genoa salami

2

tablespoons

olive oil

2

tablespoons

sesame seeds

2

teaspoons

Italian seasoning

2

tablespoons

grated Parmigiano or Romano

1

teaspoon

crushed red pepper flakes

1

teaspoon

garlic powder
Instructions
Preheat oven to 400 degrees.

Break open the tube of dough and remove it from container. Lightly coat surface you will roll the dough out on with flour. Gently roll and stretch the dough into a larger rectangle. Then cut the rectangle into four smaller rectangles.

Lay out 6 slices pepperoni on each rectangle. Then layer 2 slices of cheese, 1 1/2 slices of ham and 2 slices Genoa salami on top.

Starting at one corner, roll the dough and meat up to the other corner. You'll end up with a long roll that is thick in the middle and thinner on each end. Fold the ends under to seal in the meat and cheese.

Using a spoon or pastry brush, smooth the olive oil on top of the unbaked rolls.

In a small bowl, mix the sesame seeds, cheese and seasonings together. Sprinkle this mixture over the top of each stromboli.

Bake until evenly golden, about 18-20 minutes. Serve with pizza sauce.
Nutrition
Calories:
835
kcal
|
Carbohydrates:
43
g
|
Protein:
42
g
|
Fat:
53
g
|
Saturated Fat:
21
g
|
Cholesterol:
111
mg
|
Sodium:
2339
mg
|
Potassium:
372
mg
|
Fiber:
1
g
|
Sugar:
1
g
|
Vitamin A:
495
IU
|
Calcium:
569
mg
|
Iron:
4.2
mg
Adapted from Rachel Ray