In under 1 hour, you'll be serving up these Amish Cherry Rolls. Soft, sweet dough pairs perfectly with the tart cherries stuffed inside. The light, almond glaze makes a gorgeous presentation for your breakfast or brunch!

Cherry Rolls Recipe
What's your favorite kind of book to read?
I've always been a reader. My favorites? Mysteries. Give me a cup of coffee, a blanket and a Mary Higgins Clark novel any day. Lately though, when I do get to sit down with a book, my book of choice is a cookbook.  I had been staring at this recipe for Amish Cherry Rolls for awhile now. Tart cherries rolled up in sweet bread? I'd flip past the dog-eared page and tell myself, "Sometime soon…these will be on a plate in front of me!".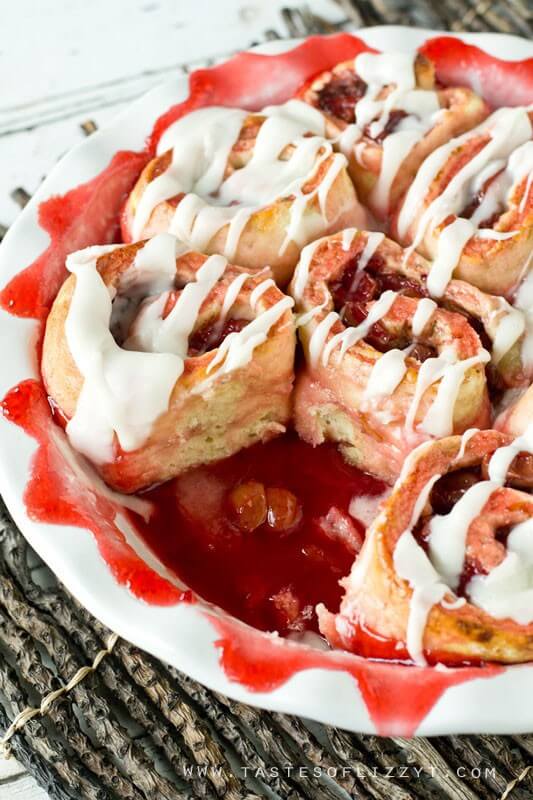 These amish cherry rolls happened in our house last week. And let me tell you…they did not disappoint! This was one of those dishes of food that I had to take to a friend's house. Otherwise they would not have lasted the evening. There's no willpower when these homemade sweet rolls are in the house.
No Knead Sweet Roll Dough
Two things about this easy sweet roll dough:
The dough is not a yeast-based dough, which means it's quick. No kneading, no rising. Just mix it up, roll it out and bake. That means these rolls will be ready in under 1 hour.
There's sour cream in the dough. I know, right?! When I saw that ingredient, I knew these rolls would be a winner! I know someone will ask if you can substitute Greek yogurt for sour cream in this recipe. I've not tried it, but I'd love to know if you do try it! I don't know why it wouldn't work.
How to Make Cherry Rolls
Roll out the dough, spread it with a bit of butter, the drained tart cherries, two tablespoons of sugar and a touch of cinnamon sprinkled on top. Roll them up like cinnamon rolls and cut them into 9-12 slices, depending on your pan size.
Cherry Syrup
This recipe calls for a homemade cherry syrup. Use both white and brown sugar and cherry juice as the base. Cornstarch will thicken the syrup. I flavor it with a touch of almond extract (you could also use vanilla) and a touch of butter for richness. I added a few drops of red food coloring so it would look pretty for you. You can leave that out if you'd like!
Baking Cherry Rolls
Now, I wanted to use my pretty, round, 9″ white pie plate. I cut 9 rolls and placed them in the pan. Then I poured the cherry syrup over the rolls. Because my pan was a little small, I didn't use all of the syrup. If I had been using a square pan or 9×13 pan, I would have cut 10-12 rolls and used all of the syrup.  The syrup will bubble up as the rolls cook, so just be sure the pan isn't full to the top or it will overflow. Which as you can see from the pictures, mine did a little. This actually worked to my advantage for pictures. I mean….yum…right?!  Either way, I'd bake these with a cookie sheet underneath to catch any potential overflow.
Almond Glaze
Lastly, you'll top them with an almond glaze which is a simple mixture of powdered sugar, butter cream and extract. There's a touch of almond extract in the syrup and more in the glaze. Cherries + Almond = Ridiculous taste-bud popping flavor.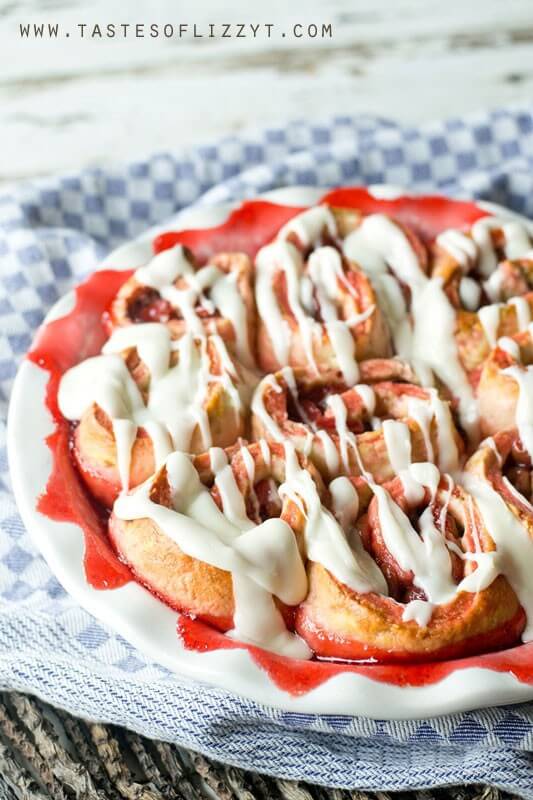 These rolls were absolutely devoured. And they will be made again. Do yourself a favor. Make yourself these rolls, then savor each bite as you curl up with a good book.
More Sweet Roll Recipes
Tools To Make This Recipe
Pastry Mat: This makes clean-up a breeze.
Dough Cutter: I JUST got one of these. What have I done without it all these years? Works as a scraper too, to get stuck-on dough off surfaces.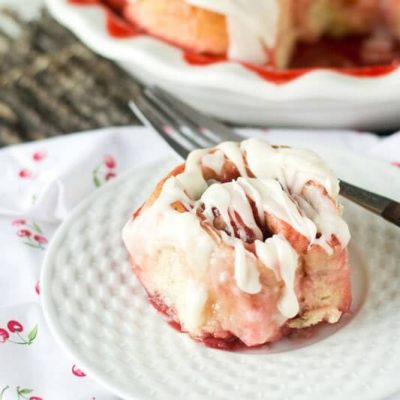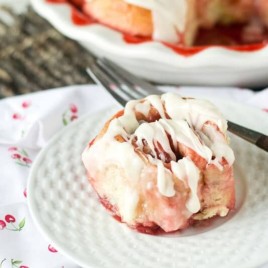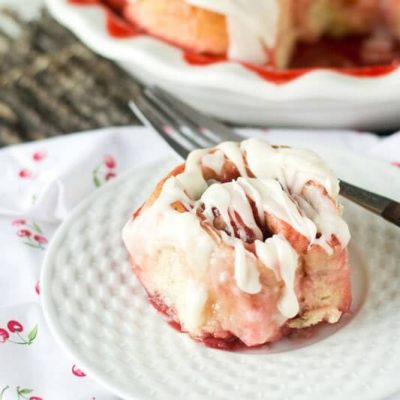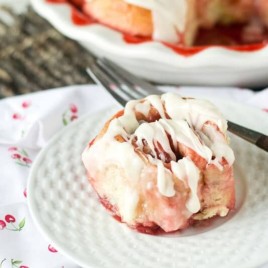 Amish Cherry Rolls
In under 1 hour, you'll be serving up these Amish Cherry Rolls. Soft, sweet dough pairs perfectly with the tart cherries stuffed inside. The light, almond glaze makes a gorgeous presentation for your breakfast or brunch!
---
Ingredients
1

large

egg

3/4

cup

sour cream

2

cups

all-purpose flour

3/4

teaspoon

salt

1/4

teaspoon

baking soda

2 1/2

teaspoons

baking powder

2

tablespoons

butter

softened

2

cups

drained tart cherries*

2

tablespoons

sugar

1

teaspoon

cinnamon
For the cherry sauce:
1/3

cup

brown sugar

1/3

cup

white sugar

2

tablespoons

cornstarch

1 1/2

cups

100% cherry juice**

1/2

teaspoon

almond extract

Red food coloring

optional

1 1/2

tablespoons

butter
For the almond glaze:
2

cups

powdered sugar

2

tablespoons

butter

melted

1/2

teaspoon

almond flavoring

3-4

tablespoons

heavy cream
Instructions
In a bowl, beat the egg, then add the sour cream. Add the flour, salt, baking soda and baking powder. Stir well.

Toss the dough onto a slightly floured surface and roll it into a rectangle ¼ inch thick. Spread it lightly with the butter. Cover it with the cherries, then sprinkle the sugar and cinnamon over the cherries. Roll it up like a jelly roll and cut it into 9-12 pieces, as desired.

Prepare the baking pan, either a large, deep dish pie plate (9 rolls) or a square or rectangle baking pan, by spraying it with cooking spray. Place the rolls, cut side up, close together in the pan.

In a saucepan, combine the sugars, corn starch, juice, extract and coloring. Bring this mixture to a boil and stir constantly over medium heat. Boil until the mixture thickens slightly (about 5-10 minutes).*** Add the butter and mix well.

Pour this mixture over the rolls. Bake them at 375 degrees for 25 minutes or until just lightly browned.

While the rolls are baking, prepare the glaze. In a bowl, combine the powdered sugar, melted butter and flavoring. Add the heavy cream, one tablespoon at a time until the glaze is drizzling consistency.

Drizzle the almond glaze over the cooled rolls.
Notes
I used canned tart red cherries in water. *I used Juicy Juice 100% Cherry Juice. ***If the cherry syrup is not thickening, you may need to add a touch more cornstarch. Take a small cup and mix together 1 tablespoon of cornstarch and 2 tablespoons of water. Mix until smooth. Pour this into the boiling syrup and whisk until combined. It should thicken quickly at that point.
Nutrition
Calories:
325
kcal
|
Carbohydrates:
63
g
|
Protein:
3
g
|
Fat:
7
g
|
Saturated Fat:
4
g
|
Cholesterol:
34
mg
|
Sodium:
213
mg
|
Potassium:
210
mg
|
Sugar:
36
g
|
Vitamin A:
545
IU
|
Vitamin C:
0.8
mg
|
Calcium:
57
mg
|
Iron:
1.9
mg