A simple quick bread with maraschino cherries in every bite. Don't forget the almond cherry glaze on top this simple cherry bread.
Can you tell I've been in a "pinkish" mood lately? I bet you can't tell, with the bright pink cherry bread staring at your here. 😍 Just this month we've posted cupcakes and cookies that are very….well….pink!
I remember when Kinslee was just starting to read on her own, we got the Pinkalicious books from the library. Have you seen them? They're super cute. They're so fabulous for little girls who want to be a princess.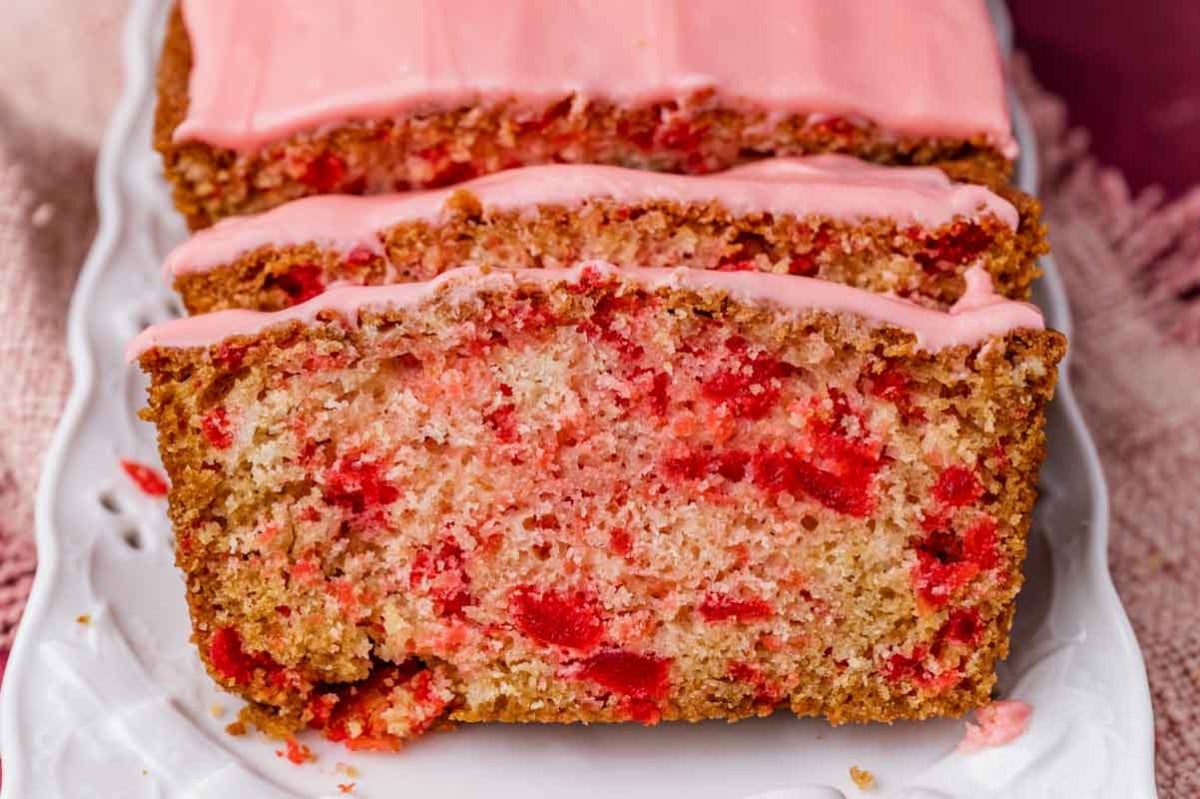 Maraschino Cherry Bread Recipe
So when this pinkalicious cherry bread popped into my mind, I knew I needed to make it now.  Yes, it would have been great at Christmas time, since maraschino cherries pop up all over the place at the holiday season.  And it would have been so fitting for a Valentine's Day treat, being so pink-y.  But I decided to stick with our pink theme this past month and share this with you now. No waiting necessary!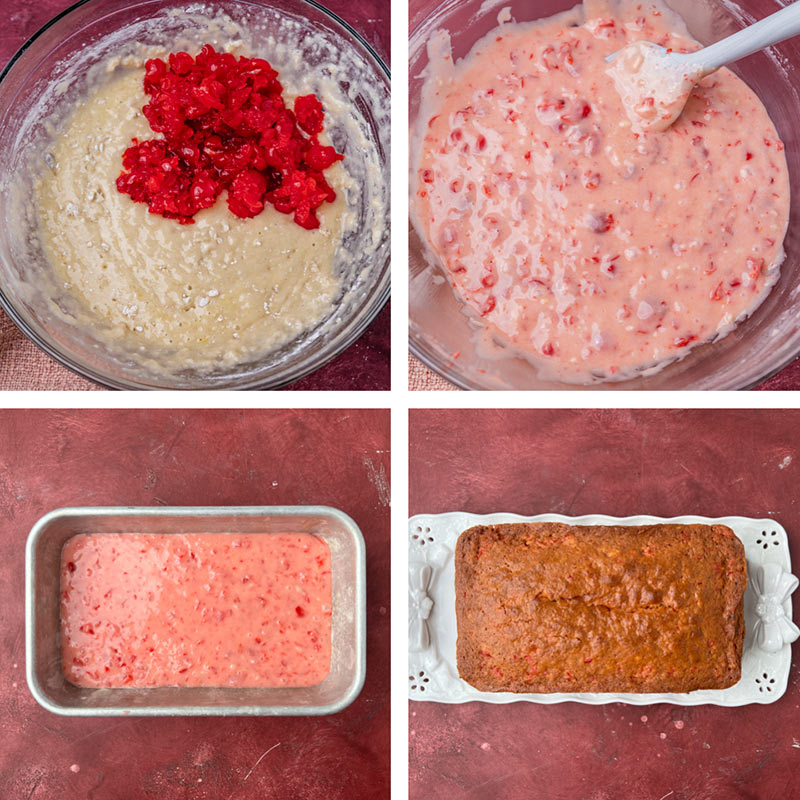 Quick Bread Recipe
This quick bread is your traditional quick bread recipe. Sugar, milk, oil, egg, almond extract, flour, salt and baking soda and powder. I wanted every bite to be loaded with cherries, so I used two jars of maraschino cherries (for a total of 20 ounces).
Drain the juice, but reserve about ⅓ cup of the juice for the glaze. Chop the cherries either in a small food processor or with a knife. We used our Ninja Express Chop for this. It worked like a charm and took about a total of 3 seconds. Gently fold these cherries into the batter and bake the bread in a 9×5 loaf pan for 50-55 minutes.
Baking Tip
As with any quick bread or muffin, it's important not to overmix the batter. It's OK if there are still lumps or a tad bit of flour in the batter. It will all bake together so perfectly in the end.
Cherry Glaze
The glaze on top of the bread is a mix of powdered sugar, melted butter, the cherry juice you reserved from the maraschino cherries and some almond extract. The bread is good without the glaze, but the almond cherry glaze makes it over-the-top amazing!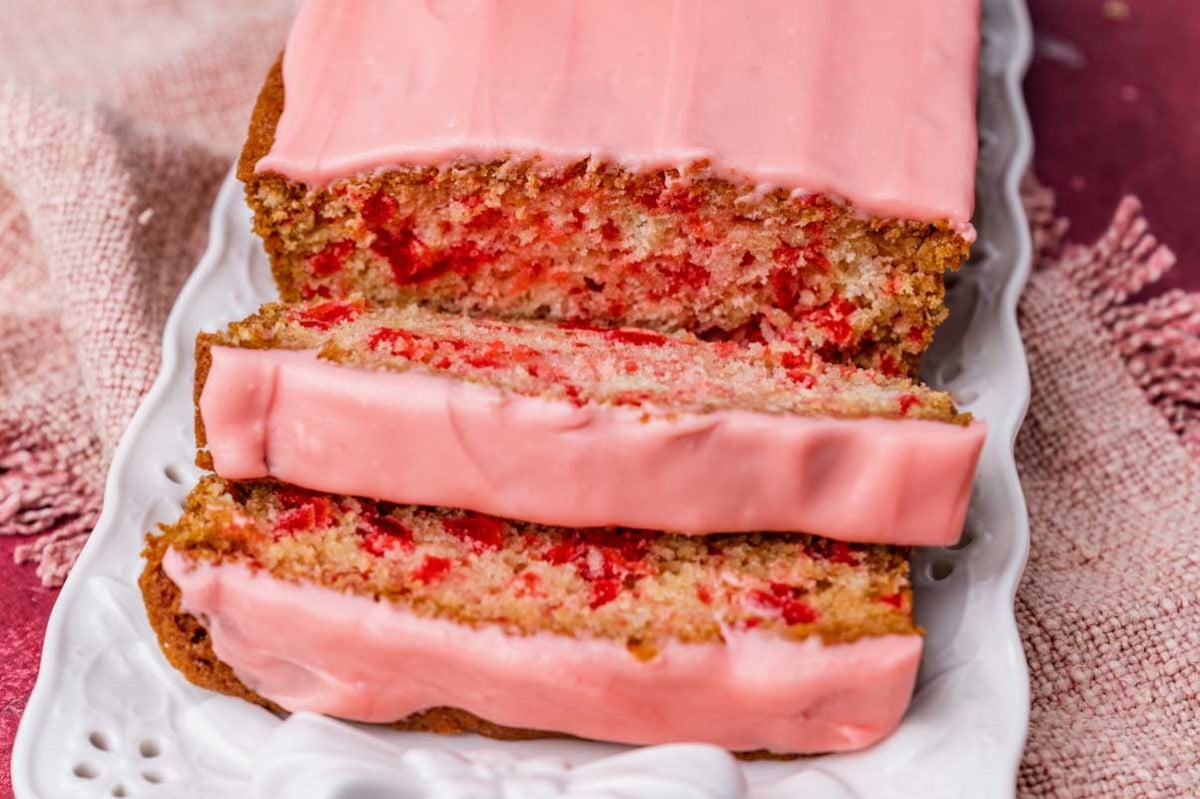 My family each tested a small slice of this bread, then we put the rest in the freezer for a later treat. I'll have to say that I ate a slice or two while it was frozen and I think I liked the bread frozen more than fresh from the oven for some reason. That makes it a deliciously cool treat for spring and summer!
If you love cherries, try our cherry hot chocolate, cookies, cherry almond cake and Amish cherry rolls.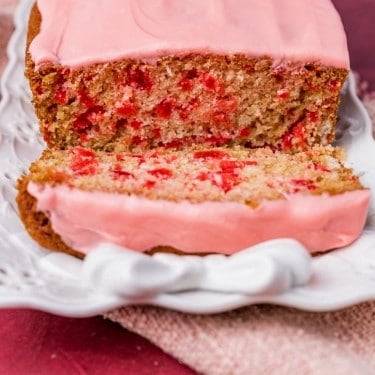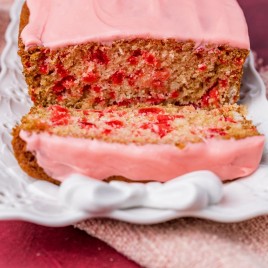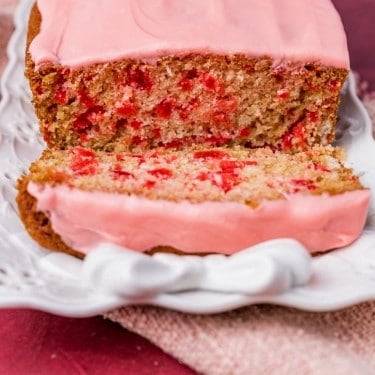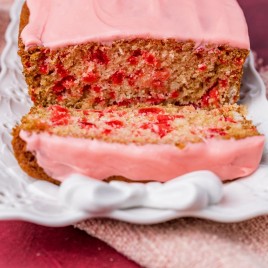 Easy Cherry Bread Recipe
A simple quick bread with maraschino cherries in every bite. Don't forget the almond cherry glaze on top!
Total Time
1

hour
5

minutes
---
Ingredients
3/4

cup

granulated sugar

150 grams

1/2

cup

2% milk

1/2

cup

canola oil

(or vegetable or melted coconut oil)

1

large

egg

1

teaspoon

almond extract*

(or vanilla extract)

2

cups

all-purpose flour

260 grams

1

teaspoon

baking powder

1/2

teaspoon

baking soda

1/2

teaspoon

salt

2

jars

maraschino cherries**

(10 ounces each)
Glaze:
1

cup

powdered sugar

1

tablespoon

melted butter

2 1/2

tablespoons

maraschino cherry juice

1/2

teaspoon

almond extract
Instructions
Preheat the oven to 350ºF. Spray a 9"x5" loaf pan with cooking spray, or grease with shortening, then dust with flour.

In a medium bowl, stir together the sugar, milk, oil, egg and almond extract.

In a separate bowl, combine the flour, baking powder, baking soda and salt. Add the dry ingredients to the wet ingredients and stir until just combined.

Drain the maraschino cherries, reserving the juice for the glaze. Coarsely chop the cherries in a food processor or with a knife. Gently fold the cherries into the batter.

Pour the bread batter into the prepared pan. Bake for 50-55 minutes***. A toothpick inserted in the center of the bread should come out clean. Allow the bread to cool for 10 minutes, then remove the bread to a wire rack to cool completely.

To make the glaze, combine the powdered sugar, melted butter, cherry juice and almond extract in a small bowl. Whisk until it is smooth.

Once the bread is cool, spread the glaze on top of the bread. If you spread the glaze on while the bread is still warm, it will melt and run off.

Slice and serve. Store any leftovers at room temperature in an airtight container. The bread freezes well, too.
Notes
*I often add an extra teaspoon of vanilla or almond extract to the bread batter (along with the wet ingredients) for an extra boost of flavor. I do this especially if I'm not putting the glaze on top. The bread has the most flavor when you add the cherry glaze!
**Many maraschino cherry brands come without red dye in the cherries. If you pick up a jar like this, your bread will not be pink. If you want pink bread, be sure that the cherries you use actually have red coloring in it. You can always add additional red coloring if you want the bread to have more of a pink flavor.
***The exact baking time will depend on the exact type of pan you use. If it is smaller, it will take longer to bake. I have used a metal pan that is just slightly smaller (8.5″x4.5″) and it takes about 60-65 minutes to bake. Glass/Ceramic/Stone pans will all bake different. The bread is done when the inside of the bread is about 200ºF.
**The calories shown are based on the bread being cut into 10 pieces (and all of the frosting used), with 1 serving being 1 slice of bread. Since different brands of ingredients have different nutritional information, the calories shown are just an estimate.
Nutrition
Serving:
155
g
|
Calories:
378
kcal
|
Carbohydrates:
59
g
|
Protein:
3
g
|
Fat:
14
g
|
Saturated Fat:
2
g
|
Cholesterol:
25
mg
|
Sodium:
92
mg
|
Potassium:
130
mg
|
Sugar:
39
g
|
Vitamin A:
115
IU
|
Calcium:
55
mg
|
Iron:
1.3
mg