Tastes of Lizzy T participates in affiliate advertising programs. We may earn a commission when you make a purchase through links on our site.
Light, airy from-scratch maraschino cherry cakes with pink almond and cherry flavored buttercream. Top this cherry almond cake with simple little "flowers" made from almonds and cherries.
Our cherry recipes are some of our most popular recipes (cherry pie…cherry bread…cherry cookies). Ya'll also love our cakes! Today we're sharing our very special cherry almond cake. This cake is a beauty…and it's so easy to decorate!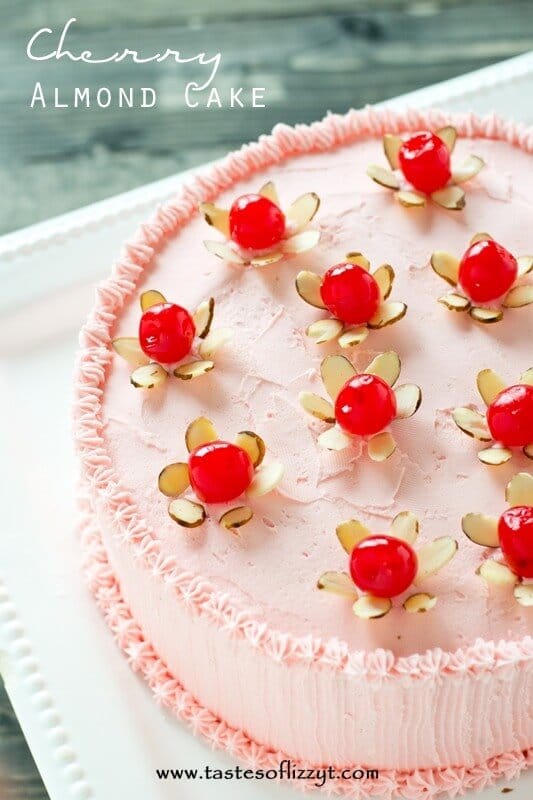 Cherry Almond Cake
I have a couple of secrets to share with you today. The first secret is: I do not like making cakes under pressure, and I don't like trying to make them look smooth and perfect. I am a perfectionist, but sometimes even perfectionists need a break!
The second secret?
I don't have to make my cakes look perfect. I like when my cakes have frosting that is a bit "messy". It adds character. This cake is ALL ABOUT how to make things less difficult and more cute. Who doesn't love a super easy cake that people still "ooooh" and "aaaahh" over?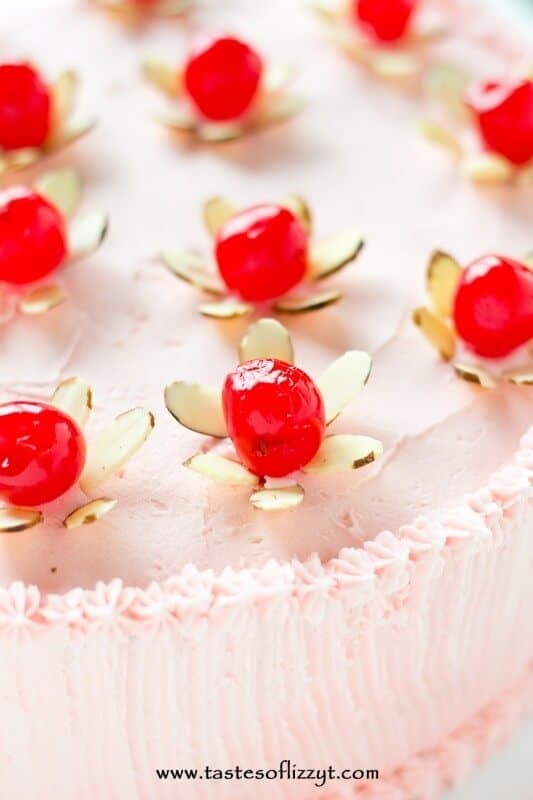 Homemade Cherry Cake
This is a from-scratch cake that we got from a Mennonite Community Cookbook that we love. My grandma got a copy of this cookbook when she got married. It has such amazing recipes that we had to order one for ourselves!
This recipe uses cake flour which makes it light and airy. You can use all-purpose flour but the cake won't be as tender and won't have as light of a crumb.
How to Make Cake Layers Even
There are a few ways you can successfully make your cakes even-looking. For this cake, we used Wilton Bake Even Strips. I think they're pretty amazing! The cakes magically turned out nice and flat.
If you don't have some of these, you can also use a knife to cut any dome off the top of the baked cake. The downside? It takes off part of your cake, which means less cake for your masterpiece. But, that's not so bad, because you can scarf down those scraps while they're still a little warm.
If you don't want to do these things, have no fear. Just strategically place your cakes on top of each other so that the thicker side goes with a thinner side. It's that easy! And also, if you're not happy with the evenness of your cake, you can add more icing to a 'lacking side'.
You can never go wrong with too much icing!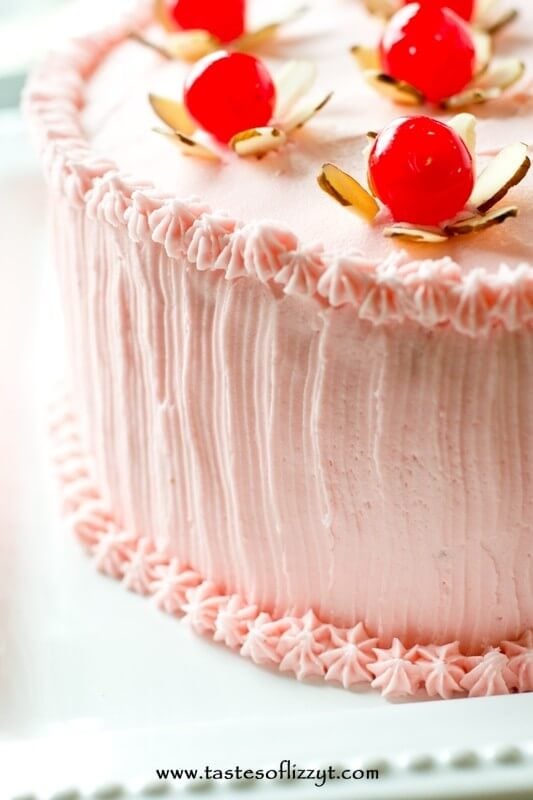 Cherry Frosting
We used our classic vanilla buttercream but added some maraschino cherry juice and almond extract in place of the vanilla. This icing is my FAVORITE frosting. Which is saying something, considering I am not a huge frosting fan.
I have a few frosting recipes that I love, but this one is my absolute favorite. Almond flavored with a little zing of cherry. It's to die for! Melt-in-your-mouth amazing. This is the best buttercream.
**Pro Tip: Try to get the icing as smooth as possible, but don't spend forever doing it. If you look closely, you'll find that the top of our cherry almond cake is not perfectly smooth. That's because I like the character that a little bit of messy frosting gives.**
Textured Buttercream
What else gives a cake texture? The stripes on the side of the cake. They are SUPER easy to make, and you can use an ordinary kitchen tool. Use a knife, fork or spoon to make lines up the side of your frosting, dragging the utensil from the bottom to the top gently, in stripes.
There's also smoother combs you can buy that create textured sides. Don't press too hard so that it takes off too much frosting, but you want them to show up, too. The sides make it look pretty, and it covers up any mistakes I made when frosting the cherry almond cake.
Trust me, there were PLENTY of mistakes.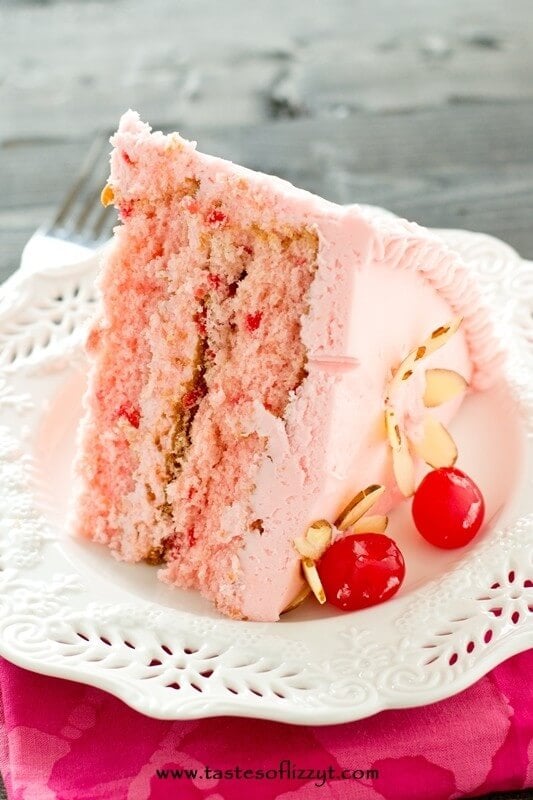 Cherry Blossom Flower
Don't you just love, love, LOVE this almond cherry flower idea? I do. It's very simple. All you do is dry some maraschino cherries on a napkin, place them strategically on the cake, and use almond slices to make flower petals around the cherries. I think it makes the cake look happy and exciting. Trust me, your guests will love this!!! We got the idea from The Perfect Palette. It has some seriously cute cake ideas.
And now for the flowers and stars, both of which are super easy. For the stars, I used a decorating bag and Wilton tip number 11 and piped a simple star. Put the tip close to the cake, squeeze, pull up. Easy-peasy.
Mother's Day Cake or Valentine's Day Cake
All in all, this is a delicious, beautiful, sweet cherry almond cake for you to share with your friends (Or not…!) and enjoy this Mother's Day, Valentine's Day…or any day for that matter!
Other Cake Recipes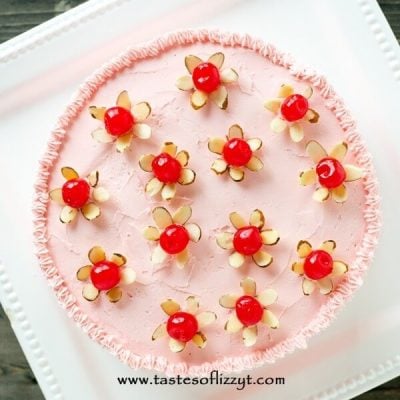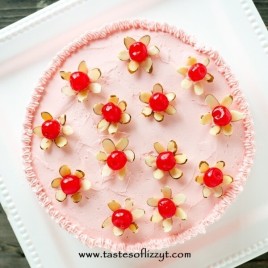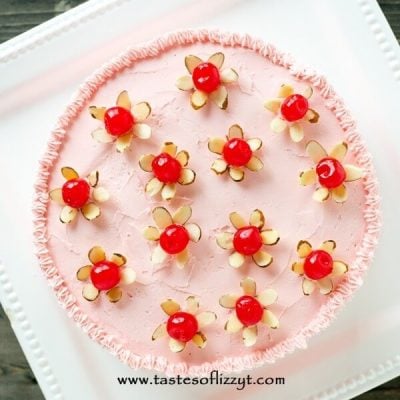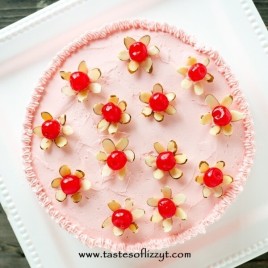 Cherry Almond Cake
Light, airy from-scratch maraschino cherry almond cake with pink almond and cherry flavored buttercream. Top with simple little cherry "flowers"!
Total Time
1

hour
15

minutes
---
Ingredients
For the cake:
2 1/2

cups

cake flour

1 1/2

cups

granulated sugar

3

teaspoons

baking powder

1/2

teaspoon

salt

1/2

cup

butter

softened

1/2

cup

milk

2% or higher fat

1/4

cup

maraschino cherry juice

16

maraschino cherries

finely chopped

4

large

egg whites
For the buttercream**:
2

cups

butter

(softened)

8

cups

powdered sugar

4

tablespoons

maraschino cherry juice

4

tablespoons

heavy cream

1

teaspoon

almond extract

Few drops of red food coloring

(optional)
For decorating:
Maraschino cherries

(drained and dried)

Sliced almonds
Instructions
Make the cake:
Sift together the cake flour, sugar, baking powder and salt into the bowl of a stand mixer.

Add the softened butter, milk and cherry juice. Beat on medium speed for 2 minutes. Fold in the chopped cherries.

Add the egg whites and beat for an additional 2 minutes.

Grease and flour two 9" round cake pans. Divide the batter between the cake pans.

Bake at 350 degrees for 25-30 minutes, or until the cake springs back when you touch the center of it.

Allow the cakes to sit for 5 minutes, then remove them from the pans to a wire rack to cool completely.

While the cakes are cooling, prepare the buttercream.
Make the buttercream:
In a stand mixer bowl, with the mixer on medium speed, whip the butter for 2-3 minutes until it is almost white in color.

Add in the powdered sugar, cherry juice, heavy cream and almond extract. Beat together for 2 minutes.

Add a drop or two of red food coloring if you'd like the cake to be a little pinker. Beat on low speed again for 2-3 minutes.
Assemble the cake:
Once the cakes are cool, place one cake on a cake plate. Put a layer of frosting on top of the cake. Then place the second cake on top of the frosting.

Using a knife, spread frosting on the top and sides of the cake, covering it completely and getting the frosting as smooth as possible.

Decorating (optional): Use a knife or spoon and drag it up the cake sides, starting at the bottom and going to the top. This will create nice lines up the sides of the cake.

Use a coupler to attach Wilton tip #11 to a decorating bag. Fill the bag with buttercream and pipe simple stars around the bottom and top edges of the cake.

Place the drained and paper towel dried maraschino cherries on the top of the cake in the placement that you'd like them. Place almond slices around the cherry, sticking them into the buttercream so they look like flower petals around the cherry.

Refrigerate the cake until serving.
Notes
The calories shown are based on using all of the frosting and the cake being cut into 15 pieces, with 1 serving being 1 slice of cake. To lower the calories, only make half of the frosting.
Since different brands of ingredients have different nutritional information, the calories shown are just an estimate. **We are not dietitians and recommend you seek a nutritionist for exact nutritional information.**
**This makes a good amount of frosting to cover the cake. to lessen the calories, make half a recipe of frosting for a thin layer of frosting on the cake.
Nutrition
Calories:
710
kcal
|
Carbohydrates:
103
g
|
Protein:
4
g
|
Fat:
32
g
|
Saturated Fat:
20
g
|
Cholesterol:
87
mg
|
Sodium:
370
mg
|
Potassium:
150
mg
|
Sugar:
86
g
|
Vitamin A:
1015
IU
|
Calcium:
62
mg
|
Iron:
0.4
mg