The best homemade white cake recipe! Tips on how to make a fluffy white cake from scratch. This cake holds up well to layering and frosting for birthday cakes and fruit cakes.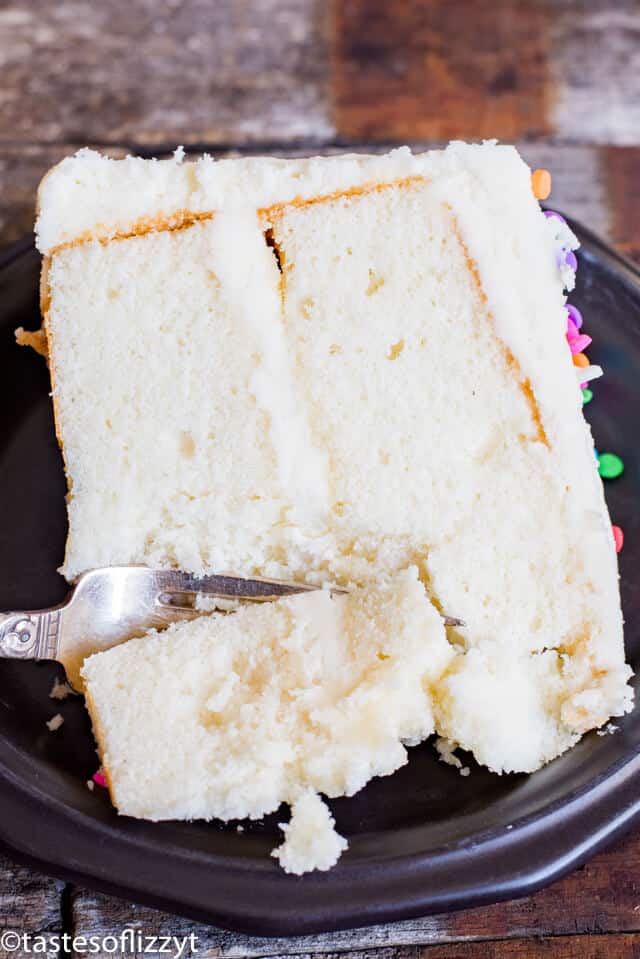 Best White Cake Recipe
One of our most asked questions is… "How do you make cake from scratch?" This is not an easy challenge. Homemade cakes tend to have a different texture than box mix cakes that most people are used to. From scratch cakes tend to have a lighter crumb, but also are often a little more dense than box mixes. If you're looking for a traditional homemade white cake recipe, this is one of the best! It bakes up tall, has a soft crumb and tastes delicious.
How to Make Homemade Cake
There are several tips to ensure a perfectly delicious homemade cake. Yes, they take an extra few minutes to do, but if you want your cake to turn out the best, don't skip them.

OUR LATEST RECIPES
Froth the egg whites. This is a white cake so it calls for only egg whites…no yolks. Yolks will give the cake a yellow tinge. The first step in this recipe calls for frothing the egg whites until they hold stiff peaks. You'll then set those aside and fold them in at the very end. The frothed eggs help the cake to be fluffy and light. Don't skip this step!
Use cake flour. What is the difference between cake flour and all-purpose flour? It's all about the protein content. Cake flour has less protein which means it won't develop gluten strands as much you mix it. This is important to ensure a soft cake. You can use all-purpose flour, but it will change the texture a bit so we definitely recommend cake flour.
Carefully measure the flour. I've included the weight measurement in the instructions. This is the best way to get the accurate amount of flour. If you don't have a scale, simply spoon the flour into the measuring cup, then level it off with a knife. Don't pack the flour into the measuring cup or your cake will end up dry!
Don't open the oven too soon. This is where a light in the oven comes in handy. You don't want to overcook the cakes so you open the oven door to peek on them often. I get it. I want to do that too. But don't. Turn on the oven light and look at the cakes while they are baking. Don't open the door until the cakes "look" done. If you open the door too soon, the cakes may fall. Only open the oven door when the cakes are ready to test.
The bounce test. I like to test cakes by touching the center lightly with my finger. If it bounces back, the cake is done. Sometimes moist cakes will stick to a toothpick just because they are moist. The bounce test will let you know for sure the cakes are baked through.
Frostings for White Cake
We've only shared the basic white cake recipe here, but we have a lot of frostings on our site that would be delicious on this cake!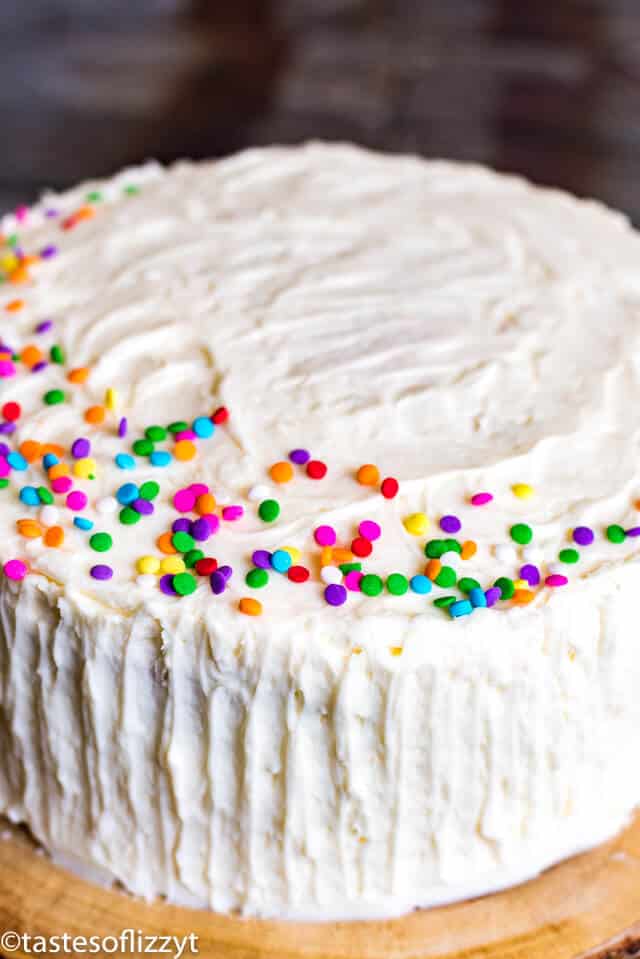 White Wedding Cake Recipe
Many have asked if this would be a good wedding cake. The answer is yes! Several have made this as the base of a wedding cake. It holds up well to frosting and is firm enough for stacking.
Our Favorite Cake Making Tools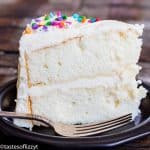 White Cake Recipe
The best homemade white cake recipe! Tips on how to make a fluffy white cake from scratch. This cake holds up well to layering and frosting for birthday cakes and fruit cakes.
Ingredients
1

cup

butter

(softened)

1 1/2

cups

granulated sugar

3

cups

cake flour*

(345 grams spooned & measured carefully)

1/2

teaspoon

salt

2

teaspoons

baking powder

1

cup

milk

(2% milkfat)

1

teaspoon

vanilla extract

3/4

cup

egg whites plus 3 tablespoons*
Instructions
Using a stand mixer, beat the egg whites with the whisk attachment until they are stiff and form peaks. This may take a minute or two. Pour the egg whites into another bowl and place them in the refrigerator until you're ready to add them to the batter.

Using the same bowl that you used to beat the egg whites, place the softened butter in and cream the butter for about 2 minutes (using the beater blade attachmenuntil it is white in appearance.

Add the sugar to the butter and beat until fluffy (about another 1-2 minutes).

In a small bowl, combine the flour (measured carefully*), salt and baking powder. Set aside.

In another bowl, combine the milk and vanilla extract.

Add the flour mixture to the butter/sugar mixture alternately with the milk.

Add the stiffly beaten eggs to the cake batter. Fold the egg whites in gently. Do not overmix at this point. If you do, your cake will become more dense.

Grease and flour 2 9" round cake pans. Pour the cake batter equally into the prepared cake pans.

Bake the cakes at 350 degrees for 25-27 minutes or until the top bounces back when you touch it.

Allow the cakes to cool for 10 minutes, then loosen the edges and remove them from the pans to a wire rack, allowing them to cool completely.
Recipe Notes
*Frost with your favorite vanilla buttercream. *
*The calories shown are based on the cake being cut into 15 pieces, with 1 serving being 1 slice of unfrosted cake. Since different brands of ingredients have different nutritional information, the calories shown are just an estimate.
Nutrition Facts
White Cake Recipe
Amount Per Serving
Calories 293
Calories from Fat 117
% Daily Value*
Total Fat 13g 20%
Cholesterol 34mg 11%
Sodium 213mg 9%
Potassium 123mg 4%
Total Carbohydrates 39g 13%
Protein 4g 8%
* Percent Daily Values are based on a 2000 calorie diet.