Swiss Meringue Buttercream
Tastes of Lizzy T participates in affiliate advertising programs. We may earn a commission when you make a purchase through links on our site.
If super sweet frosting isn't for you, you'll love this smooth, creamy Swiss Meringue Buttercream. It's lightly sweetened which makes it a perfect topping for just about any cake. It also holds its shape and is ideal for piping.

We're slightly obsessed with buttercream frosting over here. Two years ago we posted our favorite chocolate buttercream recipe. We've never given that recipe a post all its own, but it definitely deserves it and we may have to do that soon. That chocolate buttercream gets rave reviews. Every time.
Then we shared our Simply Vanilla Buttercream. This is our classic, go-to buttercream that we flavor in so many different ways. It's great for piping, excellent on cookies and cakes.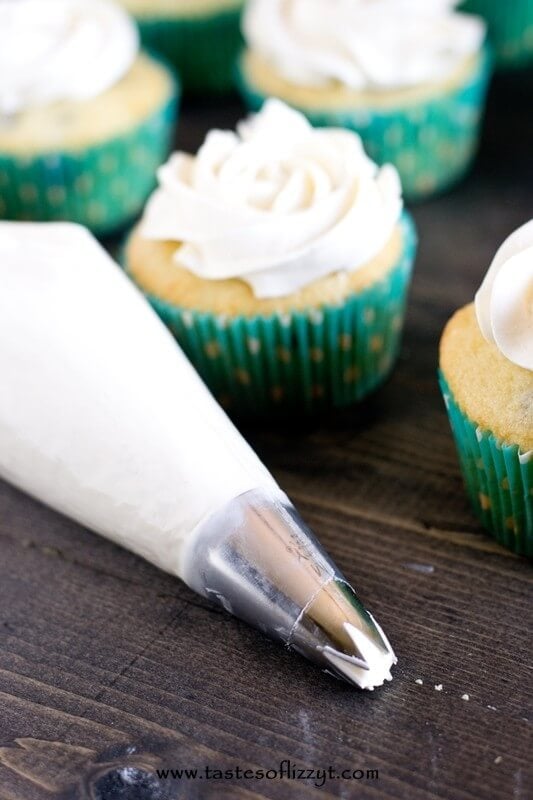 I could eat buttercream frosting by the spoonful. Maddie, on the other hand, takes after her dad and does not like super sweet frosting. We've tried a few different cooked frostings over the past months and this Swiss Meringue Buttercream has won the place of our most-loved, not-too-sweet buttercream frosting. It's smooth. It's creamy. It's mouth-watering delicious.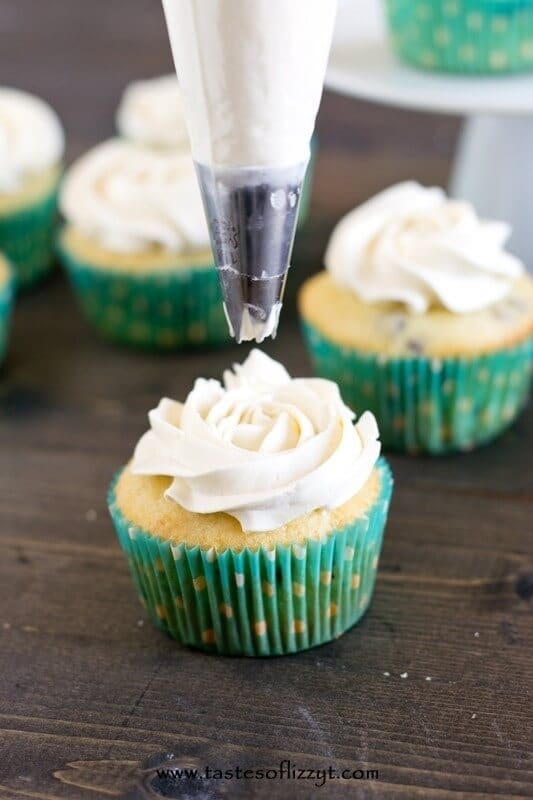 Let me give you some hints for making this lightly sweetened buttercream.
1.  It's a meringue-based buttercream recipe. If you've never made meringue before, it's easy, but can be a little tricky.  In order for meringue to work correctly, you need to wipe down all of the tools and bowls you'll be using with lemon juice. Since any trace of oil could make the meringue fall, you want your utensils clean and free of any oils. Take a paper towel and a touch of lemon juice and wipe down your bowl, spatula, thermometer, pans, whisk, beater blade, etc. Yes, it take an extra minute or two, but getting the fluffy meringue the first time will be worth it.  I've not made meringue a lot, but have never had a problem with it falling flat because I always quickly wipe down the tools.
2. Cook the egg white and sugar to a temperature of 140 degrees. To do this, you'll fill a sauce pan with an inch of water and put it on medium-low heat. In your mixer bowl (that's been wiped down with lemon juice), you'll place the egg whites and sugar together.  Place your mixer bowl on top of the saucepan,  making sure the bottom of the mixer bowl does not touch the water. Put a cooking thermometer in the mixture and whisk the eggs gently until the temperature reaches 140 degrees. This will take 5 minutes…maybe 10 at the most. Try not to let the water boil underneath. You don't want your egg whites to cook. Just keep whisking and you should be fine!
Here's what your setup will look like: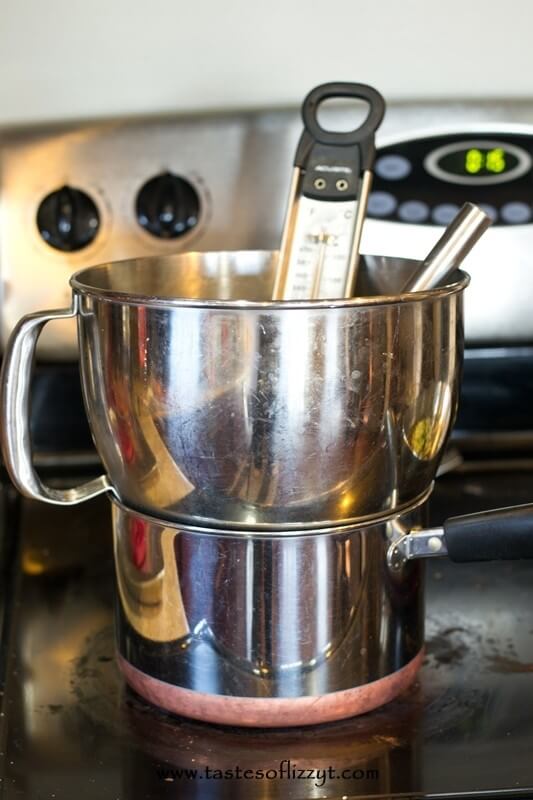 3. Whisk the egg/sugar mixture with your stand mixer.  Place that bowl of sugar mixture right onto your stand mixer. Using the whisk attachment, whisk the egg mixture on medium speed until it is thick and glossy. This will, again, take 5-10 minutes. The outside of the mixer bowl should feel no warmer than room temperature. Once you have a thick, glossy, egg mixture and a room-temperature bowl, you're ready to move on.
4. Switch out the whisk attachment for the paddle attachment for your mixer. Continue to mix the frosting on low-speed. At this time, you'll start adding your butter. Make sure that your butter is cold. Cut it into tablespoons and add the butter, a tablespoon at a time, to the mixer, letting the butter mix in completely before adding more. Do this until the butter is all added in. Don't turn off the mixer. Just let it run the whole time you are adding butter.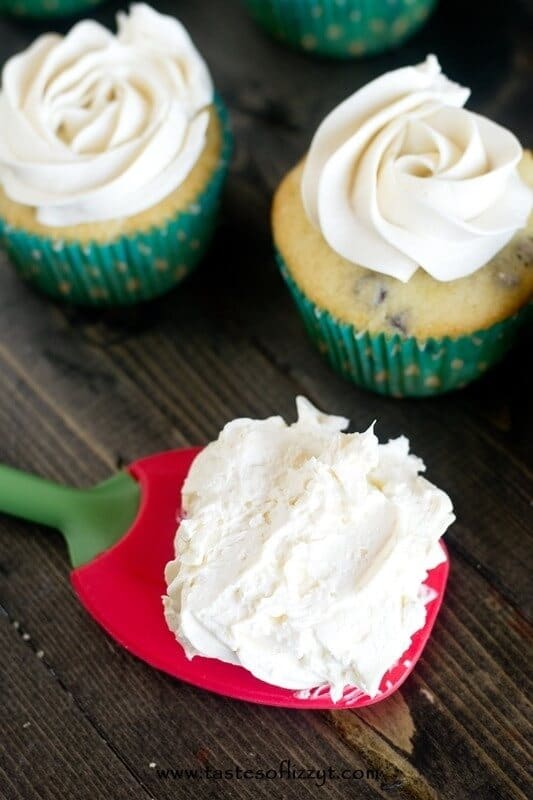 5. You should now have a mixture that is silky smooth. If the mixture at all looks curdled, keep beating it on low-speed and it should turn into a creamy mixture again. Add in your vanilla flavoring (or whatever flavoring you desire). I let my mixture beat for a minute or two after all the butter and vanilla was added.
And now you have made Swiss Meringue Buttercream!
Does Swiss Meringue Buttercream need to be refrigerated? I prefer to refrigerate mine. Mostly because cold frosting is a guilty pleasure of mine. 🙂 But from what I read, it is technically OK to leave sitting out for a day or two. Be careful if it is too hot and keep it out of direct sunlight because the meringue buttercream will melt. If you are unsure, contact your local health department for their food safety rules. This buttercream frosting is great for cake decorating and holds its shape well.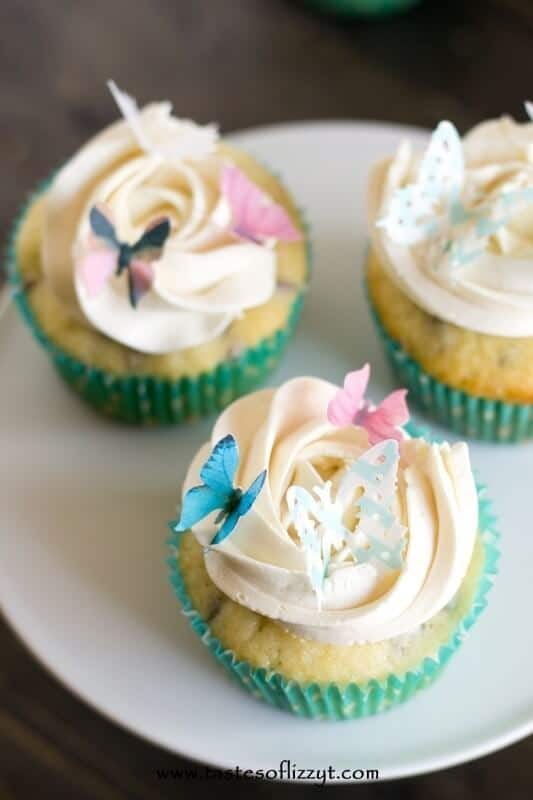 And now for a giveaway! Do you see these adorable sugar wafer butterflies? My friends at Go Frost Yourself Edible Images were kind enough to send me these little cupcake and cookie toppers to try. Decorating doesn't get any easier than this and they couldn't be more "springy"! They'd love to give you one set of your choice of cupcake toppers and a set of wafer butterflies of your choice also.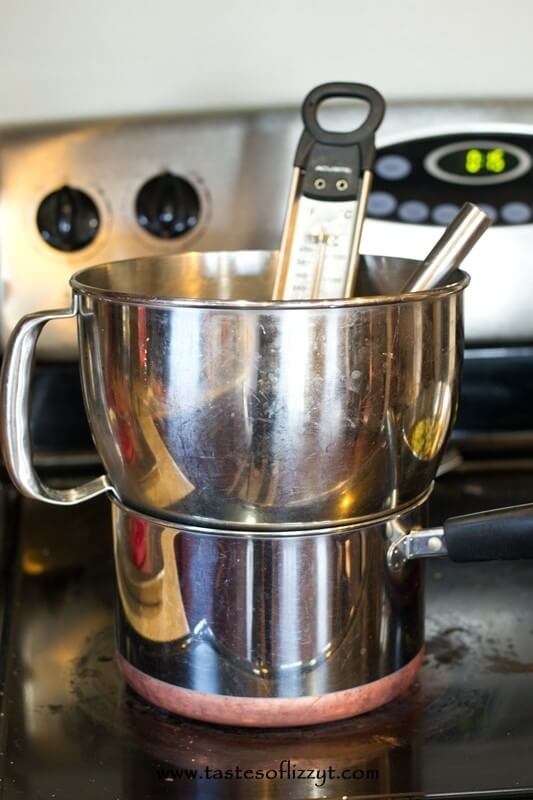 Q: What is your favorite buttercream?
Q: Have you ever made Swiss Meringue Buttercream?
Items used to make this buttercream:
Winco Candy Thermometer
KitchenAid Stand Mixer
KitchenAid Whisk Attachment
KitchenAid Paddle Attachment
Wilton 1M Tip
Disposable pastry bags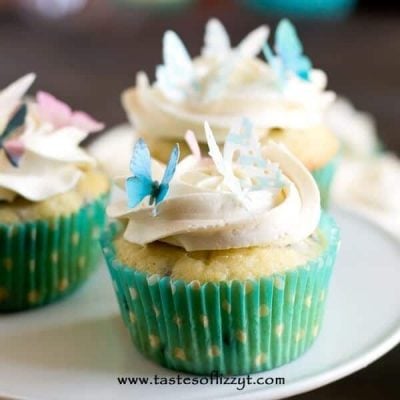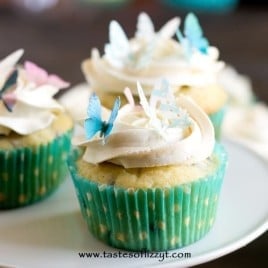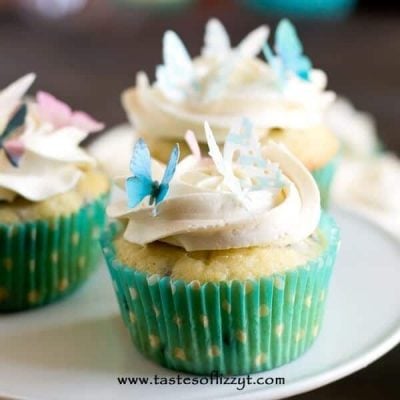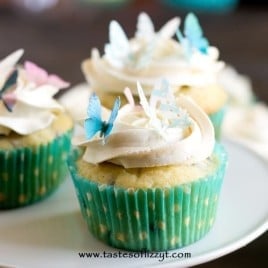 Swiss Meringue Buttercream
If super sweet frosting isn't for you, you'll love this smooth, creamy Swiss Meringue Buttercream. It's lightly sweetened which makes it a perfect topping.

---
Ingredients
1

tablespoon

lemon juice

for wiping down kitchen utensils

1

cup

granulated sugar

1/2

cup

egg whites

1 1/4

cups

cold salted butter

2 ½ sticks

1 1/2

teaspoons

vanilla

or flavoring of your choice
Instructions
Using a paper towel and lemon juice, wipe down the bowls and kitchen utensils that you will use for this meringue, removing all traces of oil.

In the bowl of a stand mixer, combine the white sugar and the egg whites. Set aside.

Put about an inch of water in a saucepan and heat over medium-low heat, until it is very hot, but not boiling. Place the stand mixer bowl on top of the saucepan, making sure that the bottom of the mixer bowl is not touching the hot water.

Place a candy thermometer in the egg mixture and heat the mixture until it is 140 degrees, whisking constantly. This will take 5-10 minutes.

Once the mixture is at 140 degrees, take it off the heat and place it on the base of the stand mixer. Using the whisk attachment, beat the mixture until it is thick, smooth and glossy. This will take 5-10 minutes. The outside of the bowl should feel room temperature to the touch. If it is still warm, let it sit until it cools to room temperature.

Cut the butter into tablespoons.

Take off the whisk attachment and put on the paddle attachment.

Turn the mixer on low speed and add the butter, one tablespoon at a time, allowing each tablespoon of butter to get mixed in before adding the next.

Once all the butter has been mixed in, add the flavoring and beat the buttercream until it is smooth and creamy.

Use the frosting to frost a cake, cupcakes, or cookies. Refrigerate any leftover frosting.
Nutrition
Calories:
192
kcal
|
Carbohydrates:
13
g
|
Protein:
1
g
|
Fat:
15
g
|
Saturated Fat:
9
g
|
Cholesterol:
40
mg
|
Sodium:
148
mg
|
Potassium:
17
mg
|
Sugar:
13
g
|
Vitamin A:
475
IU
|
Vitamin C:
0.4
mg
|
Calcium:
5
mg
Recipe Source: AllRecipes.com