Tastes of Lizzy T participates in affiliate advertising programs. We may earn a commission when you make a purchase through links on our site.
If you're looking for a simple homemade bread with wholesome ingredients, this Honey Wheat Bread is it. It uses a combination of whole wheat and white flour, and it's sweetened with honey.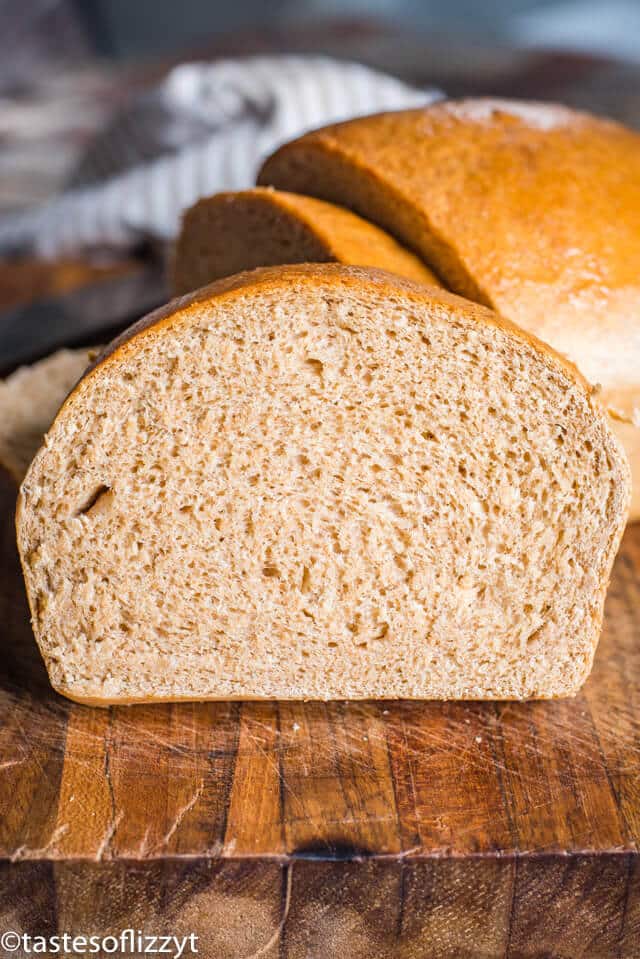 How to Make Honey Wheat Bread
Thank you to Red Star Yeast for partnering with us for this recipe. As always, all opinions are our own.
It's been too long since we've made a loaf of homemade bread in our house. With summer heat gone and cooler temperatures blowing in, I'm ready to bake. This Honey Wheat Bread is Maddie's favorite and she gets so excited when she sees me pull out that whole wheat flour!
Soft Honey Wheat Bread Recipe
So what do we love so much about this bread?
It's soft. If you're looking for a crispy crust, don't bake this bread. If you want soft slices of bread perfect for sandwiches, this is your bread!
It's sweetened with honey. No white sugar in this recipe. This bread is lightly sweetened with honey. Use local honey if you can!
It's egg free. If you can't eat eggs, you'll love this easy bread recipe. It's egg free but still has an amazing texture.
It makes 2 loaves. Which is a good thing, since we devour one loaf immediately after it comes out of the oven. I blame the kids! 🙂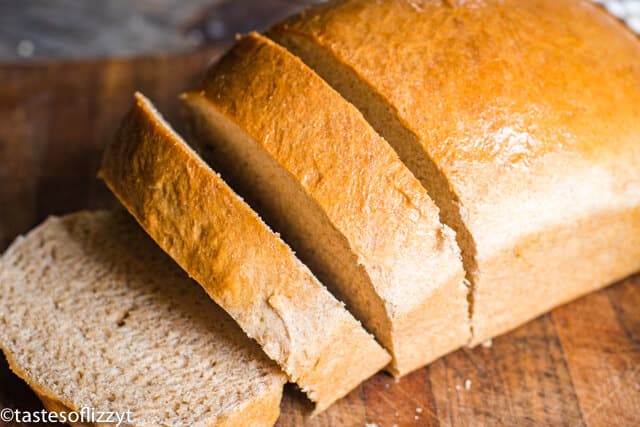 What is the best yeast for bread?
We LOVE  Red Star Platinum Baking Yeast. We find that this type of yeast makes our baked goods rise better and have a fluffier texture than other yeast. If you are having trouble getting your homemade bread to turn out beautifully, try this yeast! This recipe calls for 2 packages of Red Star Platinum Superior Baking Yeast. Make sure that your yeast is fresh for the best results!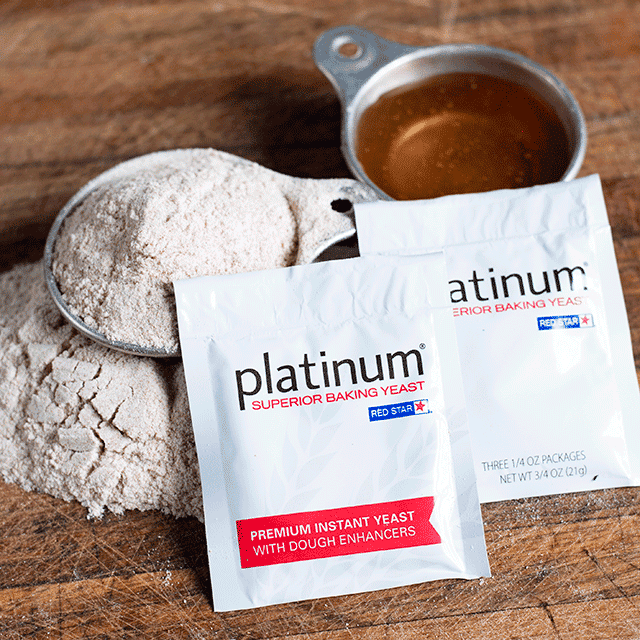 Can I use a bread maker to knead the dough?
As you'll see in the video, we use our stand mixer to knead the dough, but if you don't have a stand mixer, you can use your hands. But the best option? If you have a bread machine, add the ingredients according to the bread machine instructions and set it to "dough" setting. Then take it out and bake it as our recipe states. It's so easy to mix the dough in the bread maker.
Where do you put bread dough to rise?
This honey wheat bread dough needs to rise twice: once right after mixing and once after you get the dough divided into bread pans. We cover our bowl or pans with a towel and then place them in a warm place. I like to turn on the oven to the lowest temperature setting for a minute or two to heat it slightly. Then turn off the oven and place the bowl with the bread dough inside. Close the oven door and allow the bread dough to rise. *Just be sure to turn off the oven so the dough doesn't bake.*
If it is sunny you can place the bowl on the counter or table in a spot of sun.
What flour combination is best for wheat bread?
This recipe is slightly versatile as far as what type of flour you use.  We made it with a mixture of whole wheat flour and white bread flour. If  you'd like, you can exchange the white flour with whole wheat white flour. Or you can use all wheat flour. The more wheat flour you use, the more of a dense, heavy loaf you'll get. But with the combination here, you'll end up with a soft honey wheat bread recipe.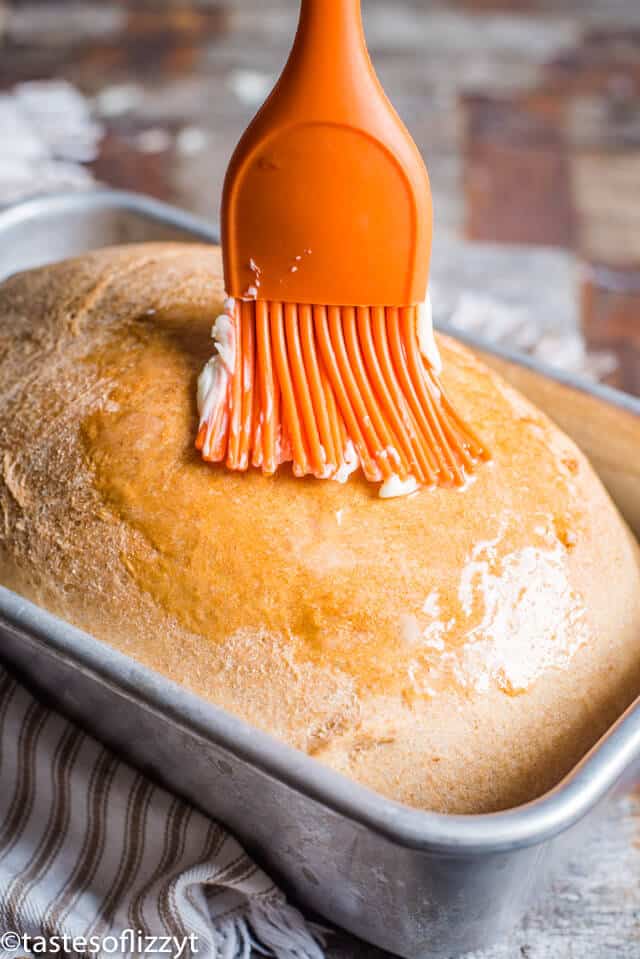 Wheat Toast
This bread makes excellent toast. There's nothing like a piece of bread to start your day, especially when you can put some apple butter  or cherry preserves on it. Whatever kind of jelly or jam you happen to have in your fridge, pull it out. Or skip the jelly and use honey, peanut butter or even a hazelnut spread.
Other Yeast Bread Recipes
Having trouble with your bread? Read all about how to get the perfect loaf of bread here.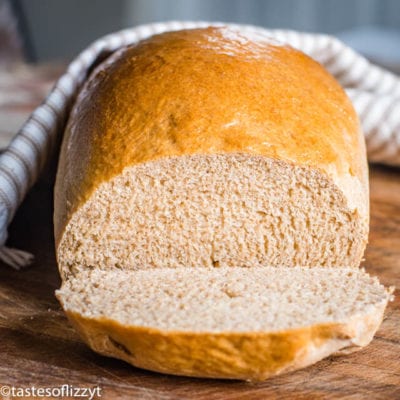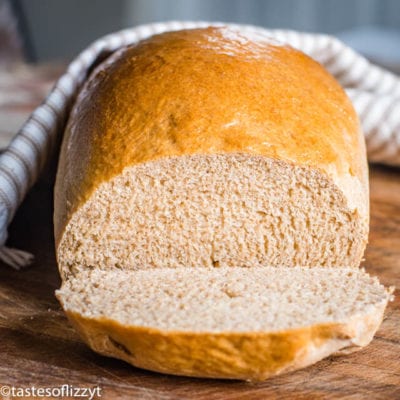 Honey Wheat Bread
If you're looking for a simple homemade bread with wholesome ingredients, this is it. It uses a combination of whole wheat and white flour, and it's sweetened with honey.
Total Time
1

hour
30

minutes
---
Ingredients
2

cups

warm milk

(115-120 degrees Fahrenheit)

1/4

cup

warm water

(115-120 degrees Fahrenheit)

1/4

cup

honey

2

packages

Red Star Platinum Superior Baking Yeast

3 1/4

cups

whole wheat flour

1

tablespoon

salt

2

tablespoons

melted butter

2 1/4

cups

bread flour
Instructions
In the bowl of a stand mixer, combine the warm milk, warm water, and honey. Sprinkle the yeast over top the liquids and let it sit for 5 minutes until it gets foamy.

Add the whole wheat flour and mix it into the liquids using the beater blade attachment just until the flour is moistened. Let that mixture sit for 10 minutes.

Next, add in the salt, butter, and the bread flour. Using the stand mixer with the dough hook attachment, beat the dough for 10 minutes. (If you don't have a stand mixer you can knead the dough by hand.)

Grease a large bowl and place the dough in the bowl. Cover the dough with a cloth and place the bowl in a warm place for the dough to rise. Allow the dough to rise until it is double in size.

Shape dough into two loaves and place them in greased 8x4" bread pans. Cover the dough and let them rise in a warm place for another 20 minutes or until they have a nice rise to them.


Bake at 350 degrees for 30-35 minutes.


For the softest crust, brush the top of the loaves with butter while they are still warm.

Allow the bread to cool and slice to serve.

Store any extra bread in an airtight container.
Nutrition
Serving:
69
g
|
Calories:
154
kcal
|
Carbohydrates:
28
g
|
Protein:
5
g
|
Fat:
2
g
|
Saturated Fat:
1
g
|
Cholesterol:
5
mg
|
Sodium:
370
mg
|
Potassium:
119
mg
|
Fiber:
2
g
|
Sugar:
4
g
|
Vitamin A:
75
IU
|
Calcium:
36
mg
|
Iron:
0.8
mg